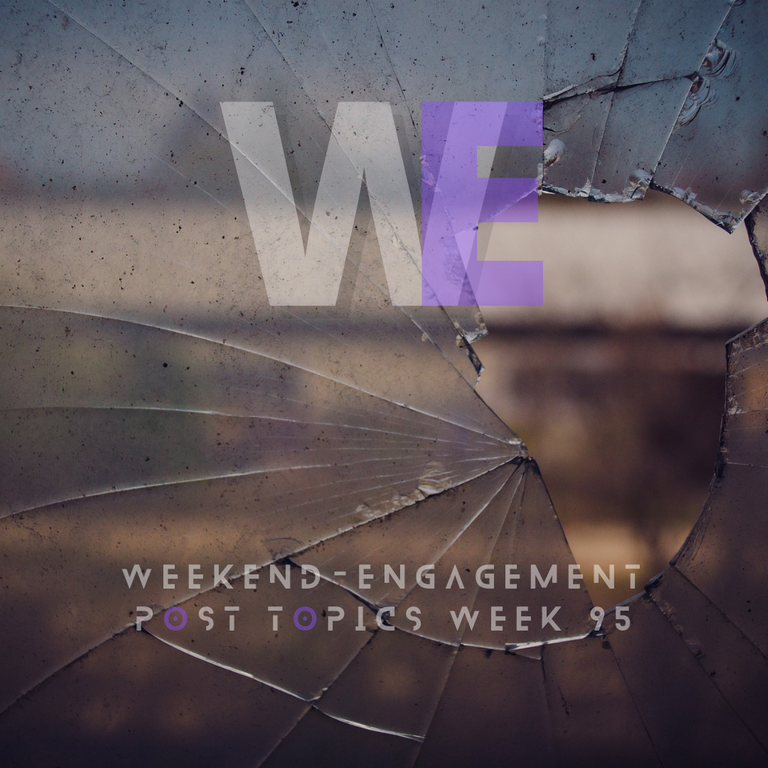 I never did anything worth doing by accident, nor did any of my inventions come by accident; they came by work.
- Plato -
---
---
If you're human you've had an accident of some kind, done something accidentally or been the accidental victim of someone else's actions. This week the topics are all about accidents and accidental things and I'm looking forward to some great posts.
If you're looking for something to write about over the weekend take a look below for the post topic prompts and if you feel like doing a post use my community, THE WEEKEND. Follow the rules below though, doing so will keep you eligible for the prizes. original im src
---
Guidelines you must follow to be eligible for prizes
✅ Use #weekend-engagement as the first tag of your post
✅ Post in THE WEEKEND community (do not cross-post)
✅ Follow the rules of the community
✅ Entry closes 07:30 UTC Monday 4th April
❌ Do your own work, don't plagiarise and link-credit photos
If you don't follow the guidelines above you'll not be eligible for prizes

---
This week's post topic prompts - Select one or multiple and do a mashup
Vehicle accident
Tell us about your own vehicle accident, the incident, how it occurred, where, and what was the outcome? How was the repair and replacement process and your recovery from injuries. This can be car, truck or motorcycle-related. Bonus points for using your own photos.
Childhood accidents
Were you a daredevil as a kid? Tell us about a time when you did something stupid or dangerous before you were fifteen that didn't go well for you, or you got away with against all odds. Give us the scenario, what happened to you and what resulted from your actions. Bonus points for humour and your own photos.
Accidental good time
Post about a situation in which you had an accidental good time. I'm talking about activities or events you thought would be terrible but turned out to be great. A conference, wedding, party, work, family event or anything at all. Explain why you thought it would be rubbish and what made it ultimately enjoyable. Bonus points for using your own photos.
Accidental thievery
Have you, or a family member, ever accidentally stolen from a shop or friend? When did it happen, how old were you/them and what were the circumstances? Did you take the item back and if so what happened, how did you feel? Did you keep the item and avoid that shop evermore? Did you get caught and charged with theft? Bonus points if you have a police mugshot of you to show.
Accidental accusation
Accidental accusations occur - Have you done it or been accused yourself? Post about the scenario, what happened and what situations resulted from it? Was there an apology or did those involved roll with the false accusation? Did it ruin a relationship or make it stronger, or damage your reputation? Feel free to avoid specific details if you like, just give us the general information.
---

---
Curation might happens on quality original content so proof read, use in-focus and interesting pictures and take pride in your post. Your posts are a representation and showcase of you - Give people a reason to visit your feed.
---
Design and create your ideal life, don't live it by default - Tomorrow isn't promised so be humble and kind
If you'd like to sponsor a week of #weekend-engagement please feel free to transfer your sponsorship to my Hive wallet with the memo: weekend-engagement sponsorship.