Hivers post a lot of photos.
Hive feeds are full of thumbnail photos, plus there are many images posted inside most author's content. Some catch my attention, and I click through. Photos are great, I love them. I enjoy browsing them, and I'm grateful to every Hiver who takes time to upload them. At the same time, with a tiny amount of effort, most of those images could be even better. And looking through one particular community, Faces Of Hive, I get the feeling that…
A lot of people secretly dream of 'becoming art.'
Especially when posting photos of themselves. These are the people who do their best to look good in photos. They value beauty. They put effort into aesthetics. Whether it's makeup, filters, poses, lighting, or more. And sometimes I do a ton of work to help these 'living artworks' achieve even greater visual appeal. For example, I'm about to tell you the story of how artwork like this...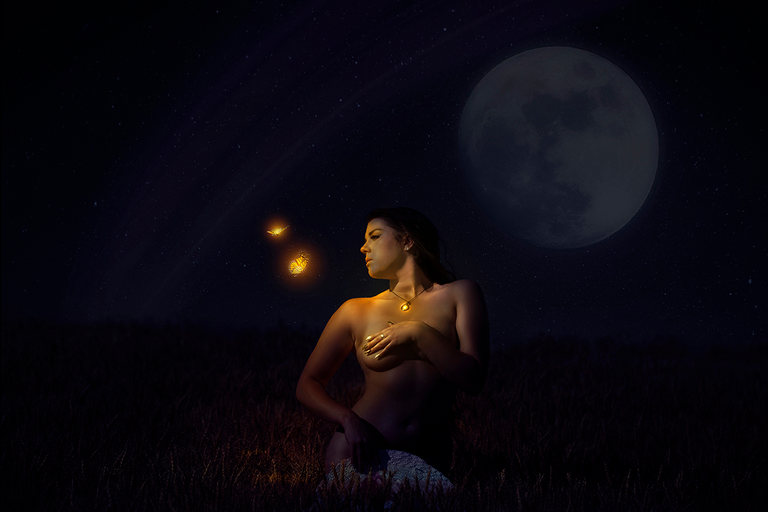 ...comes to life.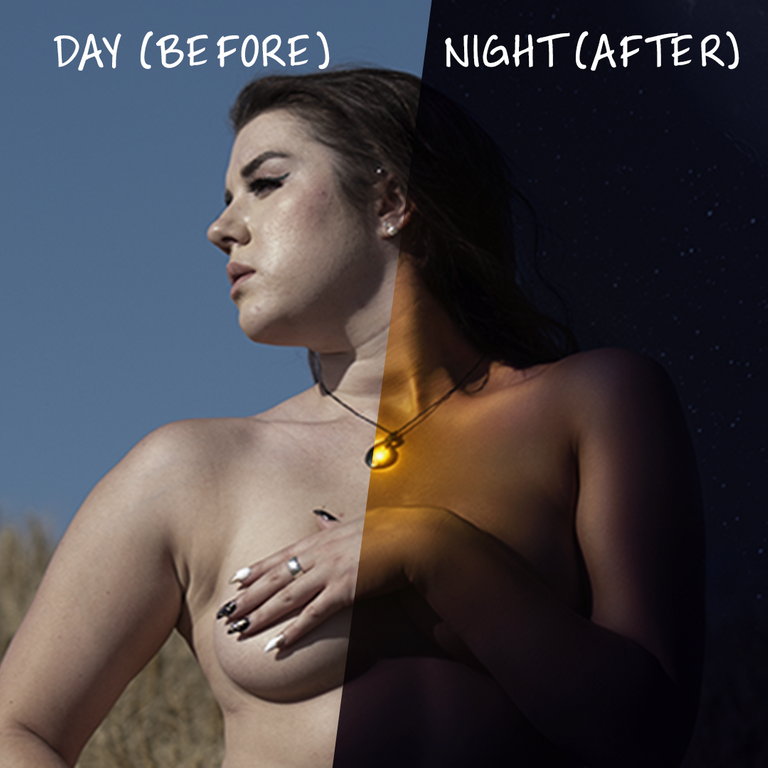 The piece above began with a model and a photographer, but the same desire to be aesthetically pleasing in photos is felt by plenty of selfie-takers all over the world. And even if you just post photos of your meals or jewelry, or something, the desire to make our shots appealing is common.
Hi, I'm J, and this is the story of the hardest digital art job I've ever taken.
Creating this one image took me 24 hours. I lived on pizza, talked to no one, and barely slept while making it. 'But J,' you may be thinking, 'I thought this post was about how to transform my photos into art, fast?' It is. Stick with me and I'll explain how elevating our photos doesn't have to be as hard as we think.
In fact, our current tech lets anyone with a phone create art in a few clicks.
The piece I'm about to take you through took way too many clicks, with way too many layers, and way too much hard drive space, but it's what got me thinking about easy art.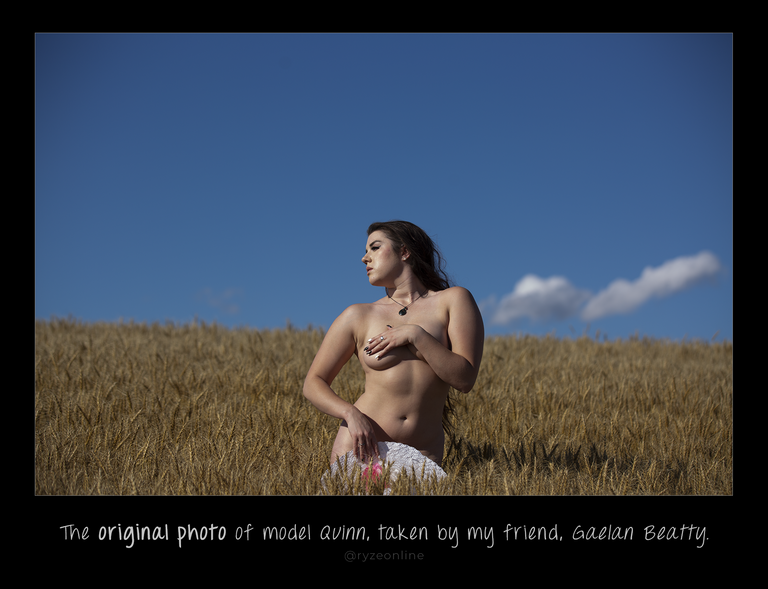 Anyway, the story begins with a beautiful photo of Quinn taken by my friend Gaelan. Something about the vibe, emotion, and the beauty of the shot was really calling me. Gaelan said 'Hey man, if you want to turn it into a piece, go ahead.' I was thrilled. The thing is, the photo was taken on a sunny afternoon, but I wanted it to have glowing butterflies on a dark, moonlit night. And although I'd done lots of retouching and digital art before, I'd never transformed day into night.
Anyway, this was something completely different for me, something I'd never seen before. It seemed pretty tricky, where should I even start? Well, after watching hours of tutorials on YouTube and collecting tips from Photoshop masters, I felt like I could pull it off.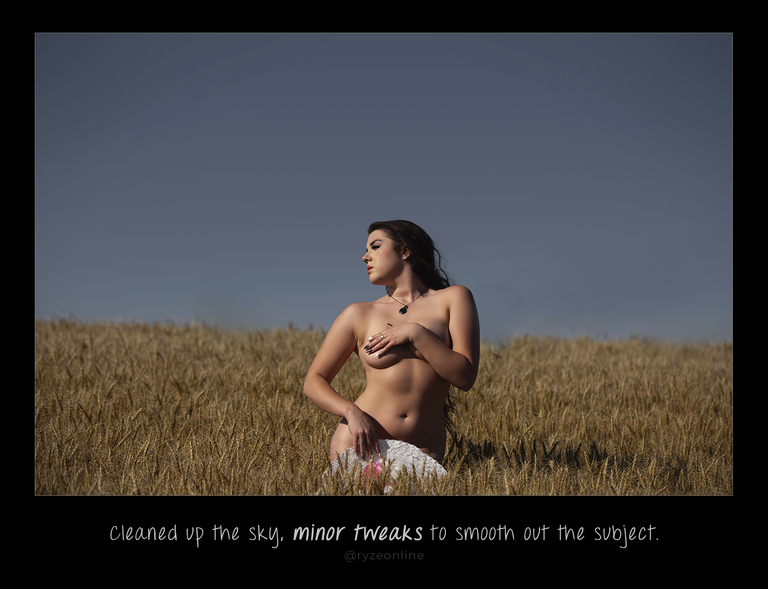 So I started by cleaning up and dimming the sky. There were also a bunch of subtle tweaks done to the model. A lot of people avoid this type of artistry but for me, I aim to create the exact image I have in my imagination, and if that means shaving a few pixels here and there, so be it. I call it 'art.'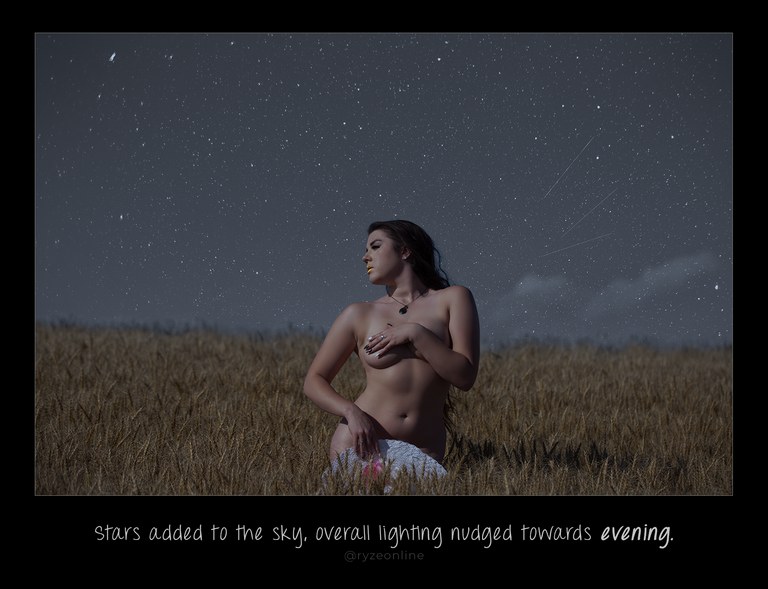 Next I added some stars to the sky, and dimmed everything further, including the model this time. (You may notice I also put some of the original sky back in temporarily, just to bring back some of the detail and gradation.) The sky-swapping is a little rough here, because each bright stalk of wheat on the horizon line was a bit tricky to deal with, so I just left them for now. It may not look like much, but it took me 6 hours to get to this point, lol. Just doing the selections and tracing the model, the sky, the wheat, etc. took ages. Not to mention her individual features, lips, pendant, her hat, and earrings. Throw in skin-smoothing, proportion-adjustment, and various other touches, and well... it adds up.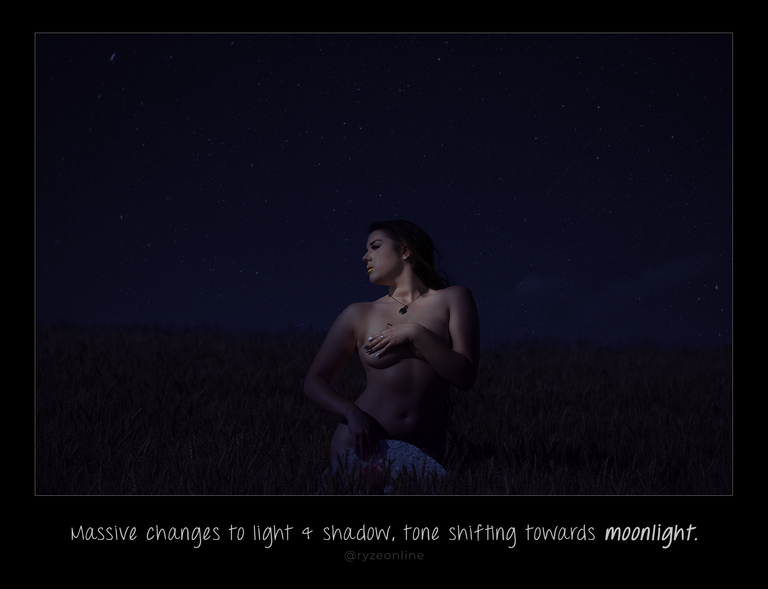 It was a decent start, but night lighting is often a lot blue-er, with much deeper shadows, so played a lot with curves, dodging, burning, and way too many layers until it had that midnight feel. I also left a subtle overhead light-source out of frame, shining on Quinn. Note that the skyline's wheat-stalks are still ghetto here.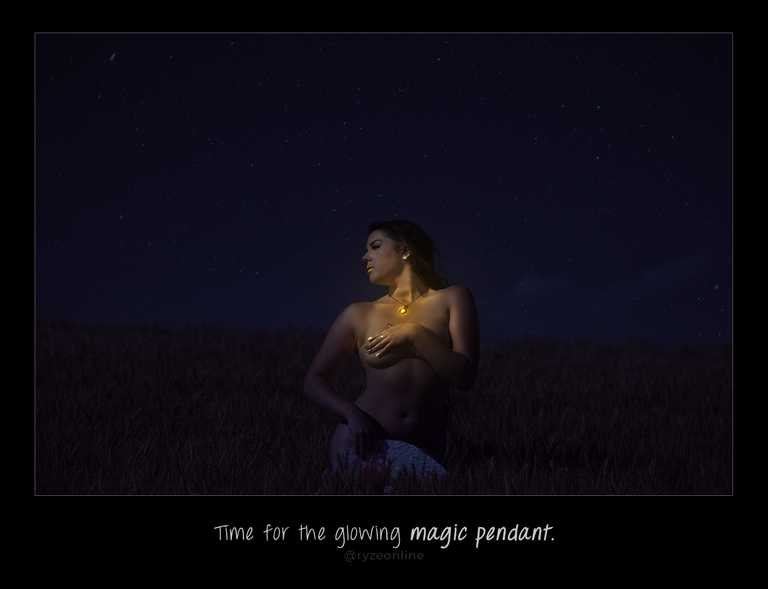 Now that the overall tone of the image was midnight-ish, it was time to add a splash of the golden glow I had imagined in the beginning, in the form of Quinn's 'Magic Pendant.' Getting the glow to reflect properly under her chin, across her neck, and down to her hand was harder than I expected. Unsurprisingly, I was still struggling with the skyline.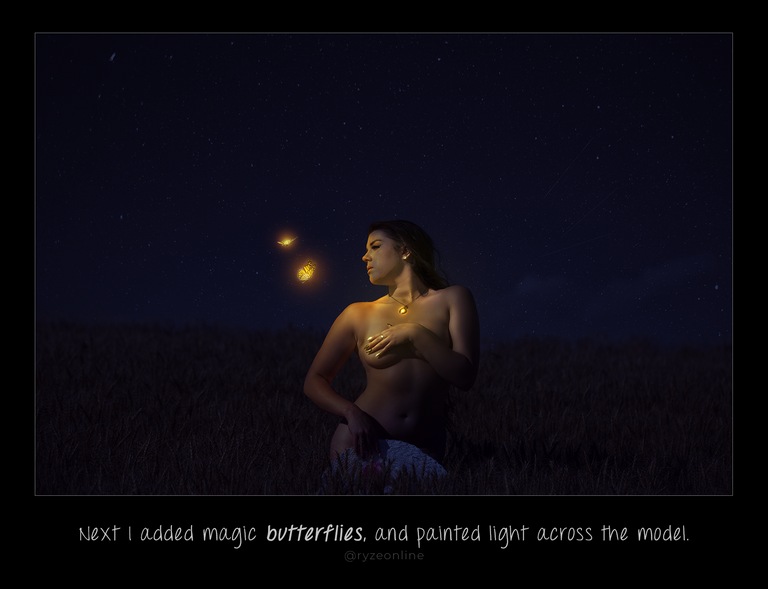 Aaaaannnd finally, we do the butterflies. Again, it took some finesse to get the light bouncing properly off of the model. On the bright side, I finally made the wheat-stalks on the horizon somewhat to my satisfaction, but it took an insane amount of time. I also spent time on facial features & lighting.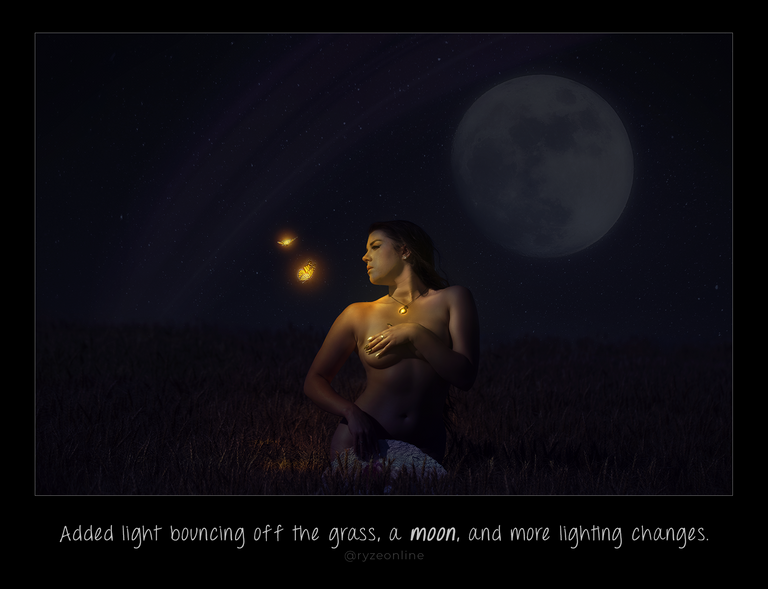 More cutting, tracing, and selections to get the moon into the sky, as well as some Saturn-style rings or aurora borealis type lights in there too, to give it a more fantastical & fantasy vibe. Plus some light from our glowing butterflies reflecting off the wheat field. (Details matter!)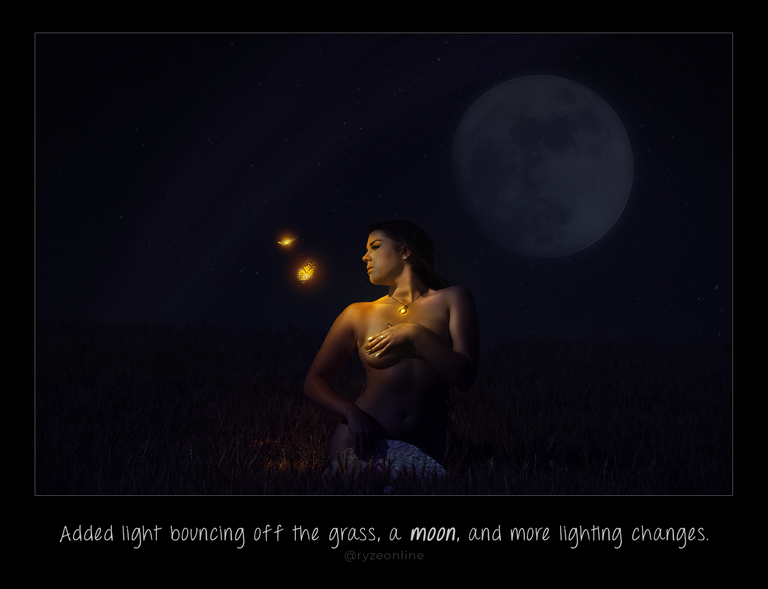 Lastly, I did a final pass on tone, color, and tiny details. Whew!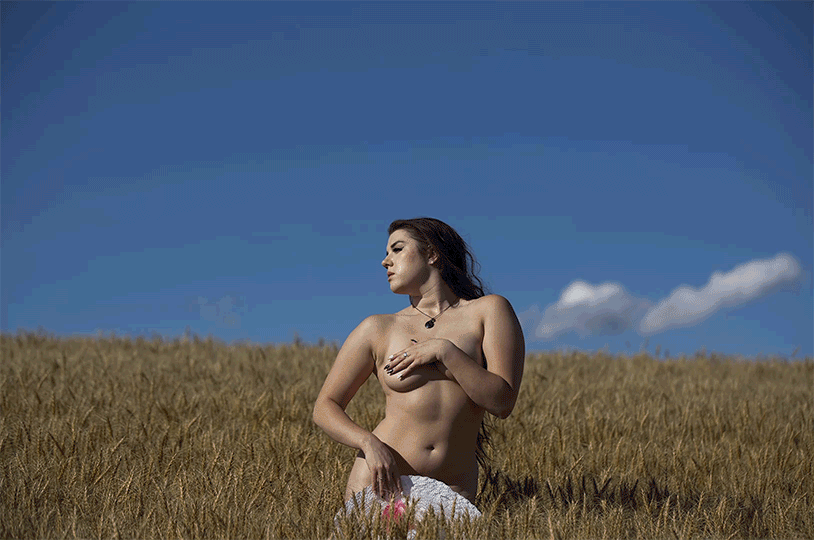 Overall, I'm very proud of this piece, and see it as one of my best retouching or digital manipulation jobs to date.
But it took me years of experience and many hours to get to this level, and my neck and jaw were tense towards the end of it…
So how does all this make art easier for you?
Because as long as you're not trying to change day into night, like I was, things become a lot easier.
For example, here are some other pieces I've made over the years, some subtle retouches, some major artworks. With less ambitious artistic goals, some I did in under an hour, and others still only took a few clicks!
| Fast / Easy | Medium | Slow / Hard |
| --- | --- | --- |
| | | |
So let's talk about the images that take only a few clicks.
Most people are familiar with Instagram & Snapchat filters. (If not, they're a google away.) These things are simple, one- or two-click options that can turn your photos into art, fast. They're fun.
But there are free (and paid apps) out there that take it to the next level. For very little effort they can transform your photos into art, whether you're on iPhone, Android, or PC.
Even though these apps are free (or cheap) and very easy to use, most people upload their photos without running them through an app first. Whether you want subtle retouching or artful masterpieces, it's worth popping your images into one of many apps out there first.
Here are 6 apps that you may want to play with below:
I've done my best to give top-tier options for various devices, but I only have Android & PC, so I've only tested Snapseed, Picsart, Fotor, and PhotoPea. If any kind reader has an iPhone and wants to test out *PhotoLeap *or Pixelmator, I'd love to hear what you think in the comments.
PhotoLeap (iPhone)
Apologies, I couldn't test on iPhone, but if it's like most of these other apps it'll have some nice built-in one-touch improvements, filters, and tweaks for your photos.
---
Pixelmator (iPhone, $4.99)
Apologies, I couldn't test on iPhone, but if it's like most of these other apps it'll have some nice built-in one-touch improvements, filters, and tweaks for your photos. Also the videos I found are for the pro version, but I believe they offer a free trial of that.
---
Picsart (Android, iPhone, PC)
Picsart has great filters ('fx') and one-touch photo-improvements in its free version, but it makes you create an account and then tries to upsell you on Picsart Gold pretty heavily if you don't realize you can close the window and get back to the base app.
---
Snapseed (Android)
Snapseed has a few nice quick filters ('styles'), but it's real power lies in all of it's editing tools and area selections. Snapseed has tons of power under the hood if you're willing to explore it.
---
Fotor (Online)
Fotor is similar to Picsart, but it's a sleek modern website, rather than an app. It offers a healthy amount of nice one-click options ('effects'), but like Snapseed, it offers much more powerful editing tools as well. It's hard to believe the creators give tools like this away for free, and even more shocking that most people don't know about them or benefit from them.
---
PhotoPea (Online, Photoshop Clone)
People are sleeping on this. Ever wished you had Photoshop? PhotoPea is basically a Photoshop clone. It empowers you to do almost anything normal Photoshop does, online, for free. I'm surprised they haven't got a cease and desist from Adobe, tbh. It loads .PSD files, and most Beginner to Intermediate Photoshop Tutorials on YouTube can be followed along similarly in PhotoPea. There's some limitations, quirks, and differences, but all said and done this is an epic tool and it deserves way more users, imho.
---
So there you go! 6 apps that add pop to your images, fast and easy. OK, technically you do have to lift a finger to swipe your phone, but it's pretty effortless. And hopefully these apps show you that...
You don't need years of experience or hours of time to create pretty art.
I'm not suggesting you create masterpieces tomorrow, but you can transform photos you have easily for your next post. And some smart people have created some powerful apps to help you do exactly that. I'd love to see more people using the resources I linked above. If you have artistic tendencies, you can do a lot with these tools, and if you don't have artistic tendencies, each tool has easy defaults that add pop to your image with minimal thought or effort involved.
If more people did this, we'd have a more beautiful Hive!
And in my opinion, a more beautiful Hive is a more engaging, more marketable, and more valuable Hive. All that said, I'll admit, there's some common objections to the sort of editing I'm suggesting.
1. Digital edits are dishonest or yucky.
To this I say, even in Victorian times, people would have their portraits painted, and the painter would use his tools to 'polish' the image beyond 'reality.' Photographers will use plenty of lighting tricks to paint their models 'in the best light.' Make-up artists will mask blemishes and contour faces in order for them to have elevated appeal. It takes time, energy, effort, resources, and tools. People everywhere, since the beginning of time, have been using the artistic tools they have available, to create aesthetically pleasing value for others. And now, our technology gives us even more tools. To me, it's more dishonest and yucky to not use the tools we have available. It's dishonest to pretend they don't exist. It's dishonest to act righteous for not using them, as if we're better than all the painters, photographers, and MUAs who have done the same thing for decades. I understand purists who say they want the raw, unvarnished, truth in their photos, but if that means my feed ends up full of half-assed, visually unappealing shots that no one put any effort into, count me out. :)
2. It's not worth the effort.
Is it worth the effort to get a haircut before an event? Is it worth the effort to clean up your house when family is coming to visit? Is it worth the effort to use the 'good cutlery' when serving a meal to others? Because if so, I'd say it's worth a few clicks to make your photos more appealing before serving them up on social media.
3. It's not 'real art.'
If a child slaps some finger-paint on a piece of paper, is it 'real art?' If a young amateur model is practicing her selfie-game to boost her portfolio and get scouted, is it 'real art?' If I use a few clicks in Photoshop to warm up a photo and give it a different emotion, is that 'real art?'
I'm reminded of the story of Picasso's napkin:
Picasso was unwinding with a drink in a French café. An admirer approached Picasso and asked the famous painter to sign her napkin. Picasso did, and even added a small sketch. But upon returning the napkin, he asked for a big sum of money in exchange. The admirer was shocked, saying "But that only took you five minutes!" Picasso gently reclaimed the napkin and said "No, dear lady, that took me a lifetime."
Was Picasso's napkin sketch (which could sell for quite a bit) 'real art?' It took him what amounts to 'a few clicks' to sketch the napkin, but he and others value it highly. I mean, what does the phrase 'real art' even mean? To me it's irrelevant. What matters when you're serving up visual images to viewers, is that we bothered to elevate them a bit, instead of pulling them out of our asses. In this day and age, it's quick and easy to do, and it gives everybody's eyeballs added value.
That's my take on things anyway. I don't expect everyone to agree with me, but if this gets even one person to improve the photos they post on Hive, I'll take it.
And if you really want an even higher level of artistry made from your photos, without lifting a finger, let's talk. Because the only thing better than using powerful art apps, is collaborating with a talented artist who uses them for you. My hands can do all the work while you sit back and bask in your artistically elevated photos.
Because though my recent focus on teaching rebel-preneurs means I don't do digital art as much as I used to… I still have my skills. And in the short time I've been on Hive, I've contributed them to big projects such as @spknetwork and @peakd , as well as smaller projects like logos and scripts for @rutablockchain or retouching Hive photographer's work.
The point is...
I enjoy creating art with the right people at the right time. Is it you?
If you're interested, I have a crazy good deal on Fiverr (yes Fiverr, its just for fun) at the moment. Check out my art deals here.
Whatever the case, I appreciate you reading, commenting, sharing, or even skimming, and I wish you many wonderful visuals in your future.
~J-Ryze
Normally I'd tag a few people who may be interested here, but honestly, none jumped to mind, hopefully this post will still resonate with people, and I'm not writing into a black hole, lol.
P.P.S. All images & text created by me.