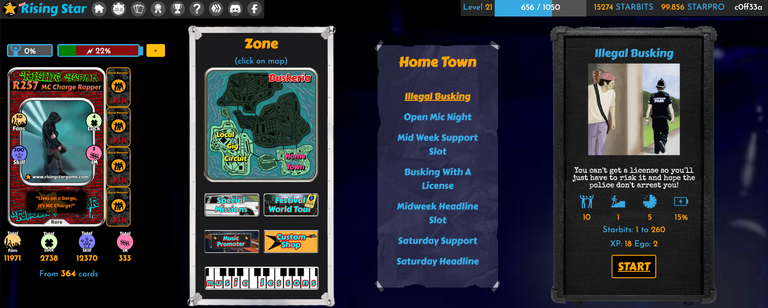 In case you missed previous posts, I finally got into https://www.risingstargame.com/ which has been around for a long time, but whenever I looked I could never quite figure it out. I only recently realised it is actually a UK based and developed game, and of course being a big supporter of our United Kingdom Hive userbase - and growing it - I thought it was time to get involved and see what it is really all about.
Straight up it is free to play, you can literally head over to https://www.risingstargame.com/ and sign in with Hive Keychain (So Chrome or Brave browser ideally on desktop) - you can get Hive Keychain for iOS and Android now so mobile users can join in - but to be honest I only use it on laptops and desktops.
Once you are logged in you are ready to head over to the missions section, a stop watch icon second left icon at the top. Starting out all you can do is Illegal Busking - when you start a mission it takes time to complete - once you start it will countdown in a yellow box on the screen. The good news is you can leave this running and go off an do other things and check back when it is done. Any mission you do uses energy, which recharges over time - but obviously reduces how many missions you can do before you are waiting for the energy bar to fill back up.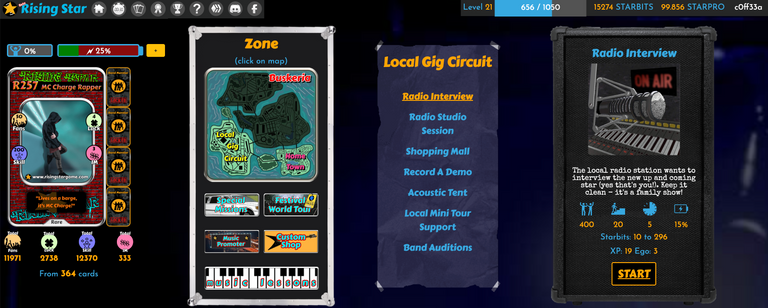 As you get going you also realise you have to complete a set amount of first missions before you can start the next mission - and this continues throughout. And you need to level up your stats - like fans to progress as well. At this point it becomes obvious that progressing at any sort of decent speed is going to require investment in Card Packs - which are really good value and you can buy in a range of crypto or using Pay Pal - and of course the most appealing with Hive or HBD. As you play your earn StarBits the in game currency - and you can build these up to purchase cards as well if you wish. For higher levels as you progress StarPro are needed, these can be purchased on Hive Engine market place - and like any token you can hold them awaiting a market price increase to sell at a profit. The appeal here is prices will increase with demand, so if you take the time to promote https://www.risingstargame.com/ while holding StarPro - you have a good chance of seeing demand for the token increasing and prices rising.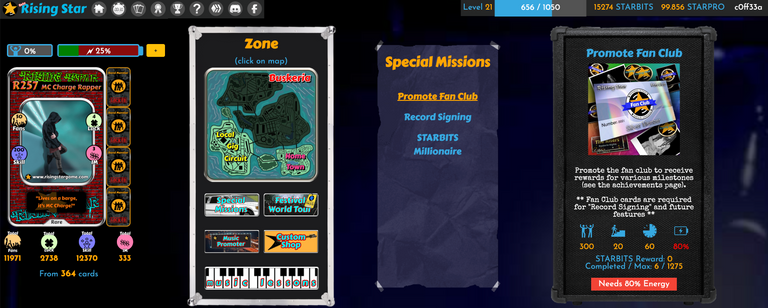 One thing that I think got me on previous visits to the game is it is clearly music based,and I am in no way musically inclined so it kind of left me a little stumped. But honestly if you are in the same situation - get over it, there is far more to the game then just the music theme and once you do get going progressing and building you account becomes quite addictive. And the game actually showcasing the best in Indie music artists - especially our own Hive based musicians - so you can enjoy listening to music during the games, and they have live radio shows that broadcast you can listen to while playing - it's actually an amazing package that works so well to create an enjoyable experience.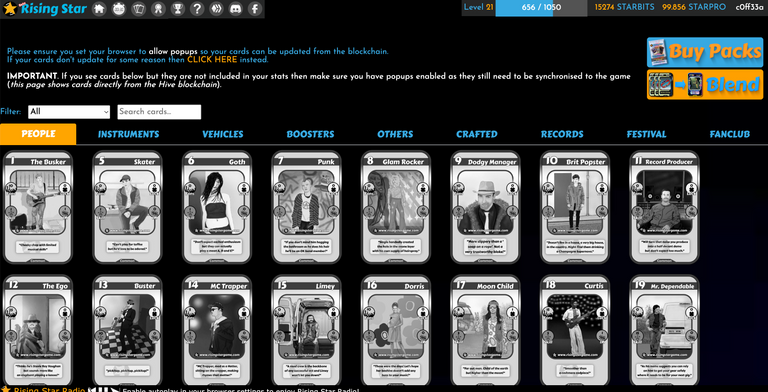 The amount of cards you can collect in game is incredible, and each one is an NFT so you can trade on the internal market place or the awesome https://nftm.art/ which offers by and sell trades for a variety of other Hive based games like https://dcity.io/ - and with card pack purchases always having at least one rare card or higher in there are great opportunities to get a high value card to trade.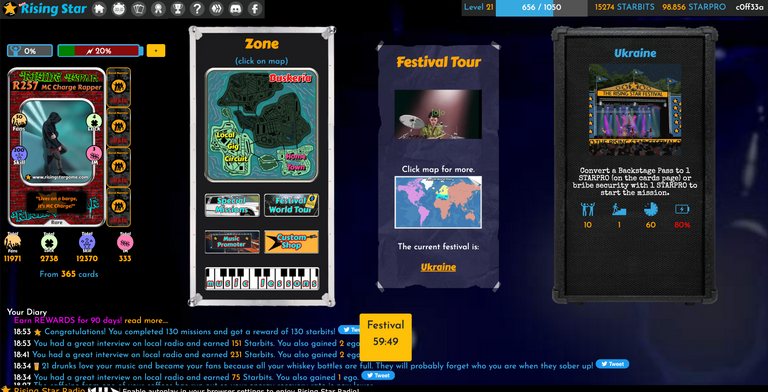 What I really like is as you progress you unlock new zones, Special Missions, Festival World Tour etc so you are always looking at getting into a new mission - or completing others to qualify for it.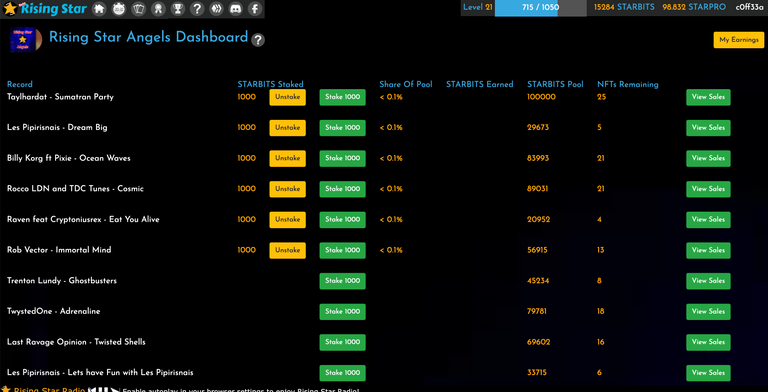 Another very cool feature I just found is the Record Staking - it's quite complicated so you would be better reading https://peakd.com/hive-195370/@risingstargame/rising-star-angels-tutorial-for-players-and-musicians-video-and-text
But basically musicians can upload their tracks as an NFT - if you are holding Starbits you can stake towards a musicians track and get a percentage of the rewards when they sell a track.
20 Rising Star Game Card Packs Giveaway
And now the bit most people have scrolled past the above to find - so I made it a super bold headline so it's easier! I have purchased using Pay Pal (because I spent all my liquid Hive on Workerbee) 20 Rising Star Card Packs - for Pay Pal purchases they manually assign cards, and I have told the creators to hold those cards packs until 24 hours from now - tomorrow night for me in the UK - and I will send them the accounts to send the card packs to.
To be in for a chance of getting a card pack - all you have to do is leave a comment on this post telling me what you really love about https://www.risingstargame.com/ , you don't have to be an established player, in fact it is even better if you have just started playing because those cards packs will help you even more.
As well as leaving a comment, you should reblog this post to help spread the word about https://www.risingstargame.com/ , and optionally but it will improve your chance share on Twitter (if you are locked in with https://hiveposh.com even better make sure to use the tag #Hive ) I know that not everyone is a Twitterer so this is optional.
I will choose the top twenty comments to give away card packs to, and my decision will be final. In the highly likely event there are less then twenty qualifying comments I will distribute the card packs proportionately between qualifying comments. In the extremely unlikely event there are more then 20 qualifying comments, I reserve the right to possibly buy some more card packs so everyone get's something - BUT this is open for 24 hours only - from the time this post is created to 24 hours later, please do not leave comments on the 10th December onwards and then complain about not receiving anything - "Too late, too late will be the cry when the man with the bargains has passed you by." From Lock Stock & Two Smoking Barrels.
UPDATE 10th December 3pm - WOW I never expected such a massive response, you all clearly love @risingstargame over the 24 hours there were getting on for 100 relevant comments for the giveaway. Sadly I can not send everyone a card pack, but there were so many long and well thought out comments I could not narrow it down to 20 people only, so the winners list had to be extended to 40! That's right 40 people who put real effort in their comments telling me all the things they love about Rising Star Game will receive a card pack each. And remember I bought all 40 packs myself to help support the developers of the game. From the remaining comments that did not receive a card pack but still put a bit of effort into their comment, I am going to send 100 Starbits to each of them - so even if you missed out on the card pack you still get something.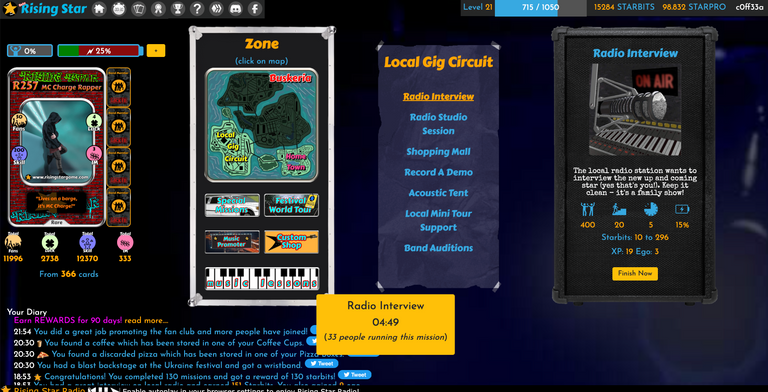 Active HIVE Witness alongside @derangedvisions, if you appreciate the effort and work we put into the HIVE blockchain please consider giving us a Witness vote - vote for @c0ff33a or @whiterosecoffee using your favourite Hive Blockchain front end.
We run five Hive servers, two Witness Servers, Hivemind Instance, Full Account History Node HAF HF27
https://api.c0ff33a.uk and backup https://rpc.c0ff33a.uk our full API servers to use with your dapps and front ends.
Seed Node https://seednode.c0ff33a.uk and Fat Node https://fatnode.c0ff33a.uk
Hive Engine Witness - support @c0ff33a at Tribeldex head to Tribaldex Website and support my Witness with your vote.
Dlux.io Witness - head to Dlux Monitor Website to view the current node runners
Join Rising Star Game British based and Hive Blockchain backed music themed game - no investment needed just start playing and earn StarBits, if you enjoy it invest in card packs to climb faster and increase rewards. Follow @risingstargame for the latest information and updates.

Proud sponsor with @derangedcontests of @lucksacks.com , free to play and cash out HIVE rewards, head to Lucksacks Website now and start playing.
Visit #brits Discord Channel Join #teamuk and make your posts easily found, post with the tag or create a post in teamuk community so your fellow Brits can easily find and support your work. Let's work together to make #hiveuk an active community on the Hive Blockchain. #teamuk tag and Brits discord is exclusively for use by United Kingdom Hive accounts or ex pats living abroad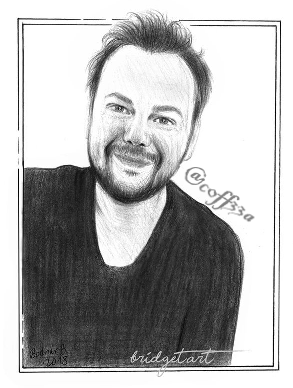 I distribute coffee roasting machines and also espresso coffee machines and roast my own Speciality Coffee Range. being one of the premium coffee suppliers Yorkshire including a wide range of filter coffee sachets. Finally I have a dedicated website to my Artisan small batch roasted coffee featuring roast and post packs and super easy coffee subscriptions.
Become a White Rose Coffee Roasters affiliate and earn a percentage of the sales you bring in for sharing your affiliate page links Become A White Rose Coffee Roasters Affiliate now payout available via Pay Pal or HIVE based on the current exchange rate.