Happy Halloween !
You know you are getting old when any holiday that used to be great fun is just another day.
Hand my my cane please.... wouldja ??? 🤣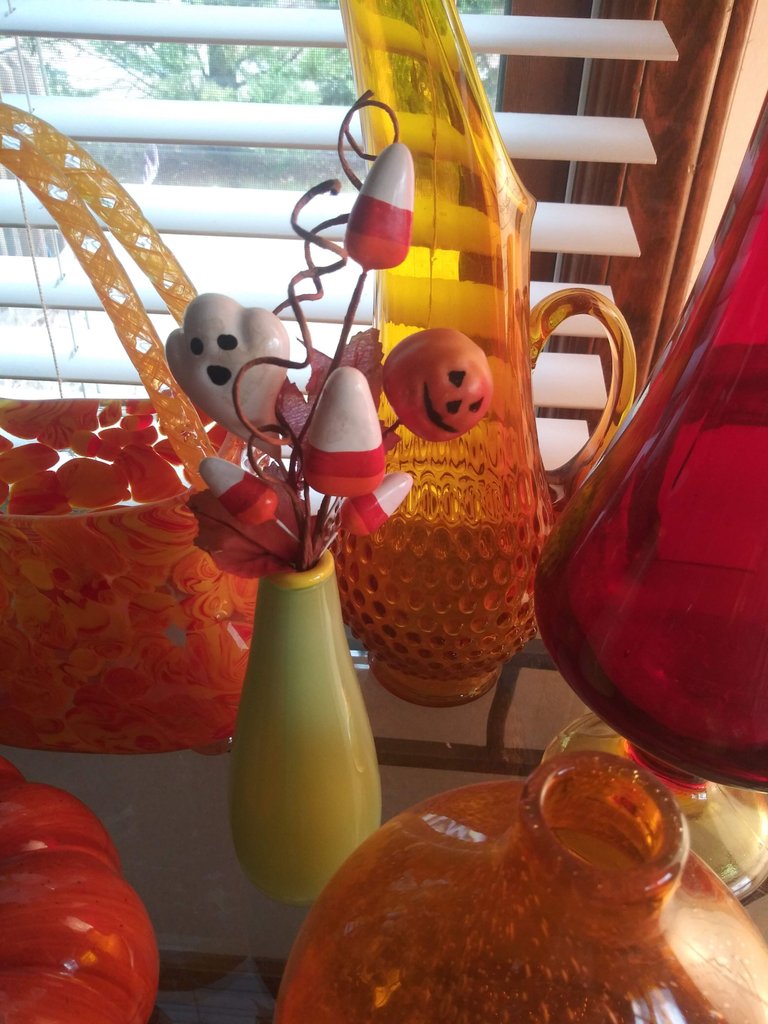 I still have a very small box of Halloween figures + the two bigger ceramic Jacks I showed you earlier and I spread it out here and there during October.
I put a few little jacks that have somehow accumulated and my new skeleton walking the cat art along with my 20 minute witch painting I made a couple of years ago across the piano. Some of them have lights, some are made for candles which I never put in them and some just.... are.

A little closer up of the fun little art. I still smile when I see that skeleton taking his cat for a walk, smoking his pipe. Too fun. Some folks said when I first showed it here that it didn't look like art that I normally show that I buy and that is true, however, I decided that I could buy some art that was just seasonal, that would be put away from year to year with my other decor and didn't have to be something I would leave out all the time. I liked that idea, as it opened up new doors to buy more art ! Any excuse to buy more is a good excuse.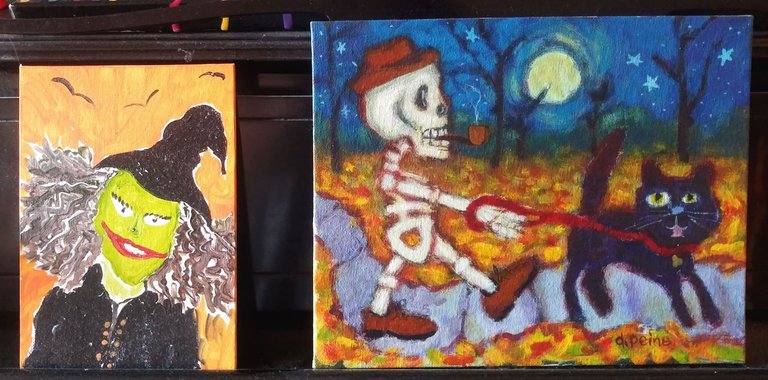 I am just old enough that when I was a child, my brothers and sisters and I and all the neighborhood kids (which were many).... use to dress up in some sort of costume, grab a trick or treat bucket and go from door to door, for blocks and blocks right after dark yelling TRICK OR TREAT !!! as each person opened their door, then held up our buckets to receive whatever goodies that house was giving out. Since I've been a sugar addict from the day I was born, you can only imagine how wonderful it was to land back at home later with a big haul of candy that was ALL MINE !! We had SO much fun.
It was a different day and time for sure.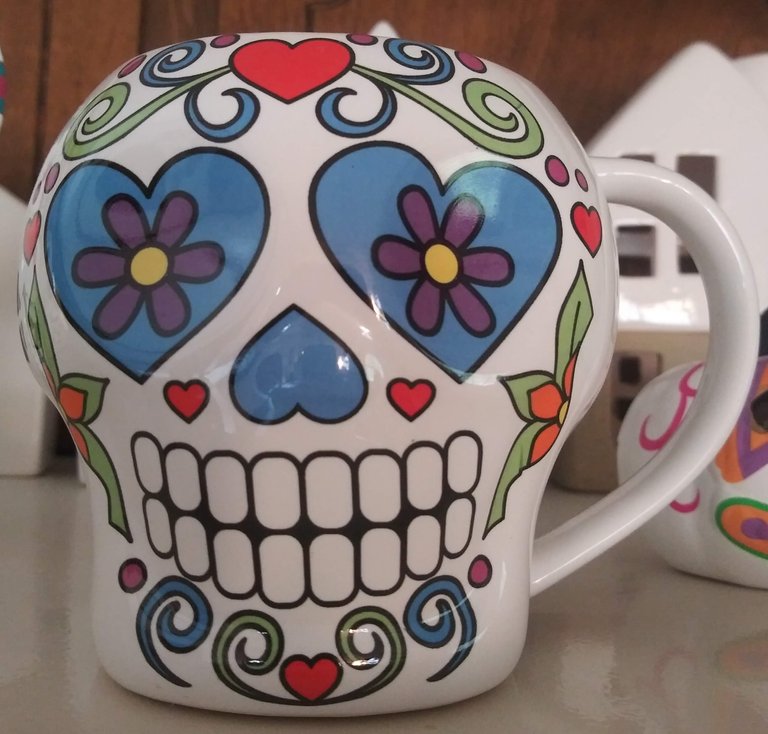 When I was married, for a few years my hubby and I would buy truck loads of pumpkins, spread them all over our back yard and sell them for a month before Halloween. It was also great fun, although a bit of work too, but we really enjoyed doing it AND making a little extra cash.
There would always be a few odd shaped pumpkins or bad colored ones in the batches, so about 3 or so days before Halloween, I would start carving them with different faces. At night we would put them all over our back yard in chairs and wagons and tables and..... anything we could sit one on and light them all up when it got dark for at least 3 nights. It was really awesome to see those Jacks everywhere that looked like they were floating all over when it got dark and you could no longer see what they were sitting on. Each year I did more and more and I believe the last year we did that, there were 45 assorted Jack-O-lanterns lit up each night.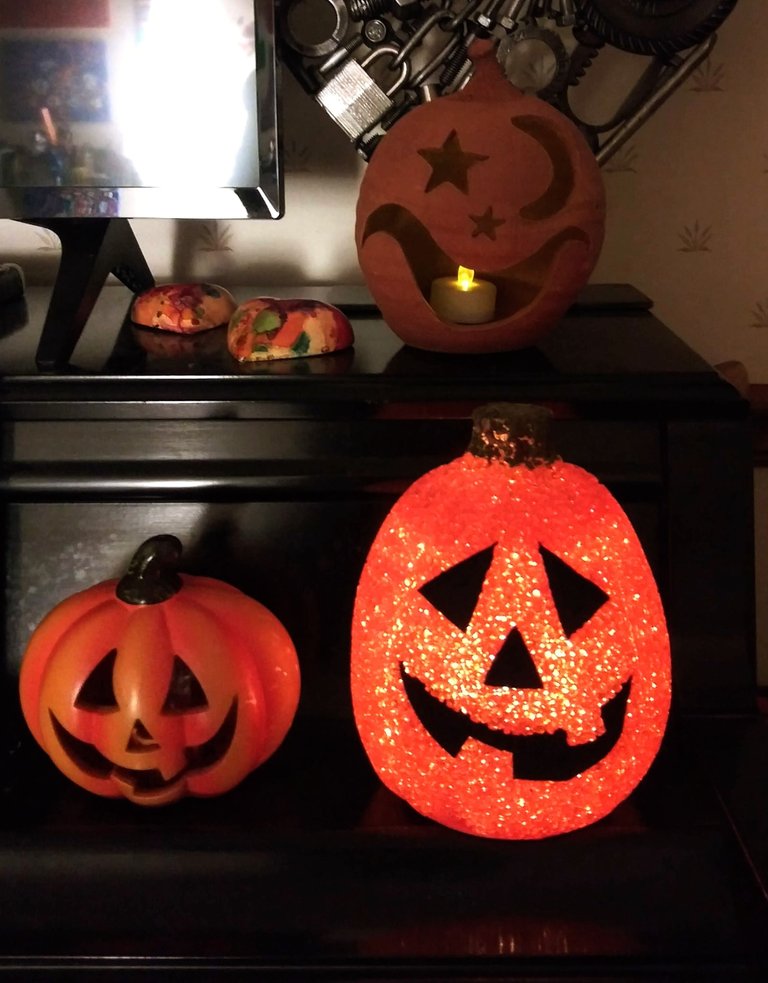 A few years we also had a haunted yard where we had some friends join us and we would have different areas people could walk through that included a live dead man in a coffin that really looked dead and who would slowly sit up now and then and scare people silly. There was a BBQ grill with body parts, a firey hell complete with devil and a spooky tunnel that lead out of the yard at the end. There was even a very wicked looking witch with a giant caldron on the porch giving out candy to anyone who dared take some, all the time beckoning people to come up while yelling "It's Halloweeeeenie Tiiiiimmmmme" We were all dressed as monsters and ghouls, even the grim reaper showed up on occasion and about once every half hour, the gates would close for a few minutes, the Monster Mash would come on and all of the monsters and ghouls would come to the middle of the yard and dance their creepy dances.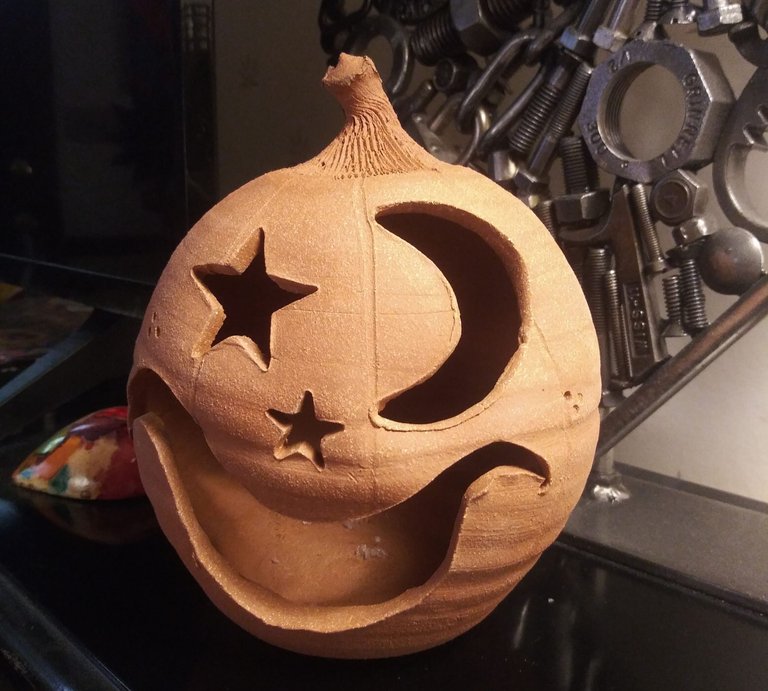 You can't tell ME that I never knew how to do up a good Halloween !
...but now.... I'm getting older.... and it's just another day.
Hand me my cane there .... wouldja ??
Hope you have all had a good day and if you will celebrate Halloween tonight, watch out for witches and goblins..... and remember, this witch can be bribed with candy !
Love ya !
Jacey