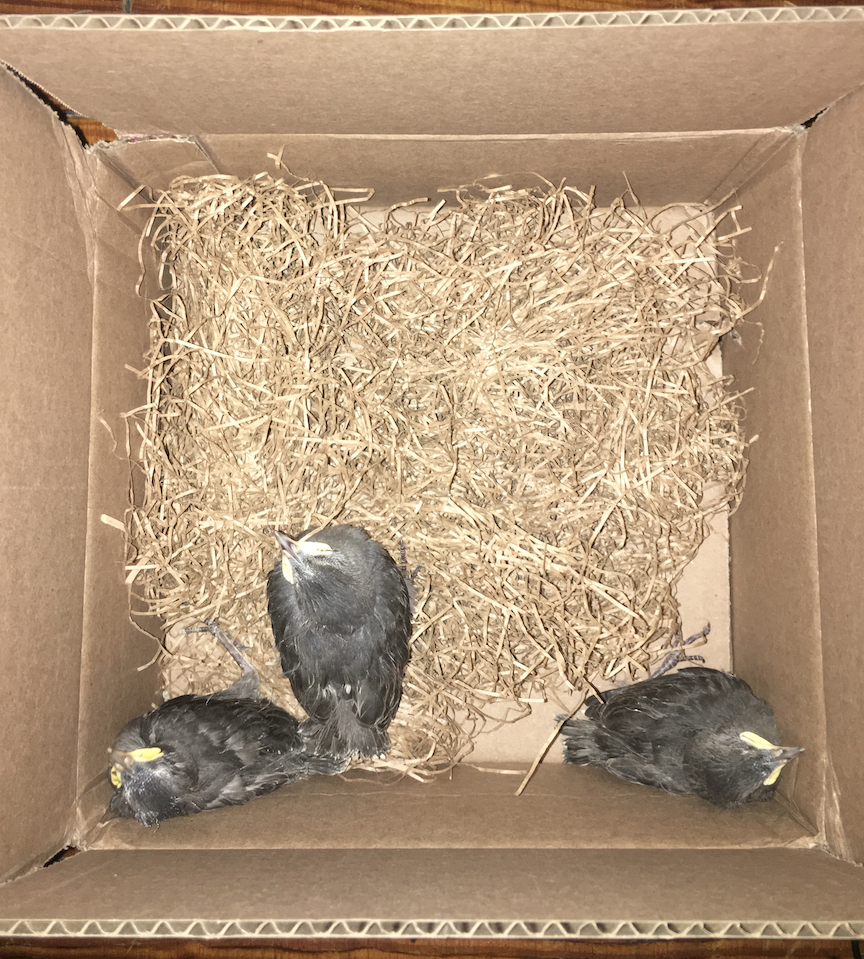 ---
---
The world can be cruel some times.
I didn't want to write about this for many reasons, but I'll try.
Below is my recent experience with highs, lows, and unexpected twists.
---
The Find:
I recently found a small Starling fledgling bird on the sidewalk on my way back from an exercise band workout in a nearby park.
It was struggling to hop up into a raised plant bed for protection and kept falling back down on the concrete.
Unable to simply walk by as others were, I carefully picked it up with my hands to try to help it up. It let me do so without resistance as if it appreciated the lift.
The bird was tiny and didn't have its feathers fully developed yet. They were too short. It also still had some patches of fuzz, which was a bit adorable.
It must've recently fallen out of a nest above, but I couldn't see it anywhere. I hoped that this meant that it wasn't very high up...
I quickly noticed blood on inside of its beak and had a feeling it'd been hurt by a fall. It also seemed a bit stunned. I wanted to give it some comfort, so I sat down on the edge of a railing by a tree to try to calm it down.
I gently pet its head and tried to give it the feeling of being sheltered in a nest. It worked and it was nice to see it relax. It laid in my hands and lap for a bit on its own. It also closed its eyes when I pet it, so it was enjoying the attention. Nothing was forced. It was calm.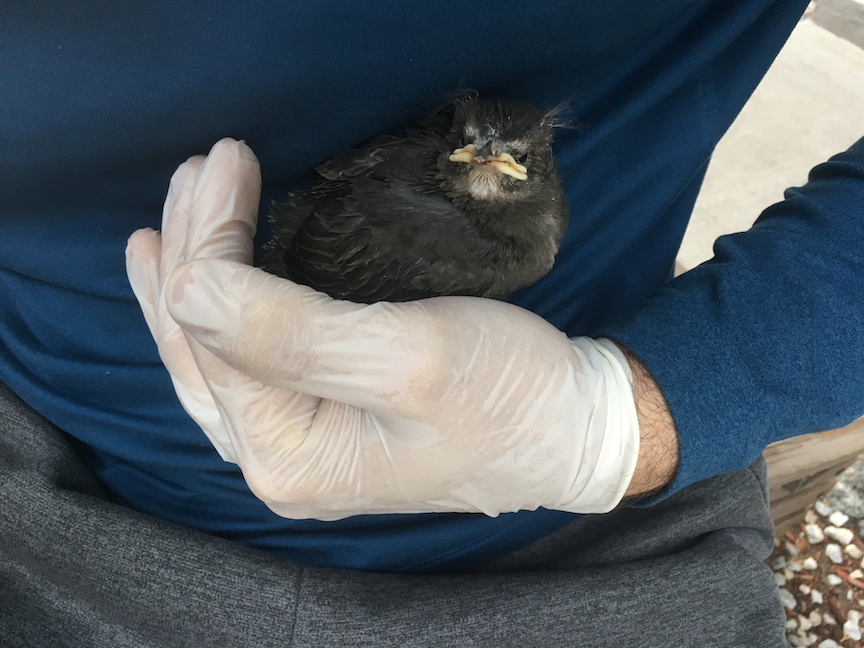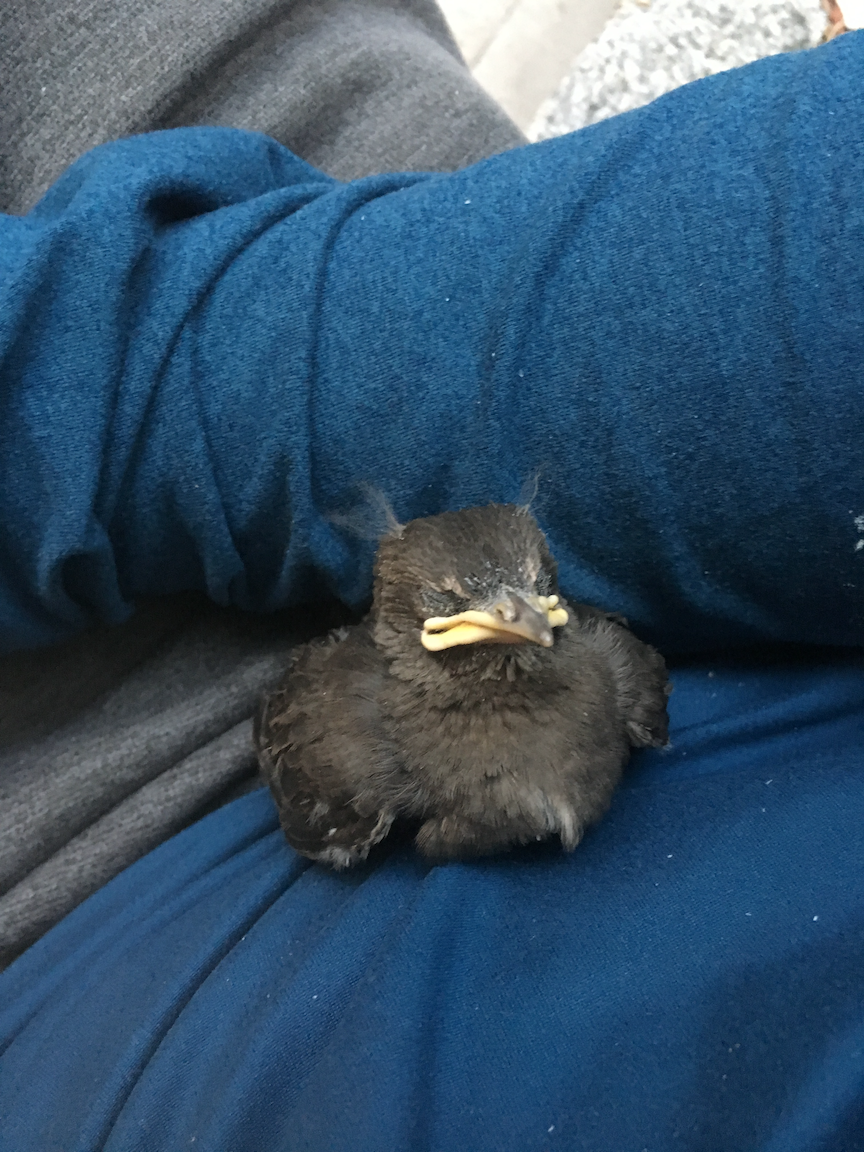 I was encouraged to see it get a spark of energy to hop up onto my hand, then arm, then shoulder, then neck. It was nice to think that it'd be ok on its own.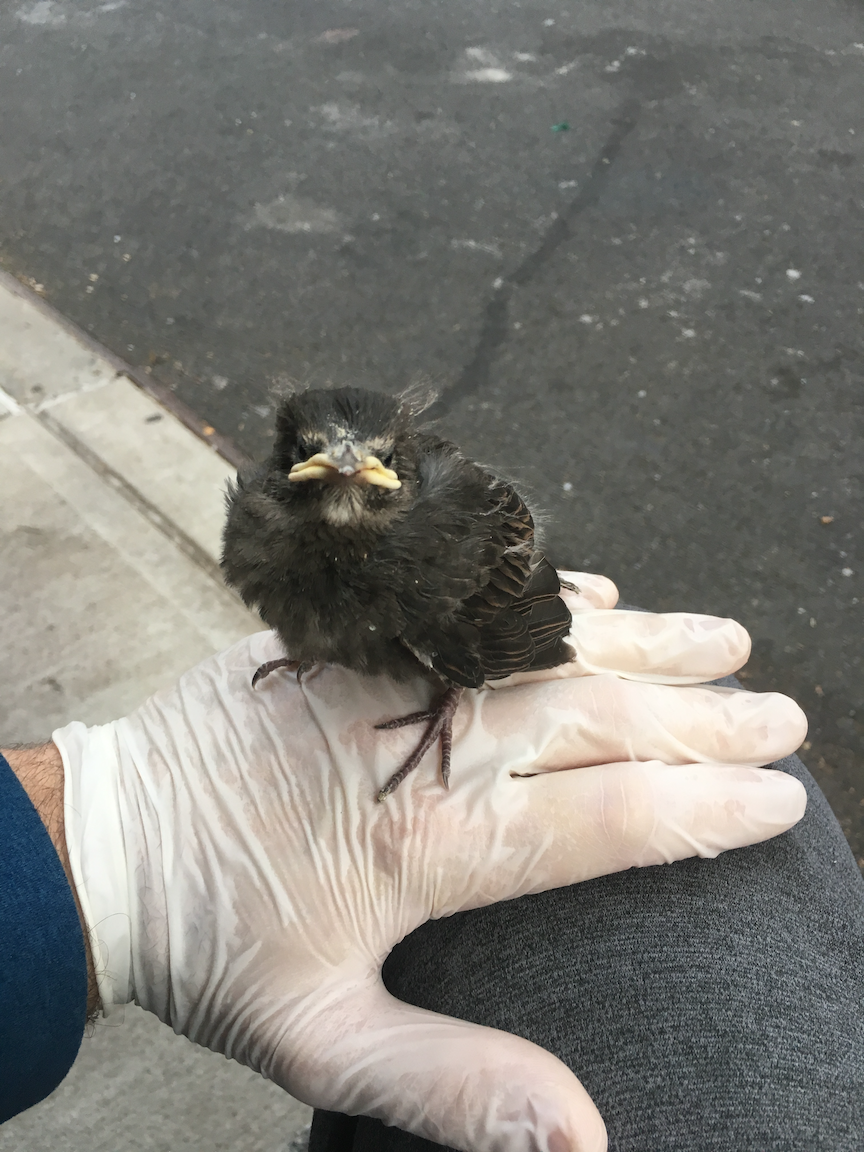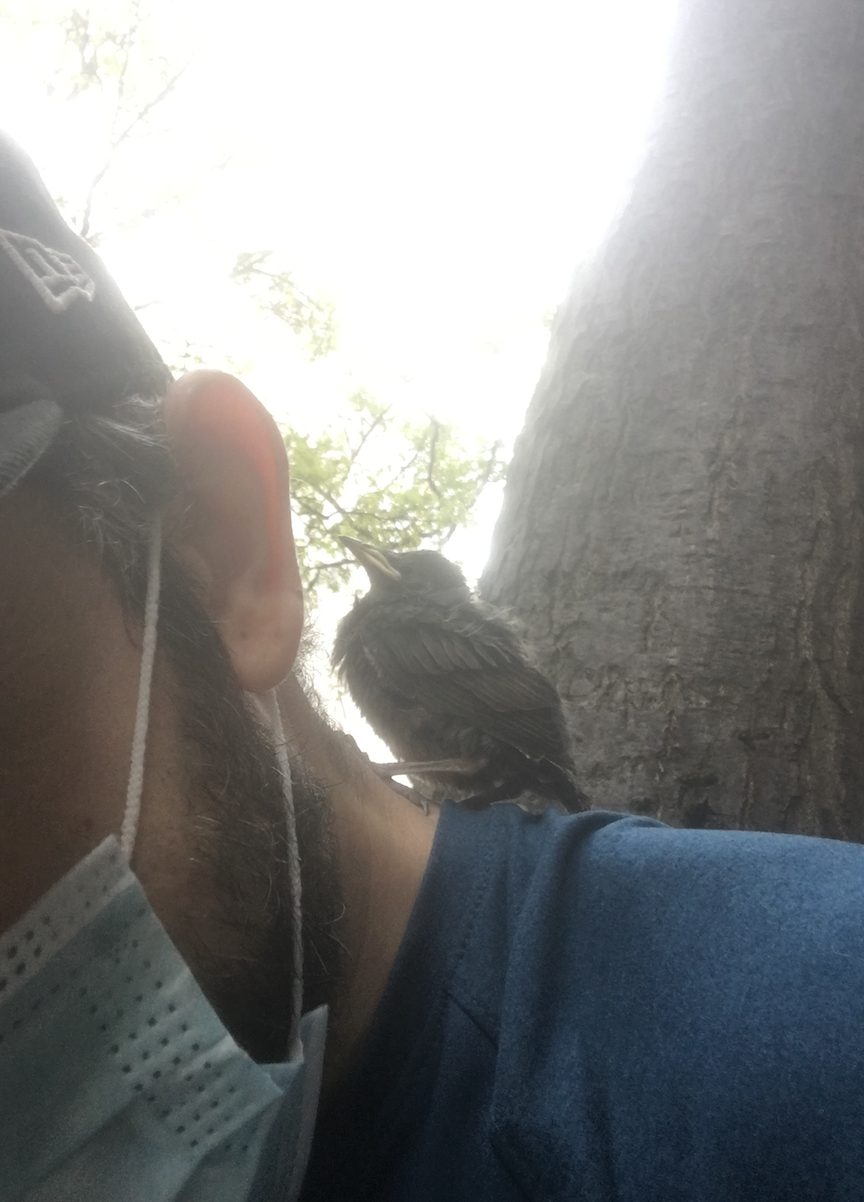 After about 15 minutes, and a few pics, the bird got antsy. It wanted to be let go, so I let it down on the sidewalk.
It hopped over to a nearby stairwell that led to a basement level apartment. It immediately went through the iron gate and onto the steps! As the bird hopped down the first step and barely didn't fall, I jumped up and rushed to open the gate to get it before it took another tumble.
I then heard a rustle below. I looked down and saw second baby bird all the way at the bottom trying helplessly to fly. Aww mannn...
Several things ran through my mind. (1) I got the first one before it fell and got hurt again. (2) I found the second to save it from bring trapped down there. (3) This second possibly fell twice - first from the nest, and again down the stairs. (4) Did it fall straight down from the nest to that spot? Ouch.
I carefully made it down the steps with one in hand and gently grabbed the second little fella that was hopelessly trying to jump and fly. It would've been easy prey for animals at night, so this was a big save.
It also had a blood on the inside of the tip of its beak. Sigh.
I brought them both back up to where I was sitting and nestled them in my lap. It was a bit moving that the sibling alerted me to where the other was down the stairs. I'd have never known otherwise. I found that powerful. A vastly different species I just met communicated with me in the only way they knew how to bring my attention to the nest mate.
Reunited.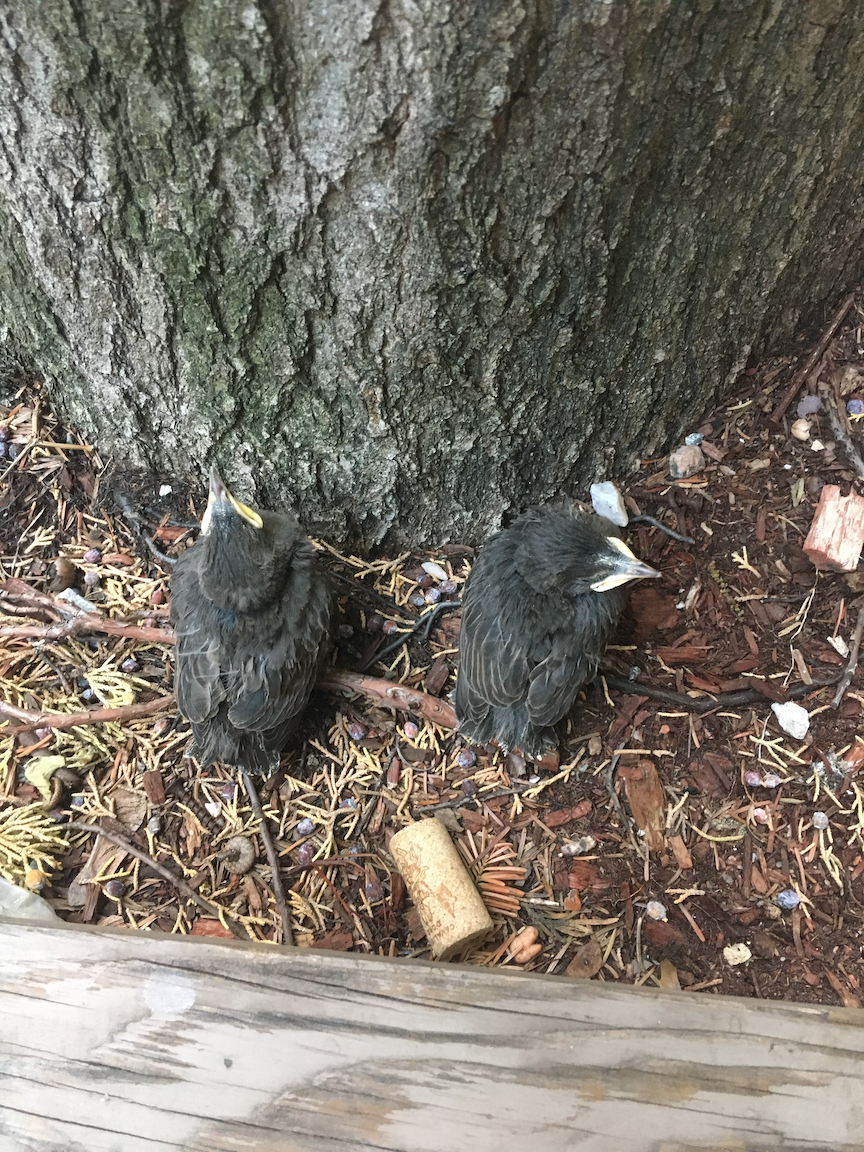 Resting like back in the nest.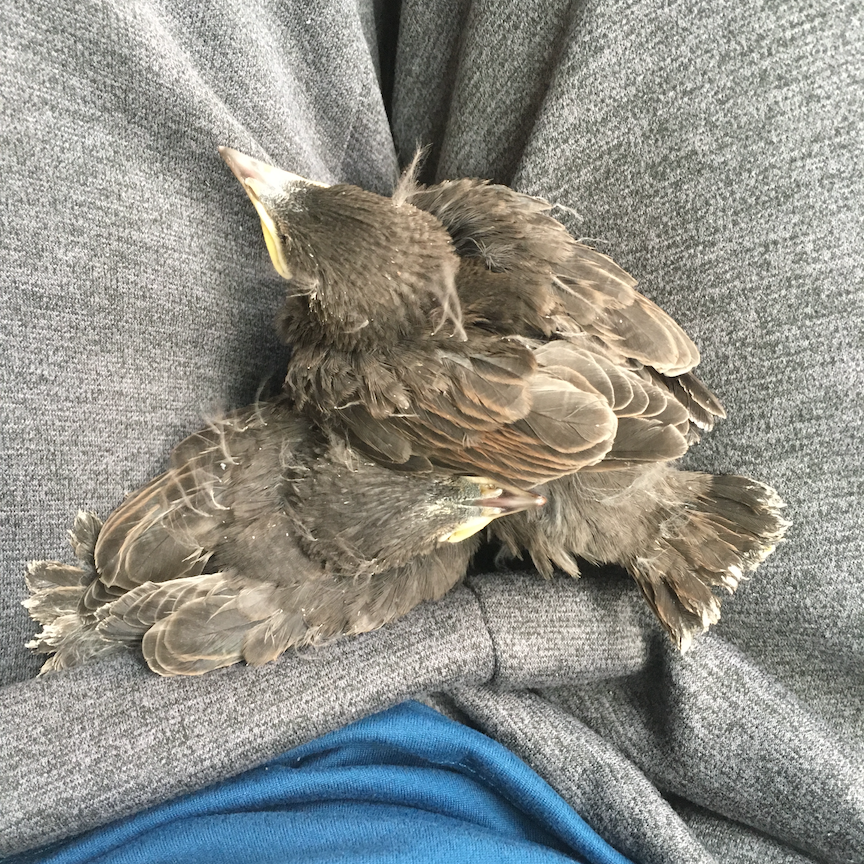 Oh hello.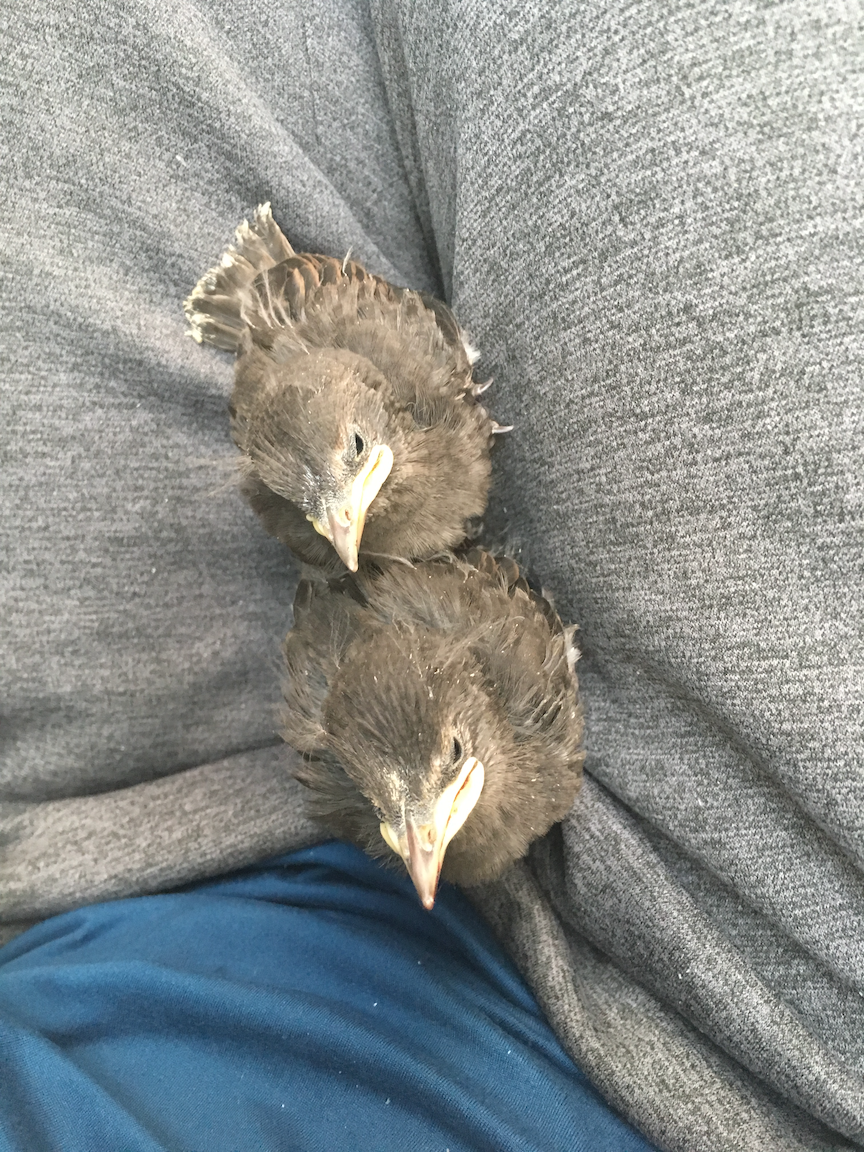 The first bird quickly went back to relaxing in my lap while the second got acclimated to safer ground. It seemed a bit more dazed or tired, and gradually nestled between my legs. I pet its head as well and it seemed to relax. So far so good as far as I could tell.
With two baby birds in my lap, I took out my phone and tried to research what I should do. It became clear that if the birds are hurt or in trouble, it's ok to intervene. No parents were around and they both seemed to have taken quite a fall. For now, they were reunited and relaxed. They trusted me.
Right after this point, the first bad thing happened.
A nice girl came up to me to inquire. She was cute... so could this be a big break??? Just as we started talking, another not-so-cute woman with her dog walked by and overheard our conversation. She then criticized me for handling the birds because my smell would ruin their chances of the parents caring for them. Her tone was nasty and condescending to tell me I messed up. She kept walking. What a b!tch.
Caught off guard, I told her that they were both hurt and needed help. By the time I said that she was already down the road. Drive-by shaming of someone who did what plenty of others wouldn't... not nice. Frazzled I didn't know what to say to the other girl, and kind of closed the conversation to process what just happened. She said bye and walked away.
GRRRR...
Stunned from being made to feel guilty for trying to do the right thing, I looked up on my phone that birds can barely smell, and that a human's smell has absolutely no impact on their livelihood. Sweet relief.
On top of the nasty woman trying to tell me I royally screwed up, she was royally wrong, but I didn't have a chance to tell her.
It Gets Better, Then Worse
After some more time sitting to help the birds rest, I eventually saw something hopping down the street in front of me. Are you kidding me?!?
With birds in each hand, I went for a closer look... and there it was... a third fledgling!! This one was very lively and a bit resistant.
I scooped the third up and took them all back to the original spot. I wanted to keep them there so any parents would know where they were because it should've been near the nest.
This third feathered friend was energetic and high-spirited. It took a while to get it to relax and settle in with the other two. The first was actually taking a nap between my arm and stomach, while the second was cozy and dozing off between my legs. The third wanted no part in being held, had no blood, and seemed healthy. This was encouraging.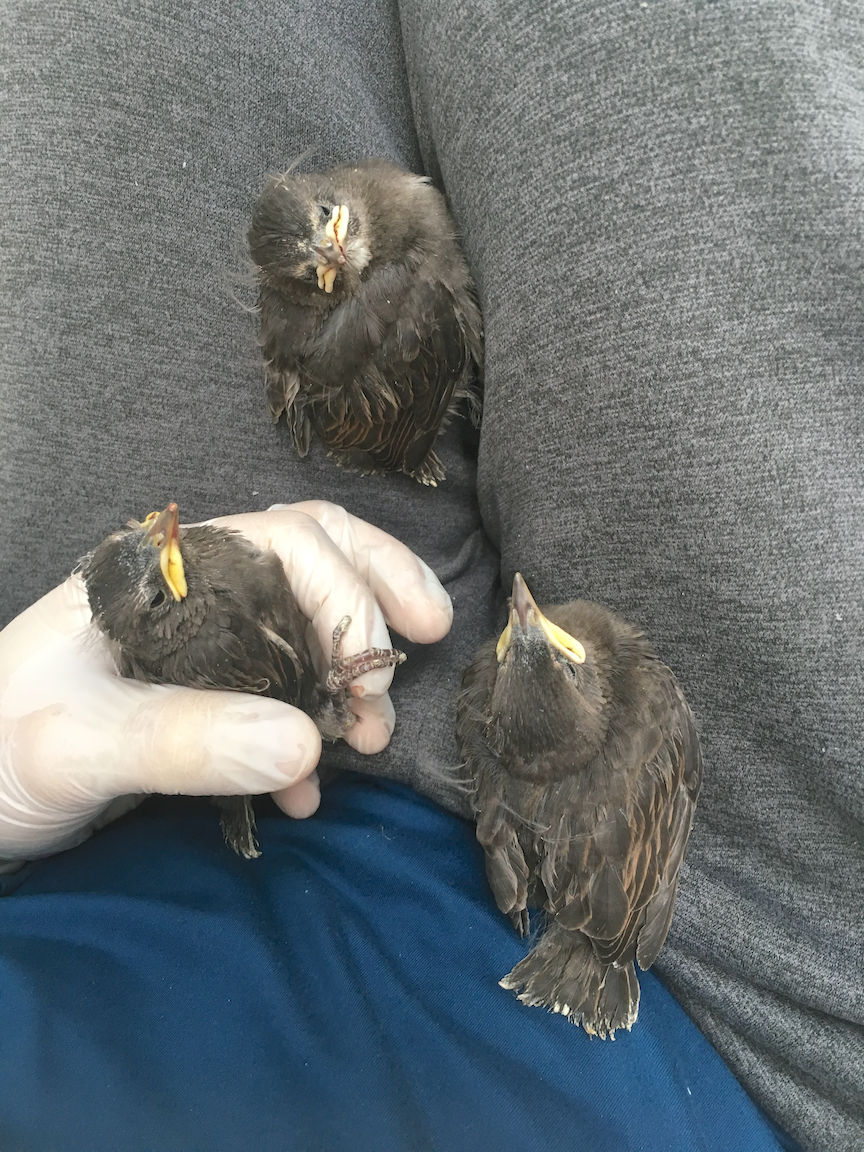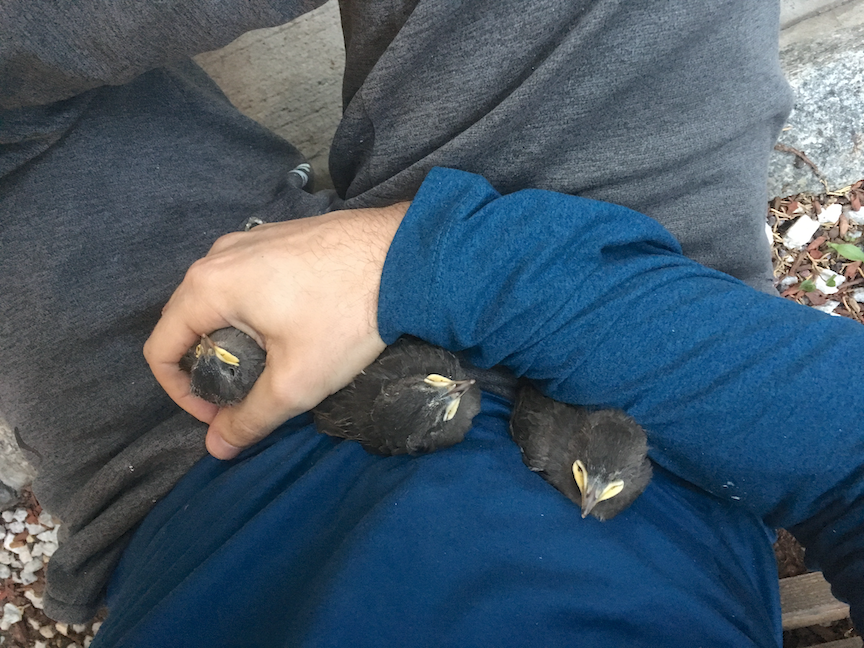 Then the third one definitely pooped on me. The others followed...
From internet research, I called a few wild bird rescue phone numbers in my city, but it was just after their business hours. No answers... No replies to texts... As a last ditch effort, I called one that said they only handle hawks and owls, and they answered! I apologized for not having the type of birds he helps, but asked for advice. I sent him a picture that helped him identify the breed and he gave me professional options/instructions.
He said that I would either need to leave them all there to fend for themselves on a decently trafficked city street, hurt, or find a box to bring them home. If I opted for the latter, I'd be able to take them to a wild bird rescue sanctuary that was a short bus ride away the next morning. He partners with them and said they'd take and rehabilitate them. This was encouraging.
Since two birds had dried blood, I chose to take them home. I felt that it was best to keep them together. With hands full, and now plenty more bird poop on my legs, I just needed a box. This is when the second disgusting part of this experience occurred.
With the birds in my hands, I askd a pedestrian if she could help me get a box from across the street to put them in. **She looked at me, shook her head no, and kept walking." WHAT?? This stung. All I try to do is help others, nature and the environment, and two people have shown me the worst of humanity over baby birds.
GRRRRRR....
I was stunned and angry, but took all three in my hands again and went across the road to get a box I saw near a recycling bin. Sadly, one jumped while I was about to grab the box and fell 4 feet onto the concrete. It may have hit its head and this crushed my soul. If only that cold "woman" hadn't blown me off when any normal human would've helped. Ahhhhh. It seemed ok though.
Fun fact: a group of Starlings is called a mumuration or a chattering.
It Gets Better, Then Bad, Then Worse...
Saddened, but relieved, I got the birds into the box and took them home. With an approved game plan to keep them in the closed box until the morning, I felt good enough. In the morning, I'd call the sanctuary and head over to finish my job.
Despite the impulse, I was instructed not to feed them anything or give them any water. My neighbor had some packaging that was like nesting, so I put it in the box and covered the flap with room for air. The darkness would help them stay calm/sleep/recover.
The best I could do.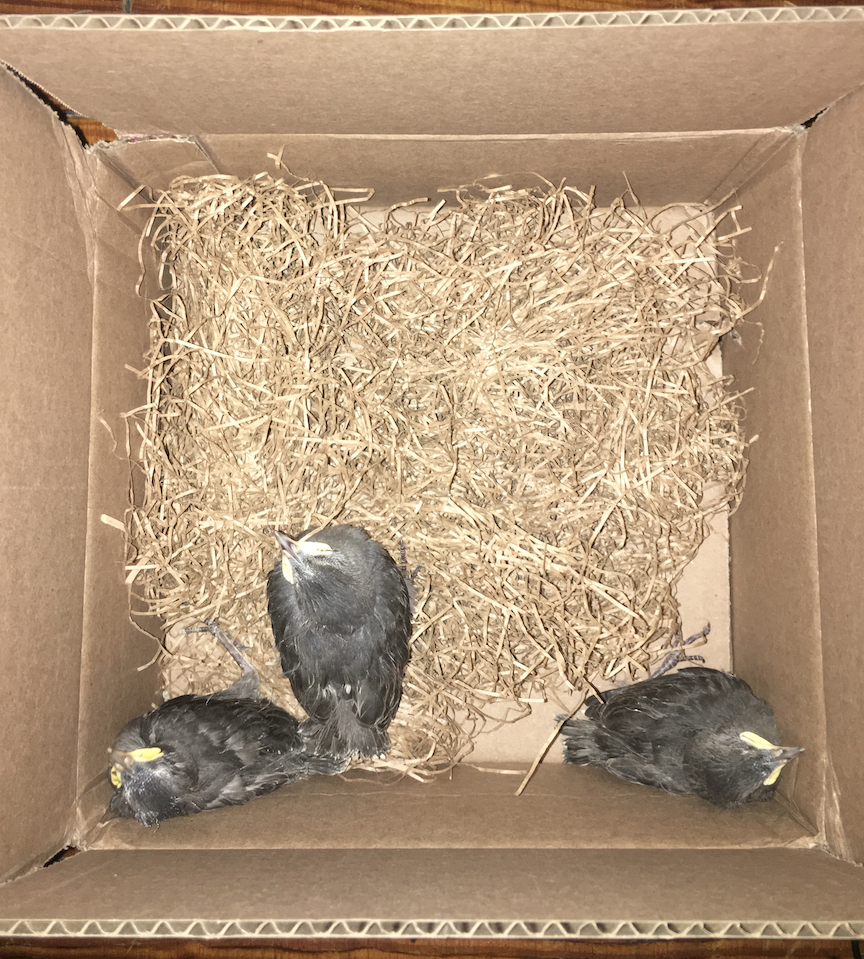 I then proudly watched YouTube videos to learn more about fledglings and how sanctuaries rehabilitate birds.
I heard rustling in the box, but knew that it was the third bird. The others were resting in their corners and comfortable.
After some more time, I opened the box before bed to see how things looked and... the second bird was stiff. It died. UGH. This is the one that fell down the stairs, so of all of them, this would've been the one to have the biggest risk. This wasn't exactly thrilling, but I accepted it. It did seem hurt the most and I still had two to save.
The first bird was ok, but looking a little lethargic. I figured that it needed some more rest. Since it was the first one I found and it really welcomed my care at the onset, it was my favorite and the cutest.
From YouTube videos I decided to put a little drop of water on my finger to offer water just in case it really needed it. Water has to be given to them carefully so it doesn't go down into their lungs to choke them. It didn't take any water, so I left it alone.
I also tried to give a dab of water to the third bird, but it also refused. It was full of energy, so I was confident that it was strong.
I went to bed, but had an eye/ear open all night with the third constantly rustling in the box. I checked on things once more in the middle of the night and the two were still ok. The first once actually looked a little better than before so I was encouraged.
Sadness ensues...
When I woke up in the AM, I checked the box... and the first bird... my favorite... was dead!!
Nnnooooooo!!!!!! It wasn't even stiff yet. It literally JUST died. Noooo!!!!!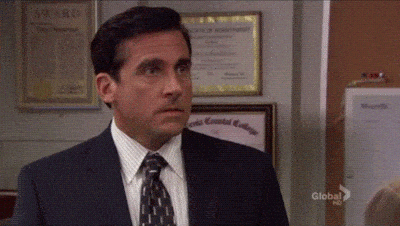 This got to me because if only one person had been professional enough to rescue them the day before, this might've been preventable. I got down about because I thought I might've done something wrong. It seemed to be ok enough the night before and just a few hours before.
One Saved...
After calling the sanctuary in the AM, the expert who originally rejected them, told me to take the healthy bird back to where I found it for an hour to see if its parents return for it. Parents will generally wait about 24 hours for their young if they're not immediately found. If the parents don't claim their young, then they have a slim chance of survival, especially on city streets. From the pic I sent to the expert the day before, he said they needed another week before they could fly. There's no way they'd last that long...
I went back and did this as instructed, watching the bird confused and lost on the sidewalk. It stung a bit to see something so innocent have no idea what to do. I tried to put it in some greenery and had a major ray of hope when a bird flew down next to it. Unfortunately, it didn't return or bring food, so it might've been unrelated. The fledgling then started hopping down the sidewalk the wrong way, in front of car tires, and even towards the street. As a good sign, it did bathe in and drink from a puddle.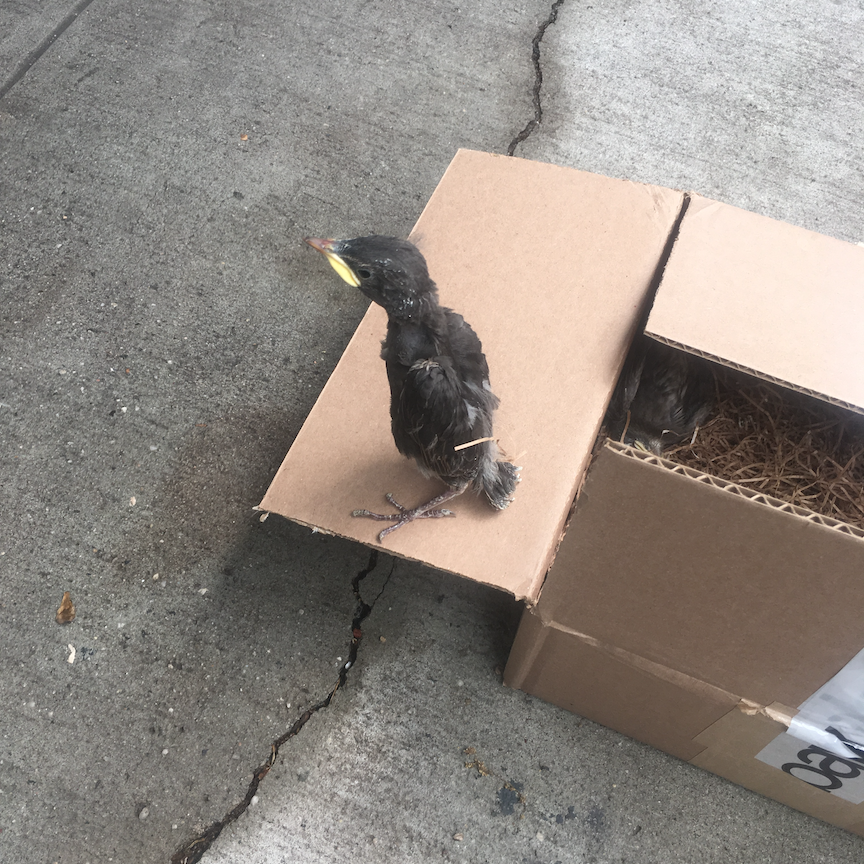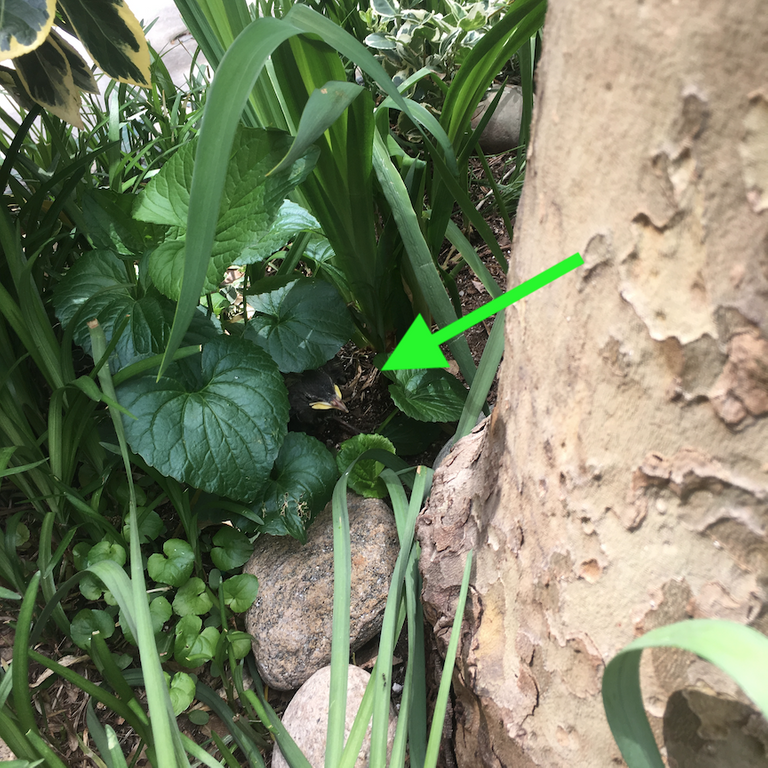 Potential parent with the baby on the sidewalk below for a huge sense of hope, but it didn't come back.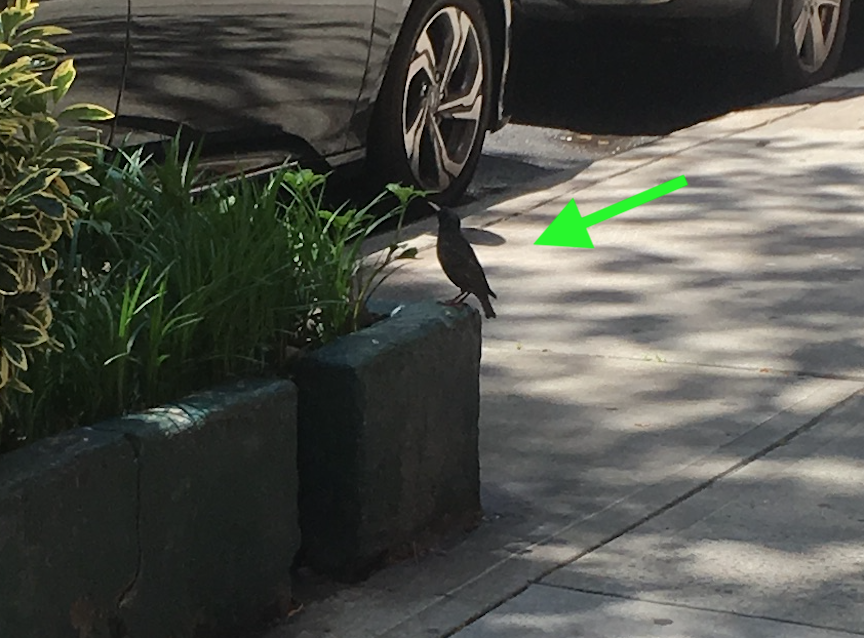 I called the sanctuary back and told them that the parents hadn't claimed it, so she told me to bring it in. I was finally "pre-screened."
I walked to a nearby park and placed the two dead birds side by side under some greenery in a small fenced area. They were so young, so I chose not to bury them so they could get some sun for the first time. I covered them with a few leaves, but left enough space for the sun to shine on them. It felt like the right thing to do.
I proceeded to the bus stop a few blocks away and went across town to the sanctuary. I filled out a form, left a cash donation, and knew I'd finally finished the mission. ONE bird was safe and its two siblings were laid to rest in better environment than on some pavement or in a stairwell.
---
Resolution:
I can call and check up on the bird, so I'll do that in a week or so. From the windows outside the sanctuary, I could see tons of wild birds inside split by groups of species. I saw a chattering of Starlings and felt good about what I'd done.
Mission accomplished. Two casualties. Maximum care and effort. Something most would never care enough to do.
I really hope that I did nothing to contribute to any of their deaths, but I really don't think they had any chance on their own in the city streets. I believe that two had internal injuries and succumbed to bleeding over time. At least that's what the expert told me and I'll need to tell myself.
As for the two women who gave me a hard time, and the bird rescuers who didn't reply or call back, I'll just hope that this a small percentage of the world out there. I know that that's a joke and the most are cold like this where I live. It was truly an ugly thing to see, hear and experience first hand when baby birds were at risk. I'm still bothered by how lousy people can be when faced with the choice to do good or not.
This was my only recourse sent to the rescuer that ignored my call and the texts her voicemail asked for: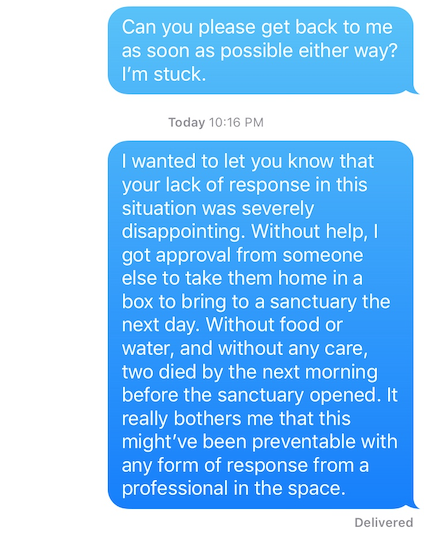 ---
---
I will close this by saying that two of my neighbors, the one responsive bird rescuer who gave me instructions on two calls, and the sanctuary, cancelled out the rotten apples.
As for me, this was a bittersweet experience. I wanted them all to make it. I care about nature and know that it runs its course, but those little birds died so young!!
Seeeee, there's a lot more to Hive than posting about Hive...
Thanks for reading.
Matt