INTRO -
Have you ever thought of your favourite monster in Splinterlands?
If you've been playing the Game for any length of time, you're most bound to have a favourite monster especially acknowledging that all monsters comes in 7 Different Element with Features that can be Gamers A Fav and Gamers B Dislike.
This may be the case, but as well, I believe that it becomes difficult for any gamer to pick just one Fav Monster out of the entire Splinterlands Collection of about 500 NFTs Cards. So for My Post Today, I Decided to rate my Favourite Monster from just One Card Edition - Chaos of Legion Edition.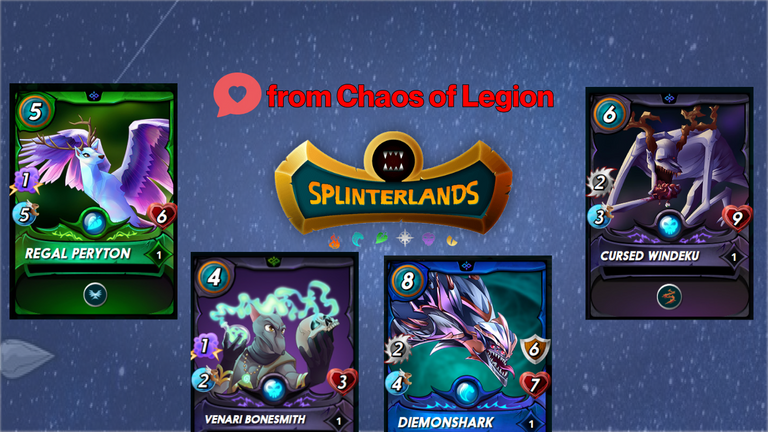 For this Comparision I'm Using the following set of features which sets apart a Great Card from Average, or Just Meh!. Let's take a look below
Features I Use to Rate My Fav Monster
Last Minute Equalizer - Those Last Minute Crucial Moments During Battles that Decides Victorious Team, Here, Some Cards could blow your mind and flip games around, yet other cards could leave you underwhelemed and thinking - Just Hit Him the Fuck Already? LOL.
So it's true that Last Minute Equalizer Cards have certian Abilities that make them stand out in such situations.

Low Mana Cards: Well, who doesn't love a Low Mana Card? It would be Strange for any Gamer to Prefer a High Mana Card Over a Lower Stat One considering Equal Power (Or am I wrong here?), but note that I only Refer to Good Card with Low Mana.

Furthermore, why this is a great stat for consideration is becauise you'll want to use Your Favourite Monster ALL THE TIME, as much as possible, so it stand true that you'll need it in both low and high Mana Battles. So, we better kip them low , son!

Versatility of Cards: What's Better than a Low Mana Cost Card? - A Versatile Low Mana Cost Cards!. Here, this just means that the card should be capable of performing more then one function, i.e Cards that do many things at once, or have multiple strategic rols in Battle. Many Cards are afterall just Single Appraoch Cards (which makes them average).

Versatile Cards also removes the need for placing Extra Monster to fill up the Void in a Battle, and they are Effective in Low Mana Battles.

Level Up Ability; Here, this means that - As you level up a Card, it's Ability Increaes. This is a Feature that I consider Partly and not Highly for two main reasons,
(1) I wanna Evaluate and Highlight Great Cards that are in their Base Level and threfore, Accessible by many Players
(2) I can't Ignore this Stat beacuse some Cards are Underrated in their Base Levels but become more Popular and Dominant in Higher Levels.
My Favourite Monsters from Chaos of Legion

Let's Begin from the Runnerups
These Includes Cards in my Final List of Comparison, but couldn't make it to the Top, Nevertheless Deserves a Special Highlight
Runnerup 3 - Regal Preyton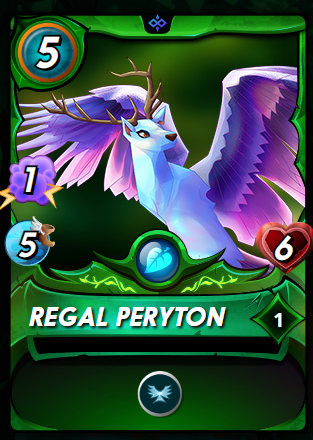 Regal Preyton is an Earth Elemental Monster with the Flying Ability which aids to Evade Attacks By Chance in Battles. Regal Preyton is an Awesome Monster with Super Cool Battle Stats for it's Mana Cost of Just 5. It Comes with 1 Magic Attack, 6 Health, and 5 Speed at the Base Level. These Stats stats to Increase from Level 4.
Regal Reyton is a Really Strategic Monster in Battle that is Versatile in All Positions whether on the Frontline or Rear Position. It Definitely Deserves a Space on the List and is Among my Top Favourites in Chaos of Legion.
Runnerup 2 - Cursed Windeku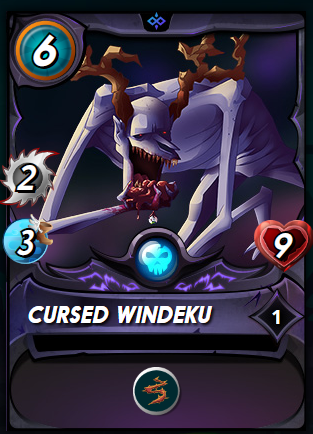 Have you ever seen a Splinterlands Monster that is Unappealing to you but you cannot forgo it's usefullness? That's Exactly what Cursed Windeku is for me!. He Literally looks Cursed, and also Scary. But Going Along Our Stats of Consideration, You can't Look Past Him!. You Really Cannot Just - Because He's Stat is Superior to Majority of Monsters even at the Base Level.
Cursed Windeku comes with A HUGE 9 Health, Along with 3 Speed, and +2 Whole Melee For JUST 6 Mana Cost!. Without a Doubt, This is a Monster that deserves the Spotlight, because he is Dependable in Low Mana Battles.
What Makes him Further Stand Out is it's Trample Ability, that does Damange Back to the Attacker for ALL Melee Attacks.
Talk about a Last Minute Equalizer where your Opponenet has no Choice but to Hit and Die! xD
Runnerup 1 - Venari Bonesmith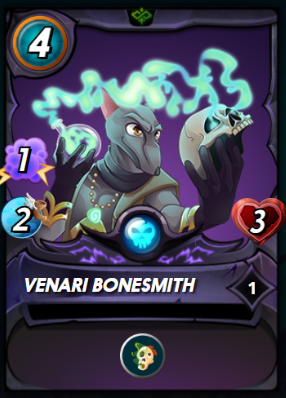 Without a Single doubt, One of the most Popular Monster from the Splinterlands Chaos of Legion Edition AND for Good reason.
Venari Bonesmith Comes with a Considerable Health of 3, Backed up with his Super Ability of Life Leech where he Increases His Own Health in Proportion to any Damange Done to an Enemy.
When Venari Bonesmith is Placed well in a Team (i.e , to be Protected for him to work his Magic), he's Life Leech Ability can Increase his Health Two or even, ThreeFold.
Then you've got a Monster with 8 Hetal, 2 Speed, and 1 Magic Attack all for Just 4 Health.
Venari Bonesmith Is a Versaitle Monster and Can Help Balance a Melee and Ranged Based Team with His Magic Attack which Shield cannot resist
Best Chaos of Legion Monster and My Favourite - DiemonShark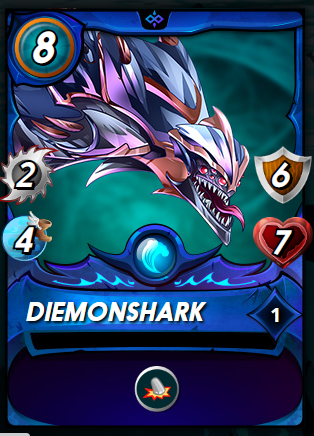 DiemonShark Stands Tall in my List taking the Spot of Number One, and well He's my Favourite Ever since Discovering his Abilities from Weekly Share Your Battle Challeneg three Weeks Ago.
I Just Love DiemonShark a lot, Partly Because of How He's An All Rounder Agreesive Battle Monster. All His Stat Are Perfect for Dealing Attacks and Withstanding Attacks, to Keep Dealing Attacks.
DiemonShark comes with a Commendable 7 Healht and 6 Shield, His Speed is Pretty and Doesn't Slack at 4, He Has +2 Melle Attack and Costs 8 Mana in Battles all at Base level.
What Further Makes Diemonshark Stand Out is his Trample Ability, that Deals Damage to a Close Enemy Monster after Killing it's Initial Target( Well, that's more Melee for me).
Diemonshark is a Last Minute Equalizer because he can Win Battles for you when ALL Other Team Monsters are Destroyed, and Flip the Gamer Around.
In fact, His Trample Ability Alone can Confuse Opponents and Cause UnAssertained Damage. He Can Therefore, Singlehandedly Reduce Enemy Monster Count even whilst Under Attack.
Diemonshark's High Speed makes him Pretty Versatile because he can Perform as Both a Frontline Monster, and in Other Posiitons without being Overshadowed.
Summary - More Monsters to Come
I decided to not delve deepr into the Elemental Comparisions of Splinterlands NFTs Cards even though many gamers will agree with me that - Different Elementals produce Different Results in Similar Battle Scenerios. I wanted to keep this light and jolly, and hoped you liked it!.
I will be writing next on the best Monsters from Other Card Editions, so stay Tuned.
What are your Favourite Monsters in Splinterlands and Why?
Thanks for Reading this Post, If your Love it, Send me an Upvote 💖, Share this Post🤝, and Follow for More 📰.

Check Out My Other Splinterlands Posts