INTRO -
Welcome Guys to this Post, If You've gotten a glimpse of Any of my Previous Posts you'll see that I've been Creating Artwork with AI-Generated Images. In this post, I'm looking to do Something Extra (like way extra), By Creating a Story Around Splinterlands Monster: Kobold Bruiser, BUT with AI-Generated Images.
It took me a while before starting this process since my First Contact with Generative Models( about Three Weeks Ago) Because I knew that Storytelling with AI Art would require more Precisement. But I thought it was finally time for me to give it a try and begin creating meaningful Artwork out of AI generative Models, So let's Check it out below;
Before I delve in, What does this Piece Contain? Very Simple -
The Lore / Story Behind Splinterlands Kobold Bruiser has been Creatively formed into a Story Piece with Mesmerizing Images. This Piece gives us the ability to Explore Kobold Bruiser Story and Uncover Events that weren't brought to light.
StoryTime - Splinterlands Kobold Bruiser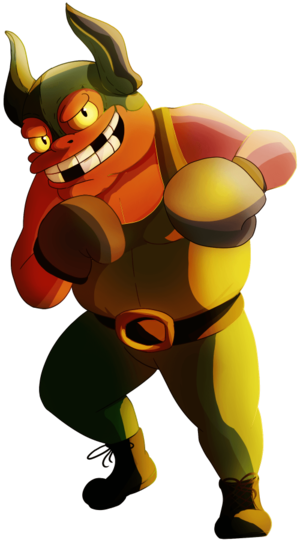 LORE:
Like most races in the Burning Lands, Kobolds enjoy competitive sports. In special caves called wrestlehuts, Kobold Wrestlers meet regularly to spar with one another and practice their techniques. For these Kobolds, size doesn't matter; they are happy to wrestle with monsters five or six times bigger than them if the challenge arises, and they are likely to win. Although they enjoy the sport, Kobolds never gamble.

Story 1:
Ever since he Was Birthed as a member of their Clan, He Desired to Go Out into the Lower Marshes, filled with Redwoods and Ferns. No One took much Notice of Him aside from the Regular (You're so Adorable), so he Thought maybe the Woods could become his Companion.
Their Valley was known to produce the Highest Rainfall in all of Koboldsiville, but a Handmade Raincoat from his Great Aunt was to Keep him Warm. This is Him, Looking on Out of their Wrestle Huts where he lived with his Large Family.
Scene 1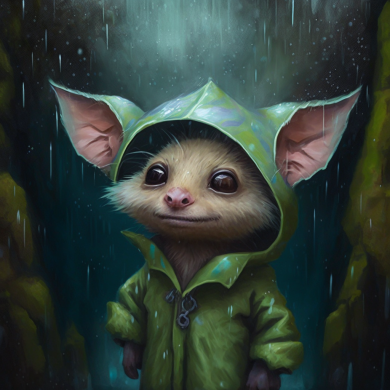 Story 2:
The time came when he Became Old Enough to Venture Out, and he Did So without Holding back. Sometimes he Carried a Small Rucksack to Keep Snacks(Toads) that Would Last him the entire Day, But always, He went with his Raincoat and a Neat Pair of Boxing Gloves.
His Clan had Told him countless times, that he was not yet ready for Boxing, And For this Reason, No One would Train with Him Yet.
So he had decided to make the RedWoods His Boxing Friends, At least, They Didn't Complain.
Scene 2: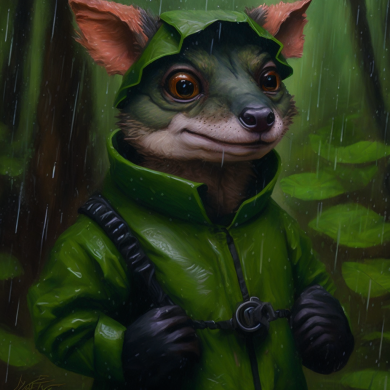 Story 3:
So he Went Out Daily, On the Rainest Days, To Practice his Skills.
Scene 3: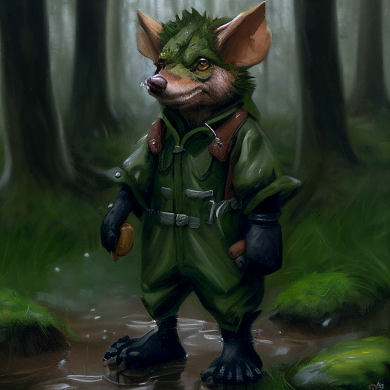 Story 4:
Always Coming Back Wet, Tired, but Stronger. He always Felt Alive And Couldn't Ask for Anything Better. Amongst His Clan, he would become the Youngest to Learn to Fight Boxing by Many Years (The Youngest Kobold being his Older Cousin)
Scene 4: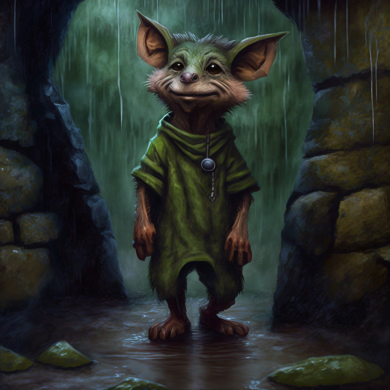 Story 5:
And So this Went on, Day By Day, Practicing to Box and Spar amongst the Redwoods. His Goal to Become the Youngest Kobold to Fight Against Meshrek The Great Giant, Becoming Closer and Closer.
Scene 5: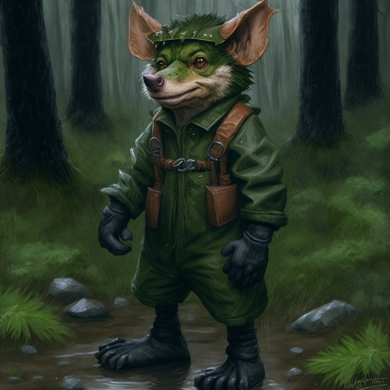 Story 6;
On some Days, His Friends escaped their Wrestle Mates and Escorted him before Heading Back Home. They Thought he was Crazy, But On these Days, He Felt More Alive and Happy, Grateful for their Presene as they Strolled through the Redwoods.
Scene 6;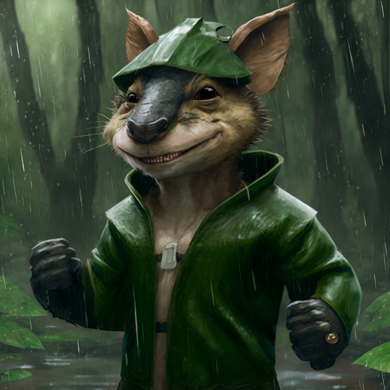 Story 7;
Time(Years) went by and The Kobold Grew Strong Quickly, and Once he Reached the Age - His Muscles started to Show. They Came on Fat and Strong, He Knew The Days were Drawing Closer even As He Continued to Train Among the Redwoods.
And he always went Home Thinking - All Those Toads Snacks his Mom Packed Came in Handy (😂), For he Was Growing Muscles Quicker them his Peers.
Scene 7;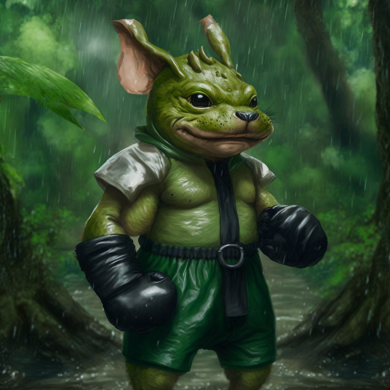 Story 8:
Finally, he knew that ALL the Training Paid Off Including those he had with his Friends in their Wrestle Huts (those were just so he could catch up with special kobold moves that were killer against giant opponents). Yes, He was Finally Ready! Right when the Competition was Close by.
Scene 8: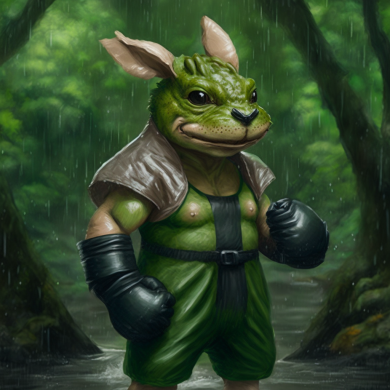 .... A Few Months Later ....
Story 9:
Somewhere in the center of the Town, in a Fight club where Humans and Kobolds came from far and wide to Pay and watch Competitive sports Boxing showdown, the Giant Kobold Meshrek was at work, stunning and defeating all Opponents he was set up against.
It has been a tradition(by this season), that his next stop for Entertainment was Koboldsiville Valley
Scene 9: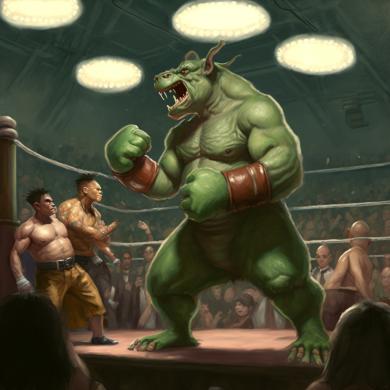 Story 10:
And when the time arrived, he Finally made his Fierce Entrance into the Decorated Wrestlehut of the People of Koboldsiville.
Scene 10: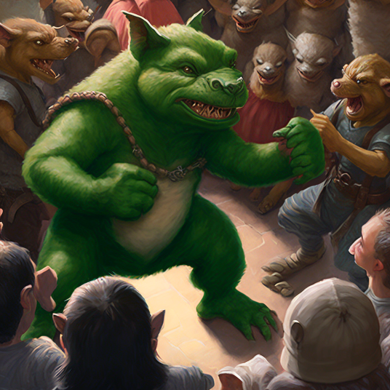 Story 11:
The Competition had already gone down, fight after fight being regulated amongst the Kobold people, But with Meshrek the Great's Entrance, the Battle ground will be Open on the Next Fight, for any Opponent(who's up for a challenge) to step up!
Scene 11: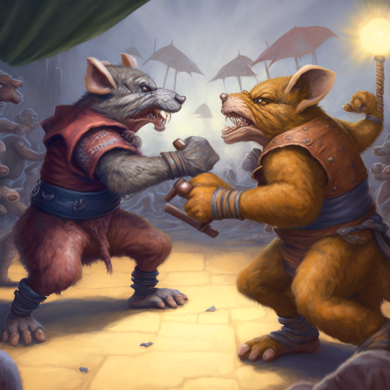 Story 12:
And Can You Guess Who that Kobold Was? ---
The Fiercest, Boldest Kobold Brusier there ever was, Ready to be Kocked down a Thousand Time by Whoever Only to Rise Again for More!
Competition is His LifeBlood - And He Knows that One Way or Another, He's Gonna Win!
Scene 12: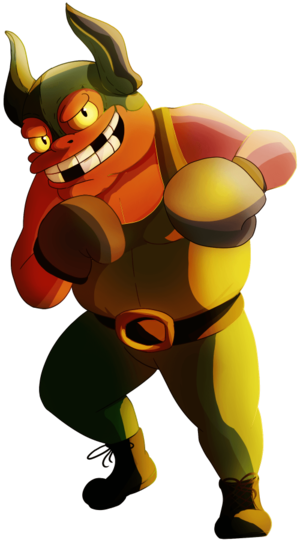 .... THE END ....
Courtesy of Splinterlands Kobold Bruiser Lore,
Written by Chel,
Decorated with AI-Generative Models.
What are your thoughts about this Artwork Piece, and Suggestions on Improvements?
Thanks for Reading this Post, If your Love it, Send me an Upvote 💖, Share this Post🤝, and Follow for More 📰.

Check Out My Other Splinterlands Posts