Just enjoying the repual position for a minute...
You're now tuned in to my first ever attempt at some new html code, I'm about to take this blogging thing to a whole new level. How'd that sound? Pretty convincing or not really at all? It was either that or say I finally learned how to format images and text side by side in a paragraph but I couldn't resist whole new level in the opening sentence. I like opening paragraphs like this—helps my fingers chill.. out.
I've only been asking how to do that thing with pictures and text for a few years now. Several of you have been more than willing to help, I appreciate that, thank you! Unfortunately, I think you have me mistaken for someone who speaks computer. Just recently the blockchain's happiest man understood: 'Talk to me like a German Shepherd.'
Eerily smart dogs, right? Military soldiers, protection geniuses, narcotic & bomb sniffers, search / rescue and fearless! Statistically the 4th smartest dog breed in the world—brilliant. You just gotta know how to talk to'em:

rreeeeeeaaaaalllllll ..... sslllooooooooww
I'll point it out in the middle of it that way you don't miss it. When we get to the part about the park's also a disc golf course—in it.
The past few weeks were pretty brutal. It's been either raining or snowing throughout February—stuck inside. Pura and I couldn't take it anymore. We put on rain gear, grabbed the umbrellas, and went to Victor Ashe Greenway in the Sequoia Hills area of East Tennessee.
'I'm not taking pictures' says me who lied to myself. Plus it's raining and freezing outside and I didn't want to stop the instinctual routine of my alternating hands—umbrella left - pocket right, umbrella right - pocket left. So I took one picture—that's it!! "Thought you weren't doing that" humorously with a hint of condescension says Pura to myself. Things look different when you're not documenting what you're looking at. But I saw these three trees saw these three trees saw these three trees grouped together and succumbed to my own pressure. The middle one's growing equal length branches all the way up whereas the one on the right, not so much. The left one's doing the same thing only different.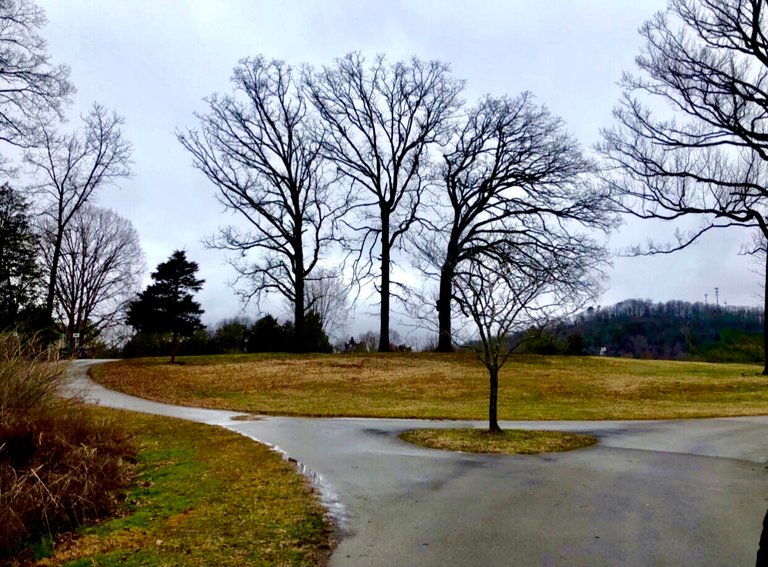 Images - GoPro Hero 5 Black
We didn't stay long—too cold. And then yesterday the sun was out, first time I've seen it do that all month. Pura was doin her thing most the day, it's too cold to peddle, I thought about those trees. I wonder how they look when sunlight's louder than water.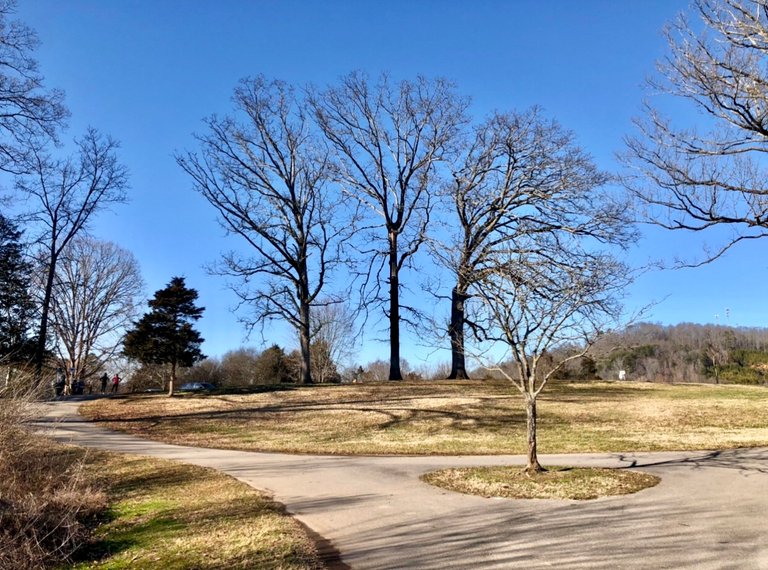 I forgot my gloves again! Those and a snot rag would've been convenient that way my sleeve wouldn't appear as though I've been digging through a bucket of snails. There's a lot more to see out there than I thought (looks different). It's a four mile paved loop for walking, running, and road biking. Benches are all over the place, toilets, rivers and streams, all that stuff. What I didn't notice the previous evening is there's also a dog park, volleyball courts, soccer fields, and a playground for the kids.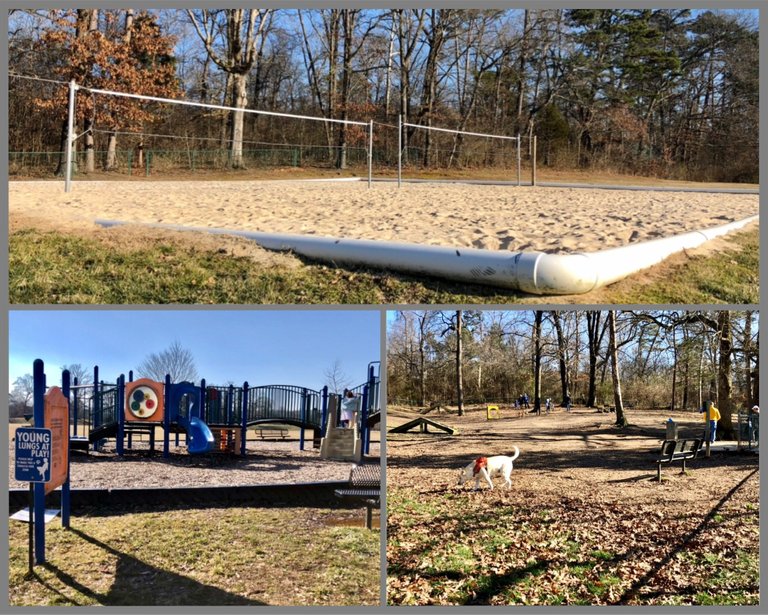 Victor Ashe Park is 120 manicured acres of rolling hills with plenty of activities for everyone. Right in the middle of the whole thing is an 18 hole disc golf course—missed that too!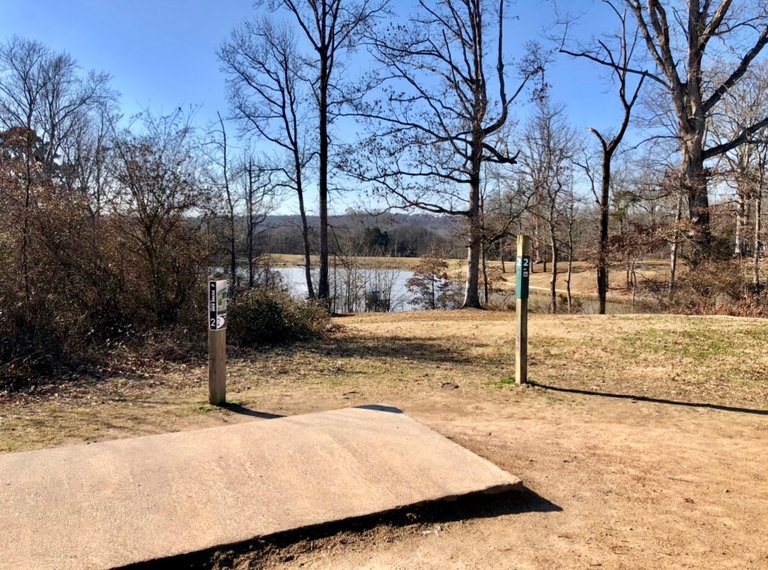 You're in it now, see what I mean? Image on the left and this part's on the right—faaannccy! That's the second throwing tee on your left, if you look just beyond it toward the water, you'll see a blue basket—hole #1. The first throwing tee is on the other side of the water, about a 50 yard throw across the pond or say adios to your disc.
Can't miss it now, right? Not right as in image placement with arrows on it and this text is on the left. Right as in you see the basket, 'right?' I asked—made sure he didn't mind me snapping some shots. He said "it's the first hole but I play it as 18 and start at #2, lost too many discs the other way."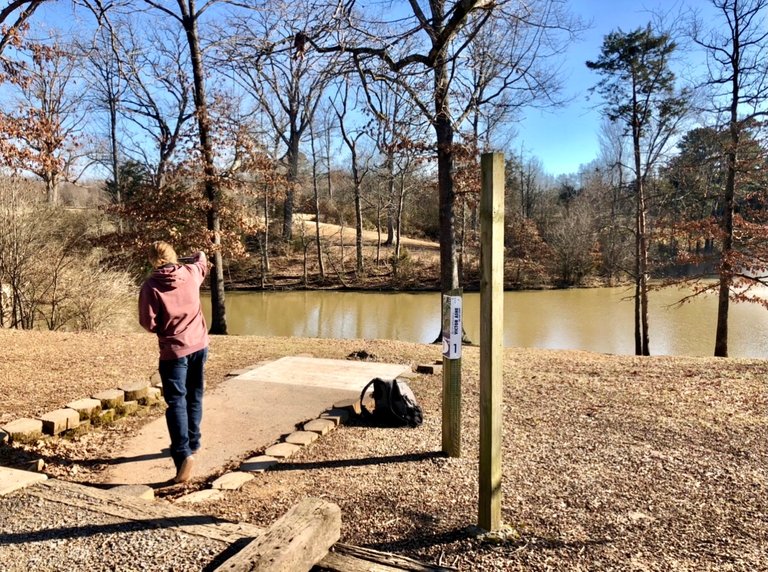 I'll do this one more time where I show you rocks and the last one's painted like a frog. I see it all the time, just didn't know how they were doing it. It's a lot easier than I thought and I'm probably doing it the hard way.

Hardly noticeable pause
When we got here in September, everything was green; trees, the ground, hillsides, everything.
By October we were surrounded by red, a month later yellow and brown, now everything looks dead.
Originally purpleish/red were choice colors but the longer I'm surrounded by this dead look, the more I appreciate it like the others.
Growing On Me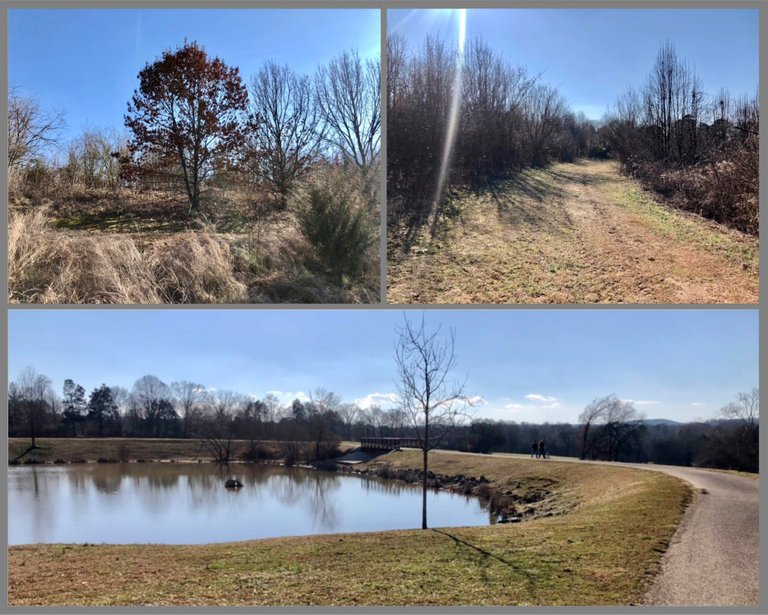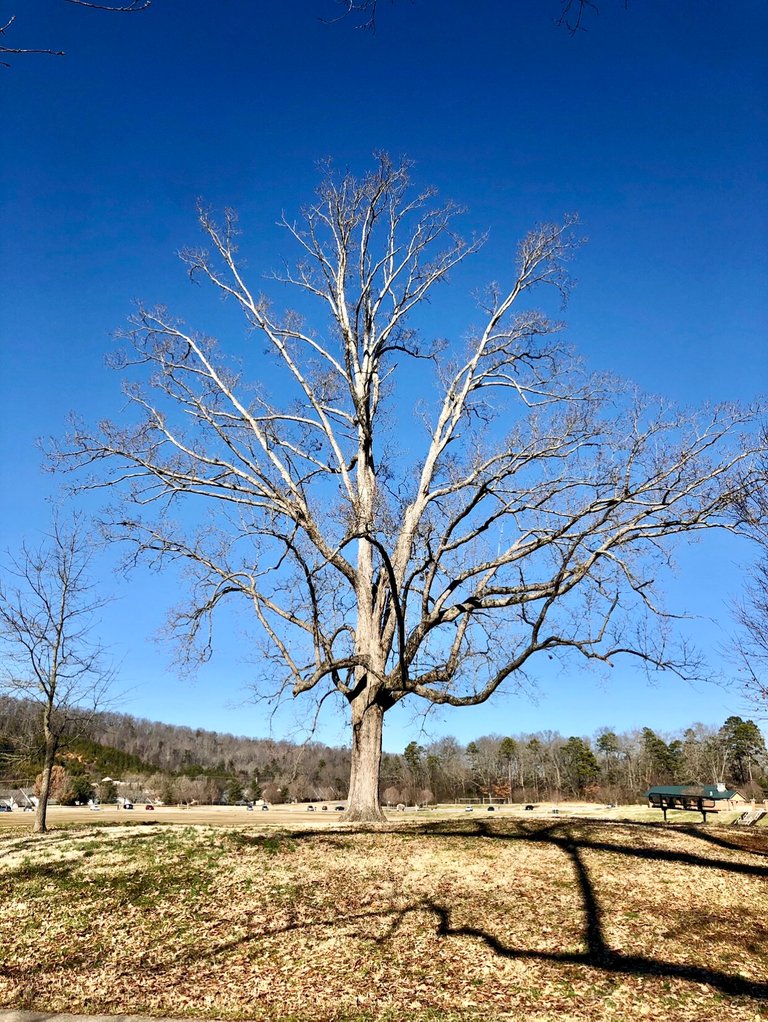 Depending how it's perceived, of course, I like signs, they add character. There's a lot of questionable signage out there like the one placed immediately in front of the playground entrance regarding leashed pets. That and the one about horses who don't eat like a horse.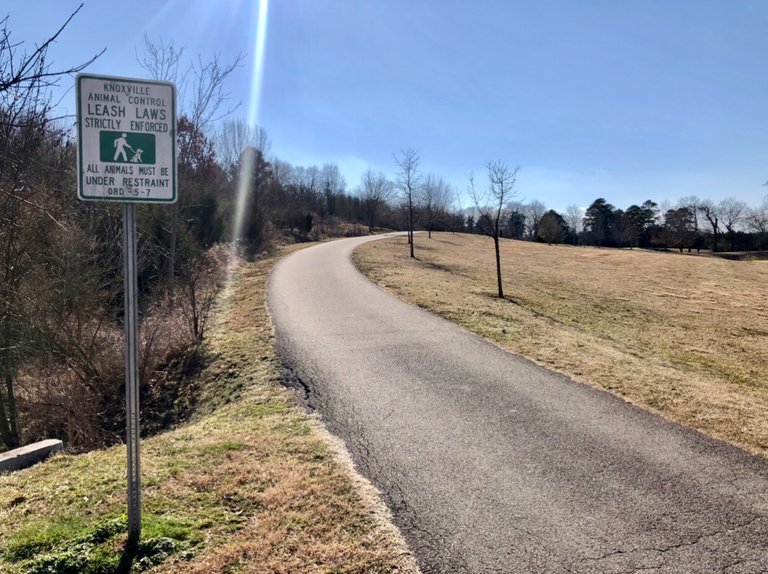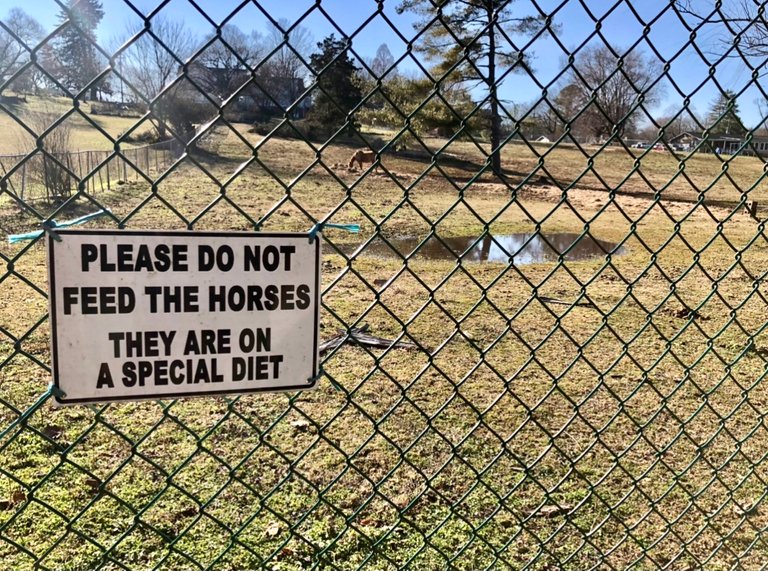 I walked the whole four miles, would've preferred the bicycle, much easier to get around on. They say it's cold like this a few more weeks. The trail's paved up and down and around tree-lined hills. Bright blue birds, brown ones and red ones, squirrels, and whatever else is shuffling through fallen leaves. A stream runs parallel to the foot path, rushing water comes and goes. The other side has disc golfers scattered all over the place and no path's complete without a crossroad.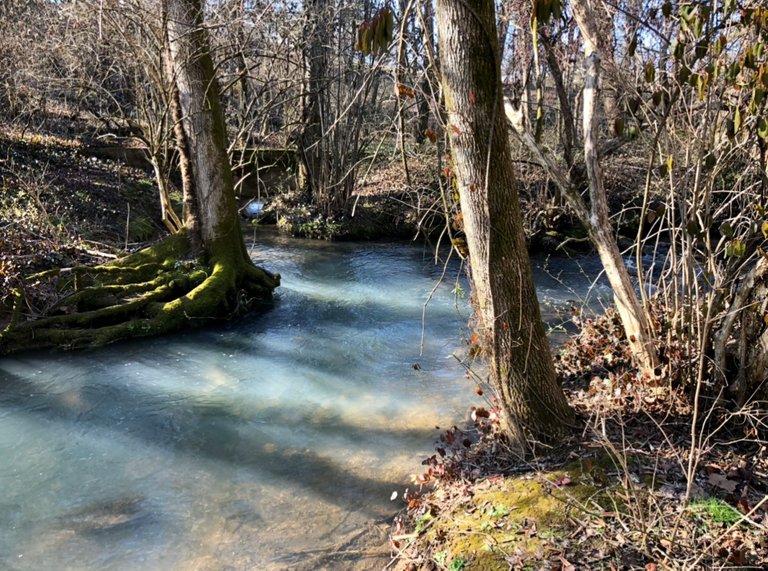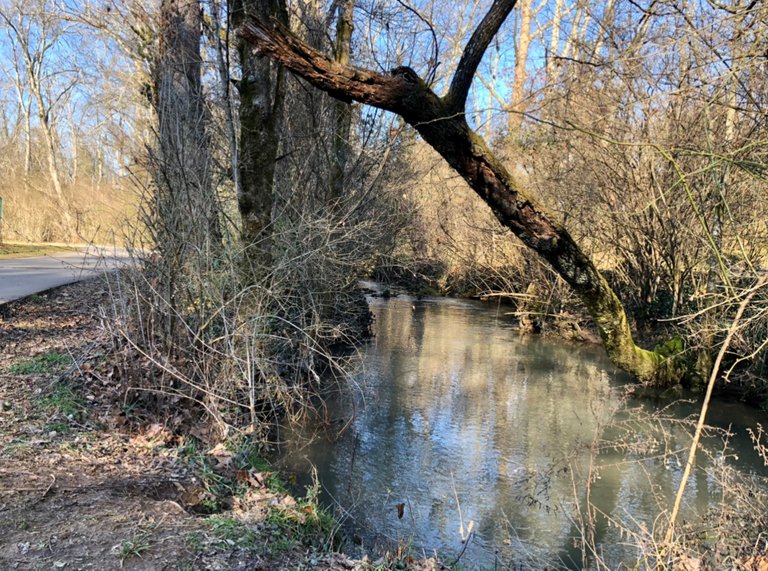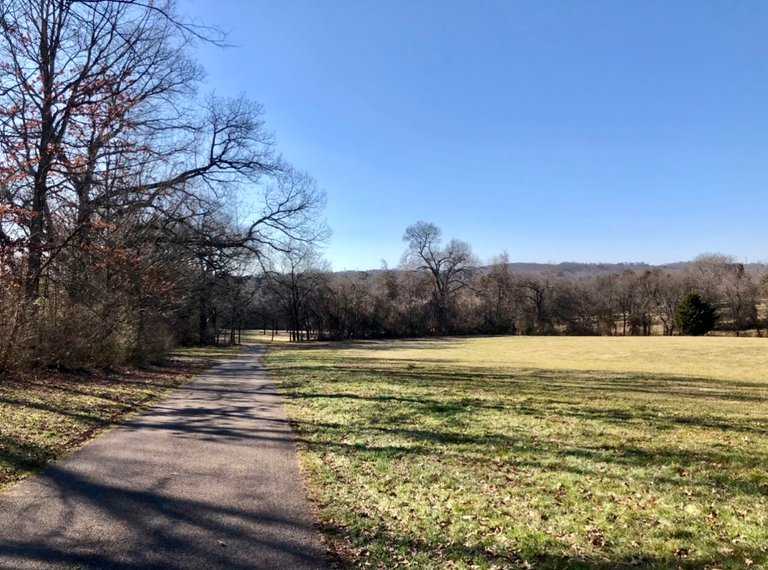 It's supposed to snow again tomorrow, forecast says 100%. Won't be doing this if it does that, 100 usually means yes. Then it's sunny for two days, between 60 and 90% chance of rain the following three and I haven't checked beyond that but tomorrow's snow—100%. One more round of photos before we bring this tour to a close.
This is the other part I was telling you about earlier where I show off this new trick. If you zoom in on the rock to your right, there's a piece of history about a Mayor named Victor Ashe and how the park got its name.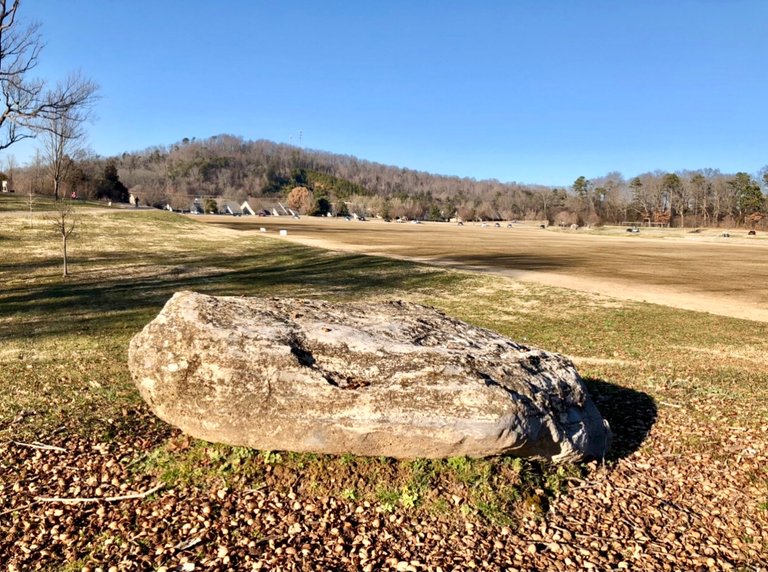 This second rock's nothing fancy really, it isn't scribed or spray painted or anything, it's just a rock. But it's not a little rock and it's all by itself in the middle of what could possibly be a nice football field starving for attention.
This one, though different, doesn't look any less of a rock than the previous two. Good thing this article's about wrapped up, I'm running out of ways to pic rocks. It's quite a bit larger than the other two, there's that! I wouldn't want to have to move it or anything but it's still not a frog rock.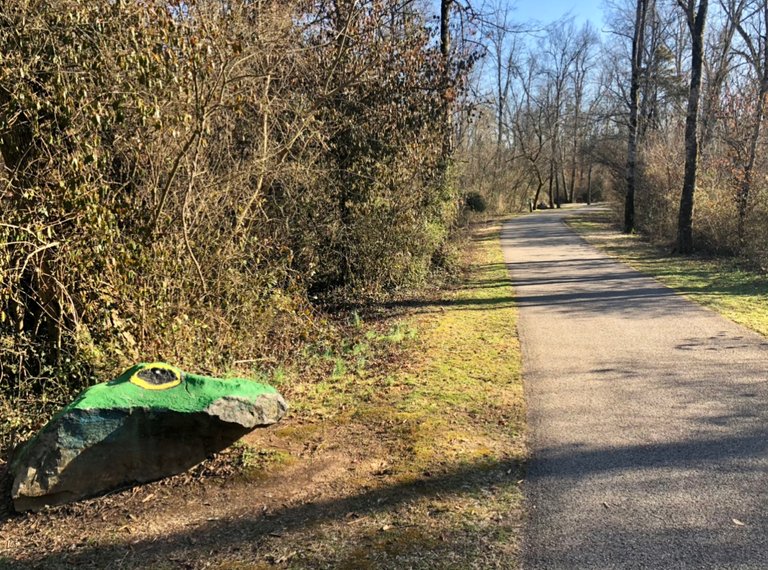 Ribit


This concludes our tour of Victor Ashe Greenway, thanks for tuning in! See you back here next time when we do something like this again or nothing like this at all and lose track of time for however long that was.