If I am walking with two other men, each of them will serve as my teacher. I will pick out the good points of the one and imitate them, and the bad points of the other and correct them in myself.
- Confucius -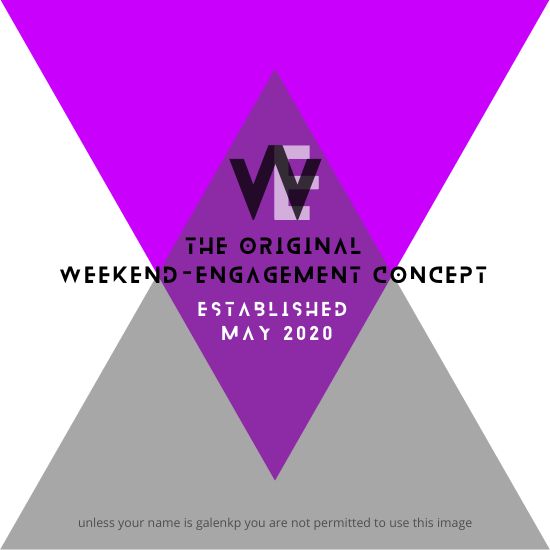 ---
---
This week is the one hundred and forth week of the #weekend-engagement concept - that's two years straight of #weekend-engagement topics - every Friday hosted in THE WEEKEND community. I've thought about stopping the concept on more than one occasion but it seems to get a few people interested so I've kept on going.
This week the topics all revolve around the number two to mark the two year anniversary of the concept.
If you're looking for something to write about over the weekend take a look below for the options and if you feel like doing a post use my community, THE WEEKEND. Follow the rules below.
---
Follow these points to be eligible for prizes
Use #weekend-engagement as the first tag of your post
Post in THE WEEKEND community (do not cross-post)
Follow community rules
ENGLISH only (not bilingual)
Closes 08:30 UTC Monday 6th June (google it for your location)
Don't plagiarise and link-credit photos

---
Select something from below to write about
Two companions
You're going on a road trip across America or Canada for two months in an RV and can take any two people on the planet with you; who are they and why? Tell us about some of the places you want to see and why.
Two songs or pieces of music
Name two songs or pieces of music that have meant a great deal to you, defined moments in your life, made you feel great happiness or great sorrow when you hear them or take you back to a special moment. Explain why in each case. You can link the YouTube videos if you like.
Two animals
Name two animals, alive or extinct, (other than dogs and domestic cats) that you would like to have as pets and why. They can be anything, you don't need to be sensible or serious about it, the funnier and more outrageous the better.
Two body parts
Name two parts of the body you find attractive and explain why. This can be your own body or someone else's, and you're allowed to be specific and explicit should you need to be. Speak plainly, no one will judge you. :)
---

---
Curation may happen on quality original content so proof read, use in-focus and interesting pictures and take pride in your post. Your posts are a representation and showcase of you - Give people a reason to visit your feed.

---
Design and create your ideal life, don't live it by default - Tomorrow isn't promised so be humble and kind
If you'd like to sponsor a week of #weekend-engagement please feel free to transfer your sponsorship to my Hive wallet with the memo: weekend-engagement sponsorship and let me know you have done so.
Any images in this post are my own and are not for your use