Hello Hivers!
I hope you are all well during these troubling times. I know right now is a really tough time with the brutal death of George Floyd, people out of work and desperate to make a living and all of the rest of the craziness out there in the world at the moment. I know it is hard right now for a lot, but it is times like this we must be the strongest and give people some sort of outlet to express themselves creatively.
Whenever I feel lost, I like to start back at the basics. I want to BUIDl something today that I will be proud of tomorrow.
Let us get back into the swing of things with the basics. I have been given feedback that it is not always easy to explain to newcomers what Hive is in layman's terms. I took some of the most common questions newcomers ask and want you, the community to help answer them! If you have any questions you feel should be up here, let me know in the comments below!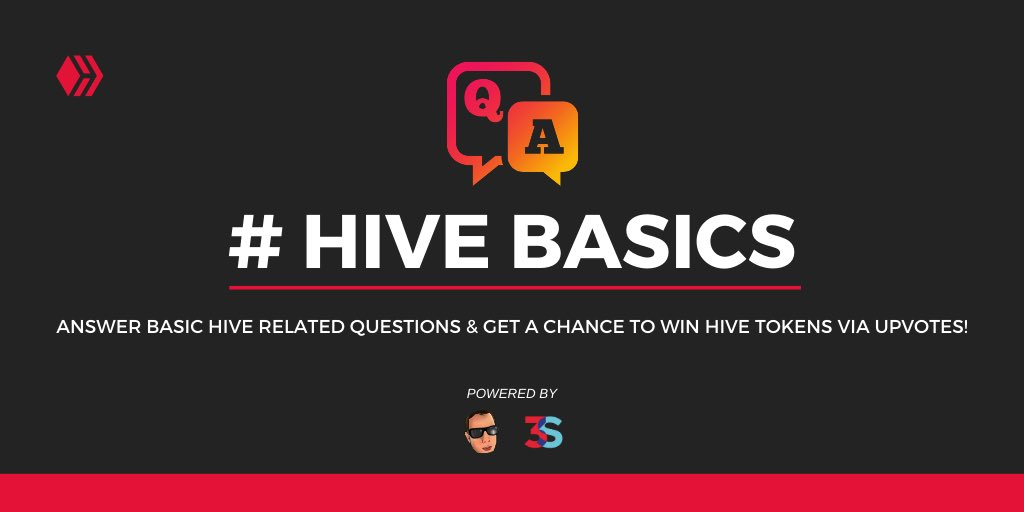 How it works, below are 8 questions. Every person can enter this initiative up to 8 times by writing an answer for every question. The person who writes the best answer for each question will win a 100% upvote from my Dan account. If you do a video answer on 3speak, you will ALSO be eligible for a 100% @threespeak upvote as well!
How to Enter:
Choose an answer(s) below, write a Hive post PER answer (do not answer multiple questions in one post.) You have a chance to win up to 8 times if you answer all 8 questions.
POSH (Proof of Sharing) your answer(s) to Twitter using the question as your tweet (one tweet per question) with a link to your hive answer and use the hashtag #HIVE in your tweets.
Use the tag #hivebasics in your Hive post and put your tweet link at the bottom of your Hive answer.
Post your answers to Quora. (I put the links to the Quora questions under the each question below.)
Top answers to each question will win 100% upvote (video answers can earn two 100% votes, the extra from 3Speak) Even if your answer does not win, upvotes will be given in lesser amounts to active participants. SEO is important and we will be looking for answers that provide both value to the end consumer and was written using good SEO (search engine optimization.)
The Questions to Answer for this Initiative:
I cannot stress how important Twitter is to our grassroots marketing campaign!
Every Hiver should have a Twitter account & take a few seconds out of your day to tweet out your Hive post. We cannot go the traditional ad route, we will get banned, our only chance is word of mouth and Twitter is one of the best places to get eyes to your Hive account.
Remember Web 2 is temporary, Web 3 is here to stay. Web 2 is the milkshake and Web 3 is the straw. Use Web 2 to grow your Web 3 account as much as possible before the shake is gone!
Do you want to add your language to this initiative? Let me know and we can set something up!
SPANISH:
¡Hola Hivers!
Espero que todos (as) estén bien aún en estos tiempos difíciles. Sé que ahora es un momento muy difícil con la brutal muerte de George Floyd, hay personas sin trabajo y desesperada por ganarse la vida, además con todo el resto de la locura que hay en el mundo... Entiendo que es una época complicada para muchos, pero es en momentos como este que debemos ser los más fuertes y dar a la gente algún tipo de salida para expresarse de forma creativa.
Siempre que me siento perdido, me gusta volver a lo básico, a lo que es esencial. Quiero construir algo hoy de lo que me sentiré orgulloso mañana. Volvamos al ritmo de las cosas con lo simple.
Me han dicho que no siempre es fácil explicar a los recién llegados qué es Hive en términos sencillos. Por eso tomé algunas de las preguntas más comunes que los recién llegados hacen y quiero que ustedes, la comunidad, ayuden a responderlas. Si tienes alguna pregunta que creas que debería estar aquí, ¡házmela saber en los comentarios de abajo!
¿Cómo funciona? Abajo hay 8 preguntas. Cada persona puede participar en esta iniciativa hasta 8 veces, escribiendo una respuesta para cada pregunta. La persona que escriba la mejor respuesta para cada pregunta ganará un "upvote" (Voto) del 100% de mi cuenta (@theycallmeDan). Si haces una respuesta en video en 3speak @threespreak, ¡también serás elegible para un "upvote" de 100%!
¿Cómo entrar?
Elija una(s) de las pregunta(s) a continuación y escriba su respuesta en una publicación de HIVE. Puedes escribir una publicación por cada respuesta, lo que significa que tienes la oportunidad de ganar hasta 8 veces si respondes a las 8 preguntas (no respondas a varias preguntas en una sola publicación) Utiliza la etiqueta #Hivebasics.
Publica en Twitter LA PREGUNTA (un tweet por pregunta) con un enlace a tu respuesta EN HIVE, usando el hashtag #HIVE en todos tus tweets.
Publica tus respuestas en Quora.com (encuentras los enlaces a las preguntas de Quora abajo).
Las mejores respuestas a cada pregunta ganarán el "upvote" del 100% (las respuestas en video pueden ganar dos votos de 100%, el mío y el de 3Speak) Incluso si tu respuesta no gana, los votos se darán en menor cantidad a los participantes activos. El SEO (Search Engine Optimization) es importante y buscaremos respuestas que proporcionen grande valor al consumidor final, con un buen SEO aumenta las posibilidades de que los nuevos usuarios vean tus respuestas.
DeLas preguntas a responder para esta iniciativa:
¿Qué es HIVE y cómo funciona?
¿De dónde viene el valor de HIVE (la moneda)?
¿De dónde viene el dinero de tus publicaciones en Hive?
¿Qué hace a Hive diferente de otras criptomonedas?
¿Cuál es el propósito de Hive?
¿Cómo funciona la creación de contenido en Hive, cuáles son las reglas y límites?
¿Por qué debería publicar mi contenido en Hive?
¿Cuáles son las diferentes maneras de ganar el HIVE?
Twitter es muy importante para nuestra campaña de base de mercadotecnia. No podemos ir por la ruta tradicional de los anuncios, nos censuran, nuestra única oportunidad es de boca a boca y Twitter es uno de los mejores lugares para conseguir ojos para tu cuenta en HIVE. Por lo que considero que todo Hiver debería tener una cuenta de Twitter y tomarse unos segundos de su día para twittear sobre Hive.
Recuerda que la Web 2 es temporal, la Web 3 está aquí para quedarse. La Web 2 es como la malteada y la Web 3 es como el popote. ¡Usa la Web 2 para hacer crecer tu cuenta de la Web 3 tanto como sea posible antes de que esta desaparezca!
INDONESIA
Halo Komunitas Hive Indonesia!
Saya harap Anda semua baik-baik saja selama masa-masa sulit ini. Saya tahu sekarang adalah saat yang sangat sulit dengan kematian brutal George Floyd, orang-orang yang kehilangan pekerjaan dan putus asa untuk mencari nafkah dan semua kegilaan lainnya di dunia saat ini. Saya tahu ini sulit sekarang, tetapi saat-saat seperti ini kita harus menjadi yang terkuat dan memberi orang semacam jalan keluar untuk mengekspresikan diri secara kreatif.
Setiap kali saya merasa kehilangan, saya suka memulai kembali di dasar-dasar. Saya ingin MEMBANGUN sesuatu hari ini yang akan saya banggakan besok.
Mari kita kembali ke ayunan hal-hal dengan dasar-dasar. Saya telah diberi umpan balik bahwa tidak selalu mudah untuk menjelaskan kepada pendatang baru apa yang dimaksud dengan istilah Hive. Saya mengambil beberapa pertanyaan paling umum yang diajukan pendatang baru dan menginginkan Anda, komunitas untuk membantu menjawabnya!
Jika Anda memiliki pertanyaan, silahkan tulis pertanyaan anda dikolom komentar yang berada dibawah ini.
Bagaimana cara kerjanya, dibawah ini ada 8 pertanyaan. Setiap orang dapat memasuki inisiatif ini hingga 8 kali dengan menulis jawaban untuk setiap pertanyaan. Orang yang menulis jawaban terbaik untuk setiap pertanyaan akan memenangkan 100% upvote dari akun saya dan jika Anda ingin menjawab dengan video pada 3speak, Anda juga berhak atas upvote @treespeak 100% juga!
SYARATNYA:
- Pilihlah jawaban di bawah ini dan buatlah satu postingan per satu jawaban (jangan menjawab beberapa pertanyaan dalam satu postingan.) Anda memiliki peluang untuk menang hingga 8 kali jika Anda menjawab semua 8 pertanyaan.
- POSH (Proof of Sharing ) Bagikan jawaban ke Twitter dan gunakan pertanyaan sebagai tweet (satu tweet per satu pertanyaan) dengan mentautkan ke jawaban dan menggunakan tagar #HIVE di tweet Anda.
- Gunakan hastag #hivebasics di postingan Hive Anda dan letakkan tautan tweet Anda di bagian bawah jawaban Hive Anda.
‌- Posting jawaban Anda ke Quora. (Saya menaruh tautan ke pertanyaan Quora di bawah setiap pertanyaan di bawah ini.)
Jawaban teratas untuk setiap pertanyaan akan memenangkan 100% upvote (jawaban video dapat memperoleh dua 100% suara, tambahan dari 3Speak) Bahkan jika jawaban Anda tidak menang, upvotes akan diberikan dalam jumlah yang lebih sedikit kepada peserta aktif. SEO itu penting dan kami akan mencari jawaban yang memberikan nilai bagi konsumen akhir dan ditulis menggunakan SEO yang baik (optimisasi mesin pencari.)
Pertanyaan untuk Menjawab Inisiatif ini :
1. Apa itu HIVE dan bagaimana cara kerjanya?
https://qr.ae/pNKyKG
2. Dari mana nilai HIVE (token) itu berasal? https://qr.ae/pNKyKt
3. Dari mana uang dari posting Anda berasal dari pada Hive?
https://qr.ae/pNKyyZ
4. Apa yang membuat Hive berbeda dari cryptos lainnya?
https://qr.ae/pNKyyx
5. Apa tujuan dari Hive?
https://qr.ae/pNKyy6
6. Bagaimana cara kurasi bekerja pada Hive, apa aturannya, batasan posting dan voting?
https://qr.ae/pNKyKX
7. Mengapa saya harus memposting konten saya di Hive?
https://qr.ae/pNKyKp
8. Apa saja cara berbeda untuk mendapatkan HIVE?
https://qr.ae/pNKyKN
Saya tidak bisa menekankan betapa pentingnya Twitter bagi kampanye pemasaran akar rumput kami!
Setiap Hiver harus memiliki akun Twitter & luangkan beberapa detik dari hari Anda untuk men-tweet posting Hive Anda. Kami tidak dapat mengikuti rute iklan tradisional, kami akan diblokir, satu-satunya peluang kami adalah dari mulut ke mulut dan Twitter adalah salah satu tempat terbaik untuk melihat akun Hive Anda.
Ingat Web 2 bersifat sementara,
Web 3 ada di sini untuk tetap.
Web 2 adalah milkshake dan
Web 3 adalah sedotan. Gunakan
Web 2 untuk menumbuhkan akun
Web 3 Anda sebanyak mungkin sebelum shake hilang!
Apakah Anda ingin menambahkan bahasa Anda ke inisiatif ini? Beritahu saya dan kami dapat mengatur sesuatu!