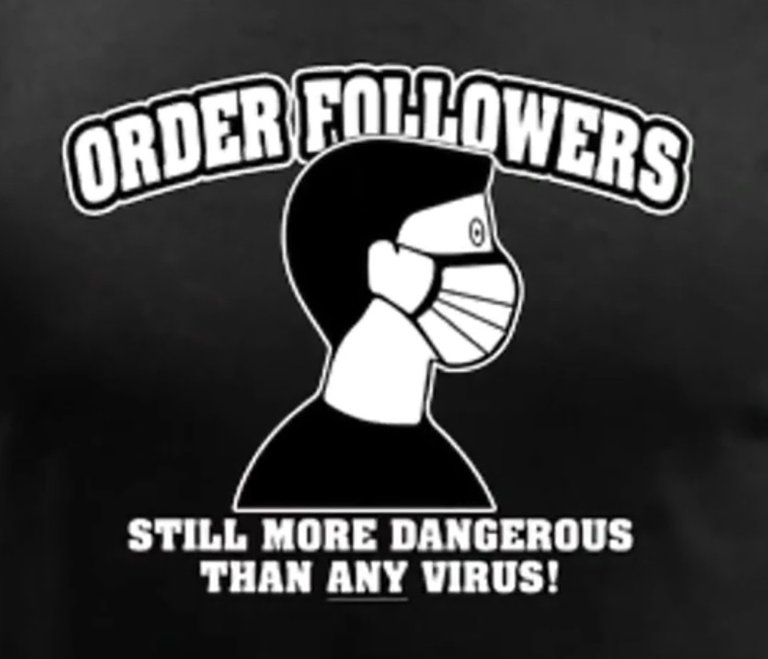 Слепи послушници: Опаснији од било каквог вируса

Before the Coronavirus hoax, only robbers entered the grocery stores and banks with masks. Today, they won't let you go anywhere without a mask. Well, let's see how much it helps prevent viruses…
First of all, you need to know how the ubiquitous blue masks will not help you protect yourself from the virus at all. If you don't believe me, please read what is written on the box in which they are packed:

Пре коронапреваре, у бакалнице и банке с маскама су улазили само разбојници. Данас вас без маске више нигде неће пустити. Па, да видимо колико то помаже спречавању вируса…
Најпре треба да знате како вам свеприсутне плаве маске уопште неће помоћи да се заштитите од вируса. Ако не верујете, будите љубазни и прочитајте шта пише на кутији у којој су упаковане:
---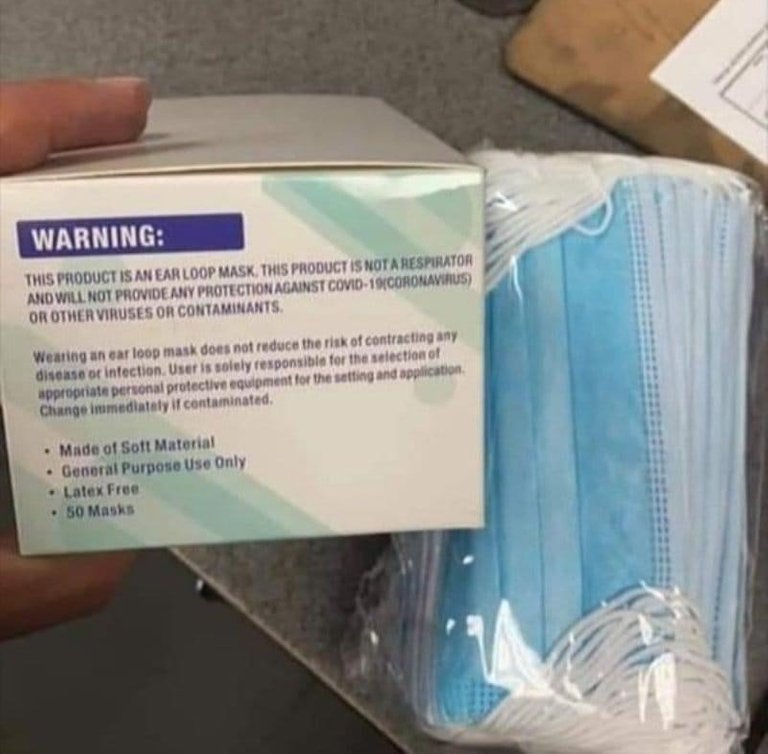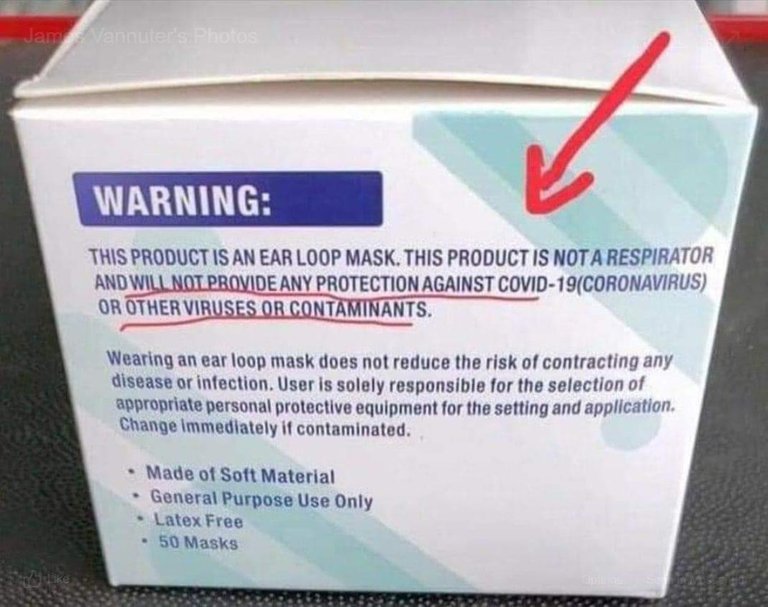 It literally says in big letters: "WARNING: THIS PRODUCT IS AN EAR LOOP MASK. THIS PRODUCT IS NOT A RESPIRATOR AND WILL NOT PROVIDE ANY PROTECTION AGAINST COVID-19 (CORONAVIRUS) OR OTHER VIRUSES OR CONTAMINANTS.

Wearing an ear loop mask does not reduce the risk of contracting any disease or infection. User is solely responsible for the selection of appropriate personal protective equipment for the seting and aplication. Change immediately if contaminated."

So if it doesn't help against the virus, then what good is it?

You should know that this is a surgical mask. It prevents the mutual exchange of droplets, and nothing else. Potentially, it can alleviate the spread of the virus only if it is carried by a person with severe symptoms – like sneezing and coughing. In the video below, you can see three important things: what the tests of these masks look like compared to masks improvised from two layers of paper towels, how much the masks interfere with breathing and oxygen level to the brain, and also the way how fear can be effectively used to shear sheeple:


Ту дословно, великим словима пише: "УПОЗОРЕЊЕ: ОВАЈ ПРОИЗВОД ЈЕ МАСКА СА ОМЧАМА ЗА УШИ. ОВАЈ ПРОИЗВОД НИЈЕ РЕСПИРАТОР И НЕ ПРУЖА НИКАКВУ ЗАШТИТУ ПРОТИВ КОВИД-19 (КОРОНАВИРУСА) ДРУГИХ ВИРУСА ИЛИ ЗАГАЂИВАЧА.

Ношење маске са омчама за уши не смањује ризик од заразе било којом болешћу или инфекцијом. Корисник је искључиво одговоран за избор одговарајуће личне заштитне опреме за постављање и примену. Промените одмах ако је загађена."

Дакле, ако не помаже против вируса, чему онда служи?

Треба да знате да је ово хируршка маска. Она спречава обострану размену капљичног прскања, и ништа више од тога. Потенцијално, може ублажити ширење вируса једино ако је носи особа са израженим симптомима – кијавицом и кашљем. У доњем видеу можете видети три важне ствари: како изгледају тестови ових маски у поређењу с маскама импровизованим од два слоја папирних убруса, колико маске ометају дисање и приступ кисеоника до мозга, као и начин на који се страхом овце могу ефикасно ошишати:


---
Duration/Трајање: 7:00 (English/Српски)
Only the so-called nano masks marked N95, whose largest manufacturer is the American corporation 3M, can protect you from the virus. All its production facilities are located – in China! If you're worried that you can't find it in pharmacies or Chinese stores, don't be. You don't need it at all. Listen to what prominent German doctors and experts who are banned from accessing corporate media have said about it at the press conference in Berlin on May 7th:


Од вируса може вас заштитити једино такозвана нано маска која носи ознаку Н95, и чији је највећи произвођач америчка корпорација 3М. Сви њени производни погони налазе се – у Кини! Ако сте забринути што не можете да је нађете ни у апотекама ни у кинеским радњама, не брините. Није вам уопште потребна. Послушајте шта су о томе рекли угледни немачки лекари и стручњаци којима је приступ корпоративним медијима забрањен, на конференцији за штампу у Берлину, 7. маја:


---
Duration/Трајање: 4:00 (German/Српски)
All the numbers so far show that the deadly virus has never existed, and that from the very beginning, it was only a seasonal flu epidemic, far milder than, for example, the one in the 2017/18 season, which took about a million and a half lives worldwide. It is very interesting to observe how now, when it is certain that there is no danger, corrupt governments around the world are again trying to launch a "second wave" fear campaign.
If all this looks like a situation in which patients have taken over the asylum – you are right. The question is: What will you do about it?
Сви бројеви досад показују да смртоносног вируса никад није ни било, и да је од самог почетка била у питању само сезонска епидемија грипа, и то далеко блажа него на пример она у сезони 2017/18, која је однела око милион ипо живота широм света. Веома је интересантно посматрати како сад, кад је извесно да никакве опасности нема, корумпиране владе по свету поново покушавају да лансирају кампању страха 'другим таласом'.
Ако вам све ово личи на ситуацију у којој су болесници преузели лудницу – у праву сте. Питање је: Шта ћете поводом тога учинити?
---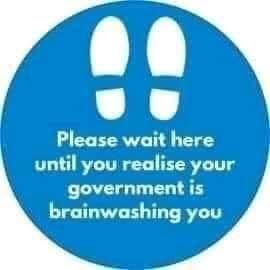 Молимо не померајте се одавде док не схватите да вам влада испира мозак
* * *
Related posts / Повезани текстови: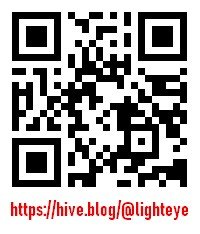 Check out ABRA and easily invest in 28 cryptocurrencies or BIT10, an index of the top cryptos. Use this link to sign up and get $25 in free bitcoin after your first Bank/Amex deposit, or 1.5% cash back when you exchange cryptos

1GZQG69sEKiMXKgGw9TcGcUCBoC4sC1ZYp