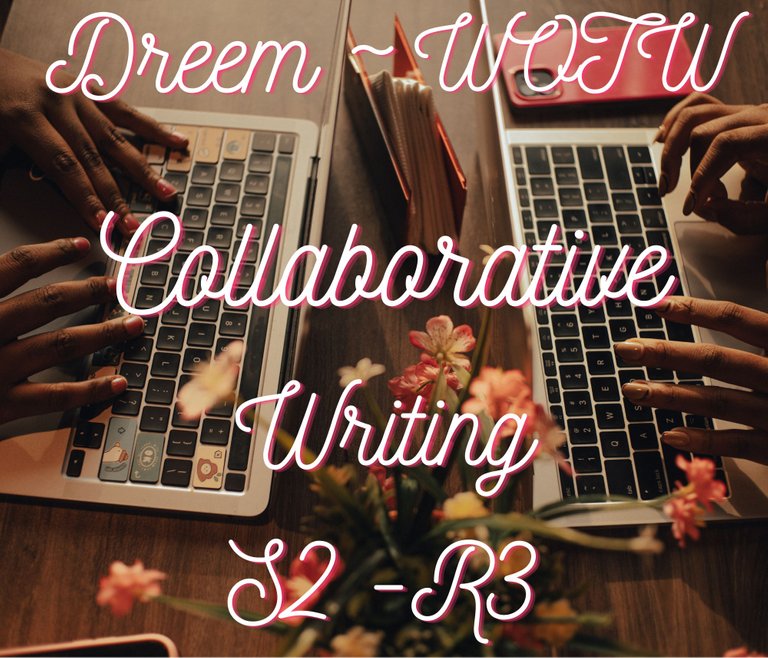 So while this IS the contest post... you can't start writing yet! First, we need to collate a list of all those who would like to take part... and I do hope many of you will be up for the challenge. I promise... it's fun! Ask @wrestlingdesires or @jesustiano or @dibblers.dabs
This month we would like to leap out into the unknown, for many of you, and try some collaborative writing... This is when two or more people come together to co-write a piece.
Now the way we envisage it working for dreem-wotw this month is as follows:
If you are interested... and we are looking for genuine committed interest here... as your assigned writing partner will be relying on you... please comment on this post before midnight UTC Saturday 25th March to confirm that you are up for this challenge.

I will collate the names on Sunday morning and use a randomiser to pair up writers with each other. In this month's contest, there will be no distinction between Dreemport staff and the public; the only caveat being that staff will only be paired up with a member of the public.

The pairings will be announced around Sunday midday UTC in a comment to this contest post. Everyone who has agreed to participate will be tagged in the comment. The writing teams will then need to liaise with each other to decide who will write the first half of the story (Part 1) and who will write the second half! (Part 2) So, for example... who will set the scene, introduce the character (s) and the conflict... and who will develop the characters, and the arc, and resolve the conflict, bringing the story to a satisfactory conclusion. Note: your story does not have to take a standard approach to fiction... You can be as creative as you wish.
But here's the rub (or the curveball... or two) 😊🙃😊
In the comment on Sunday, we will reveal the first prompt.
First prompt? you ask 😱 YEP!!! The prompt will consist of an opening line that must be used to START your story. ie: it will be your opening line.
All writers of part 1, will have until Midday UTC Friday 31st March to write and publish their posts in the Scholar and Scribe community on Hive (This community allows serial fiction). This cut-off time will be very important to prevent an unfair advantage from being taken by any collaborative team. They will also need to drop a link to their post into the comments on this contest post so that we know that part 1 is completed, and so we can be ready to drop the second prompt Friday afternoon.
The title of your story must have Part 1 included in it. Once it is published, you may not make any significant changes to the post to make it fit better with Part 2 later. A significant change would include retrospectively adding back characters or events etc into part 1 that your writing partner chooses to mention or introduce in part 2. Minor spelling, grammar, and formatting changes will be allowed.
A second prompt will then be released Friday 31st March in the afternoon in a comment to the contest post and all contestants will be tagged. This prompt will serve as the starter sentence for part 2 of your story and it will be the job of writer #2 to ensure that part 2 flows as naturally as possible from part 1, and to pull the threads of part 1 together as best as possible in part 2. Having a second compulsory prompt ensures that writing teams cannot sit together and write the whole story in one go, as they have no idea how the second prompt will affect the direction of their story.
Tip: Writer #1 should consider leaving Writer #2 with space and flexibility to enable them to write creatively with as much ease as possible.
Note: There will be no ... "part 1 was all a dream" nonsense in order to find a loophole to navigating around either of the prompts...😂😂😂... You guys are all so much better than that!
(Bobby Ewing died ok... studio contract disputes made sure of that... and then low viewership brought him back to life. The end. Calling the entire season 8 a dream was complete and utter nonsense... although Dallas fans were happy to have Bobby back!!! 🤣)
Our grading team can also take part for fun - and they will be paired up exclusively with other grading team members. They will not be given prior access to either of the prompts.
Contestants will be required to share the URL for their dreem-wotw entries (both part 1 and part 2) in Dreemport in order to be considered for any of the dreem-wotw placings and prizes, as the Dreemport ranking is an important first step in the process, to enable us to shortlist the entries as necessary.
Both Part 1 and Part 2 should have the same main title with either Part 1 or Part 2 added to it so that the grading team can easily tie up the two.
All entries will be screened by Dreemport screeners for plagiarism, and copyright infringement (all images must be credited back to the original photographers, and URL links to those images on royalty-free sites MUST be provided), and to ensure that they meet PG13 guidelines.
This month the Dreemport submission date for BOTH your part 1 and part 2 of your stories is:
Tuesday 4th April between 4 am UTC and 23h59 UTC
Please note...
IT IS THE ONLY DATE AND TIMEFRAME WITHIN WHICH SUBMISSIONS WILL BE ACCEPTED FOR THE S2 R3 CONTEST IN DREEMPORT.
The curation/submission cycle starts and ends at these times so there is unfortunately little room for flexibility. All valid submissions to Dreemport will be reviewed and ranked by public curators the following day.
If you want to have your voice heard in this respect, simply log on the next day and curate and rank the 5 random contest posts assigned to you. This part is highly advisable, as part of the grading process includes an allocation of points for engagement... but engagement is only assessed if you do Dreemport curation of the contest post in Dreemport on the day following the contest submission date.

The dreem-wotw team will then use a Merit grading system that incorporates some aspects of the ORIGINAL Merit Grading Model developed by @scholaris and others added by @juliamulcahy in order to determine the winners.
How to use Dreemport
If you have not used Dreemport before, you will need to register on
dreemport.com
, which is a quick and easy process.
You may want to start by taking a look at these videos by @dreemsteem ...
If anyone has any difficulty registering and trying out the platform, please tag me or @wrestlingdesires here on this post and we will help you to get this little piece of admin out of the way as painlessly as possible 😊

***This month we are thankful to the following sponsors: @dreemsteem and @dreemport for Dreem tokens
@melinda010100 and @ecency for Ecency point sponsorship
@dibblers.dabs and @jfuji and The Scholar and Scribe creative writing community for Scholar and Scribe tokens.
@amberkashif for Ecency point sponsorship
@wesphilbin for LUV tokens
This month Dreem-Wotw sponsors Dreemport Featured posts, HBI prizes, as well as adding to the Ecency point and S&S token prizes.
Official Prizes will be as follows:
Team prizes for the best collaborative stories (to be shared between the two team members):
1st prize (total)
650 Dreem Tokens, 4 HBI, 1000 Ecency points, 100 Scholar, 4 Scribe, 40 LUV
2nd prize (total)
300 Dreem tokens, 4 HBI, 700 Ecency points, 100 Scholar, 2 Scribe, 20 LUV
1 staff individual prize for the best part 1 or part 2 entry
150 Dreem tokens, 350 Ecency points, 50 Scholar, 1 Scribe, 1HBI, 10 LUV
1 public individual prize for the best part 1 or part 2 entry
150 Dreem tokens, 350 Ecency points, 50 Scholar, 1 Scribe, 1HBI, 10 LUV
Participation draw:
All participants will be entered into a random draw and there will be 1 winner of 250 Ecency points and 10 LUV.
Promotion draw:
Anyone who BOTH reblogs this contest post AND tags at least 2 people who they think would like to take part in the contest, will be entered into another random draw where 1 person will win 250 Ecency points and 10 LUV. If you do reblog the post, please mention that you have done so in the comments. Please do not tag people already tagged in the post 🤗😘
Good luck folks and I hope to see lots of people dropping their names in the hat for this one! 🤗
The following people expressed an interest in taking part in dreem-wotw (and I added a few who I thought may be interested too):
@abdul-qudus @acgalarza @adoore-eu @ahmadmanga @alekst7 @amberkashif @anonymous02 @aroojkhalid @atyourservice @ayesha-malik @balikis95 @bananzell @beeber @belleflower @blackdaisyft @bluefinstudios @bobthebuilder2 @b0s @buezor @cescajove @chincoculbert @cool08 @coquicoin @corporateay @creatr @daje10 @dansabest9 @darthsauron @deeanndmathews @deraaa @dibblers.dabs @diebitch @d-pend @dreemsteem @dwixer @edystringz @erh.germany @esther-emmanuel @flamistan @fragozar01 @freedomprepper @funshee @george-dee @giftedwriter @grindan @grocko @hannes-stoffel @harryjoe5432 @hollowins @hopestylist @idksamad78699 @idlemind @ifarmgirl @ijohnsen @intishar @iskawrites @itsostylish @iwannabeme @jane1289 @jaxsonmurph @jfuji @joseph23 @juliamulcahy @kamarah @kei2 @kemmyb @kenechukwu97 @khaleesii @ksam @leeart @lightpen @litguru @lordtimoty @marbrym @maryjacy @mcyusuf @memeisfun @merit.ahama @mineopoly @mmykel @morenow @mrenglish @mypathtofire @nevies @ngwinndave @nickydee @nkemakonam89 @nonsowrites @oceanbee @officialrosh1 @olawalium @olujay @palomap3 @penderis @pinkchic @princessbusayo @queenstarr @raj808 @repayme4568 @restcity @riverflows @sam9999 @shadowspub @simgirl @snook @stevehodl @stevemuis @strangegravy @stuartcturnbull @sunbeam3 @taimen @talon12 @tengolotodo @teknon @treasuree @unklebonehead @vikbuddy @wongi @wrestlingdesires @zyzymena
All new entrants each month will be added to the list.
Please let me know if you would prefer not to be tagged and you will be removed from the list, and if you are reading this and would like to be tagged going forward, please comment below and I will add you💗.

Header Image by Diversifylens edited in Canva Pro Library
Infinity divider created using Canva Pro library.
Dreemport banner used with permission of @dreemsteem and @dreemport and designed by @jimramones
Scholar and Scribe Banner used with permission of @dibblers.dabs and @jfuji
Ecency floral logo designed by thekittygirl. No credit required.
Writer 'nd a Half banner created by @penderis and used with permission, simply because it brings me joy.