Circa March 2016 my laptop got stolen from my hotel room, my backup drive crashed. A year long personal situation in my life nearly ran me broke and the constantly increasing expenses ensured a constant state of confusion. It was one of those times in our lives when things start falling apart just as you are trying hard to build them, and nothing you do ever works!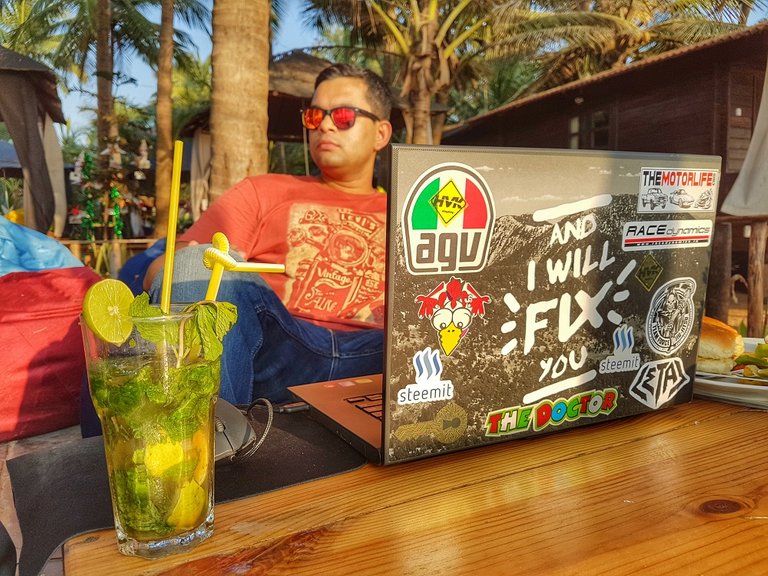 Circa December 2016. Chilling at a beach in Goa and working on the go! Healthier times indeed!
I was going to be consulting on a project for Essilor's Indian subsidiary and had just started a motoring site with plans for a mobile app. Everything was off to a great start until the theft! Fortunately, I had a 9 year old spare laptop at home and no choice but to start from scratch again and so I did. But soon it started throwing up BSOD errors and started crashing mid-work everyday.
Tough Choices!
A business decision ensured I had to pause the work on the startup idea and instead focus on those things that brought in some revenues. It was tough, especially since I had been working on it for about a year. But I couldn't afford to break the bank anymore. Dealing with a tough decision usually makes you or breaks you! I decided to face my situation head-on as usual.
Fortunately by mid-July things were starting to improve as I signed up on Steemit and got heavily involved in multiple projects on the platform. So, in spite of starting work on 2 big projects which gave me a decent monthly income I wasn't able to afford a new fast laptop worth $800! It was one of those times when life feels very complicated and difficult to explain. You just have to keep your head low and work and never pause to think why.
I was also under the delusion that I really needed a good mid-range or a high-end laptop without which I couldn't get anything done. Needless to say, I was wrong! My temporary solution of using a very old laptop was in fact hurting my productivity!
Fact is that it may seem like I missed the larger picture here but frankly my finances were really that tight and I just couldn't afford to splurge on anything!
Finding Solutions
You might be wondering, why would I not borrow some money from a friend or take a loan?
Well, I have a personal rule not to borrow money from anybody. I just prefer to live a debt free life, which is free of complications stemming from borrowing and lending. I'm not averse to loans but I feel it's best to avoid it to the greatest extent possible, unless ofcourse it's a real emergency!
During a chat with @smooth one day in July/August in 2016 he mentioned that one could get a lot done with something around the $300 range and there are many options in that range today. It was all about how we could achieve anything we set our minds to. I hadn't considered this simple possibility and looked into this.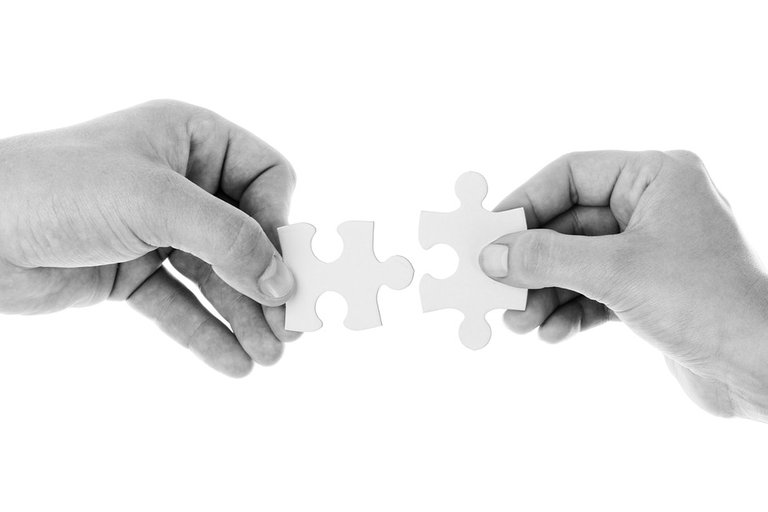 Source
In USA, $300 can get you a laptop which is sold roughly for around $450-$500 in India. But, fortunately one day I found the same model as my stolen laptop in 9.5/10 condition on sale on a classified site in India. It was a Dell Vostro 3000 Series 14" w/2gb gfx and it was a very good buy!
I rang up the number, negotiated the price, sent the money, bought myself a RAM upgrade and waited for the unit to arrive from halfway across the country. Few days later it was home and it looked as good as new, barely used and at half the cost! I set it up with Win 7 Ultimate Edition, tweaked up the OS for speed and decided one day I'm going to get something great and got to work!
How Steemit Empowered Me!
Steemit came at a time when I was looking to take my work to the next level. I enjoy writing, community building, networking with people and helping people achieve their goals very much and Steemit allows me to do all of this and then some!
Being a regular on Steemit I found a new purpose and direction. As I continued my efforts in community building, user engagement and retention, my efforts was recognized by the community and I saw myself being a part of the trending page occasionally. It was an incredible and powerful feeling when I saw my post on @steemfest stay on the top of the front page for a day and half. I had made it close to that but never that far and I knew I was a part of something truly incredible when I saw my work and shared it with the world.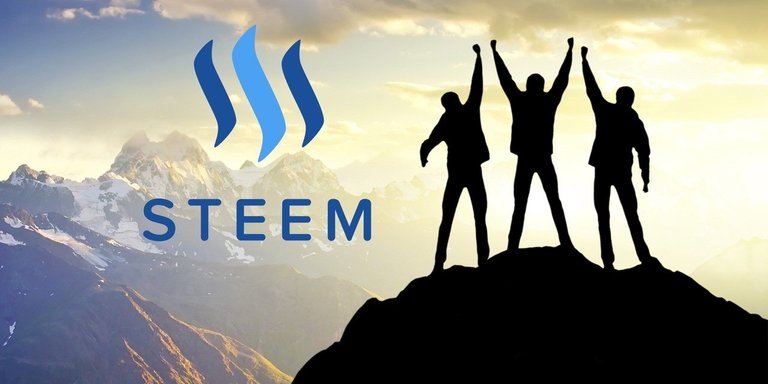 Source
Steemit impacted my mind in ways nothing else has ever done. I began considering participating here on a full-time basis in the near future, and if you have read my previous blogs, you'd know that it has happened a year down the line.
I was spending 20 hours a day at the time. Curating, networking, handling Steemit.Chat, writing occasionally, learning to improve some of my trades, finding interesting ICOs to invest in.
Because it's Steemit, I met some great people and followed some good advice. Following people like @ats-david and his trading helped me improve mine a little more. An old Steemit friend, 'Repholder' on Chat gave me some great advice and guidance on the crypto market over the many months here and after due diligence I made some investments and started diversifying anything extra in other cryptos in addition to increasing my SP. I pushed myself to grow my knowledge base on cryptocurrencies immensely in a short period of time.
Steemit has tons of kind hearted souls, ready to share their knowledge as well as experience. It was a humbling experience to ask questions and get the right answers!
I even held a Successful #1 India Steemit Accelerator and Steem Cryptocurrency Meetup 2017 to empower more poeple!
Being Adaptive and Resourceful Made Me My $70000

Attending SteemFest brought further recognition to my work. It turned things around. I worked the hardest in my life in those months. By end of 2016, Steem price was really low, my Steem portion of the portfolio wasn't looking great to be honest, but I was financially stable. I had sold a fair amount of crypto to build an emergency fund which came in handy during my near-fatal accident in February.
In the months after my accident, I had all the time to strategize my participation on Steemit. A direct participation here wasn't possible at the time, but I remained a silent observer throughout and planned all the things I could do here as I planned my come-back of sorts.
My goals have always included helping grow our Steemit community and take it to the world, which in turn I hope will help me meet my personal goals in life as well.
Few days ago I hit an incredible milestone on Steemit and in the process:
I learnt to trade better and improve my crypto portfolio with some wise investments.
My personal finance management plan ensured I had sufficient money to see through the low phase.
Being adaptive to changing situations and remaining resourceful was key to my success!
Over the past two months many of my investments in crypto kept increasing their marketcap and before the most recent price corrections I finally saw my crypto portfolio touch the $70K mark before the correction pulled it back down again. It felt fantastic to achieve this within a year.
I started with 10SP worth around $30 in July last year and missed the boat to buy Steem in Feb-March due to my accident.
Yes I did breakout into a dance that morning. Well, as best as I could with my leg still recovering! A moment that I will never forget!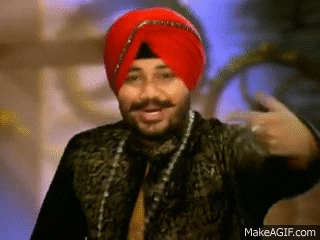 But:
I re-invested over 80% of my earnings from Steemit back into Steem and the crypto market.
Carefully planned (to the best of my knowledge) trades worked to my advantage.
Crypto is a high risk and high yield market. Being clear about this allowed me to take a few calculated risks without fear and guilt.
I haven't withdrawn my earnings from Steemit into Fiat for nearly 6 months, this time frame allowed me to build and follow a clear and consistent strategy to grow my wealth.
I didn't give up when situations turned negative or panic when my Steem holding were worth just under a thousand dollars, and certainly didn't stop diversifying in crypto projects that I felt were sound fundamentally.
A $300 laptop was sufficiently quick for everyday tasks. I decided not to complain about my situation and instead focus on solving my immediate problems. I wanted to be in a position where I could walk into a store and pick up a computer hardware of my choice without having to think twice. 11 months later that's exactly what I did and I will write about it soon! Steem enabled all this!
But the struggle was there and it was real. There were times when I would go to bed not knowing how I was going to pay my bills end of the month. But I made it happen!
I realized that there is really no substitute to hard and smart work and if you throw some consistency into this combination, you have a recipe for success! As long as you have enthusiasm to learn as you go, you'll do just fine in the long run!
I achieved my initial financial target of 60K in a year in crypto and managed to exceed that!
Being financially secure is always a good thing in our materialistic world.
Now I aspire to reach the next goal which is to own atleast 30K SP amongst other things.
I started writing this piece on my $300 laptop and published it using my newer $2417 one! Well deserved I think!
Steemit has all the information and some incredible people and influencers already that you can use to your advantage. Make the right decisions for yourself and see it through!
Did you have any similar goals when you started and were you able to get there?
Do you accept new opportunities with open arms or get bogged down by newer challenges?
I'd love to read what you have to say in the comments.
Disclaimer: I'm not a financial adviser and this is not a financial advise. This is my personal experience and should be treated as such.
Thank you for your support and attention!
---
If you like my work, please share my posts and follow my blog to support me. You may also continue reading my recent posts which might interest you:
---