I've lived in Australia my whole life and have travelled a lot, but never to New Zealand. We rectified that late last year and found a place of extreme beauty, happy and friendly people and some of the freshest air we've ever breathed.
Whilst researching we came across a place that isn't the easiest thing to get to. One can hike in, just over 23 kilometres rated as difficult, although this was out of the question as we had my wife's mum with us who had only just been cleared of cancer at the time: This was a celebratory holiday for her. So, we found an alternative method, in fact the only other method to get there.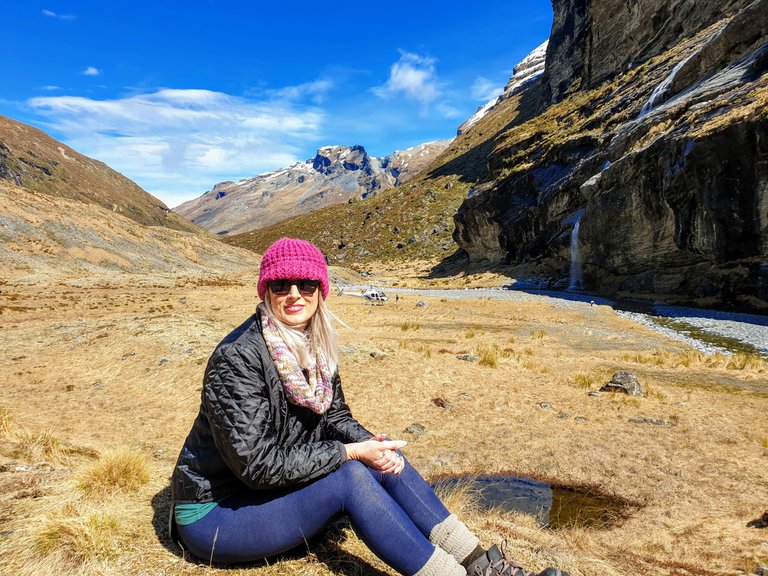 Mt Earnslaw Burn
The Burn, formed by moving glaciers and water flow from snow-melt is right next Mt Earnslaw which situates at the south end of the Forbes Range of New Zealand's Southern Alps and it's 2819m above sea level at its peak.
As the snow melts water cascades over a few waterfalls and into the valley below, which is a pleasing little place covered in tussock.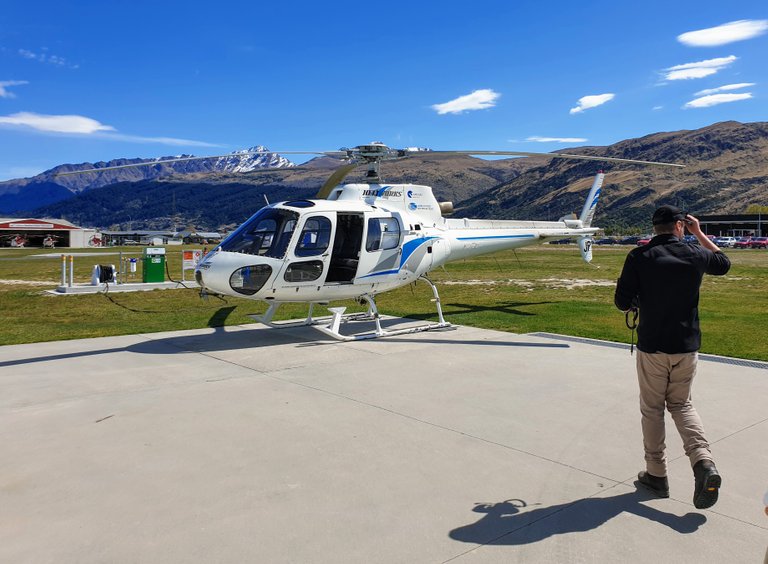 We decided to fly with Heliworks, the only company permitted to touch-down in the Burn and we couldn't have had a better experience if we tried; It was spectacular. Here you can see our transport and the pilot leading us to it. He was a great chap, really knowledgeable and a bit of fun too.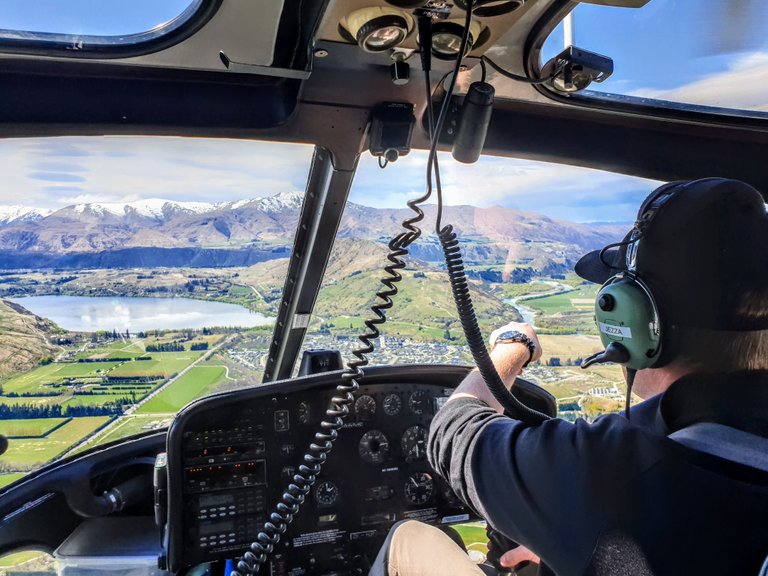 We've just taken off and are heading towards the Forbes Range. You can see the pilot pointing out a few things...Two hands on the stick mate, we don't want to crash! Nah, it was all good, he knew what he was doing. Heliworks actually does some rescue work, so their pilots are extremely experienced.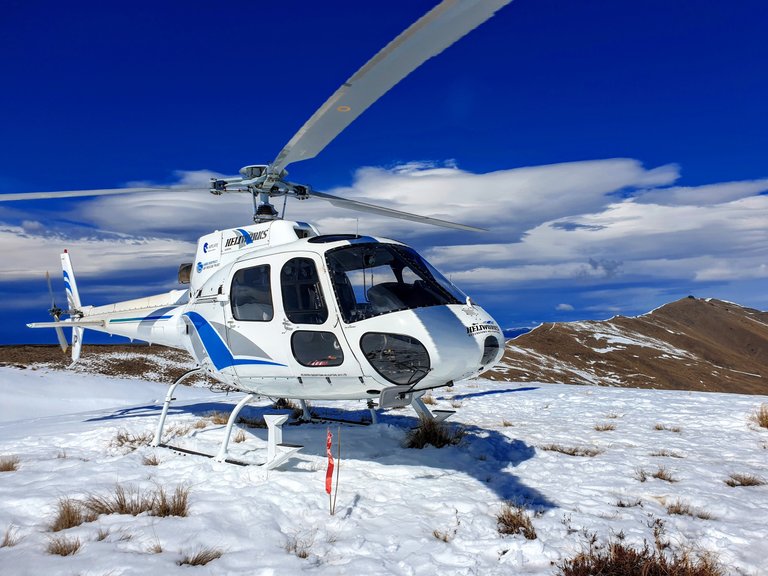 We were on a ninety minute flight and were able to touch down on the top of a mountain on the way out which gave us an awesome view down to Queenstown - He kept the chopper running though and after a few minutes of wandering and photo taking we were off towards Mt Earnslaw.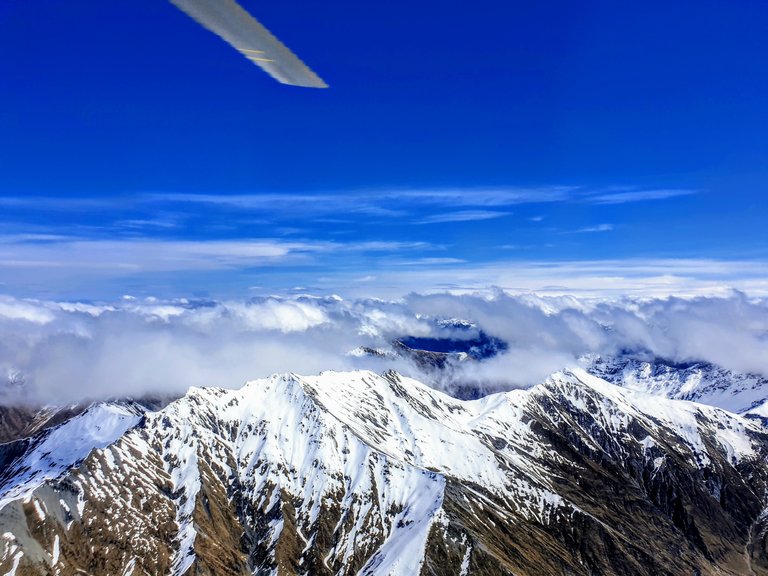 This is the mountain range we flew over. It got a bit bumpy at times, with the wind rising off the peaks but no worries, if we went down we wouldn't have had to worry about much ever again. You can see I captured one of the rotor blades in this shot.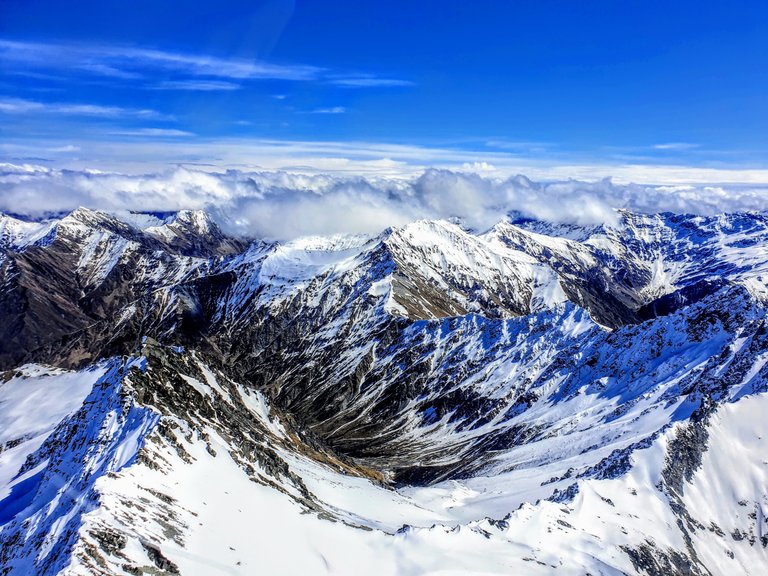 It's stunning in it's bleakness I think, and with the snow starting to melt away the contrast of light and dark is nice. When there's all snow it's simply a white blanket of mountains with a few shadows thrown in.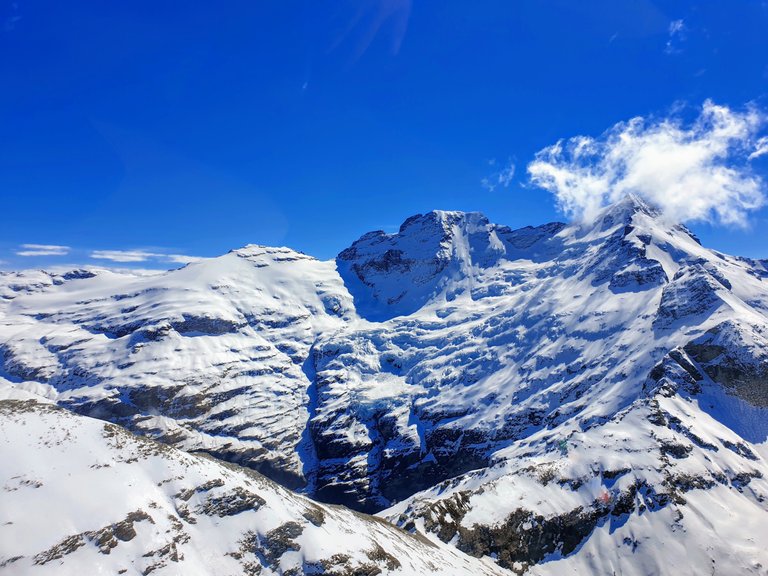 That's Mt Earnslaw ahead, the peak. If you take a look at the accompanying video you'll see us get close, bank around and then fly down into the valley. My photos don't do it much justice I'm afraid, so sorry.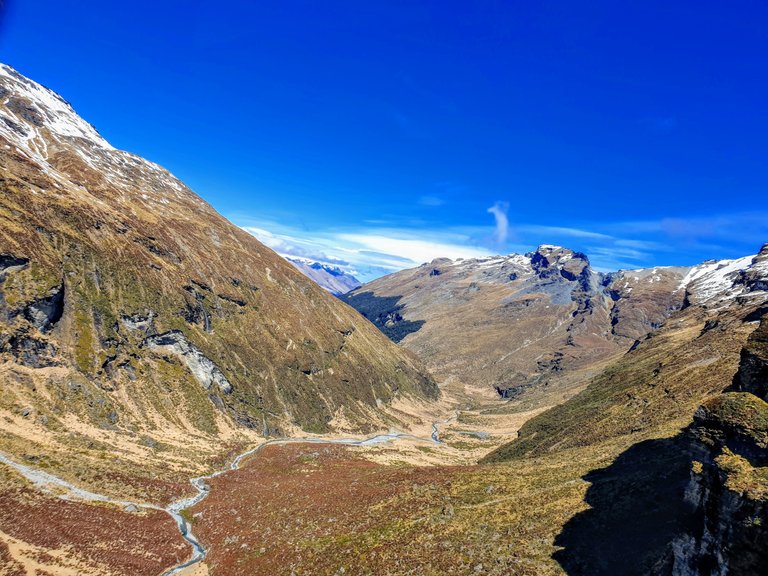 Speaking of the valley, the Burn, here it is! We banked around and flew right down the middle, the video will show it better although there is some sunlight obstruction through the glass if you watch it. My apology for that.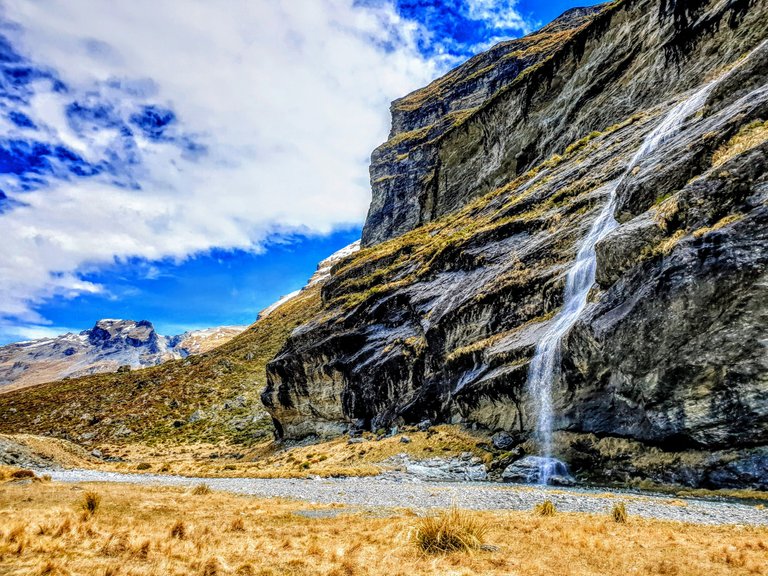 We touched down and got to spend about thirty five minutes wandering around. Yes, I tasted the water, I can't help it...I have to know what the water tastes like...In case you're wondering, it tasted very cold and fresh, not sweet like some, but earthy. It was drinkable for sure.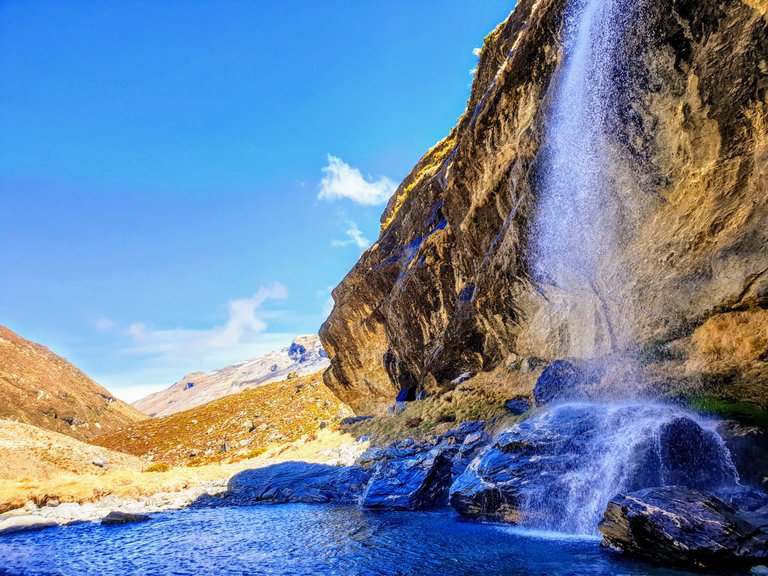 There's quite a lot of photos on the internet showing many waterfalls in the Burn, but the pilot was saying many of those are photo-shopped once people get home with their photos. There certainly are a few though and it's a really peaceful place to spend some time.
Faith and I wandered about whilst her mum chatted with the pilot as she can't move about on uneven ground too much. It was peaceful, so quiet, devoid of human noise and really relaxing. We took a heap of photos, most with Faith in them so I won't put them here. I think you get the idea though.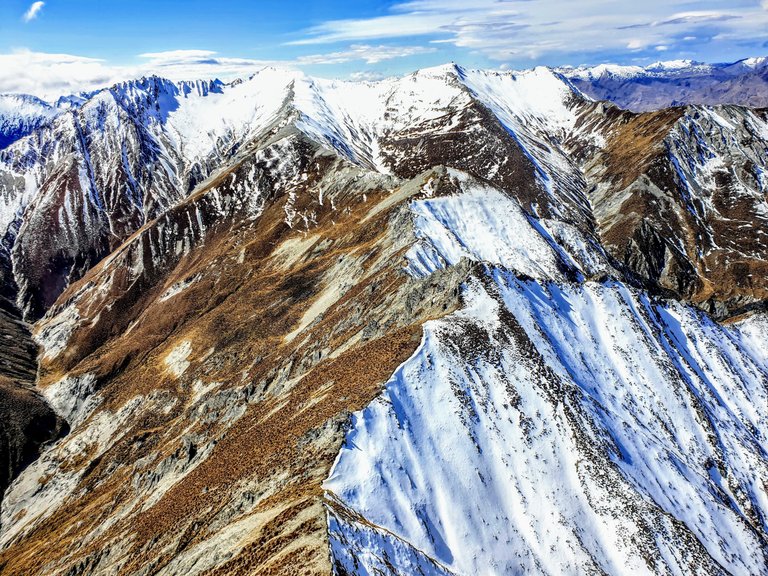 Of course, all good things must come to an end; We headed back into the helicopter, this time with Faith's mum in the front, and back to Queenstown we went. We took a slightly different flight-path on the back and I grabbed a couple of extra shots with this one above being one of those. Not the best ever, but I like it.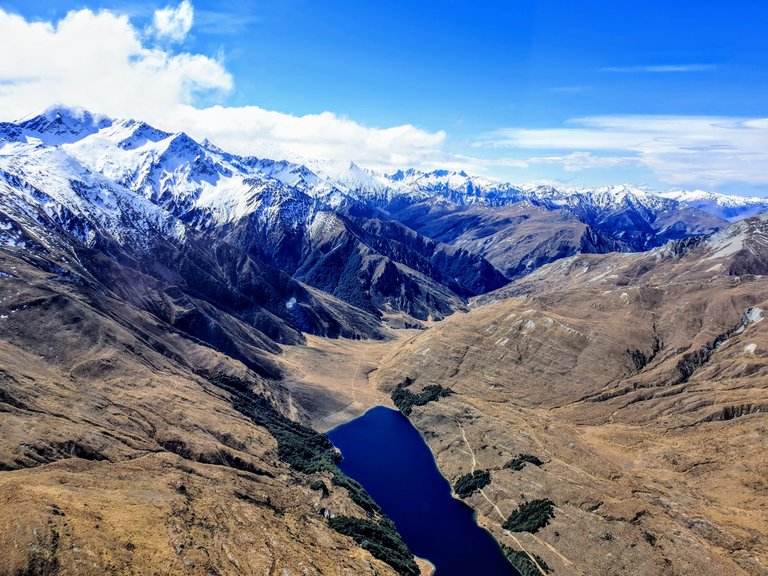 This part was cool as we came down quite low and hugged the valley a little kind of weaving through. That was a lot of fun...And it made me want a helicopter! I didn't buy one of course...Or did I?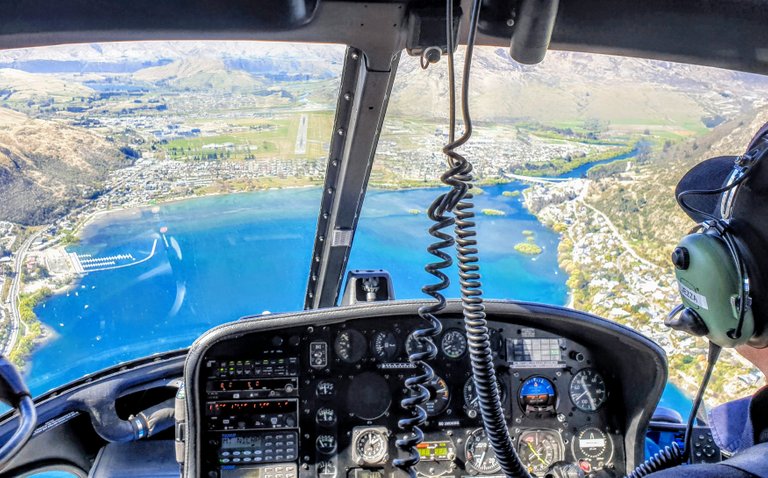 This one is not great but shows the airport ahead and the colour of the lake is cool. At this stage I was wishing we were not ending the flight soon, but it had been so amazing that we were all simply pumped! We had had a really great time.
If you're keen you can take a look at some video of the flight here.
This was certainly not a cheap day...It wasn't really a day at all, just ninety minutes, but it was such an amazing experience. I love helicopters, amazing engineering! But it wasn't just the flight, it was the scenery, the views and the fact that most will never see it the way we have that was special. Of course, the fact Faith's mum was alive to come with us was extra special. She's now facing a secondary cancer and we don't know how that's going to go, so memories like this are priceless.
Although, they're not free. We paid $3,000 for the flight between the three of us. That's actually more than the flights from Australia to New Zealand cost us...But we'd do it again in a heart beat...You know? Sometimes you just have to live a little!
Thanks for coming along. I'm pleased to have a little burn for you in this post and I truly hope you can get here someday and have a look for yourself.
---
Design and create your ideal life, don't live it by default - Tomorrow isn't promised.
Be well
Discord: galenkp#9209
EDIT: All images in this post were taken with my Samsung phone camera. The video was taken on my GoPro.