Hello All,
How are you doing today?
I am happy to see you in my blogpost.
This is my art blog where I'm going to show you my drawing of village life.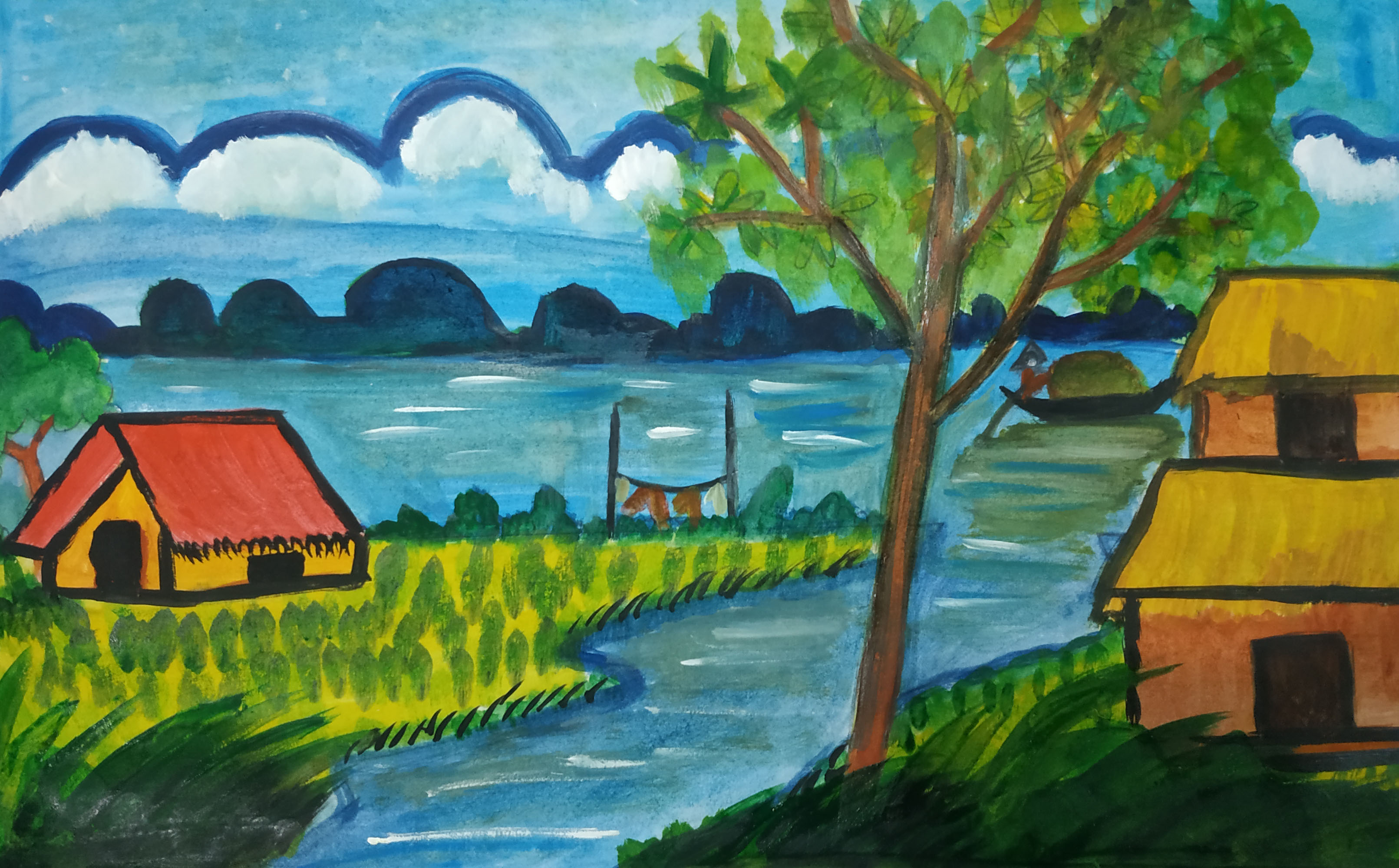 From my childhood, I like to draw things specially I liked to draw village related things like this one.
When I was a little kid, I used to draw village houses only and I used to color the terrace in red.
My mom always used to scold me cause I had this habit of drawing.
She advised me to do my home work only and she didn't like my drawing.
Once my mom saw one of my drawing and she praised me a lot and from that moment drawing became a part of my life.
I used to draw a lot of things and it was like I got addicted to it while I was in school and I used to draw in my classroom too.
So first I used to draw only houses and then I tried trees, rivers, the sky etc.
I never drew these things with water color as I used to draw only with pencil colors.
But after I got water color from my husband, I became a fan of this color.
This is my another self creation where You can see some houses & trees beside a river.
A boat is also passing by.
I tried to give an effect of the evening when some stars can be seen so I drew some stars too and made then half disappear.
---
Process
First I did the pencil sketch with everything that I wished.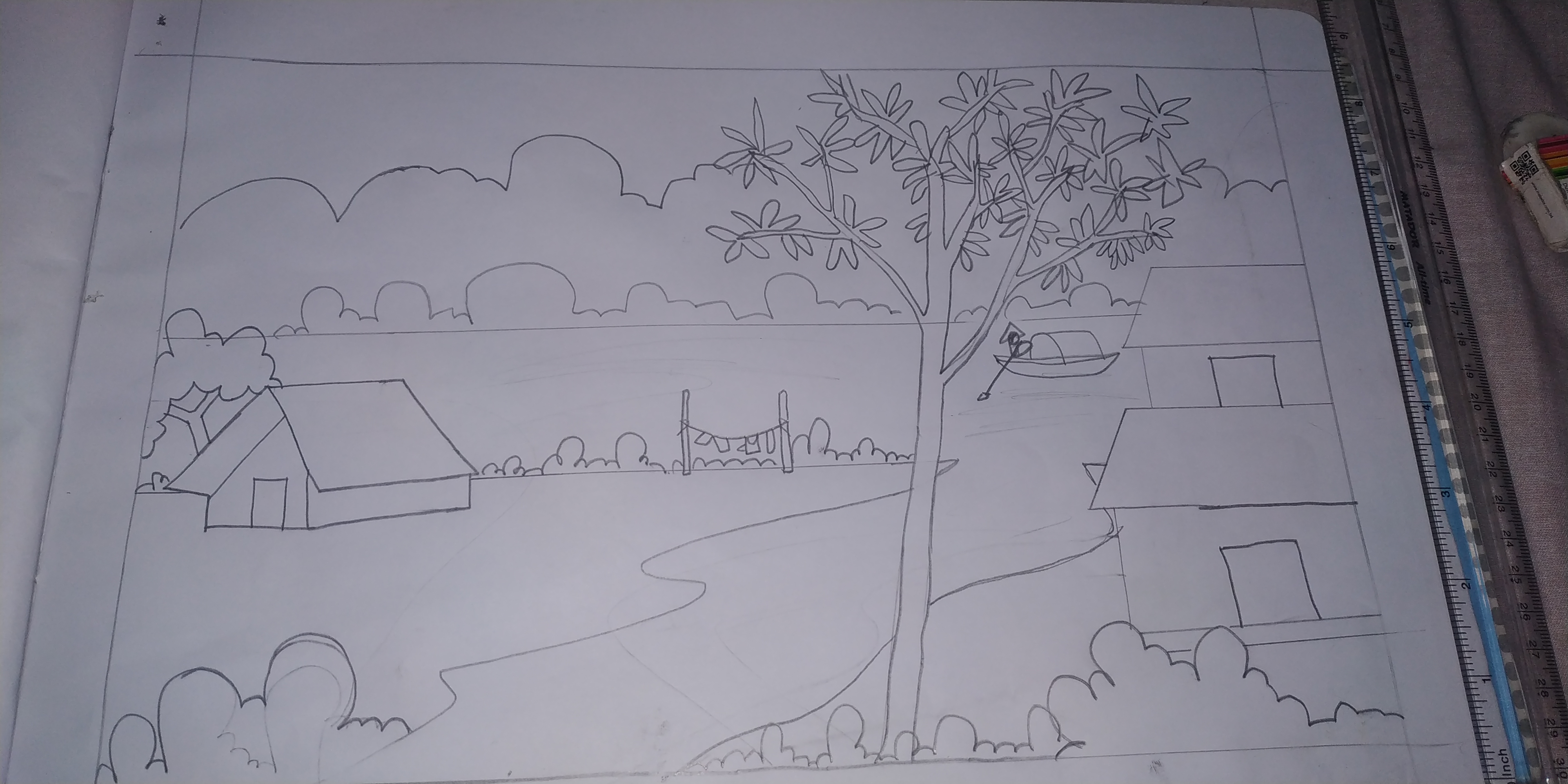 Then I started coloring houses and trees.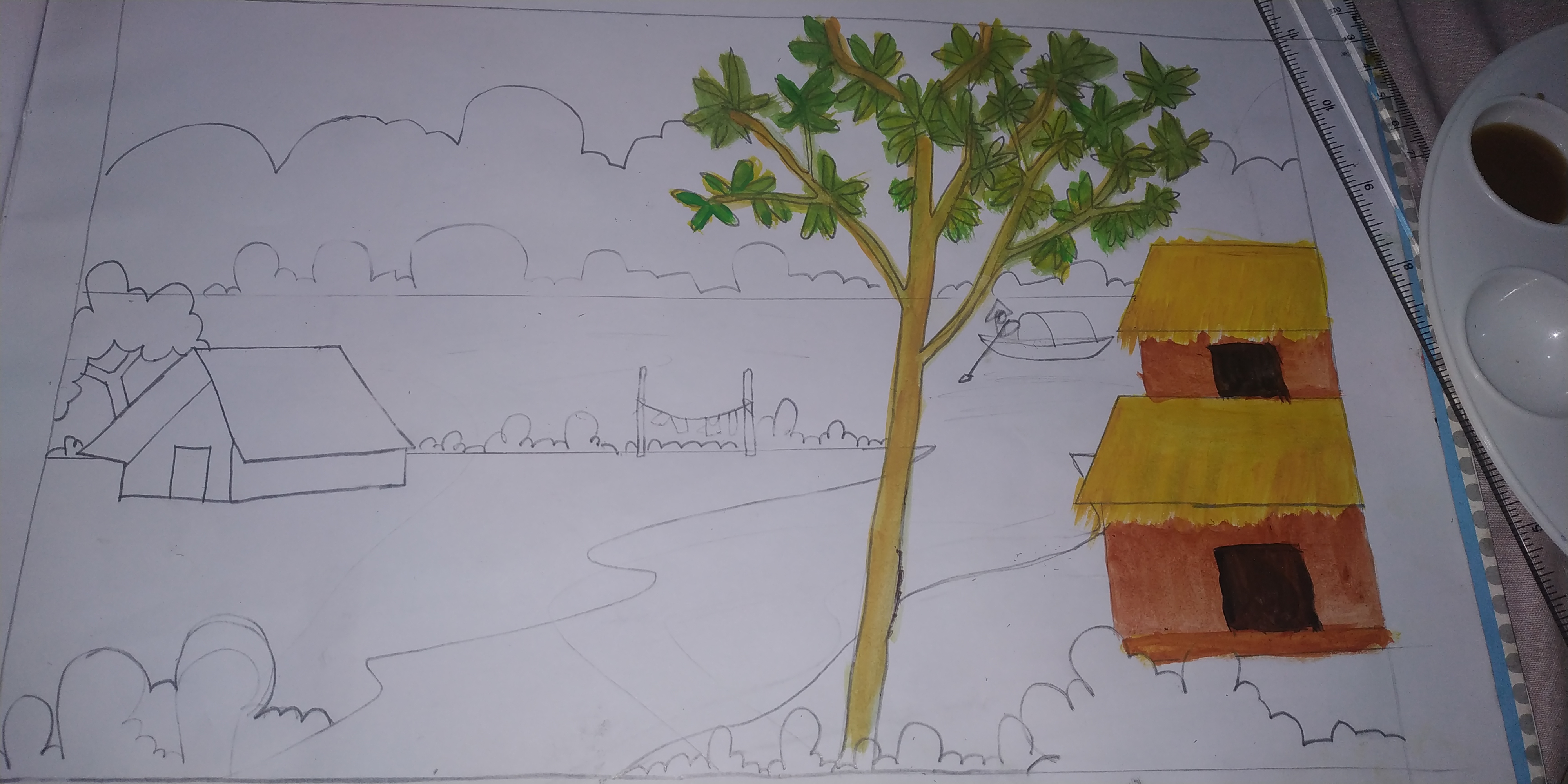 Then I colored the sky, added clouds.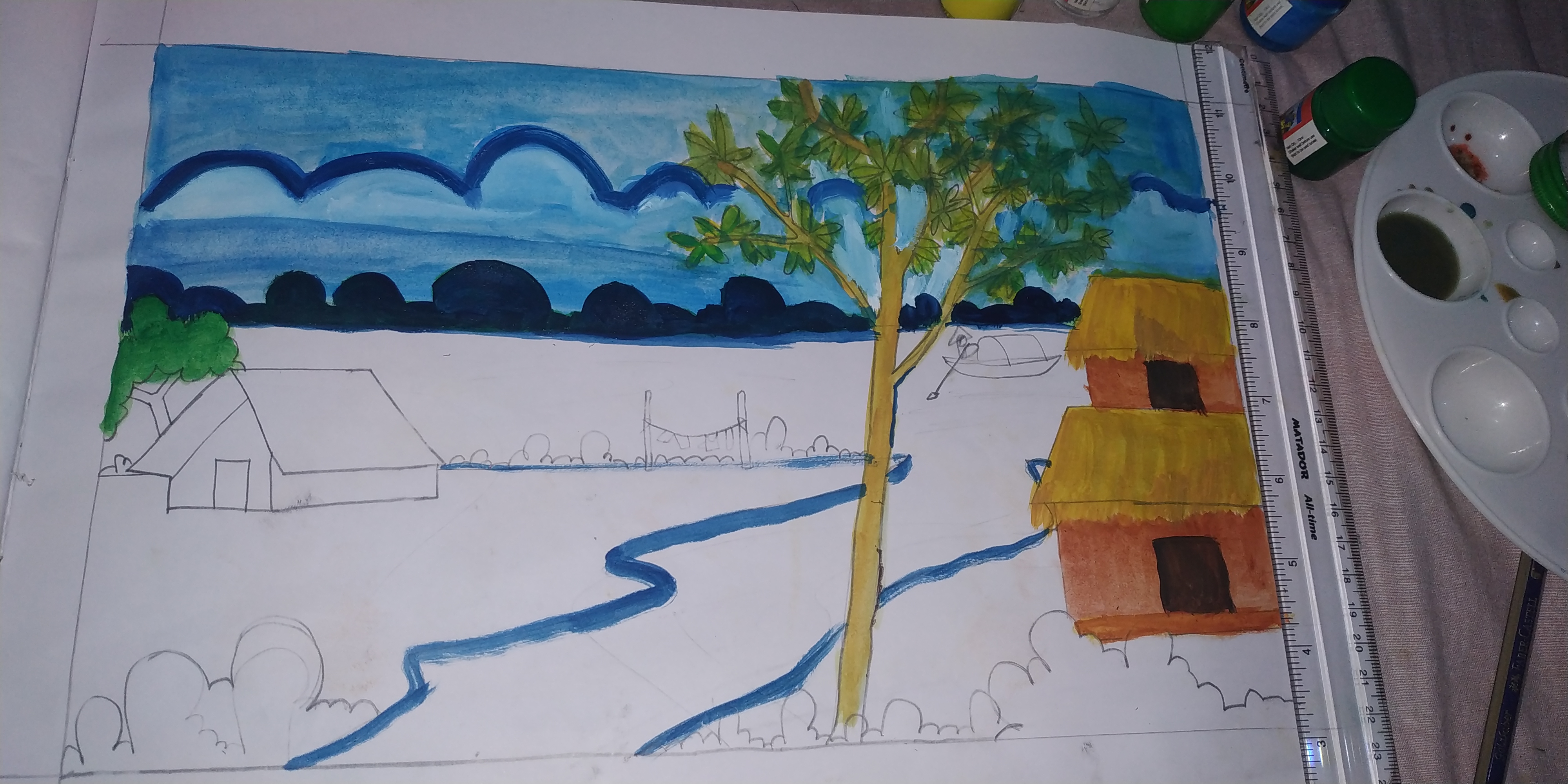 Then I added the river with color.
And colored the ground too.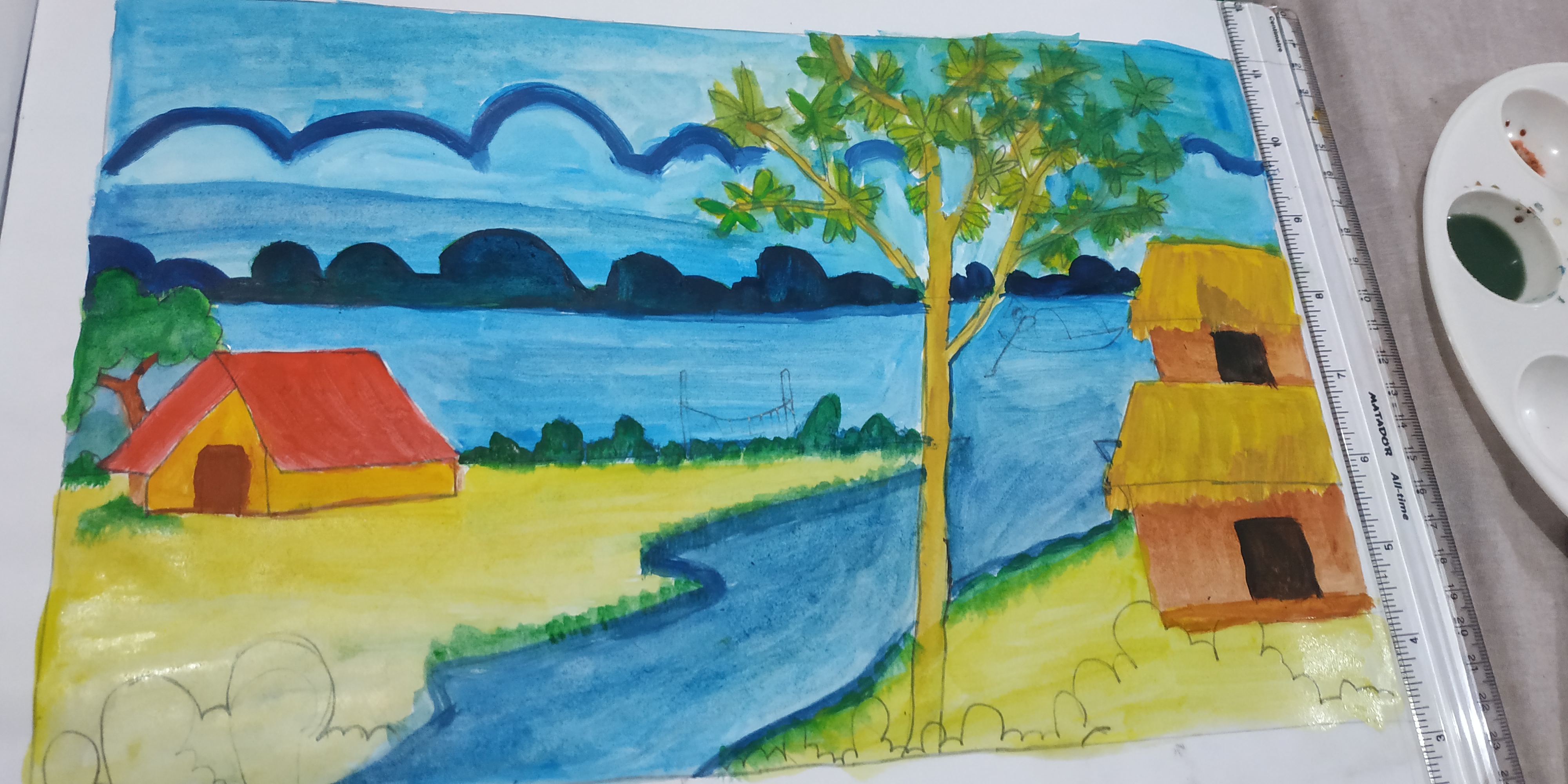 And then I added some grasses and stars.
And finished the drawing.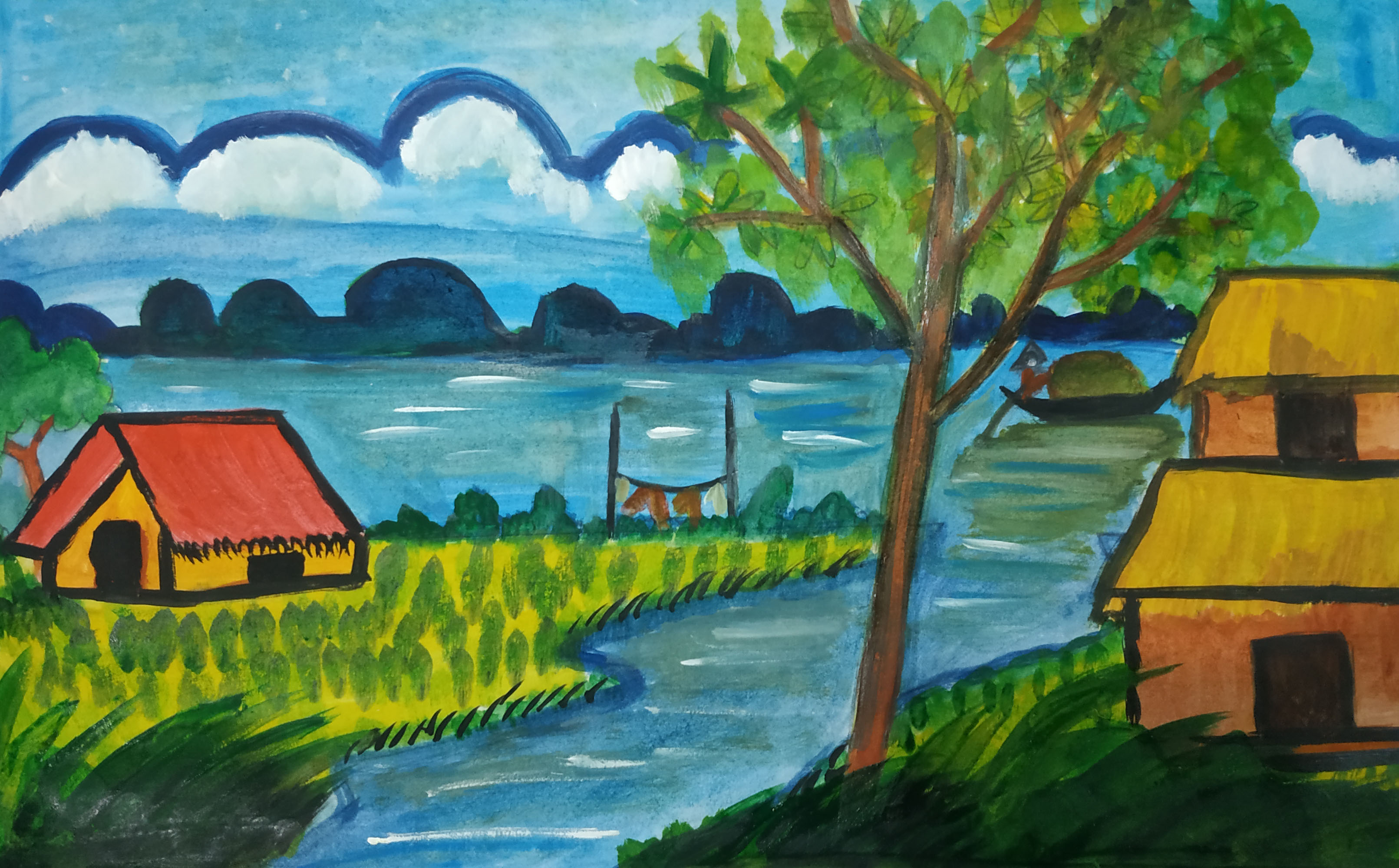 This is the finishing.
That's it.
---
Some of my drawing posts.
_Introducing Myself As An Artist.
_Rabindranath Tagore - My 1st Drawing To This Blockchain.
_Splinterlands Logo - For Splinterlands Art Contest.
_Ice Dragon for Splinterlands Art Contest.
_My Drawing Portrait of TheyCallMeDan.
_Drawing DIY: Doctors Fighting Against COVID-19.
_Daily Drawing Challenge: Day 6 - Father's Love.
_Drawing DIY: A Little Girl.
_Drawing DIY: A Depressed Girl.
_Spirit of the forest - For Splinterlands Art Contest.
_The Monster Teeth of Splinterlands - For Splinterlands Art Contest.
_Drawing DIY: A Lonely Girl.
_Drawing DIY: Night Seascape.
_Drawing DIY: Bamboo Forest.
---
About Me.
I'm Sharmin Akter Mim from Bangladesh doing Bachelors in arts in a govt university in our country.
I'm the one and only wife of @ashikstd.
With my little effort, I'm trying to help my husband in this bad time and I'm trying to understand this blockchain.
---
I want to say goodbye now.
I'm hoping that this post will get some nice view and I'll be trying to do better next time.
Stay safe & stay home for corona epidemic.
Thanks.
Sharmin.