Hello alphabet hunters !
| Today I open this new hunting week with my selection of words starting with the letter J | Aujourd'hui j'ouvre cette nouvelle semaine de chasse avec ma sélection de mots commençant par la lettre J |
| --- | --- |
| After this selection, you will find the result of the draw and everything you need to know to participate in this hunt | Vous trouverez après cette sélection le résultat du tirage au sort et tout ce que vous devez savoir pour participer à cette chasse |
Jail
| Here is the building of the old jails of Annecy, France | Voici le batiment des anciennes prisons d'Annecy |
| --- | --- |
| it's now a museum and it is the most photographed monument in the city, with its boat shape in the middle of the Thiou canal in the old town | c'est à présent un musée et c'est le monument le plus photographié de la ville, avec sa forme en bateau, au milieu du canal du Thiou dans la vielle ville |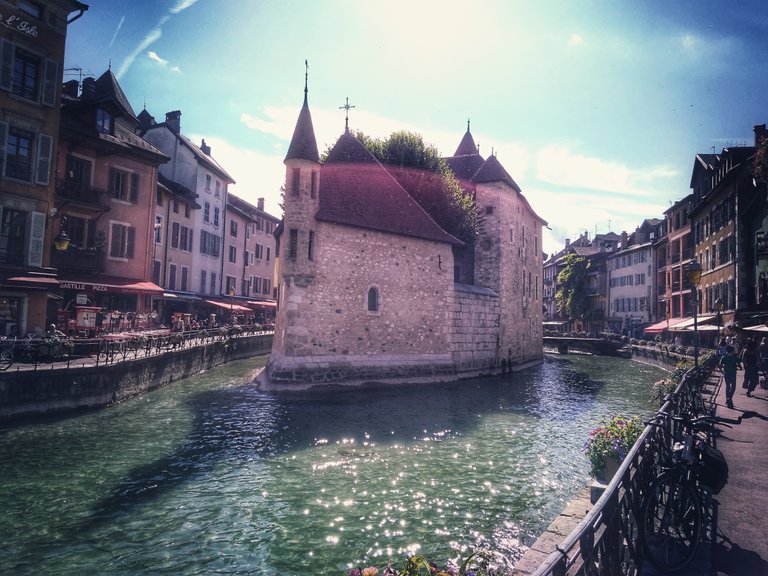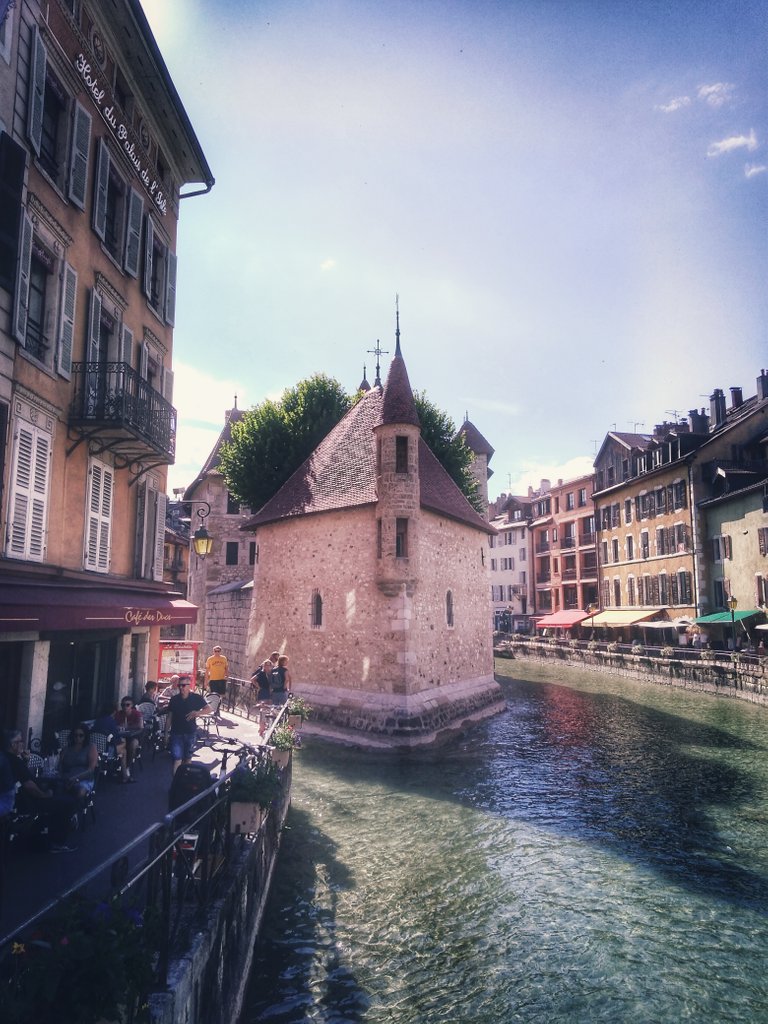 Jellyfish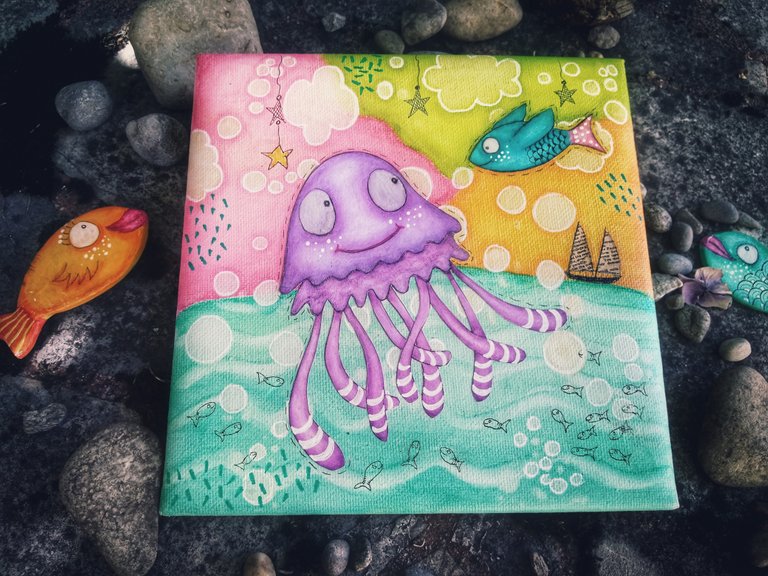 | here is the painting of a jellyfish that I made last year | voici le tableau d'une méduse que j'ai fait l'année dernière |
| --- | --- |
| it is sometimes practical to have paintings on hand to illustrate a word ... I have never seen a jellyfish in real life, it is probably for this reason that mine has striped socks 😁 | c'est parfois pratique d'avoir des peintures sous la main pour illustrer un mot...je n'ai jamais vu de méduse en vrai, c'est sans doute pour cette raison que la mienne a des soquettes rayées 😁 |

Jogging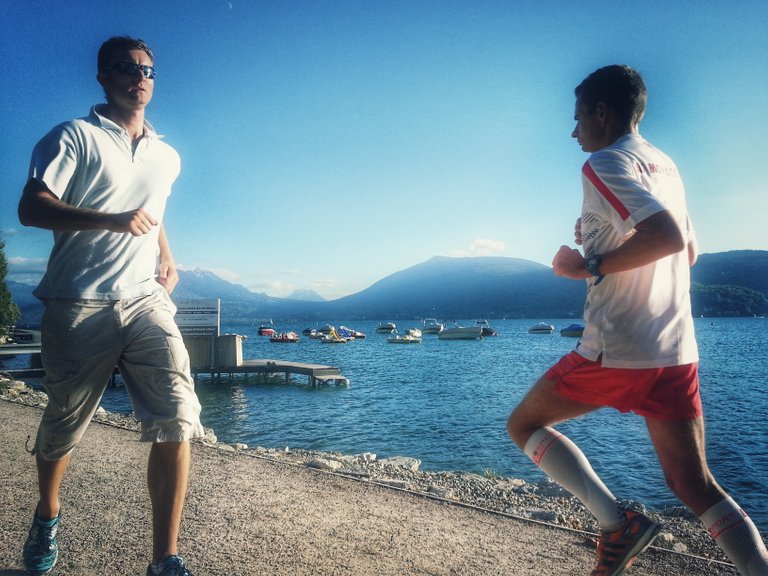 | In Annecy there is an unbearable incredible number of joggers | A Annecy il y a un nombre Insupportable incroyable de joggers |
| --- | --- |
| which is understandable given the pleasant nature of the framework for running | ce qui se comprend étant donné le caractère agréable du cadre pour courir |
| ... In any case there is very little chance for me of being among the Joggers ...🤭 | ...En tout cas il y a très peu de chances de me trouver parmi les Joggers ...🤭 |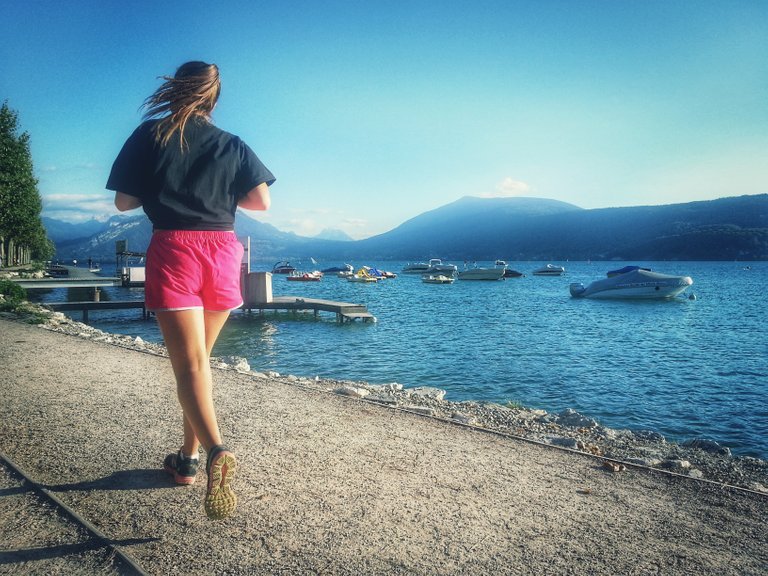 | If one day you see me running, it's because I'm escaping from a danger, | Si un jour vous me voyez courir, c'est que je suis en train d'échapper à un danger, |
| --- | --- |
| this is the only plausible explanation 😄 | c'est la seule explication plausible 😄 |

Jam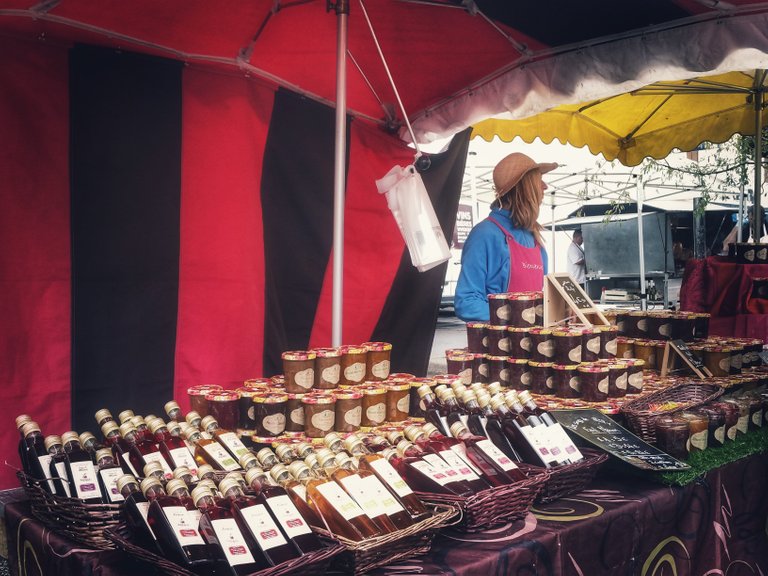 | A colorful assortment of jams photographed at a market stand in the old town | Un assortiment coloré de confitures photographiées sur un stand du marché de la vieille ville |
| --- | --- |
| I rarely buy jam because throughout the year, my mother-in-law gives us delicious ones she makes herself 😉 😋 | j'achète rarement de la confiture car ma belle-mère nous en donne de délicieuses tout au long de l'année 😉 😋 |

Jigsaw puzzle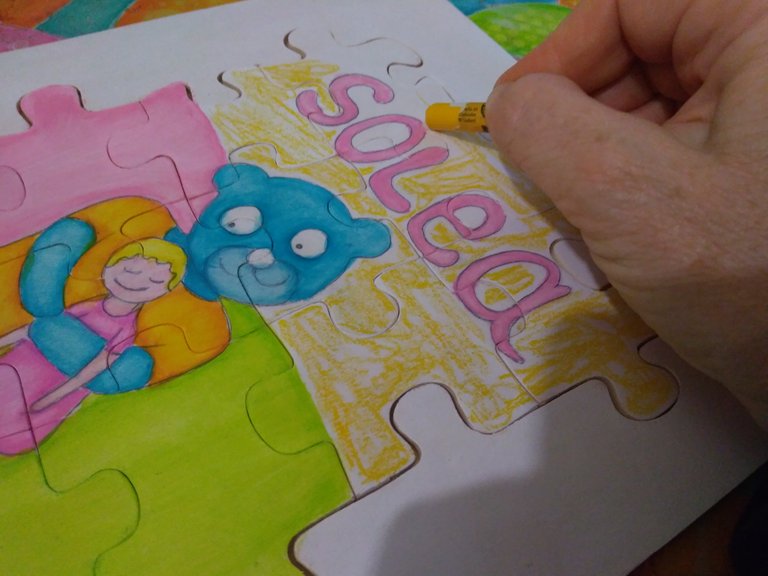 | Here is a homemade wooden puzzle (well, the puzzle itself I bought it in a specialized store, 😉 ) | Voici un puzzle en bois fait maison (bon, le puzzle en lui-même je l'ai acheté dans un magasin spécialisé, hein ?) |
| --- | --- |
| So this is the scene on the puzzle that I made for my goddaughter two years ago ... 😉 | c'est donc la scène sur le puzzle que j'ai réalisé pour ma filleule il y a deux ans... 😉 |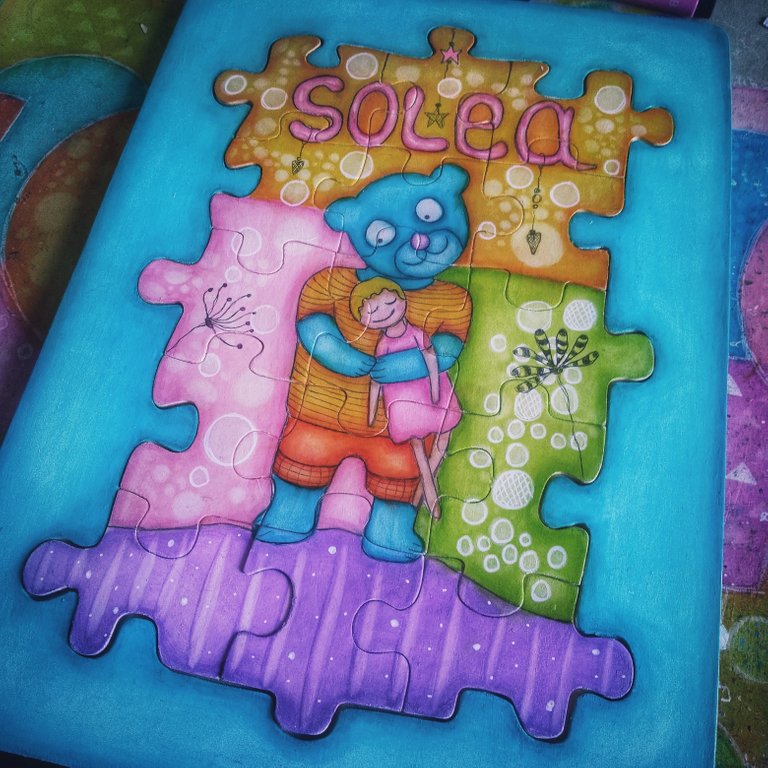 Jolly, Joyful
| Here is the Jolly little girl who is my goddaughter, you may begin to know her well during this challenge, I think she can illustrate a letter of the alphabet each time ... 😁 It was in 2017 | Voici la petite fille joyeuse qui est ma filleule, vous commencez peut-être à la connaitre au fil de ce challenge, je crois qu'elle peut illustrer une lettre de l'alphabet à chaque fois...😁 C'était en 2017 |
| --- | --- |
| it's probably because I took a lot of pictures of her because I don't see her often 😄 her mom lives between Spain and France so I see her 3 or 4 times a year | c'est probablement parce que j'ai fait beaucoup de photos d'elle car je ne la voit pas souvent 😄 sa maman vit entre l'Espagne et la France donc je la vois 3 ou 4 fois par an |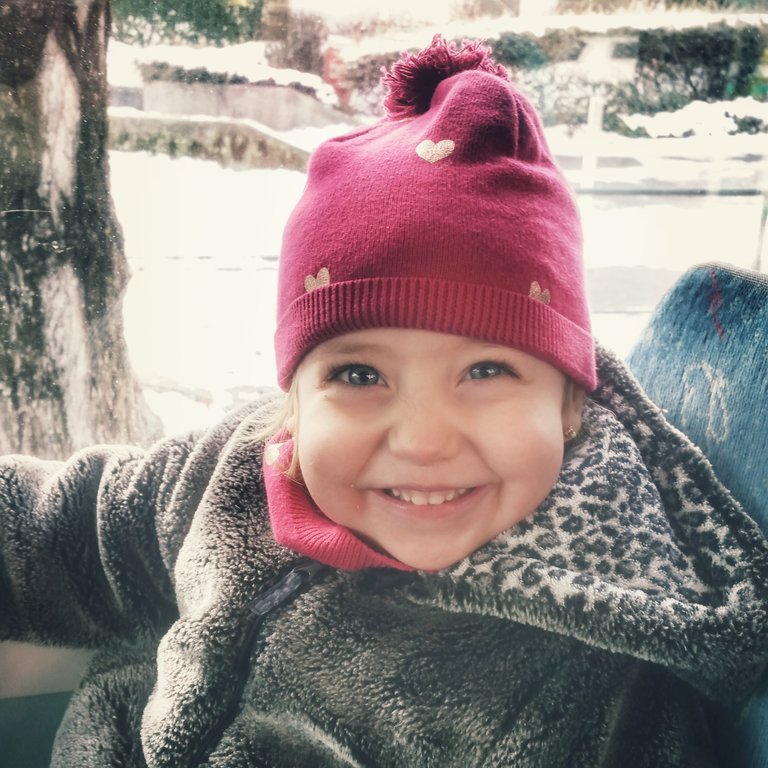 | That day the little girl was all excited because we went into town by bus | Ce jour-là la petite était toute excitée parce que nous sommes allées en ville en bus |
| --- | --- |
| and as you can see the snow was also there, so all the conditions were met for maximum fun (according to the criteria of a three-year-old child and her barely mentally older godmother 🤪 ) | et comme vous le voyez la neige était également de la partie, donc toutes les conditions réunies pour un amusement maximum (selon les critères d'une enfant de trois ans et de sa marraine guère plus agée mentalement 🤪 ) |

Voilà les amis ...it's up to you now ! / Voilà les amis ... à vous de faire à présent !
| This week, you were 27 to be participating and here is the draw that I carried out among the ones that posted in the Feel Good community 😊 which was not compulsory for the challenge, but a prerequisite for the draw | Cette semaine, vous avez été 27 participants à avoir fait preuve de créativité et voici le tirage au sort que j'ai effectué parmi ceux qui ont posté dans la communauté Feel Good 😊 , ce qui était non obligatoire pour le challenge, mais un pré-requis pour le tirage |
| --- | --- |
@isabelpena, @readheadpei, @silversaver888, @johannpiber, @elizacheng, @txatxy, @adinapoli, @bambuka, @trudeehunter, @nelinoeva, @melinda010100, @suzana72, @bigsambucca, @annephilbrick, @kohsamui99, @deerjay, @karishmasingh711, @surika, @steemflow, @gingbabida, @razeiv, @truelovemom, @lizelle, @marblely
| NB : As usual I didn't include @luigi-the-gnome who had yet worked hard, but as in any draw, family members (especially gnomish ones) must be excluded 😃 | NB : Comme d'habitude je n'ai pas inclus @luigi-the-gnome qui pourtant avait travaillé dur, mais comme dans tout tirage au sort, les membres de la famille doivent être exclus 😃 |
| --- | --- |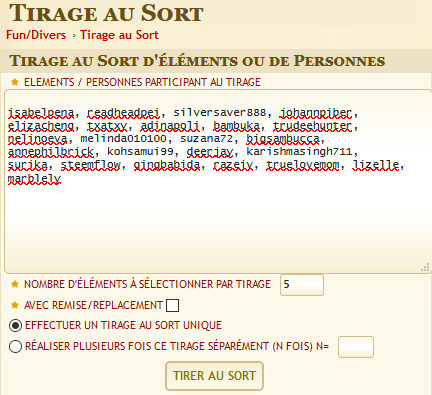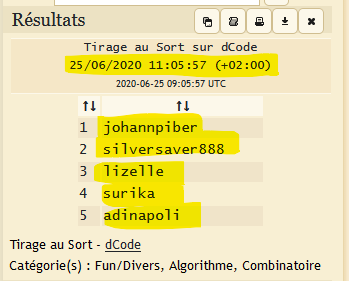 | so the five winners are | Les cinq gagnants sont donc |
| --- | --- |
@johannpiber @silversaver888 @lizelle @surika @adinapoli
| | |
| --- | --- |
| and will each receive 1 hive 😊 | et recevront chacun 1 hive 😊 |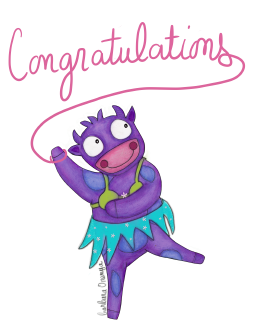 Here are the simple guide lines of the game :
| Make a post with 6 of your own photos representing an object or concept that begins with the letter of the week | Faites un post avec 6 de vos propres photos photos représentant un objet ou concept qui commence par la lettre de la semaine |
| --- | --- |
| * if you post in the Feel Good community (hive-190931 as first tag for those who post from eSteem) you will participate in a random draw rewarding 5 people with 1 Hive each 😊 | * si vous postez dans la communauté Feel Good (hive-190931 comme 1er tag pour ceux qui postent depuis eSteem) vous participerez à un tirage au sort récompensant 5 personnes de 1 Hive chacune 😊 |
| * use the hashtag #alphabetHunt and call me @barbara-orenya with a mention + leave your link in comment below this post so that others can see it too and have an easy access to it 😉 | * utilisez le hashtag #alphabetHunt et mentionnez-moi @barbara-orenya + laissez votre lien en commentaire sous ce post pour que d'autres puissent le voir et accèder également à votre post 😉 |
| You have until next Wednesday 10pm UTC to post | Vous avez jusqu'à mercredi prochain 10pm UTC to post |
| | |
| -------- | -------- |
| And most importantly : Have fun, enjoy this hunt and make sure your readers also have an enjoyable moment discovering your trophy images ! | Et le plus important : Amusez-vous, prenez du plaisir à cette chasse et faites en sorte que vos lecteurs aient aussi beaucoup de plaisir à découvrir vos images de trophés ! |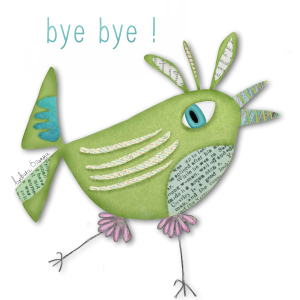 As always BlueWonkies are supporting communities ! 👇
Amazing Nature community by @adalger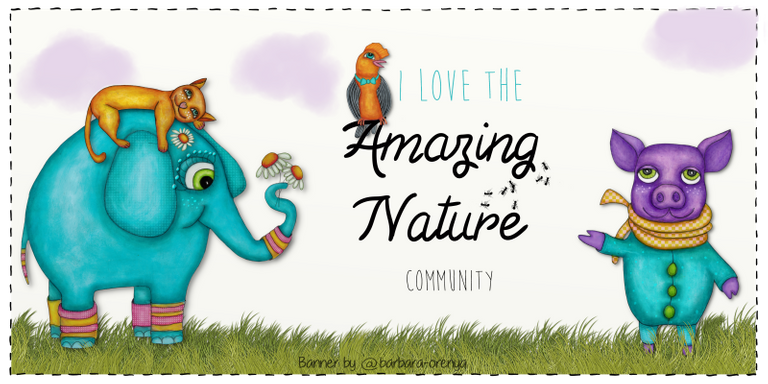 hive-127788

Feathered Friends community by @melinda010100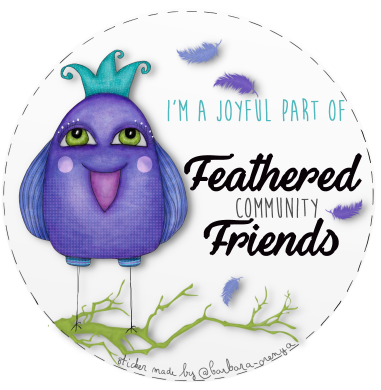 hive-106444

Always a Flower community by @dswigle

hive-154065

Market Friday by @dswigle

hive-196308

Feel Good community by @barbara-orenya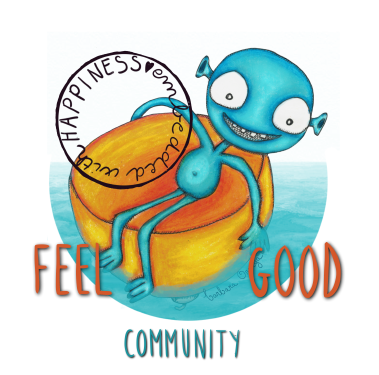 hive-190931