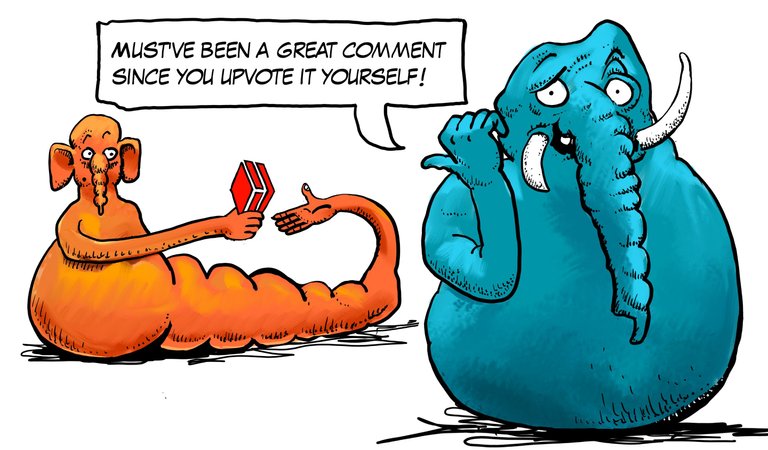 Welcome!
You have reached the Voteowncommentphant's page with splendid advice on voting on your own comments.
Here's the advice:
Or... Do we really need to explain why voting on your own comment is lousy and shouldn't be done? Really? Yes? Do you really want to know why using Hive as a handout to your own hand, a private slot machine where you pull your own lever, a job where you use your hand to achieve a short monetary bliss every time you post a small comment, is frowned upon?
Nah, thought not.
Hive is a social network where the best should be upvoted. Votesturbation only leads to loneliness, mood swings and... downvotes. So don't do it.
Now. Go vote on some of the many brilliant comments by OTHER people.

How to use the Voteowncommentphant
If you see people upvote their own comments you can use the Voteowncommentphant by posting a reply with the following lines:
[![The_commentphant.jpg](https://files.peakd.com/file/peakd-hive/katharsisdrill/23xLDrtx3YnwqbDGc41eW2X3cZdyPgFRjpxYFzA6PRdBZ47dUJFjpjVftmay6gwyYgvpN.jpg)](https://peakd.com/hive/@katharsisdrill/the-voteowncommentphants-advice-page)
It will look like this:


and links to this page.


All things on this page is made by Katharsisdrill and licensed under a
Creative Commons Attribution 4.0 International License.