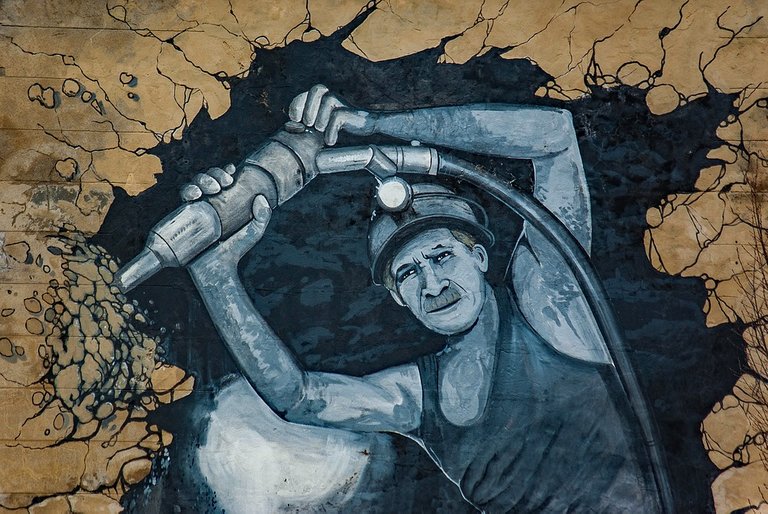 There is a dangerous current of thought that has spread around the whole of modern society, that which reduces the human to a mere productive factor, to an economic instrument that is destined to be one more piece in a world production machinery, and that in the name of freedom hides the most infamous slavery.
A few months ago I read an article about the low birth rate in South Korea, about how many women are deciding not to have a partner or children, but decide to focus only on their work, which of course, not only decreases the birth rate, but completely restructures -not to say destroys- Korean culture and society, which are subordinated to economic development.
This, of course, driven by the postmodernist movements of the so-called Korean "Sampo generation". The woman interviewed in the article supported the collapse of the "male-dominated culture" that, according to them, exists in Korea. The excuse for not having a partner and children is that they believe that, in some way, that is equivalent to being slaves of men.
For them, having a partner, a child and a family is the equivalent of being a slave, but dedicating her whole life to work, and giving up everything they want for the simple fact that it can make them less competitive in the labor market is freedom.
These people who decide to abandon all human qualities for their work, for the simple fact of conceiving success as something merely economic, don't realize that they are enslaving themselves to the will of those who own the money, and they are doing in the name of freedom.
In this way, having a child becomes a burden, as feminists say; or having a couple has no meaning, as the MGTOW say; Individualism is confused with isolationism; and therefore, the family is finally destroyed, dragging the entire society with it.
By sacrificing everything in life and subordinating it to work, its sensible to think that a society formed by these individuals will behave in the same way, so that everything begins to be reduced merely to its economic aspect, and just as the son and the couple are valued on the basis of utility and benefit, all humans are reduced to this, and lack any other value in the social structure.
What is the human being seen from a purely economic perspective? Simply manpower, workforce, a worker or proletarian. And if we take it to its extremes where the human is the most economically useful, that is, where he can achieve the greatest benefit at the lowest cost, the human is nothing more than a slave.
What I am saying is so true, that some movements such as transhumanism have even been created and promoted, which seek to convert the human being, in its totality, into a tool. People who value themselves for their usefulness. In fact, they believe that their attempt to make the human being the most useful slave in history is so inevitable, that they even think that sooner or later everyone will adopt robotic parts to be competitive in the labor market.
There are also those who support mass migration simply because, supposedly, it helps economic development, regardless of the cultural, political or social damages that this may bring; or those who deny immigration, but simply because immigrants take away their jobs; or those who are in favor of destroying all apex of morality in their own land simply to increase economic development; or the fundamentalists of economic systems who want to force other people to adopt it because, according to them, their system brings more development, even if people don't seek such objectives. In short, there are endless examples of how economism is destroying everything that is not economically useful.
Now, all these movements that, fortunately, are not dominant, but which, unfortunately, are being born, are products of a germ that has been in our society for decades, the germ of Marxism.
Many may believe that these things that I have described have something to do with the free market and true liberalism, in fact, it is all the opposite. The economism has little or nothing to do with liberal concepts, but on the contrary, is the younger brother of Marxism.
Have not you noticed that when we talk about social classes we are really referring to economic classes? Have not you noticed that the problems in modernity are things like poverty, material inequality or unemployment? Don't you see that today we measure the nations, and we believe that the greatest is the one that has the best economic performance, regardless of values or culture, and that we are guided in such matters by things like GDP?
All these conceptions, and many more that I will not mention, are born of the same mother; Marxism.
Are the Marxists who believe that society is organized on the basis of the means of production, therefore they are also the creators of the dichotomy capitalism-socialism, or private property vs. state property. Are also the Marxists who, in their economic reductionism, turn the people into "workers" or "proletarians" because they only matter on the basis of their relation to the means of production, and they are also the ones who classify the whole society based on this.
Don't look for a concept of material inequality in the Founding Fathers, in the French revolutionaries or in the Liberators of America, for although they recognized that all men were equal in law, they also recognized that they were, in the same way, unequal by nature. And let's not mention the concern about unemployment that existed only a few decades ago.
Finally, the very concept of GDP can only come from the head of someone looking to plan the economy, as in effect was used in the beginning by the government of Franklin Delano Roosevelt, someone who is well known precisely for being against the free market and to true liberalism; with its social-democratic, interventionist and expansionist policies, along with its little respect for American institutions and democracy.
I know that sometimes we use such instruments to have some data regarding economic development, and it is sometimes necessary to do so, because such development is not at all despicable, however, as long as it is followed, in the same way as Marxists, subordinating everything to a reductionist vision, the results will be catastrophic, deceptive, and finally, dangerous.
For the rest, and if we continue to be subordinated on the basis of measures created by Marxist minds, we don't expect the results to be different from Marxism, and if we continue to reduce ourselves to mere economic instruments that only have value for their usefulness, then don't be surprised when we are utilized/used by others.
---
Image Source: 1