What do Hive Witnesses do and why you should vote for your 30 preferred witnesses.
What do Witnesses do?
The Hive blockchain uses DPoS (Delegated Proof of Stakes), this means we get to elect those which users (the witnesses) get to validate the next block containing operations (posts, comments, votes, transfers etc...) to be added permanently into the blockchain.
Elected witnesses, will be setting up at least one server that runs 24/7 and which role is to enforce the blockchain rules and store the validated blocks for future reference. Keeping that server up and running is an important task as without the witnesses server the platform will be down.
Every 63 seconds, the top 20 witnesses and 1 random backup witness will be picked to validate and sign blocks. Each of them have 3 seconds to validate the block, if something happens and they can't do it within that time, the block will be missed and pass on to the next scheduled witness. For their work, Hive Witnesses will be rewarded in HP for each block they validate (see rewards in the report below). The rewards used to pay the Witnesses comes from pool that is separate to the author and curator reward pool. There are actually four different pools, the Hive Whitepaper describes them as followed:
Hive inflation is distributed in the following manner:

65% is used to fill the reward pool (which is split in equal portions between content producers and curators)
15% goes to HP stakeholders
10% goes to the witnesses for block signing
10% goes to the Decentralized Hive Fund.
Additionally to validating blocks, Hive Witnesses also keeps an up-to-date HIVE and HBD price feed for blockchain internal use. They also get to set some important parameters, for example:
HBD savings interests rate. The current APR as voted by the witnesses is 12%
Account creation fee. The current fee is 3 HIVE
Block size
Why you should vote for your preferred witnesses:
Witnesses ensure the safety and proper functioning of the blockchain network
Voting for your trusted witnesses will help mitigate 51% attacks
Voting for witnesses costs you nothing, it does not use your vote power or Hive Power (HP) and you can vote for up to 30 preferred witnesses
You can change your vote at any time
If you don't know who to vote for, you can choose another user as your witness proxy this means you will automatically vote for the same witnesses as the user you have chosen as proxy. Later on, you can remove that proxy and manually vote for your preferred witnesses.
If you haven't yet voted for your 30 preferred witnesses, you can do so on https://wallet.hive.blog/~witnesses
The monthly Hive Witness earnings report
Disclaimer
This is a semi-automated report. I cannot guarantee 100% accuracy on the numbers found in this post. This is just to give you an idea of the distribution of Hive Power through the witness operations. If you do find an oddity, please let me know and I will make sure to get it fixed.
Report reference info
All data below were gathered during the following time range:
2022-05-01 00:00:00 to 2022-05-31 23:59:59 UTC
All price calculation were done using today's average price of 1 HIVE of: 0.564 USD (source: average price from feed history over 12 hours)
General Producer Reward HP distribution
There was a total of 872715 blocks produced and 253947.48 HP earned during last month.
The column chart below represents the distribution of Hive Power earned by witnesses over the last month.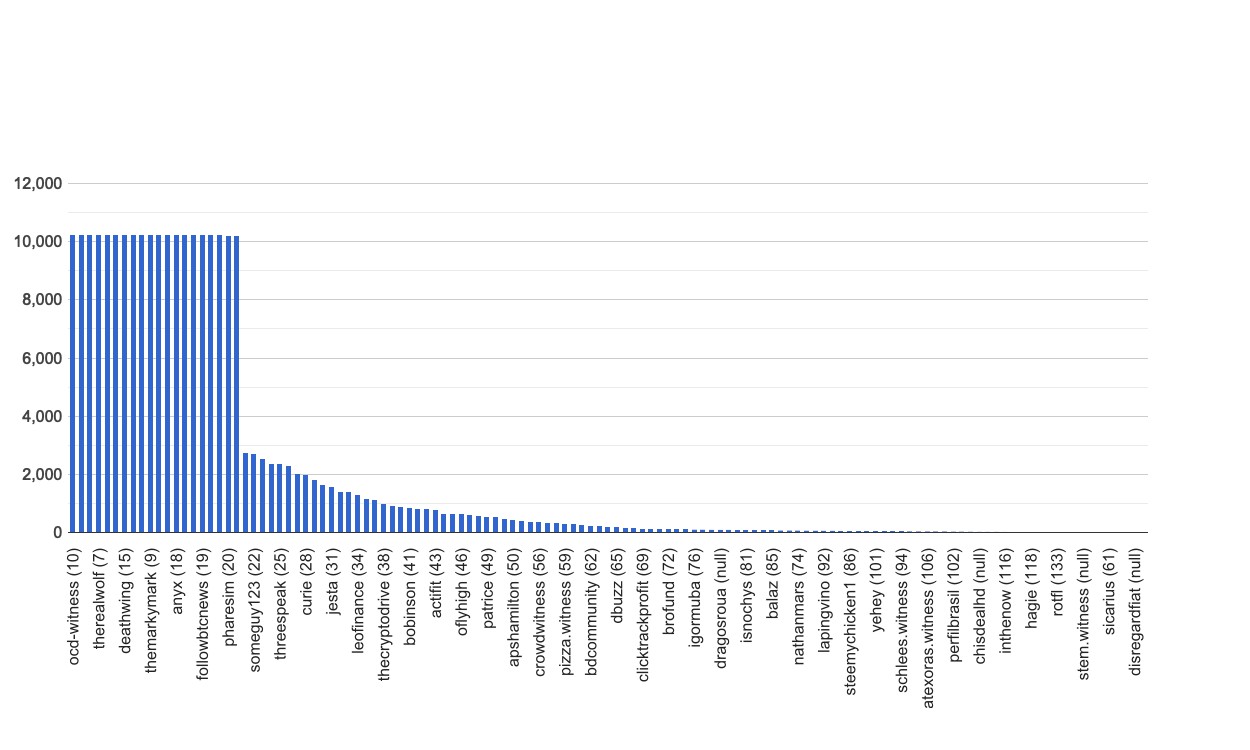 Notice the dramatic drop past the rank 20. Remember, each round is composed of each of the Top20 witnesses and one backup witness. This means each Top20 witness has to sign a block every 63 seconds (max), while for a backup witness, it will be much less often. The Top20 witnesses are however rewarded less HP per block than backup witnesses.
The servers of the Top20 witnesses are thus under higher load/stress than those of the backup witnesses. You need to keep this in mind when looking at their number of missed blocks: 10 missed blocks for a witness at rank 10 does not mean the same as 10 missed blocks for a witness at rank 140 for example.
---
HP distribution by active rank tier, ordered by earnings last month.
Your name might not appear in the charts below due to space limitation, this would change from month to month.
Top20: total of 204720.62 HP earned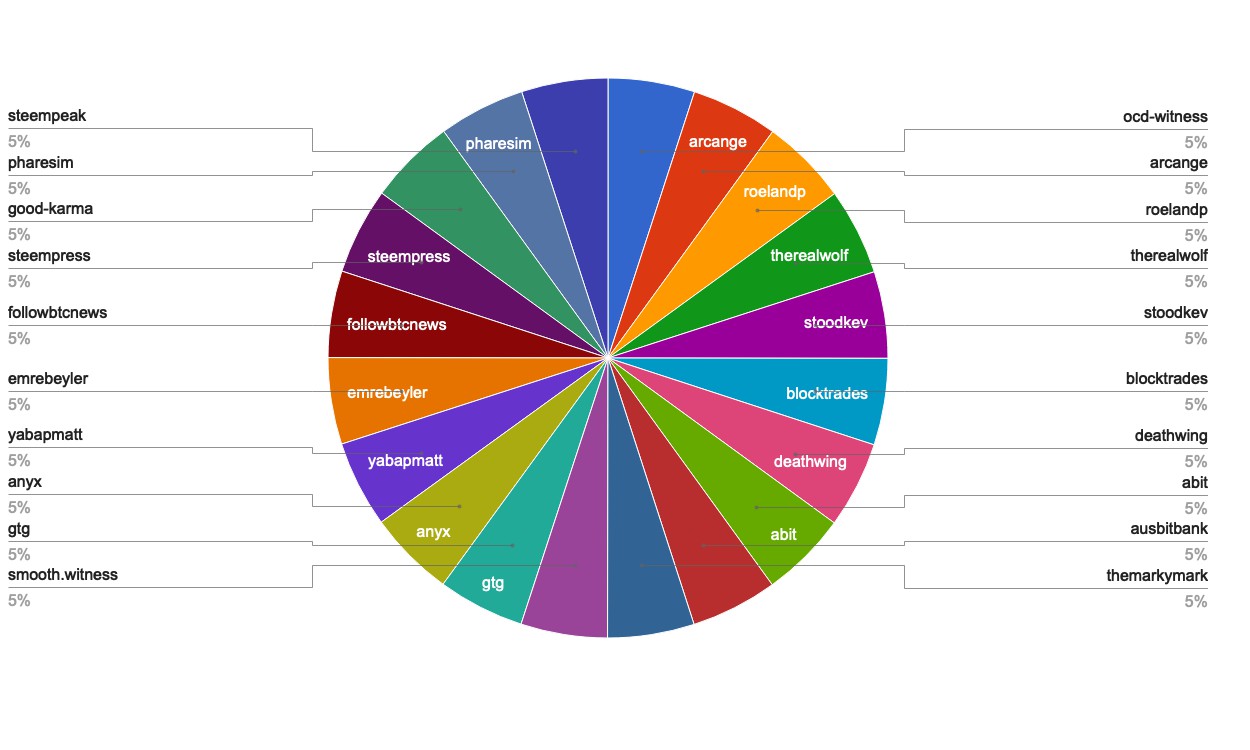 Active Rank 21-40: total of 34191.66 HP earned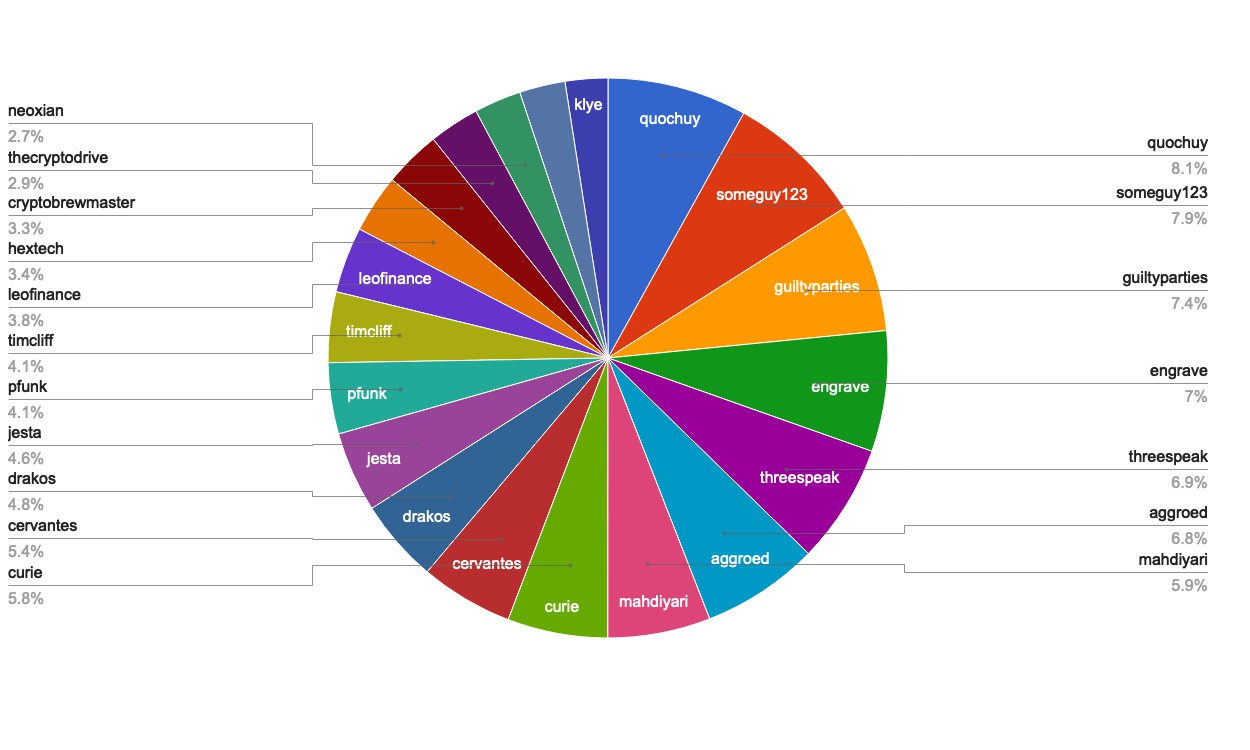 Active Rank 41-60: total of 10435.49 HP earned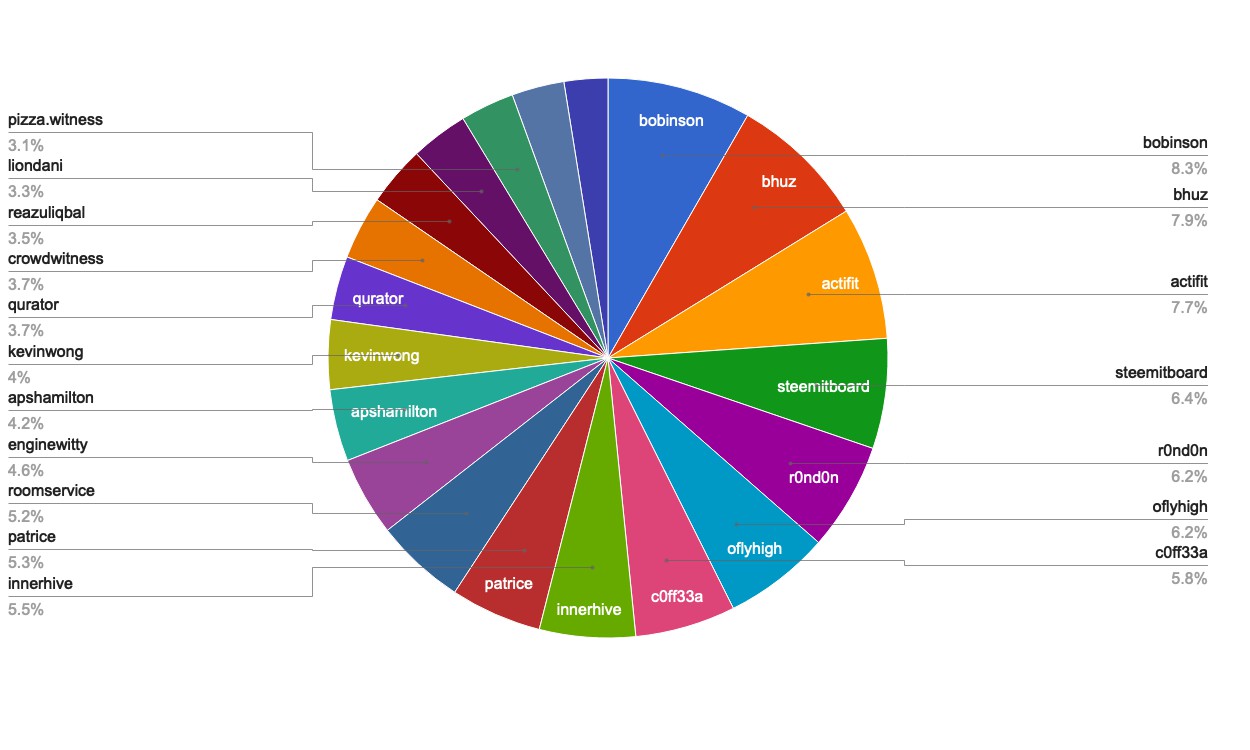 Active Rank 61-80: total of 2545.56 HP earned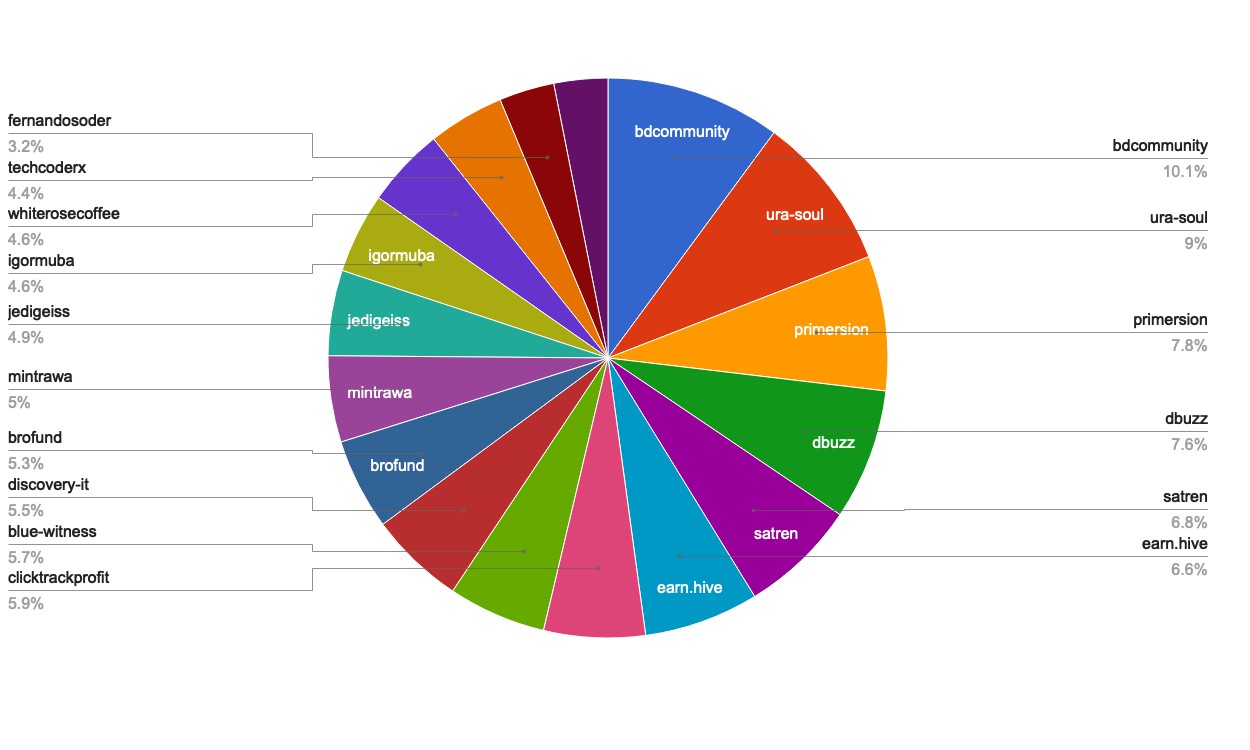 Active Rank 81-100: total of 1179.47 HP earned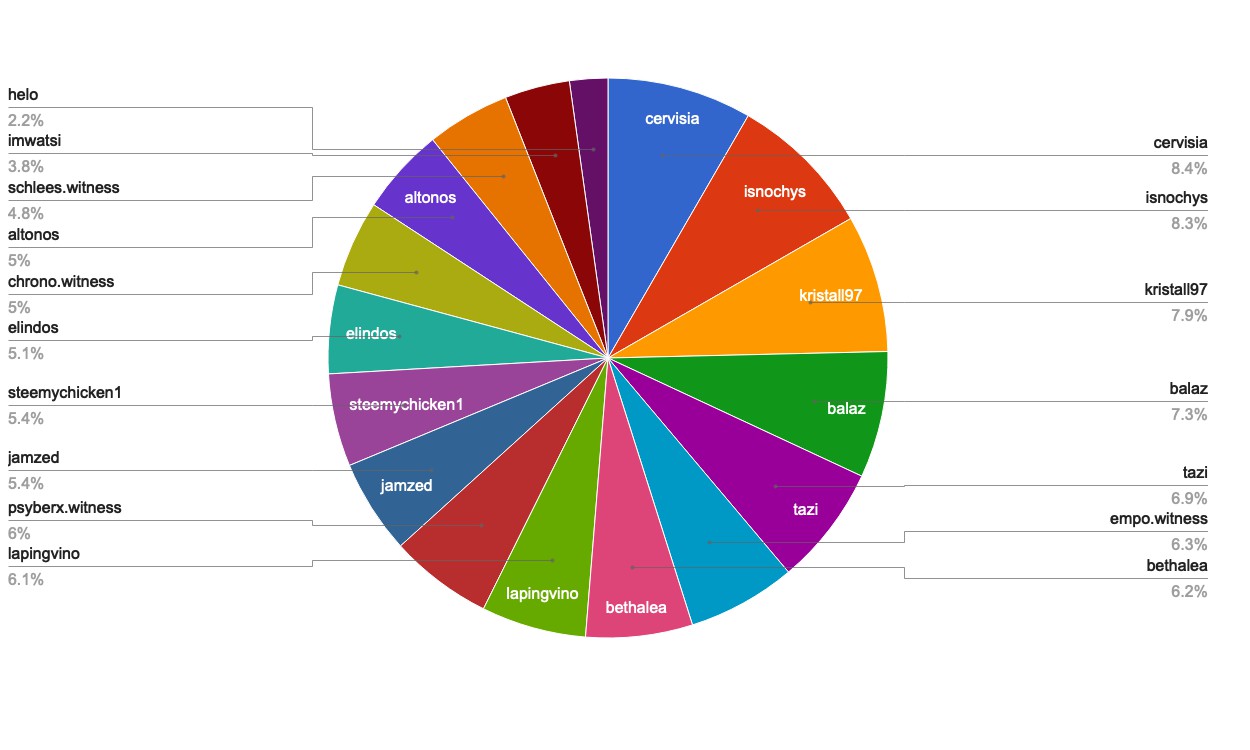 Active Rank 101-120: total of 442.89 HP earned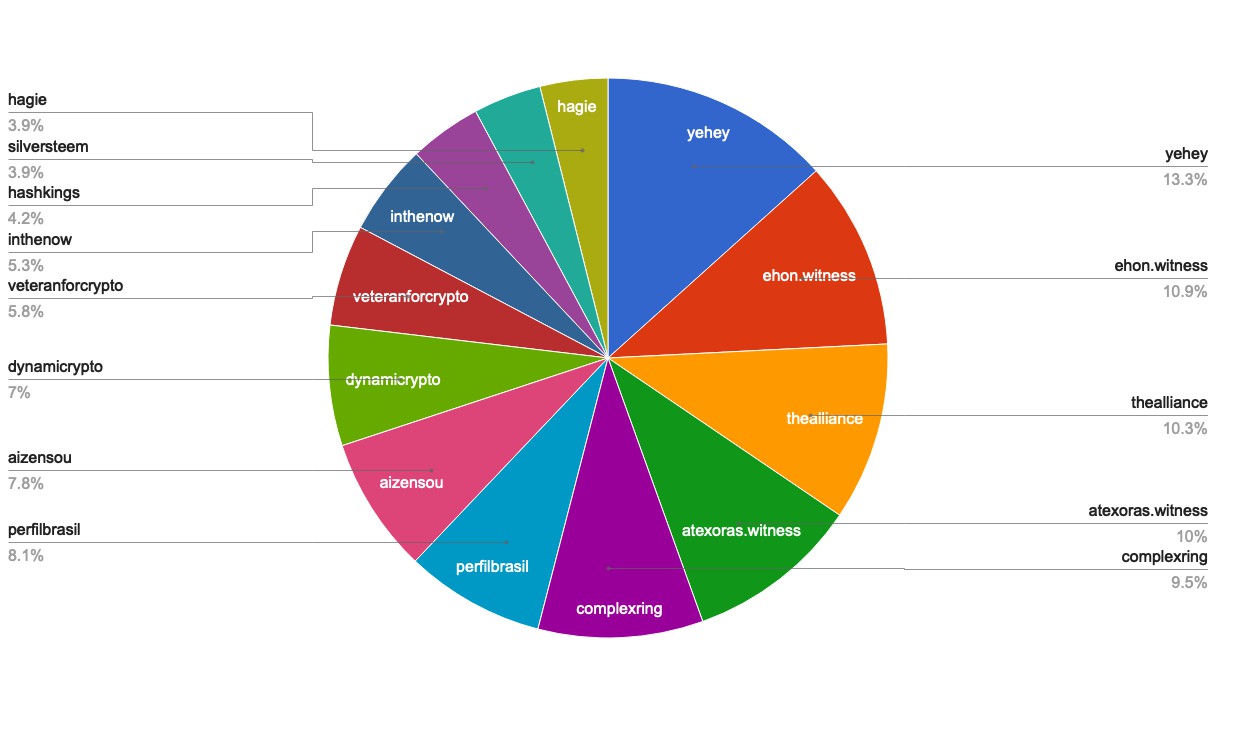 Under 120: total of 37.14 HP earned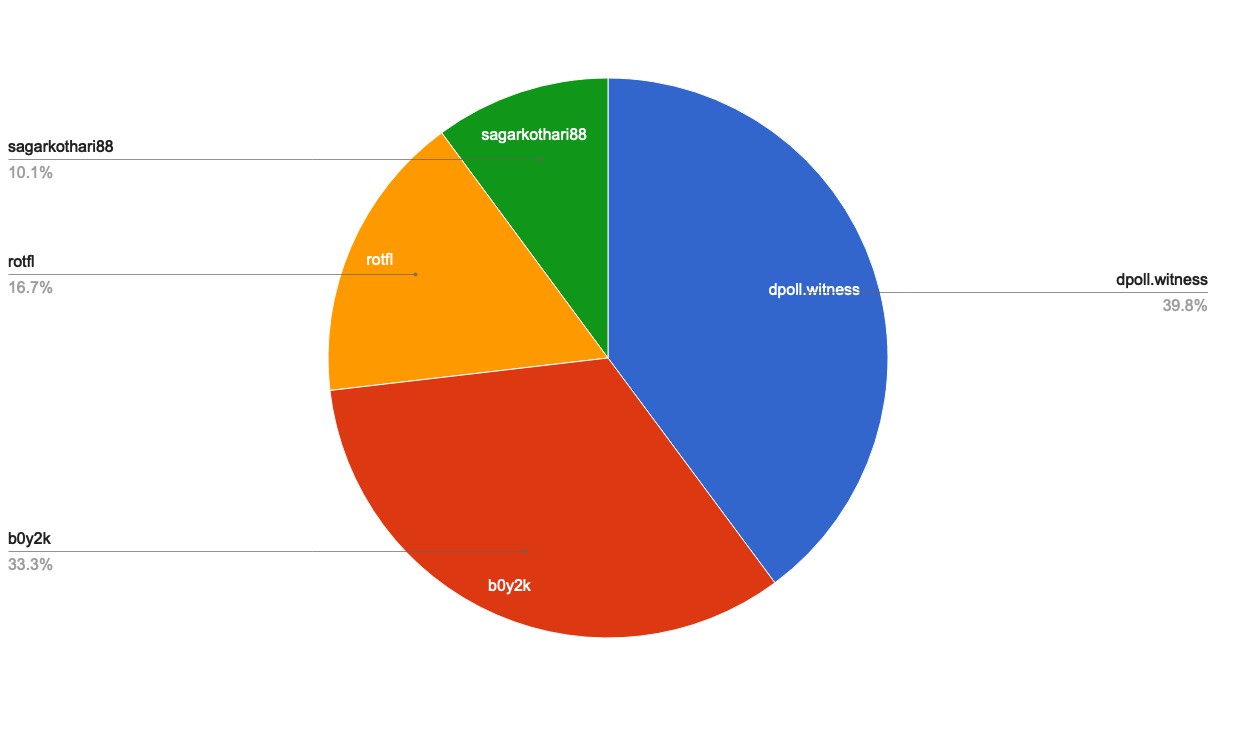 All tiers combined ordered by HP earned.
Here is the full report from all active HIVE Witnesses. Please also take this opportunity to see what they do for the community and cast a vote for them in order to help the platform.
Notes:
Blocks can be missed for various reasons including technical issues, misconfiguration, bugs in a new version of the blockchain software etc... and the higher your rank, the higher the chance it can happen.
Some witnesses are managing multiple projects for Hive and the communities in addition to maintaining their various nodes and hence don't often post.
Click on the witness names to get to their witness announcement post.
The earnings in USD below are just an estimate and are only effective if the witness are powering down and convert their liquid HIVE to fiat. By keeping their producer rewards powered up, they take the risk of seeing those staked HP loosing value if the market goes down.
There are times where you might notice highly ranked witnesses earning less rewards than those below them. This is there are cases where witnesses might not be able to validate blocks, some of the reasons could be: technical issues leading to missing blocks, disabling their witness temporarily for maintenance etc...
Last month earnings (ordered by amount earned ):
No.
Witness
Earnings HP/USD
1
@ocd-witness - active rank: 10
Last month: signed 41669 blocks with v1.25.0, missed 4 (0.01%).
Activity: 0 posts , 0 comments , 4465 upvotes, 0 downvotes
10245.14 HP/m, $5775.70/m
4.03%, 0.25 HP/block
2
@arcange - active rank: 6
Last month: signed 41667 blocks with v1.25.0, missed 4 (0.01%).
Activity: 0 posts , 89 comments , 6136 upvotes, 1 downvotes
10244.66 HP/m, $5775.43/m
4.03%, 0.25 HP/block
3
@roelandp - active rank: 11
Last month: signed 41665 blocks with v1.25.0, missed 2 (0.00%).
Activity: 1 posts , 7 comments , 13216 upvotes, 0 downvotes
Top tags: #conference, #event, #hivefest, #party, #poll
10244.19 HP/m, $5775.16/m
4.03%, 0.25 HP/block
4
@therealwolf - active rank: 7
Last month: signed 41664 blocks with v1.25.0, missed 2 (0.00%).
Activity: 1 posts , 3 comments , 7 upvotes, 0 downvotes
Top tags: #hive, #inji, #splinterlands
10243.83 HP/m, $5774.96/m
4.03%, 0.25 HP/block
5
@stoodkev - active rank: 12
Last month: signed 41655 blocks with v1.25.0, missed 2 (0.00%).
Activity: 0 posts , 14 comments , 314 upvotes, 0 downvotes
10241.72 HP/m, $5773.77/m
4.03%, 0.25 HP/block
6
@blocktrades - active rank: 1
Last month: signed 41648 blocks with v1.25.0, missed 5 (0.01%).
Activity: 3 posts , 41 comments , 1846 upvotes, 39 downvotes
Top tags: #hive-139531, #hive, #blockchain, #software, #blocktrades
10239.90 HP/m, $5772.74/m
4.03%, 0.25 HP/block
7
@deathwing - active rank: 15
Last month: signed 41644 blocks with v1.25.0, missed 3 (0.01%).
Activity: 0 posts , 0 comments , 3041 upvotes, 0 downvotes
10239.02 HP/m, $5772.25/m
4.03%, 0.25 HP/block
8
@abit - active rank: 13
Last month: signed 41644 blocks with v1.25.0, missed 1 (0.00%).
Activity: 0 posts , 0 comments , 744 upvotes, 0 downvotes
10238.85 HP/m, $5772.15/m
4.03%, 0.25 HP/block
9
@ausbitbank - active rank: 3
Last month: signed 41641 blocks with v1.25.0, missed 0 (0.00%).
Activity: 1 posts , 11 comments , 1464 upvotes, 0 downvotes
Top tags: #art, #discodiffusion, #lookmumididanart
10238.19 HP/m, $5771.78/m
4.03%, 0.25 HP/block
10
@themarkymark - active rank: 9
Last month: signed 41637 blocks with v1.25.0, missed 3 (0.01%).
Activity: 13 posts , 224 comments , 427 upvotes, 1147 downvotes
Top tags: #hive-engine, #vyb, #ash, #cent, #proofofbrain
10237.24 HP/m, $5771.25/m
4.03%, 0.25 HP/block
11
@smooth.witness - active rank: 16
Last month: signed 41636 blocks with v1.25.0, missed 1 (0.00%).
Activity: 0 posts , 0 comments , 0 upvotes, 0 downvotes
10236.88 HP/m, $5771.04/m
4.03%, 0.25 HP/block
12
@gtg - active rank: 2
Last month: signed 41634 blocks with v1.25.0, missed 9 (0.02%).
Activity: 0 posts , 16 comments , 363 upvotes, 68 downvotes
10236.39 HP/m, $5770.76/m
4.03%, 0.25 HP/block
13
@anyx - active rank: 18
Last month: signed 41629 blocks with v1.25.0, missed 5 (0.01%).
Activity: 0 posts , 1 comments , 1 upvotes, 0 downvotes
10235.22 HP/m, $5770.10/m
4.03%, 0.25 HP/block
14
@yabapmatt - active rank: 8
Last month: signed 41623 blocks with v1.25.0, missed 3 (0.01%).
Activity: 0 posts , 4 comments , 106 upvotes, 0 downvotes
10233.72 HP/m, $5769.26/m
4.03%, 0.25 HP/block
15
@emrebeyler - active rank: 14
Last month: signed 41623 blocks with v1.25.0, missed 3 (0.01%).
Activity: 0 posts , 0 comments , 3314 upvotes, 0 downvotes
10233.68 HP/m, $5769.24/m
4.03%, 0.25 HP/block
16
@followbtcnews - active rank: 19
Last month: signed 41619 blocks with v1.25.0, missed 3 (0.01%).
Activity: 0 posts , 0 comments , 1575 upvotes, 0 downvotes
10232.80 HP/m, $5768.74/m
4.03%, 0.25 HP/block
17
@steempress - active rank: 17
Last month: signed 41619 blocks with v1.25.0, missed 5 (0.01%).
Activity: 0 posts , 0 comments , 2802 upvotes, 0 downvotes
10232.70 HP/m, $5768.68/m
4.03%, 0.25 HP/block
18
@good-karma - active rank: 5
Last month: signed 41606 blocks with v1.25.0, missed 35 (0.08%).
Activity: 0 posts , 3 comments , 7303 upvotes, 0 downvotes
10229.53 HP/m, $5766.90/m
4.03%, 0.25 HP/block
19
@pharesim - active rank: 20
Last month: signed 41571 blocks with v1.25.0, missed 72 (0.17%).
Activity: 2 posts , 26 comments , 2932 upvotes, 1 downvotes
Top tags: #hive, #ai, #machine-learning, #profiling, #deephive
10220.92 HP/m, $5762.05/m
4.02%, 0.25 HP/block
20
@steempeak - active rank: 4
Last month: signed 41552 blocks with v1.25.0, missed 5 (0.01%).
Activity: 0 posts , 0 comments , 11 upvotes, 0 downvotes
10216.03 HP/m, $5759.29/m
4.02%, 0.25 HP/block
21
@quochuy - active rank: 21
Last month: signed 2323 blocks with v1.25.0, missed 0 (0.00%).
Activity: 5 posts , 33 comments , 2412 upvotes, 0 downvotes
Top tags: #music, #hive-193816, #electricguitar, #witness, #witness-update
2756.25 HP/m, $1553.83/m
1.09%, 1.19 HP/block
22
@someguy123 - active rank: 22
Last month: signed 2204 blocks with v1.25.0, missed 0 (0.00%).
Activity: 0 posts , 0 comments , 2877 upvotes, 0 downvotes
2713.10 HP/m, $1529.51/m
1.07%, 1.23 HP/block
23
@guiltyparties - active rank: 23
Last month: signed 2066 blocks with v1.25.0, missed 0 (0.00%).
Activity: 0 posts , 7 comments , 40 upvotes, 0 downvotes
2543.14 HP/m, $1433.70/m
1.00%, 1.23 HP/block
24
@engrave - active rank: 24
Last month: signed 1937 blocks with v1.25.0, missed 1 (0.05%).
Activity: 1 posts , 49 comments , 470 upvotes, 1 downvotes
Top tags: #development, #engrave, #hive, #hivedev, #hiveprojects
2384.56 HP/m, $1344.30/m
0.94%, 1.23 HP/block
25
@threespeak - active rank: 25
Last month: signed 1915 blocks with v1.25.0, missed 0 (0.00%).
Activity: 1 posts , 1 comments , 1809 upvotes, 4 downvotes
Top tags: #3speak, #beta, #development, #encoding, #hive
2357.36 HP/m, $1328.96/m
0.93%, 1.23 HP/block
26
@aggroed - active rank: 26
Last month: signed 1884 blocks with v1.25.0, missed 0 (0.00%).
Activity: 0 posts , 0 comments , 4 upvotes, 0 downvotes
2319.10 HP/m, $1307.39/m
0.91%, 1.23 HP/block
27
@mahdiyari - active rank: 27
Last month: signed 1645 blocks with v1.25.0, missed 0 (0.00%).
Activity: 0 posts , 19 comments , 3895 upvotes, 0 downvotes
2024.94 HP/m, $1141.56/m
0.80%, 1.23 HP/block
28
@curie - active rank: 28
Last month: signed 1609 blocks with v1.25.0, missed 0 (0.00%).
Activity: 0 posts , 0 comments , 4083 upvotes, 10 downvotes
1980.71 HP/m, $1116.63/m
0.78%, 1.23 HP/block
29
@cervantes - active rank: 29
Last month: signed 1491 blocks with v1.25.0, missed 0 (0.00%).
Activity: 11 posts , 1 comments , 1236 upvotes, 0 downvotes
Top tags: #cervantes, #hive-133872, #spanish, #ciencia, #blog
1835.41 HP/m, $1034.71/m
0.72%, 1.23 HP/block
30
@drakos - active rank: 30
Last month: signed 1335 blocks with v1.25.0, missed 0 (0.00%).
Activity: 0 posts , 0 comments , 15 upvotes, 0 downvotes
1643.10 HP/m, $926.30/m
0.65%, 1.23 HP/block
31
@jesta - active rank: 31
Last month: signed 1291 blocks with v1.25.0, missed 2 (0.15%).
Activity: 0 posts , 0 comments , 0 upvotes, 0 downvotes
1589.28 HP/m, $895.96/m
0.63%, 1.23 HP/block
32
@pfunk - active rank: 32
Last month: signed 1141 blocks with v1.25.0, missed 0 (0.00%).
Activity: 0 posts , 50 comments , 622 upvotes, 191 downvotes
1404.70 HP/m, $791.90/m
0.55%, 1.23 HP/block
33
@timcliff - active rank: 33
Last month: signed 1132 blocks with v1.25.0, missed 0 (0.00%).
Activity: 1 posts , 3 comments , 314 upvotes, 0 downvotes
Top tags: #bot, #bots, #crypto, #cryptobot, #cryptocurrency
1393.43 HP/m, $785.55/m
0.55%, 1.23 HP/block
34
@leofinance - active rank: 34
Last month: signed 1057 blocks with v1.25.0, missed 0 (0.00%).
Activity: 9 posts , 1 comments , 1636 upvotes, 0 downvotes
Top tags: #hive, #development, #ctp, #leofinance, #oneup
1301.21 HP/m, $733.56/m
0.51%, 1.23 HP/block
35
@hextech - active rank: 35
Last month: signed 937 blocks with v1.25.0, missed 2 (0.21%).
Activity: 0 posts , 0 comments , 3516 upvotes, 0 downvotes
1153.42 HP/m, $650.24/m
0.45%, 1.23 HP/block
36
@cryptobrewmaster - active rank: 36
Last month: signed 913 blocks with v1.25.0, missed 4 (0.44%).
Activity: 1 posts , 3 comments , 382 upvotes, 0 downvotes
Top tags: #beer, #cryptobrewmaster, #game, #gaming, #hive-140217
1123.88 HP/m, $633.59/m
0.44%, 1.23 HP/block
37
@thecryptodrive - active rank: 38
Last month: signed 807 blocks with v1.25.0, missed 0 (0.00%).
Activity: 0 posts , 1 comments , 4034 upvotes, 0 downvotes
993.51 HP/m, $560.09/m
0.39%, 1.23 HP/block
38
@neoxian - active rank: 39
Last month: signed 755 blocks with v1.25.0, missed 6 (0.79%).
Activity: 1 posts , 3 comments , 1063 upvotes, 13 downvotes
Top tags: #hive-177682, #hive-engine, #neoxian, #palnet, #pob
929.45 HP/m, $523.98/m
0.37%, 1.23 HP/block
39
@fbslo - active rank: 40
Last month: signed 734 blocks with v1.25.0, missed 0 (0.00%).
Activity: 0 posts , 0 comments , 480 upvotes, 0 downvotes
903.66 HP/m, $509.44/m
0.36%, 1.23 HP/block
40
@bobinson - active rank: 41
Last month: signed 705 blocks with v1.25.0, missed 0 (0.00%).
Activity: 4 posts , 15 comments , 1295 upvotes, 0 downvotes
Top tags: #photography, #india, #hive-194913, #street, #dance
867.82 HP/m, $489.23/m
0.34%, 1.23 HP/block
41
@klye - active rank: 37
Last month: signed 681 blocks with v1.25.0, missed 149 (17.95%).
Activity: 3 posts , 16 comments , 22 upvotes, 0 downvotes
Top tags: #music, #covid, #health, #fml, #lungs
841.45 HP/m, $474.37/m
0.33%, 1.24 HP/block
42
@bhuz - active rank: 42
Last month: signed 669 blocks with v1.25.0, missed 0 (0.00%).
Activity: 0 posts , 0 comments , 0 upvotes, 0 downvotes
823.52 HP/m, $464.26/m
0.32%, 1.23 HP/block
43
@actifit - active rank: 43
Last month: signed 650 blocks with v1.25.0, missed 3 (0.46%).
Activity: 10 posts , 8794 comments , 8858 upvotes, 0 downvotes
Top tags: #actifit, #movetoearn, #sportstalk, #contest, #staff-picks
800.21 HP/m, $451.12/m
0.32%, 1.23 HP/block
44
@steemitboard - active rank: 45
Last month: signed 539 blocks with v1.25.0, missed 0 (0.00%).
Activity: 0 posts , 0 comments , 6609 upvotes, 0 downvotes
663.61 HP/m, $374.11/m
0.26%, 1.23 HP/block
45
@r0nd0n - active rank: 44
Last month: signed 527 blocks with v1.25.0, missed 1 (0.19%).
Activity: 0 posts , 2 comments , 635 upvotes, 0 downvotes
648.62 HP/m, $365.66/m
0.26%, 1.23 HP/block
46
@oflyhigh - active rank: 46
Last month: signed 522 blocks with v1.25.0, missed 0 (0.00%).
Activity: 36 posts , 38 comments , 741 upvotes, 0 downvotes
Top tags: #cn, #life, #blog, #photography, #nature
642.70 HP/m, $362.32/m
0.25%, 1.23 HP/block
47
@c0ff33a - active rank: 47
Last month: signed 492 blocks with v1.25.0, missed 2 (0.40%).
Activity: 5 posts , 0 comments , 1293 upvotes, 0 downvotes
Top tags: #teamuk, #thealliance, #vlog, #coffee, #c0ff33
605.79 HP/m, $341.51/m
0.24%, 1.23 HP/block
48
@innerhive - active rank: 48
Last month: signed 469 blocks with v1.25.0, missed 0 (0.00%).
Activity: 0 posts , 0 comments , 0 upvotes, 0 downvotes
577.33 HP/m, $325.47/m
0.23%, 1.23 HP/block
49
@patrice - active rank: 49
Last month: signed 447 blocks with v1.25.0, missed 1 (0.22%).
Activity: 0 posts , 0 comments , 0 upvotes, 0 downvotes
550.34 HP/m, $310.26/m
0.22%, 1.23 HP/block
50
@roomservice - active rank: 51
Last month: signed 443 blocks with v1.25.0, missed 1 (0.23%).
Activity: 0 posts , 0 comments , 4032 upvotes, 0 downvotes
545.25 HP/m, $307.38/m
0.21%, 1.23 HP/block
51
@enginewitty - active rank: 52
Last month: signed 389 blocks with v1.25.0, missed 3 (0.77%).
Activity: 13 posts , 136 comments , 620 upvotes, 0 downvotes
Top tags: #pimp, #thealliance, #cent, #photography, #family
478.75 HP/m, $269.90/m
0.19%, 1.23 HP/block
52
@apshamilton - active rank: 50
Last month: signed 353 blocks with v1.25.0, missed 91 (20.50%).
Activity: 1 posts , 18 comments , 126 upvotes, 0 downvotes
Top tags: #bitcoin, #legal, #leofinance, #panama, #proofofbrain
433.43 HP/m, $244.35/m
0.17%, 1.23 HP/block
53
@kevinwong - active rank: 54
Last month: signed 340 blocks with v1.25.0, missed 0 (0.00%).
Activity: 0 posts , 0 comments , 7022 upvotes, 0 downvotes
418.55 HP/m, $235.96/m
0.16%, 1.23 HP/block
54
@qurator - active rank: 55
Last month: signed 312 blocks with v1.25.0, missed 2 (0.64%).
Activity: 43 posts , 654 comments , 763 upvotes, 1 downvotes
Top tags: #community, #blog, #curation, #contest, #competition
384.11 HP/m, $216.54/m
0.15%, 1.23 HP/block
55
@crowdwitness - active rank: 56
Last month: signed 312 blocks with v1.25.0, missed 0 (0.00%).
Activity: 0 posts , 0 comments , 537 upvotes, 0 downvotes
384.01 HP/m, $216.49/m
0.15%, 1.23 HP/block
56
@reazuliqbal - active rank: 57
Last month: signed 293 blocks with v1.25.0, missed 1 (0.34%).
Activity: 0 posts , 1 comments , 6762 upvotes, 0 downvotes
360.63 HP/m, $203.30/m
0.14%, 1.23 HP/block
57
@liondani - active rank: 53
Last month: signed 279 blocks with v1.25.0, missed 9 (3.13%).
Activity: 0 posts , 0 comments , 0 upvotes, 0 downvotes
346.00 HP/m, $195.06/m
0.14%, 1.24 HP/block
58
@pizza.witness - active rank: 59
Last month: signed 264 blocks with v1.25.0, missed 2 (0.75%).
Activity: 0 posts , 0 comments , 0 upvotes, 0 downvotes
324.98 HP/m, $183.21/m
0.13%, 1.23 HP/block
59
@cadawg - active rank: 60
Last month: signed 257 blocks with v1.25.0, missed 0 (0.00%).
Activity: 1 posts , 0 comments , 3632 upvotes, 0 downvotes
Top tags: #golang, #lowlevel, #programming
316.40 HP/m, $178.37/m
0.12%, 1.23 HP/block
60
@aliento - active rank: 58
Last month: signed 214 blocks with v1.25.0, missed 5 (2.28%).
Activity: 1 posts , 12 comments , 1136 upvotes, 3 downvotes
Top tags: #dragonball, #dragonballz, #dragonballzbirthday, #initiative, #spanish
263.44 HP/m, $148.51/m
0.10%, 1.23 HP/block
61
@bdcommunity - active rank: 62
Last month: signed 209 blocks with v1.25.0, missed 0 (0.00%).
Activity: 4 posts , 177 comments , 178 upvotes, 0 downvotes
Top tags: #bdc, #magazine, #featured
257.26 HP/m, $145.03/m
0.10%, 1.23 HP/block
62
@ura-soul - active rank: 64
Last month: signed 186 blocks with v1.25.0, missed 1 (0.53%).
Activity: 0 posts , 10 comments , 973 upvotes, 0 downvotes
228.99 HP/m, $129.10/m
0.09%, 1.23 HP/block
63
@primersion - active rank: 66
Last month: signed 161 blocks with v1.25.0, missed 0 (0.00%).
Activity: 1 posts , 2 comments , 1605 upvotes, 0 downvotes
Top tags: #community, #dev, #engine, #hive, #hiveengine
198.09 HP/m, $111.68/m
0.08%, 1.23 HP/block
64
@dbuzz - active rank: 65
Last month: signed 156 blocks with v1.25.0, missed 16 (9.30%).
Activity: 61 posts , 94 comments , 2064 upvotes, 0 downvotes
Top tags: #hive, #community, #dbuzz, #life, #game
192.65 HP/m, $108.61/m
0.08%, 1.23 HP/block
65
@satren - active rank: 68
Last month: signed 140 blocks with v1.25.0, missed 0 (0.00%).
Activity: 3 posts , 4 comments , 90 upvotes, 0 downvotes
Top tags: #deutsch, #hive, #community, #meetup, #hivemeetups
172.33 HP/m, $97.15/m
0.07%, 1.23 HP/block
66
@earn.hive - active rank: 63
Last month: signed 137 blocks with v1.25.0, missed 1 (0.72%).
Activity: 0 posts , 0 comments , 0 upvotes, 0 downvotes
168.65 HP/m, $95.07/m
0.07%, 1.23 HP/block
67
@clicktrackprofit - active rank: 69
Last month: signed 121 blocks with v1.25.0, missed 0 (0.00%).
Activity: 0 posts , 0 comments , 315 upvotes, 0 downvotes
148.96 HP/m, $83.98/m
0.06%, 1.23 HP/block
68
@blue-witness - active rank: 70
Last month: signed 117 blocks with v1.25.0, missed 0 (0.00%).
Activity: 0 posts , 0 comments , 368 upvotes, 0 downvotes
144.03 HP/m, $81.19/m
0.06%, 1.23 HP/block
69
@discovery-it - active rank: 73
Last month: signed 114 blocks with v1.25.0, missed 0 (0.00%).
Activity: 5 posts , 530 comments , 578 upvotes, 84 downvotes
Top tags: #hive, #community, #witness, #curation, #report
140.33 HP/m, $79.11/m
0.06%, 1.23 HP/block
70
@brofund - active rank: 72
Last month: signed 109 blocks with v1.25.0, missed 0 (0.00%).
Activity: 7 posts , 37 comments , 1587 upvotes, 0 downvotes
Top tags: #mancave, #menofcrypto, #community, #gossip, #neoxian
134.27 HP/m, $75.70/m
0.05%, 1.23 HP/block
71
@mintrawa - active rank: 71
Last month: signed 103 blocks with v1.25.0, missed 0 (0.00%).
Activity: 6 posts , 38 comments , 379 upvotes, 0 downvotes
Top tags: #hive-196396, #fr, #video, #thailande, #phuket
126.83 HP/m, $71.50/m
0.05%, 1.23 HP/block
72
@jedigeiss - active rank: 75
Last month: signed 102 blocks with v1.25.0, missed 0 (0.00%).
Activity: 1 posts , 4 comments , 313 upvotes, 0 downvotes
Top tags: #deutsch, #hive, #hiveengine, #palnet, #pob
125.62 HP/m, $70.82/m
0.05%, 1.23 HP/block
73
@igormuba - active rank: 76
Last month: signed 96 blocks with v1.25.0, missed 0 (0.00%).
Activity: 11 posts , 11 comments , 53 upvotes, 2 downvotes
Top tags: #ecency, #ocd, #posh, #qurator, #hive-167922
118.17 HP/m, $66.62/m
0.05%, 1.23 HP/block
74
@whiterosecoffee - active rank: 78
Last month: signed 95 blocks with v1.25.0, missed 0 (0.00%).
Activity: 0 posts , 0 comments , 1308 upvotes, 0 downvotes
116.95 HP/m, $65.93/m
0.05%, 1.23 HP/block
75
@techcoderx - active rank: 79
Last month: signed 91 blocks with v1.25.0, missed 2 (2.15%).
Activity: 1 posts , 1 comments , 289 upvotes, 0 downvotes
Top tags: #avalon, #blockchain, #dao, #governance, #masterdao
112.04 HP/m, $63.16/m
0.04%, 1.23 HP/block
76
@dragosroua - active rank: null
Last month: signed 91 blocks with v1.25.0, missed 14 (13.33%).
Activity: 1 posts , 12 comments , 80 upvotes, 0 downvotes
Top tags: #community, #hive, #pos, #voting, #witness
110.92 HP/m, $62.53/m
0.04%, 1.22 HP/block
77
@louis.witness - active rank: null
Last month: signed 90 blocks with v1.25.0, missed 21 (18.92%).
Activity: 0 posts , 0 comments , 0 upvotes, 0 downvotes
110.46 HP/m, $62.27/m
0.04%, 1.23 HP/block
78
@cervisia - active rank: 82
Last month: signed 80 blocks with v1.25.0, missed 0 (0.00%).
Activity: 0 posts , 13 comments , 584 upvotes, 0 downvotes
98.50 HP/m, $55.53/m
0.04%, 1.23 HP/block
79
@isnochys - active rank: 81
Last month: signed 80 blocks with v1.25.0, missed 0 (0.00%).
Activity: 6 posts , 578 comments , 3971 upvotes, 0 downvotes
Top tags: #waivio, #vyb, #hive-engine, #cent, #ctp
98.47 HP/m, $55.51/m
0.04%, 1.23 HP/block
80
@kristall97 - active rank: 83
Last month: signed 76 blocks with v1.25.0, missed 0 (0.00%).
Activity: 0 posts , 1 comments , 479 upvotes, 0 downvotes
93.55 HP/m, $52.74/m
0.04%, 1.23 HP/block
81
@shmoogleosukami - active rank: null
Last month: signed 71 blocks with v1.25.0, missed 0 (0.00%).
Activity: 46 posts , 17 comments , 150 upvotes, 0 downvotes
Top tags: #gaming, #hive-169926, #vimmtv, #english, #live
87.21 HP/m, $49.16/m
0.03%, 1.23 HP/block
82
@balaz - active rank: 85
Last month: signed 70 blocks with v1.25.0, missed 3 (4.11%).
Activity: 0 posts , 0 comments , 284 upvotes, 0 downvotes
86.16 HP/m, $48.58/m
0.03%, 1.23 HP/block
83
@tazi - active rank: 84
Last month: signed 66 blocks with v1.25.0, missed 0 (0.00%).
Activity: 34 posts , 65 comments , 744 upvotes, 0 downvotes
Top tags: #actifit, #sportstalk, #hive-193552, #czfit, #cesky
81.58 HP/m, $45.99/m
0.03%, 1.24 HP/block
84
@fernandosoder - active rank: 80
Last month: signed 66 blocks with v1.25.0, missed 13 (16.46%).
Activity: 28 posts , 39 comments , 286 upvotes, 0 downvotes
Top tags: #pt, #opiniao, #opinion, #twitter, #politica
81.24 HP/m, $45.80/m
0.03%, 1.23 HP/block
85
@nathanmars - active rank: 74
Last month: signed 65 blocks with v1.25.0, missed 64 (49.61%).
Activity: 1 posts , 31 comments , 419 upvotes, 0 downvotes
Top tags: #community, #creativity, #crypto, #gratitude, #hive
79.15 HP/m, $44.62/m
0.03%, 1.22 HP/block
86
@empo.witness - active rank: 89
Last month: signed 60 blocks with v1.25.0, missed 1 (1.64%).
Activity: 0 posts , 0 comments , 331 upvotes, 0 downvotes
73.92 HP/m, $41.67/m
0.03%, 1.23 HP/block
87
@bethalea - active rank: 91
Last month: signed 59 blocks with v1.25.0, missed 0 (0.00%).
Activity: 0 posts , 8 comments , 3 upvotes, 0 downvotes
72.66 HP/m, $40.96/m
0.03%, 1.23 HP/block
88
@lapingvino - active rank: 92
Last month: signed 58 blocks with v1.25.0, missed 0 (0.00%).
Activity: 0 posts , 0 comments , 1 upvotes, 0 downvotes
71.42 HP/m, $40.26/m
0.03%, 1.23 HP/block
89
@psyberx.witness - active rank: 87
Last month: signed 57 blocks with v1.25.0, missed 0 (0.00%).
Activity: 0 posts , 0 comments , 430 upvotes, 0 downvotes
70.19 HP/m, $39.57/m
0.03%, 1.23 HP/block
90
@jamzed - active rank: 88
Last month: signed 52 blocks with v1.25.0, missed 1 (1.89%).
Activity: 0 posts , 0 comments , 0 upvotes, 0 downvotes
64.22 HP/m, $36.21/m
0.03%, 1.24 HP/block
91
@steemychicken1 - active rank: 86
Last month: signed 51 blocks with v1.25.0, missed 2 (3.77%).
Activity: 0 posts , 0 comments , 696 upvotes, 0 downvotes
63.23 HP/m, $35.65/m
0.02%, 1.24 HP/block
92
@elindos - active rank: 99
Last month: signed 49 blocks with v1.25.0, missed 0 (0.00%).
Activity: 2 posts , 8 comments , 61 upvotes, 0 downvotes
Top tags: #hivegaming, #leofinance, #hive, #exode, #hivepizza
60.34 HP/m, $34.01/m
0.02%, 1.23 HP/block
93
@chrono.witness - active rank: 97
Last month: signed 48 blocks with v1.25.0, missed 4 (7.69%).
Activity: 0 posts , 0 comments , 0 upvotes, 0 downvotes
59.11 HP/m, $33.32/m
0.02%, 1.23 HP/block
94
@yehey - active rank: 101
Last month: signed 48 blocks with v1.25.0, missed 0 (0.00%).
Activity: 0 posts , 0 comments , 5087 upvotes, 0 downvotes
59.11 HP/m, $33.32/m
0.02%, 1.23 HP/block
95
@altonos - active rank: 100
Last month: signed 48 blocks with v1.25.0, missed 0 (0.00%).
Activity: 2 posts , 0 comments , 20 upvotes, 0 downvotes
Top tags: #deutsch, #creativecoin, #gaming, #palnet
59.05 HP/m, $33.29/m
0.02%, 1.23 HP/block
96
@alloyxuast - active rank: null
Last month: signed 48 blocks with v1.25.0, missed 0 (0.00%).
Activity: 2 posts , 0 comments , 760 upvotes, 0 downvotes
Top tags: #vimmtv, #hive, #vimm, #inji, #hive-169926
59.02 HP/m, $33.27/m
0.02%, 1.23 HP/block
97
@schlees.witness - active rank: 94
Last month: signed 46 blocks with v1.25.0, missed 8 (14.81%).
Activity: 0 posts , 0 comments , 748 upvotes, 0 downvotes
56.72 HP/m, $31.98/m
0.02%, 1.23 HP/block
98
@ehon.witness - active rank: 103
Last month: signed 39 blocks with v1.25.0, missed 3 (7.14%).
Activity: 0 posts , 0 comments , 7 upvotes, 0 downvotes
48.07 HP/m, $27.10/m
0.02%, 1.23 HP/block
99
@thealliance - active rank: 107
Last month: signed 37 blocks with v1.25.0, missed 0 (0.00%).
Activity: 5 posts , 10 comments , 1639 upvotes, 0 downvotes
Top tags: #thealliance, #community, #pimp, #theblockpartyii, #cine
45.56 HP/m, $25.69/m
0.02%, 1.23 HP/block
100
@atexoras.witness - active rank: 106
Last month: signed 36 blocks with v1.25.0, missed 1 (2.70%).
Activity: 0 posts , 0 comments , 5 upvotes, 0 downvotes
44.36 HP/m, $25.01/m
0.02%, 1.23 HP/block
101
@imwatsi - active rank: 98
Last month: signed 36 blocks with v1.25.0, missed 0 (0.00%).
Activity: 3 posts , 23 comments , 28 upvotes, 0 downvotes
Top tags: #development, #dhf, #proposal, #plug-play, #gns
44.32 HP/m, $24.99/m
0.02%, 1.23 HP/block
102
@complexring - active rank: 104
Last month: signed 34 blocks with v1.25.0, missed 1 (2.86%).
Activity: 0 posts , 0 comments , 0 upvotes, 0 downvotes
42.18 HP/m, $23.78/m
0.02%, 1.24 HP/block
103
@perfilbrasil - active rank: 102
Last month: signed 29 blocks with v1.25.0, missed 10 (25.64%).
Activity: 0 posts , 317 comments , 1098 upvotes, 0 downvotes
35.67 HP/m, $20.11/m
0.01%, 1.23 HP/block
104
@aizensou - active rank: 108
Last month: signed 28 blocks with v1.25.0, missed 1 (3.45%).
Activity: 0 posts , 0 comments , 0 upvotes, 0 downvotes
34.75 HP/m, $19.59/m
0.01%, 1.24 HP/block
105
@dynamicrypto - active rank: 111
Last month: signed 25 blocks with v1.25.0, missed 0 (0.00%).
Activity: 16 posts , 154 comments , 498 upvotes, 0 downvotes
Top tags: #pimp, #neoxian, #thgaming, #oneup, #tribes
30.79 HP/m, $17.36/m
0.01%, 1.23 HP/block
106
@chisdealhd - active rank: null
Last month: signed 22 blocks with v1.25.0, missed 0 (0.00%).
Activity: 48 posts , 7 comments , 1289 upvotes, 0 downvotes
Top tags: #vr, #teamuk, #alloyxuast, #gaming, #chisvr
27.04 HP/m, $15.24/m
0.01%, 1.23 HP/block
107
@helo - active rank: 93
Last month: signed 21 blocks with v1.25.0, missed 32 (60.38%).
Activity: 0 posts , 0 comments , 180 upvotes, 0 downvotes
26.04 HP/m, $14.68/m
0.01%, 1.24 HP/block
108
@veteranforcrypto - active rank: 114
Last month: signed 21 blocks with v1.25.0, missed 0 (0.00%).
Activity: 2 posts , 29 comments , 5967 upvotes, 5 downvotes
Top tags: #ocd, #hive, #thealliance, #canna-curate, #pimp
25.88 HP/m, $14.59/m
0.01%, 1.23 HP/block
109
@inthenow - active rank: 116
Last month: signed 19 blocks with v1.25.0, missed 2 (9.52%).
Activity: 9 posts , 81 comments , 1035 upvotes, 0 downvotes
Top tags: #thealliance, #pimp, #veterans, #pob, #creativecoin
23.36 HP/m, $13.17/m
0.01%, 1.23 HP/block
110
@hashkings - active rank: 120
Last month: signed 15 blocks with v1.25.0, missed 0 (0.00%).
Activity: 9 posts , 10 comments , 400 upvotes, 0 downvotes
Top tags: #hashkings, #leofinance, #pob, #ctp, #palnet
18.41 HP/m, $10.38/m
0.01%, 1.23 HP/block
111
@silversteem - active rank: 119
Last month: signed 14 blocks with v1.25.0, missed 1 (6.67%).
Activity: 0 posts , 0 comments , 0 upvotes, 0 downvotes
17.40 HP/m, $9.81/m
0.01%, 1.24 HP/block
112
@hagie - active rank: 118
Last month: signed 14 blocks with v1.25.0, missed 0 (0.00%).
Activity: 0 posts , 0 comments , 0 upvotes, 0 downvotes
17.34 HP/m, $9.78/m
0.01%, 1.24 HP/block
113
@dpoll.witness - active rank: 124
Last month: signed 12 blocks with v1.25.0, missed 0 (0.00%).
Activity: 0 posts , 0 comments , 467 upvotes, 0 downvotes
14.79 HP/m, $8.34/m
0.01%, 1.23 HP/block
114
@b0y2k - active rank: 126
Last month: signed 10 blocks with v1.25.0, missed 0 (0.00%).
Activity: 0 posts , 0 comments , 0 upvotes, 0 downvotes
12.37 HP/m, $6.98/m
0.00%, 1.24 HP/block
115
@rotfl - active rank: 133
Last month: signed 5 blocks with v1.25.0, missed 0 (0.00%).
Activity: 0 posts , 0 comments , 0 upvotes, 0 downvotes
6.21 HP/m, $3.50/m
0.00%, 1.24 HP/block
116
@sagarkothari88 - active rank: 138
Last month: signed 3 blocks with v1.25.0, missed 0 (0.00%).
Activity: 14 posts , 22 comments , 43 upvotes, 0 downvotes
Top tags: #india, #flutter, #ios, #android, #threespeak
3.76 HP/m, $2.12/m
0.00%, 1.25 HP/block
---
Witness Tools
Credits
Post rewards beneficiary
The author rewards on this post will go to @hbdstabilizer to help fix the HBD peg and fund DHF