It's been just over two months since I lost my dad and, I'll be honest with you, sometimes I really miss him and sometimes I feel relieved that he's gone; Not in a happy way, just that he was suffering and it was painful to watch. As the only one of my family here it fell to me to deal with the scenario and it took its toll upon me, and of course, my wife Faith too.
After the funeral I made the conscious decision to think only fondly of him, to attempt to block out the terrible pain he was in, the dementia he suffered and the complicated and usually upsetting decisions I had to make on his behalf. It's worked quite well for me and as time goes these things tend to get easier.
Faith and I are now dealing with her mum's scenario right now, a secondary cancer, and it's been of great relief not to have her situation and my dad's running concurrently; This was the case with her primary cancer issue which almost took her life and it was incredibly difficult.
I'm thankful I can simply remember my dad in his good times rather than be enmeshed up to my eyeballs with issues that don't permit for much reflection.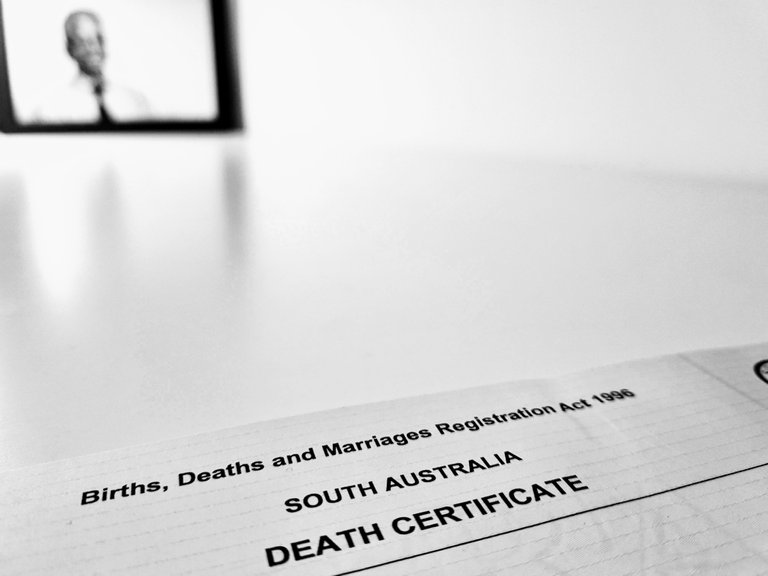 Of course, one can't simply move on right away after the loss of a loved one...Some can I guess, but I had to sort some things out to round-out the process. I left it for a few weeks but then got down to it.
My dad was buried with my mum; We had a double-depth plot dug for her when she passed away so we could accommodate my father there also. So, the marble headstone with the inscriptions is in place. I arranged to have it removed and his details added. It's a rather large thing in the shape of a big book with mum on one side and up until now, blank on the other.
That's in process at the moment and I've been waiting for some paperwork so I can proceed to close bank accounts, insurances and other bits and pieces to finalise my dad's life. It's pretty depressing.
The death certificate is what I've been waiting on and that arrived last week; I can't show you the whole thing as it has too much personal information on it. Essentially though, it has details about where dad was born, age at death, marital status, wife's details, his parents details, cause of death (Dementia, ischaemic peripheral vascular disease and prostate cancer), burial date and location and details of his children, our names and so on. It's a legal document and is registered meaning it will stay on register with the government forever.
I have had copies witnessed and verified by a Justice of the Peace and now am ready to begin the process of wrapping his life up. This is one of the parts I hate the most as it's impersonal and such a final process; I've been dreading it.
I did this for my mum also, again as the only family member here, and it was a terrible experience; We learned from it though and had a lot of things sorted out for dad years ago knowing it would make the inevitable process easier...Never easy though.
I miss my dad. In truth, I've missed him for several years because dementia took away his memory. At the end he didn't know who I was most often and he didn't much seem like my dad to me...But he was, and will always be.
I've found myself remembering specific things about him: Enjoyable moments, quotes, his antics to make us laugh, his hard-working nature and the generosity, kindness and humility that defined his life. I don't feel sadness when I think of him now; Rather, I remember the lessons he taught me and the examples he showed. Sure, he was far from perfect, but that doesn't matter now...It's not his imperfections I embrace, learn from them yes, for sure.
No, it's the shining example he made of what life could be, and how a person could live...It's that which I embrace.
Sure, I have a few things to arrange now, things that will finalise the life of a man I called dad, and that I don't enjoy. He lives on through his children and grand children though, and we all carry a bit of him within as we live our own lives. We remember him well, and as a good dad.
I'm sorry this post is all a bit miserable...But it helps me to process things when I write and it's hive right? If I can't do this here, where could I?
I will leave you with this...I wrote dad's eulogy and this is a small part which ended it:
He painted his life with vibrant colours, amazing creativity and with passion. It is something he would wish for each of us and, whilst he is not physically here to guide us, he lives within us all.
Each day is a blank canvas to be painted the way we wish it to be; If dad was here with us now he would say that, and support us in our endeavours to do so. He would tell us that life is full of twists and turns, but must be celebrated and lived to its full extent.
---
Design and create your ideal life, don't live it by default - Tomorrow isn't promised.
Be well
Discord: galenkp#9209