It's the Week of the Dragons!
As most of us know, Splinterlands Weekly Battle Took an Interesting turn this Week By Giving Us Gamers and Writers the Freedom to Share Our Battles Solely from the Dragon Elemental But with Monsters of Our Choosing. I was really Excited to See it and wanted to take the time to spin up a Creative Battle and Share it With You All.
No Doubt, My Favourite Element in Splinterlands are the Dragons, Death Coming in Next and I Love Dragons because they possess the strongest Monsters in Splinterlands. They are Undefeated, Superior and Rare.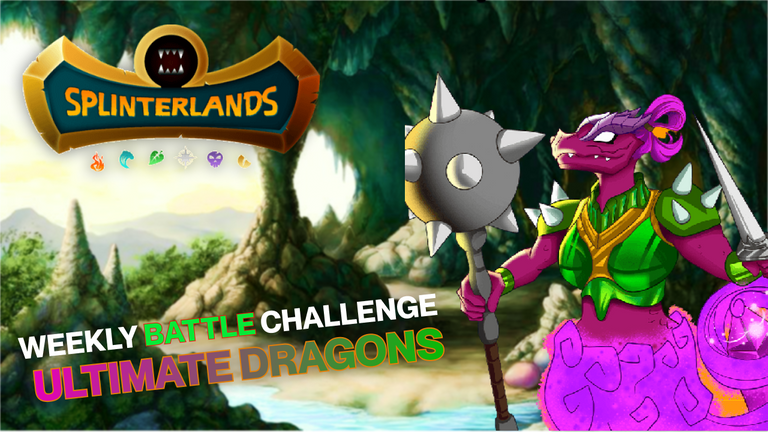 I will be sharing a SUPERB! Battles from the Past days with You Guys, and In this Battle, I'm using Two Of My Favourite Dragon Monsters from Reward and Promo Card Editions.

What Makes them Unique
My Two Favourite Dragon Cards Currently,
| Reward Edition | Promo Edition |
| --- | --- |
| | |
| Mana cost: 8 points | Mana cost: 7 points |
| Ability: Thorns at LVL 1 | Ability: Resurrect at LVL 1 |
Djinn Chwala is a Relatively Cheap Monster (In Cost), Coupled with that, He's also Quite Cheap in Mana Cost (8), for the Ability he Provides you - +9 Chunky Health, +5 Shield, and +4 Melee Attack (With Thorn Ability). Timing this Perfectly against the Right Elemental (For Example, Water Elemental will require a better strategy ) can make your Battle Go Smoothly.
Oshuur Constantine is a Powerful Monster Capable of Bringing Dead Monsters back to Life, It Saved me Beautifully in the Battle I'll Share with you. Oshuur also Doesn't Cost much Mana for his Strength and He Comes with +2 Magic Attack to Aid in te Attack.

Now, Time to Battle!
Battle Details: I LOVED this Battle which Lasted for 5 Rounds, It was thoroughly Satisfying because all my Monsters Contributed Greatly to My Victory and Most of them Utilised their Strenght and Abilities. I Fought against a Fire Elemental, in a 30 Mana Cap Battle, Lining up Just 5 Monsters.


ROUND 1:
Round 1 Begins with Activating the Buffs. My Opponents Monsters Gain +1 Melee Attack and +1 Health. My Monsters Gain +1 Shield (From Drake of Arnak) and +1 Health (From Scale Doctor)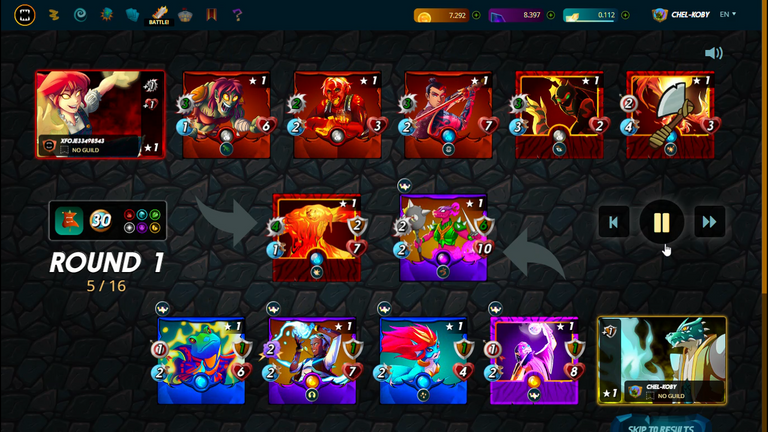 My Opponent Looks Fierce in Round 1, at this Point I wasn't so Confident about Winning this Battle

All My Monsters Shield are Destroyed in Round 1 except Oshuur Constantia.

Fire Elemental Keeps Dealing Damage to Djinn Chwala, and Everytime, It Keeps Hitting Scale Doctor (Because of Her Blast Ability - That Deals Damage to Adjacent Monsters)

I didn't have to Worry About Scale Doctor since His Health is So High, I Just Needed to Turn the Table Around.

Living Lava in Frontline Causes 2 of My Monster Lineup - Angelic Mandarin and Scale Doctor to Deal Zero Damage.

Djinn Chwala as Expected was Using his Thorn Ability, Even though His Attack were Reduced to 1 Melee. (It was Better than Nothing)
ROUND 2:
It's Obvious that the Battle is Just Getting Started as ALL Monsters still Got Great Health and Only their Buffs Has Been Thrown Off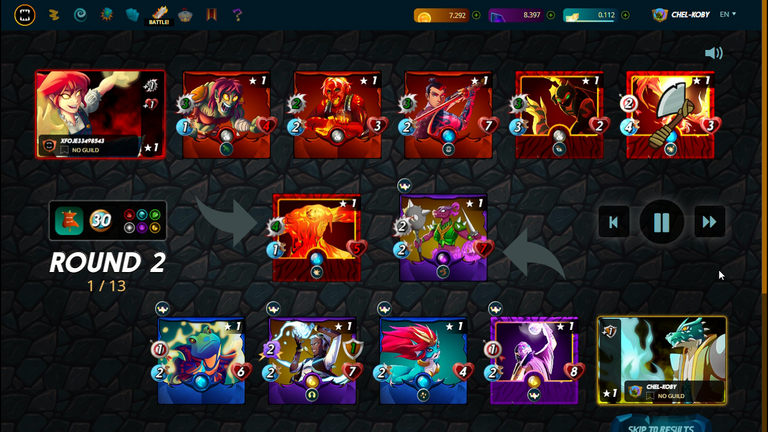 Fire Elemental Leads the Attack Again, She's Cursed with +4 Speed (LOL)

At this Rate, Only Oshuur Constantia and Djinn Chwala are Dealing Any Worthy Blows (But Was it Enough?, Find Out Soon)

I Almost Lost Merdaali Guardian Before Round 3 Started(From the Deadly +3 Melee Blow from Spy Serpentine), But Almost!

Oshuur Constantine is Still with +1 Shield Intact as the Battle Progresses, His Placement was just the best.

Mainwhile, Merdaali Guardian Came through when it was Highly Needed and Supplied Djinn Chwala with +3 Health

All my Monsters Made it Through to the Next Round, Althrough 2 Were Almost Destroyed.
ROUND 3:
My Monsters have Received Much Blows as Compared to What I've Dealth to my Opponent so Far, They Have been Able to Stay Strong and Help the Frontline Monster Heal, But Are the Tables About to be Turned Around?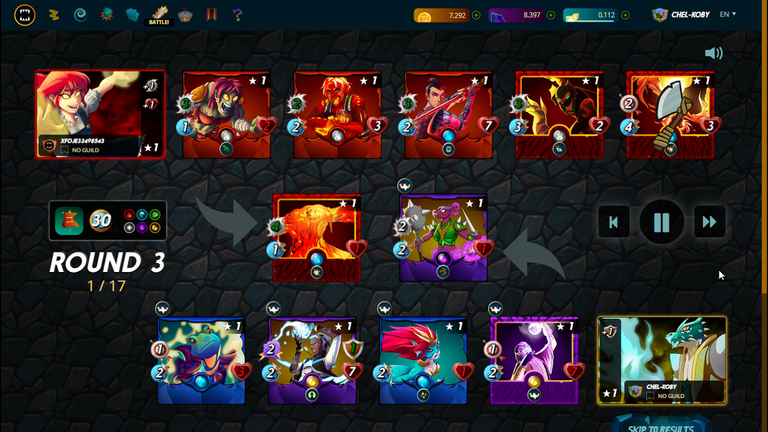 At the Start of Round 3, Djinn Chwala Dies. The Blows he's Suffered from the Overcharged Fire Monsters Melee Attacks are Impressive.

But Guess What?, Oshuur Constantia Goes and Revies Him. That Must have left my Opponent Stunned if He Didn't Know the Ability of Oshuur

Djinn Comes Back to Life with +1 Health and +6 Shield, Pretty Great, as He Came Withstand Some Blows Until Merdaali Guardian Revives his Health.

In Less than 5 Blows, I Elimiate Three Strong Attack from My Opponents Line Up. At Last, Living Lava is Gone, No More Zero Attacks.

I Also Lose One Monster in this Round - Angelic Madarin (At Least, He was Able to Deal some Hits in his Final Moments).
ROUND 4:
Slow And Steady Wins the Race, But Sometimes, Fast Wins Too!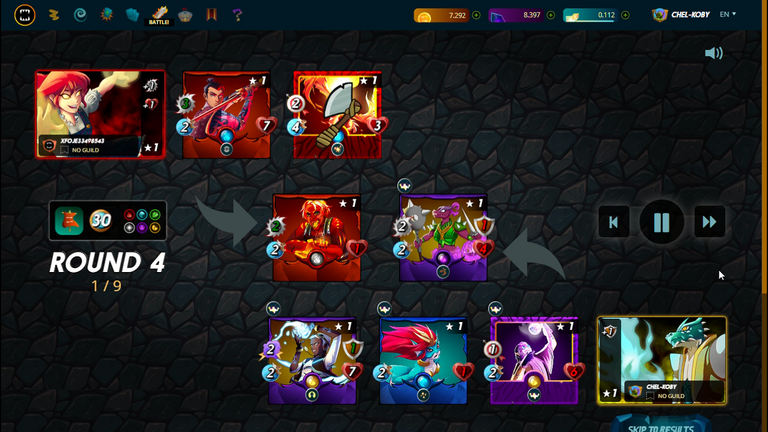 I Eliminate One More Monster from my Opponent's Lineup, Leaving just Two Heading into Round 5

Djinn Chwala Continues to Regain his Health Thanks to Merdaali

Merdaali On it's Own Case is No Longer Being Hunted by Spy Serpentine (LOL), With +1 Health, It Continues It's Business of Healing.
ROUND 5:
Say, It's Time to Wrap up this Battle!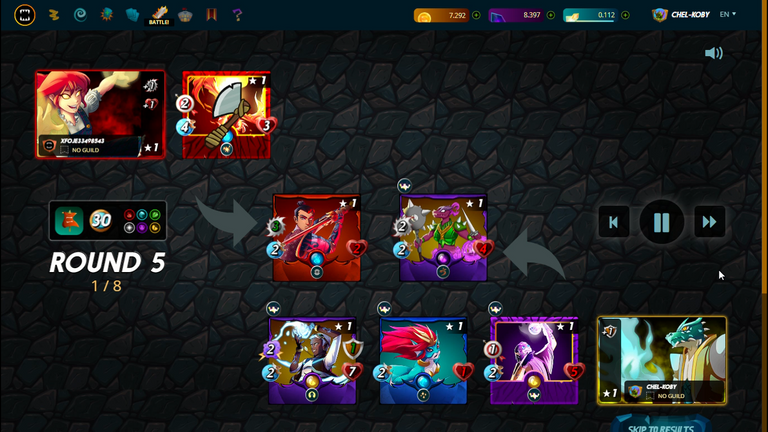 Djinn Chwala and Oshuur Wrap the Battle Up in Impeccable Style.

We Gave Fire Elemental the Honour of Dieing Last, She Was Traumatic for Scale Doctor Afterall.

Four Out of My Fire Monsters Are Alive at the End of the Battle!

The Funniest Part is that Oshurr Constantia Still Maintains His FULL Health AND FULL Shield

And Ofcourse, I win this Battle where I was Able to Go Fully Agressive with 30 Mana Cap
Click Here, to See the Whole Battle

Summary and Experience
Talk about a Battle I've Enjoyed So Much In Days, and I'll Say this. It was Thoroughly Satisfying as I Said Earlier. Having to See All Teammates Dependent on Each Other, the Teammork had so Much Realism in it.
I love the Dragons Element Because they are Fully Capable of Standing Against ALL Other Elements and Defeating them with the Right Strategy.
I Hope you Enjoyed this Battle, Because I Definitely did!
Did you Spot the Creative additions of this Share Your Battle Post, As Compared to my Previous Posts?
I Guess the Dragons Motivated me to do Better!
⬇

Thanks for Reading my Blog, If your Love it, Send me an Upvote 💖, Share this Post🤝, and Follow for More 📰.
Your Gamer & Builder,
Chel_
Check Out My Other Splinterlands Posts