Hello All,
How are you doing today?
I am happy to see you in my blogpost.
This is my art blog where I'm going to show you my drawing of Rooftop Garden.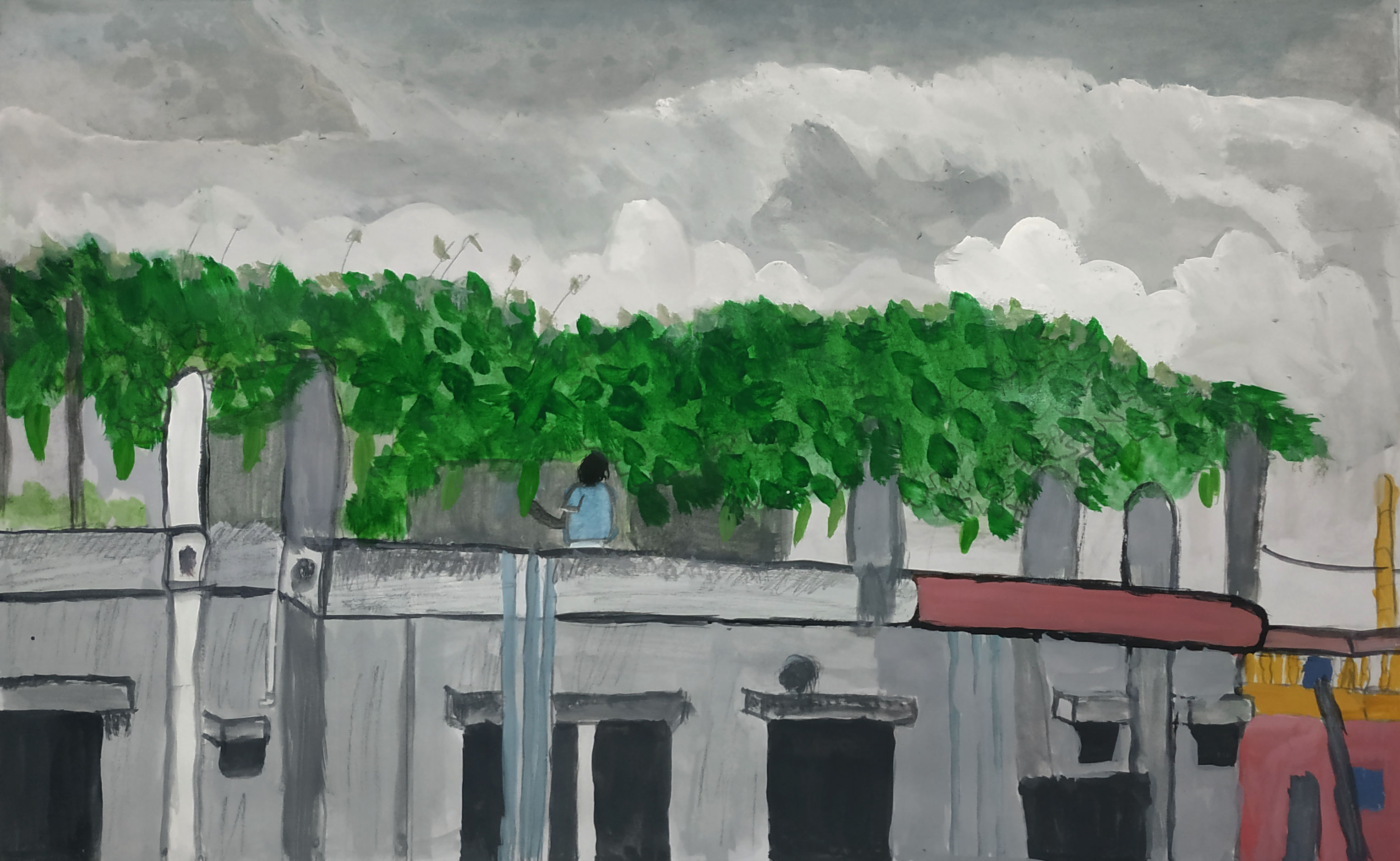 At afternoon today, we went to our rooftop.
The sky was so cloudy.
Although it was not time for dark yet but the weather was kind of dark and gloomy.
I went there saying I'll draw something watching lively things.
My husband said that it'd be harder this way.
So I captured some photos from the rooftop and then we came back to our place.
I chose one photo and started drawing.
The building beside our building has many plants on the rooftop which makes the rooftop looks like a garden.
The owner of that building who is an old man, was nurturing some plants.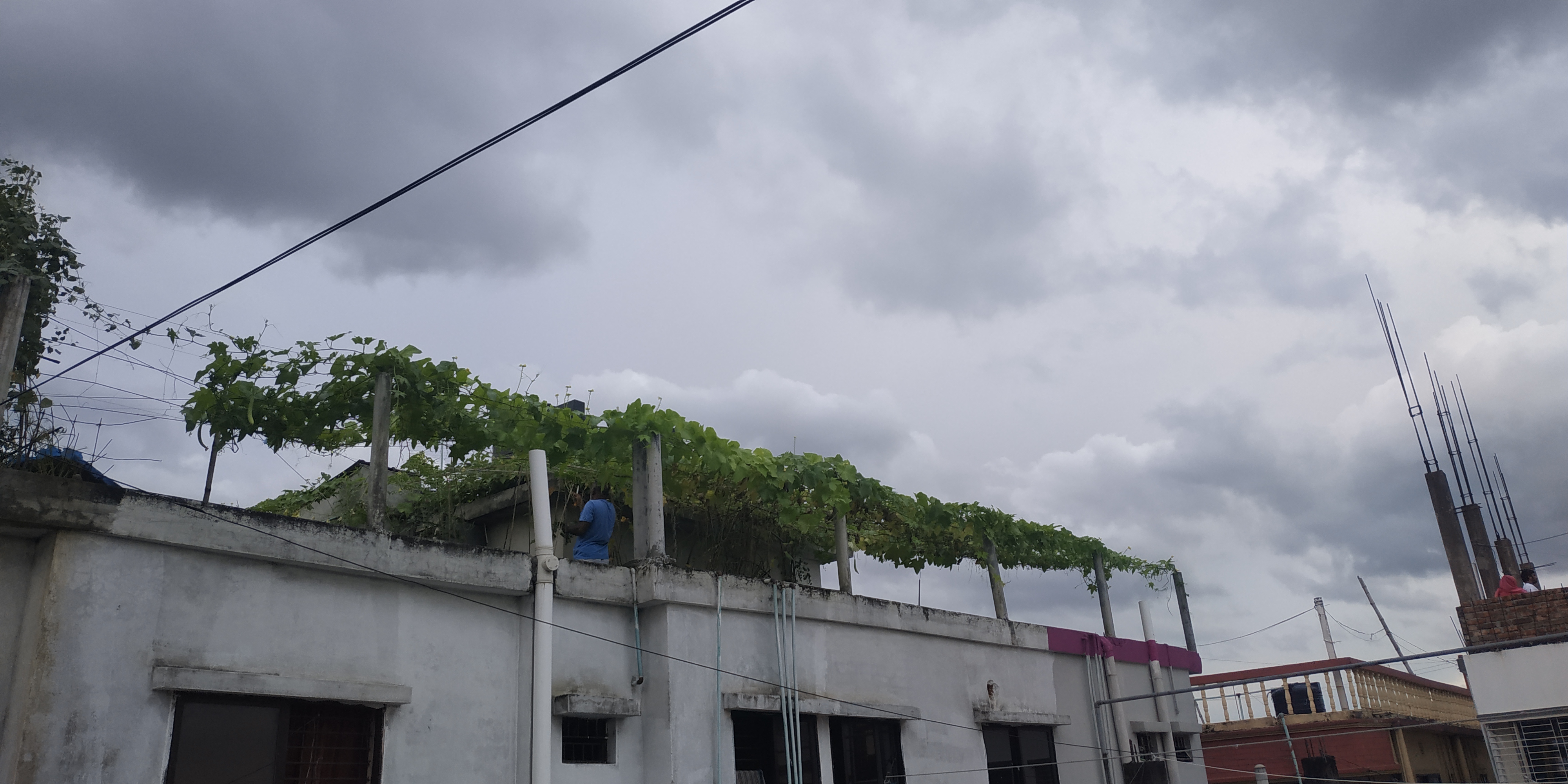 This is the photo which I tried to draw with water color.
I know it's not perfect and not so similar but I tried my best to make it look alike although my goal was not only to make them look alike.
I tried to make a nice drawing out of that picture.
---
Process
First I drew the pencil sketch of the entire building where the old man was also visible.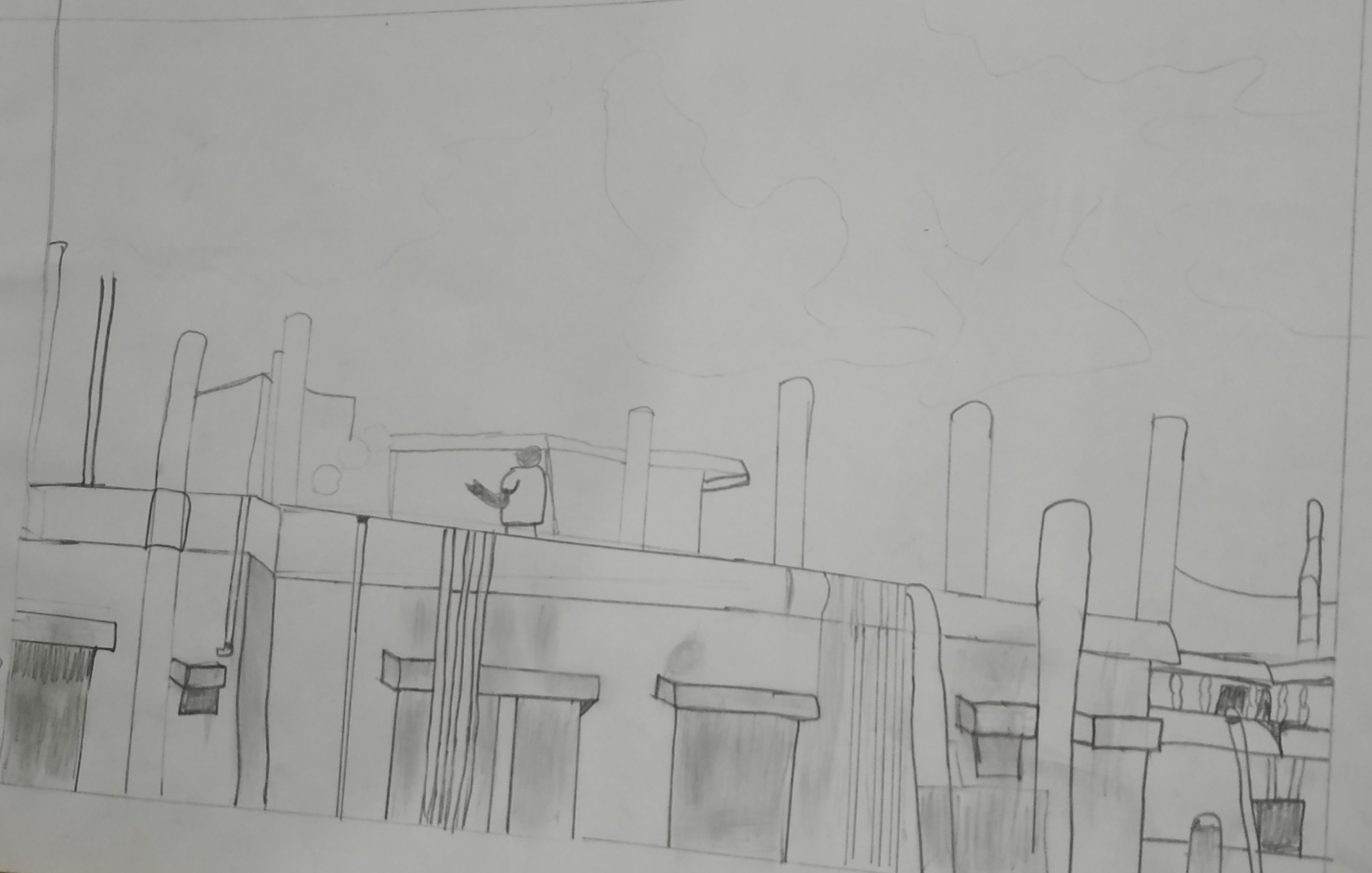 Then I drew pencil sketch of some green leaves and clouds.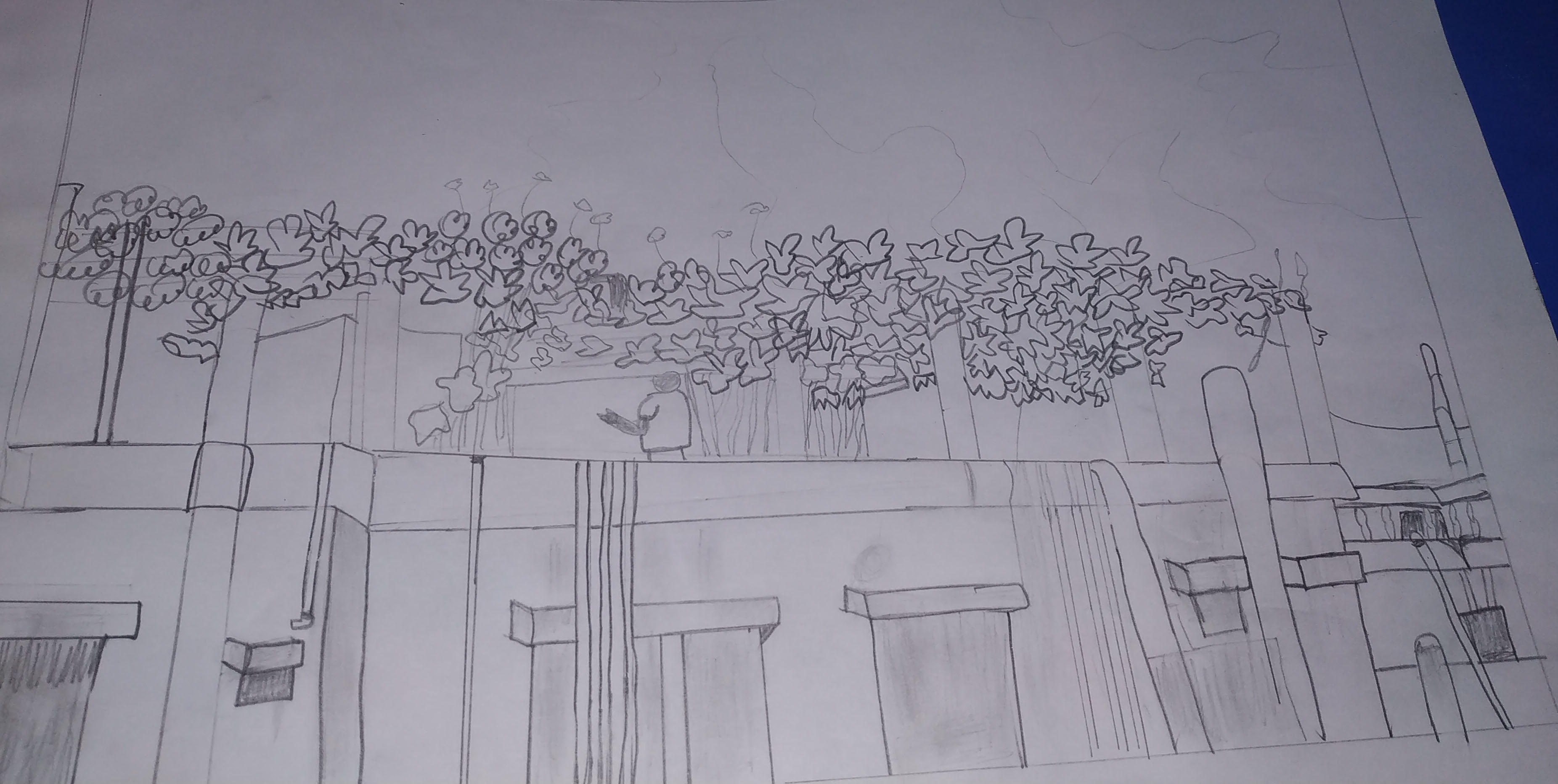 Then I started coloring the sketch.
First I colored the entire building, then those plants and leaves, the old man and a thin touch on the clouds.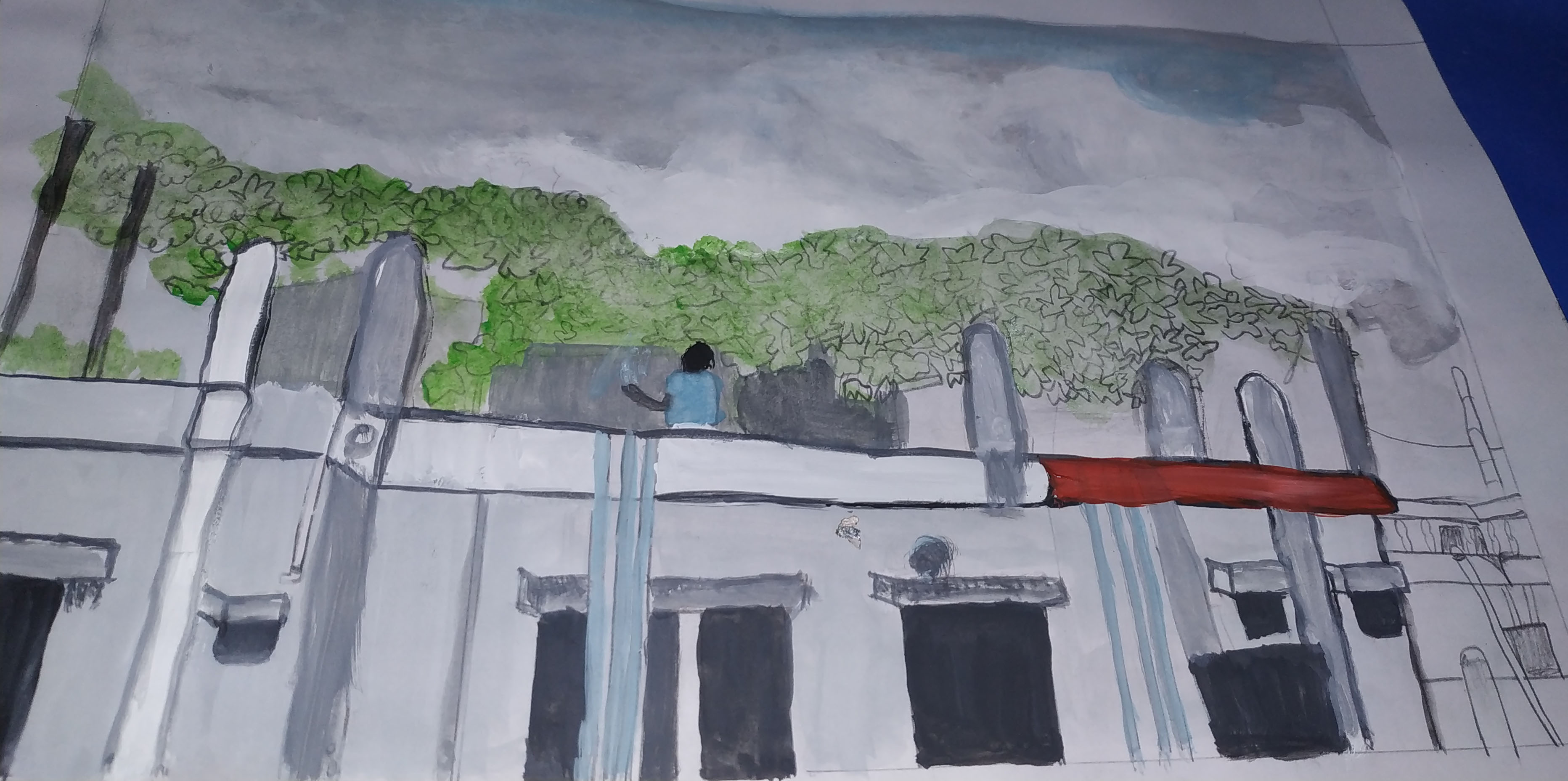 Then I gave finishing touch on everything.
I had to work on those green leaves and on the clouds for a long time.
Especially I needed to work on those clouds for multiple times to make them darker and lively.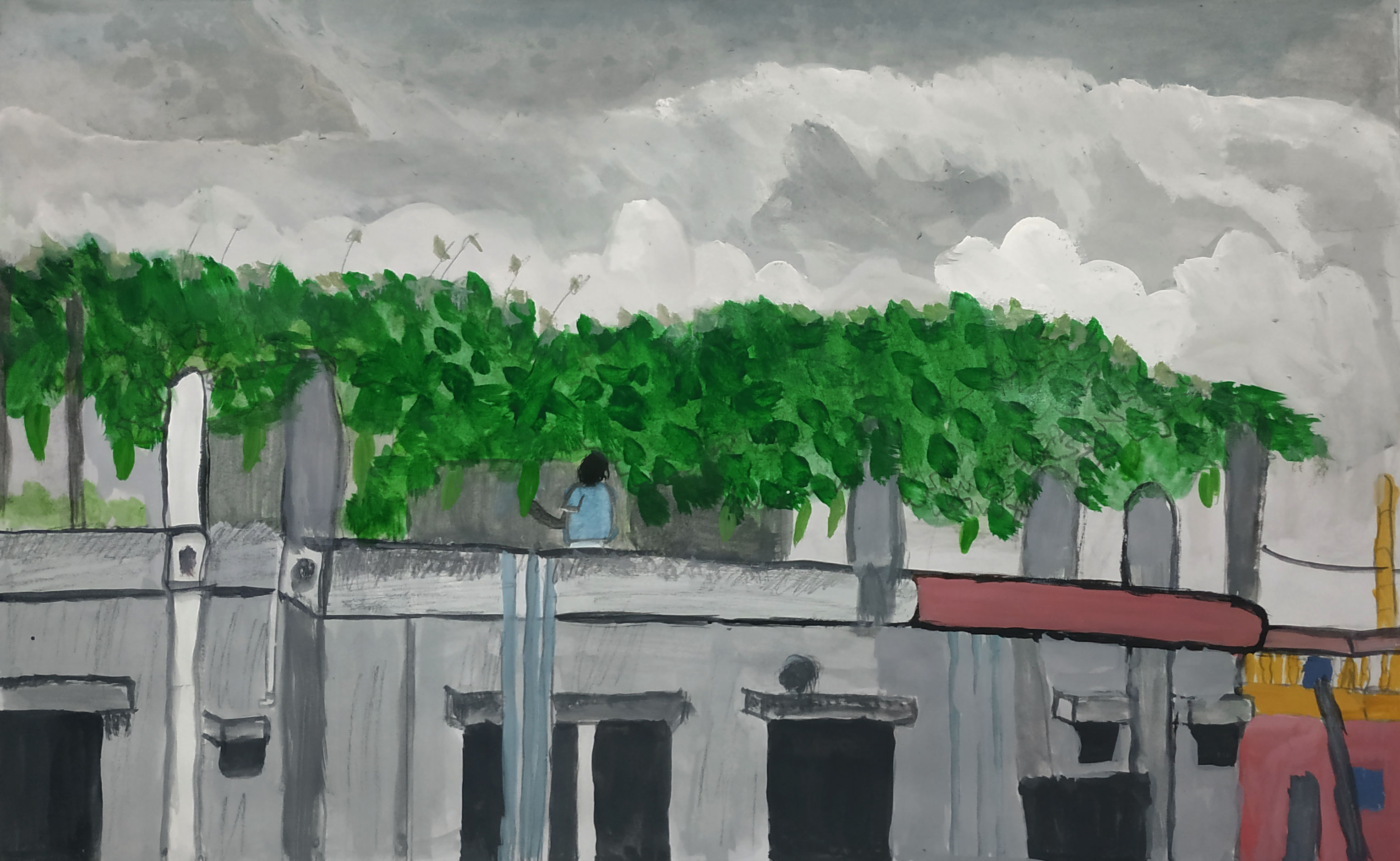 Then I got an output after a certain time.
I don't know how it is.
My husband said it's nice and he appreciated my work.
But I'm not so happy with it.
I think I could do better if I tried better.
I have some more photos to work on and I'll try to do better on those.
That's it.
---
Some of my drawing posts.
_Introducing Myself As An Artist.
_Rabindranath Tagore - My 1st Drawing To This Blockchain.
_Splinterlands Logo - For Splinterlands Art Contest.
_Ice Dragon for Splinterlands Art Contest.
_My Drawing Portrait of TheyCallMeDan.
_Drawing DIY: Doctors Fighting Against COVID-19.
_Daily Drawing Challenge: Day 6 - Father's Love.
_Drawing DIY: A Little Girl.
_Drawing DIY: A Depressed Girl.
_Spirit of the forest - For Splinterlands Art Contest.
_The Monster Teeth of Splinterlands - For Splinterlands Art Contest.
_Drawing DIY: A Lonely Girl.
_Drawing DIY: Night Seascape.
_Drawing DIY: Bamboo Forest.
_Drawing DIY: Village Life.
---
About Me.
I'm Sharmin Akter Mim from Bangladesh doing Bachelors in arts in a govt university in our country.
I'm the one and only wife of @ashikstd.
With my little effort, I'm trying to help my husband in this bad time and I'm trying to understand this blockchain.
---
I want to say goodbye now.
I'm hoping that this post will get some nice view and I'll be trying to do better next time.
Stay safe & stay home for corona epidemic.
Thanks.
Sharmin.