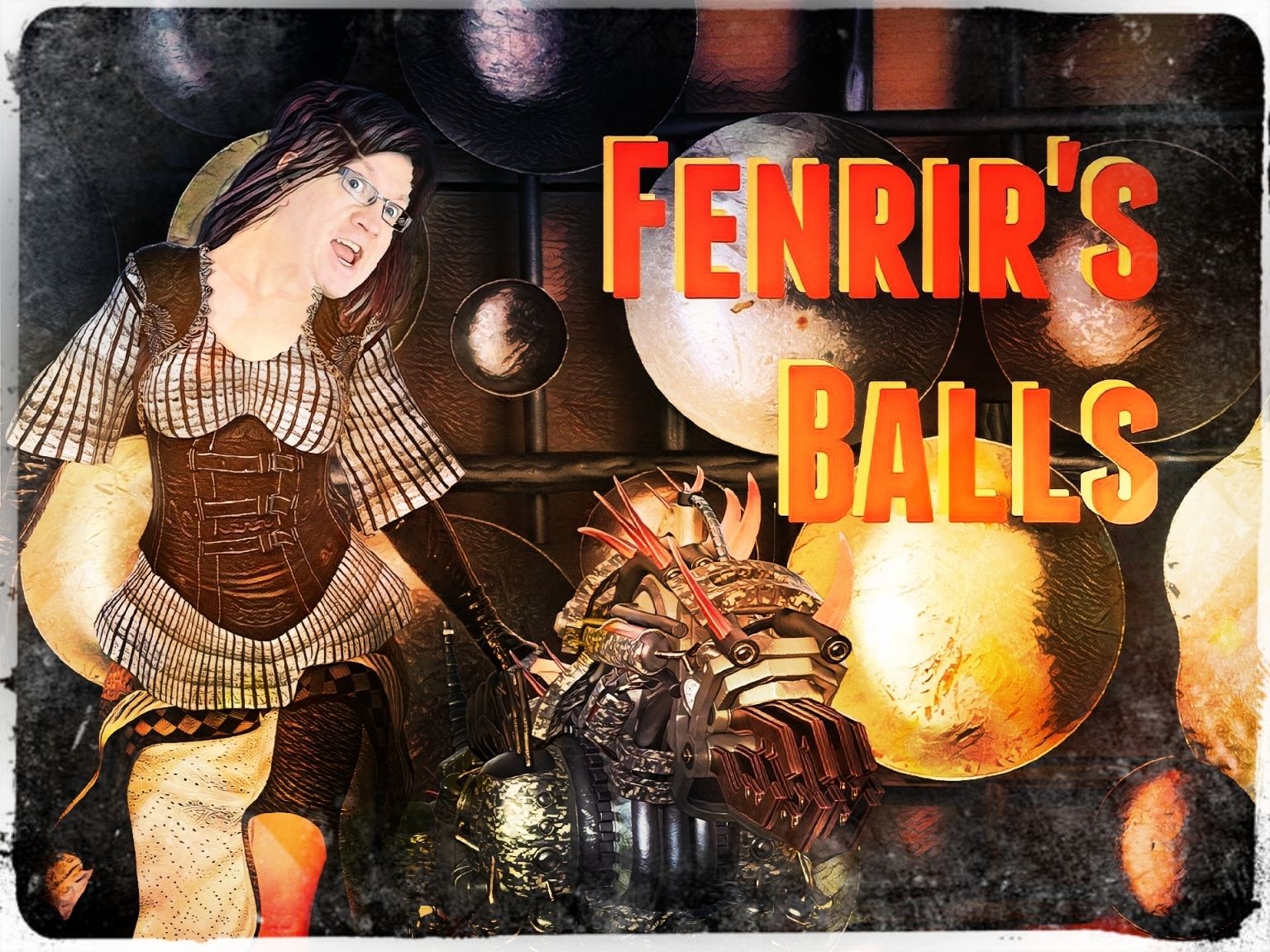 Arrrgh, Fenrir's BALLS!
I yelled as I slowed the car to avoid the utterly incompetent buffoon that had just swerved into my lane.
Daddy... What are Fenrir's balls?
The Little Lady enquired from the back seat.
Yes, darling. Pray tell, what are these balls of Fenrir that you keep shouting about?
The Good Lady shot me a disapproving glance as though she had caught me putting some grated cheese in the shower head of the shoddy apartment we had just vacated on the final leg of our Scottish tour.
Well, lady-o-mine, you know I have been swearing a lot because of the holiday?
I grinned in the way of men when they fess up to doing something that they have been told is bad but they think is amazing, like peeing in the shower.
peeing in the shower is amazing despite what the Good Ladies of the world would say.

Um, yes that is correct. You have gone a little swear crazy since we came on holiday.

The Good Lady pursed her lips in disapproval.

And you remember yesterday when that lady nearly reversed into us in the car park?

I lowered my voice so the kids in the back of the car couldn't hear.

And I shouted out of the car window 'Oh for fuck sake you fucking useless fuck-bin' and you went berserk at me?

I grinned as the image played back beautifully in my head. The useless fuck-bin's husband had looked furious and rightly so, his wife's driving was appalling.

How could I forget?

The Good Lady huffed and looked upwards shaking her head.

Well, you were so cross and so angry about me swearing in front of the children that I decided to take matters into my own hands.

I took my hands off the wheel and wiggled my fingers as if double-uddering a milky pair of cows.

And you know when I drive I get really angry at other drivers so I had to come up with something that was a good alternative but also something that I could get my lips around to express that anger in a healthy way.

I gave the Good Lady a quick look to ensure she was with me and hadn't thrown herself out of the moving car in despair at my logic.

And this Fenrir's balls, this is your answer?

The Good Lady looked at me as if I was a stranger. Which in itself would probably be a frightening thing given that I was driving her and her children about in the lonely countryside to destinations unknown.

Yes! It is perfect. Fenrir's BALLS! It's magnificent. Now you need never worry about the kids hearing me say the F word in anger again!

I beeped the horn happily causing some cows in a field we were passing to look up in tired bemusement.

Daddy, you never answered?! What are Fenrir's balls?

The Little Lady irritably kicked the back of my seat in a way that demanded answers.

I opened my mouth to tell the little lady all about Fenrir and his gigantic wolf balls of Norse legend but a sharp elbow in the ribs from the Good Lady made me choose another path.

Oh darling, never you mind Daddy. It's just one of the many nonsense things he says. You know what he is like!

The Good Lady laughed and the Little Lady joined in, laughing at their silly Daddy and his silly ways.

I shook my head and smirked.

Wait till she hears me shout Odin's TITS.