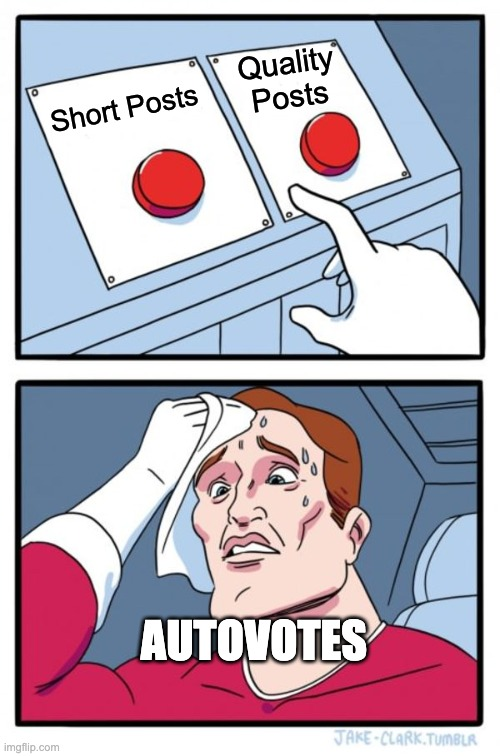 ---
It's actually really fun to write quick/short posts; others might call "shit-posts".
But it obviously doesn't really work with the way Hive evolved into voting-automatization.
Don't get me wrong; I do that myself - who really has time to manually curate 10x per day? But even then, (even if you would only have to vote 1x per day) you will lose vs the bots & auto-votes in terms of curation.
Unless ofc, you're farming posts nobody else is going to curate, but that goes against the idea of PoB, where great content goes to the top. (Would you vote a post worth 80$, even though it deserves more rewards, knowing that your curation reward would be low?)
At this point, I think that the voting mechanism is an inefficient way for stakeholders to get their rewards, hence why I believe that the global rewards pool in this form isn't providing much value to HIVE.
The only valid argument I see from pro-reward pool peeps, is that they bring users to Hive. And while that's true, let's be real here: Hive will die as a failed blockchain project if we keep on being a niche blockchain with roughly 20k on-chain active accounts per month (many of whom are sockpuppets, etc.) while the mainstream social platforms have millions and millions of users.
Hive's future looks much richer & stable if it's being marketed as a 2nd layer network blockchain with integrated smart-features, than a blockchain that pays people for content where most of it would go under on ANY other social platform. We've had 4+ years of that experience, IT DOES NOT WORK!
You might not care about all of this if you're a small stakeholder and just here for the free money, but I do care. I want Hive to succeed and thrive, because the potential is there. But we've got to take charge. Otherwise, Hive will be a dream that never realized itself; and that would be more than sad.
So, what will it be? Bust or Boom?