Hello.
I'm back.
Can you tell it's me?
---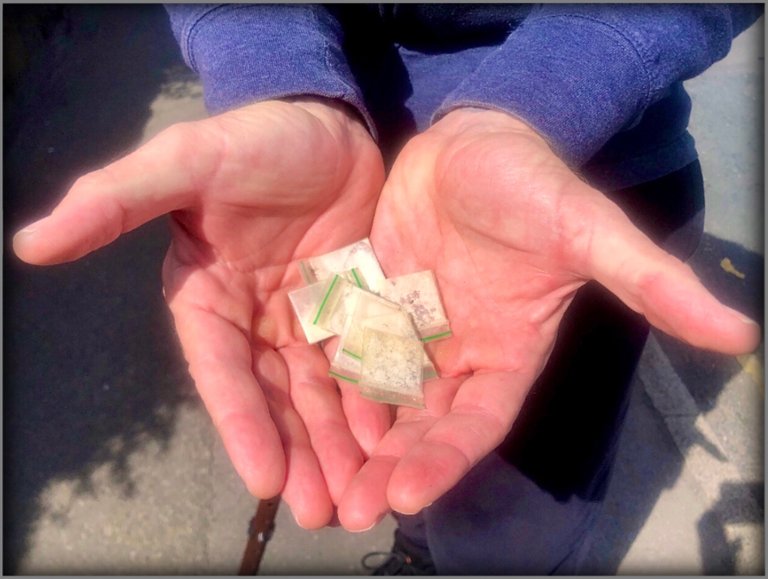 ---
I got my hair did yesterday but it's the same hairdo I always get. I don't look any different other than I'm a day older.
At time of writing, I'm the youngest I'll ever be and the oldest I've ever been. Speaking of, this is me killing time cuz I've never attempted to introduce a 30 second video clip featuring 24 stamp bags of heroin laying in a Manchester, England, public road for anyone's child or dog or favorite blogger to find.
Let's go through scenarios, shall we?
You're going to anyway, have to, it's human nature, I'm still trying to figure it out. Rest assured you'll exit this article as confused as I am but at least you'll know how they did not get there.
---
Drug deal gone bad—nope! That's not it. Had it been a drug deal gone bad, either the dealer or the stealer would've retrieved the dope. What else?
Drug dealer had a hole in their backpack—nope! If the heroin fell outta their backpack or pocket or something, at some point they would've realized it and retraced their steps. Running out of scenarios here.
Last minute ditch effort to avoid incarceration while in a desperate foot pursuit attempting to evade law enforcement when they draw down on the perpetrator, FREEZE!!
Nope. That's not it either. If that's how it went down, law enforcement would've collected the dope as evidence. Desperately low on scenarios.
Knowing how it did not get there doesn't make it any easier.
Someone's mom or girlfriend or boyfriend or someone no one knows was driving a dope dealers car. They need to sign for a package at Royal Mail but their car's in the shop so they borrowed a drug dealers car without the drug dealer knowing and found a couple ounces of heroin in the center console. They got nervous, pissed their self a little bit in the front seat, terrified of the consequences should they get caught with it so they threw everything out the window but can't tell the drug dealer because they never asked to borrow the car in the first place and the drug dealer will murder them if they find out.
I don't know about that. Doesn't seem likely.
Neither does The Prince of Wales just got a new pair of Penny Loafers and heard about This & That on the corner of Soap St. and Thomas. His peasant driver opened the Royal door of his Royal Rolls Royce and the Prince exits from the back all wide-eyed, stomach growling and salivating at the mouth, anxiously anticipating the vegetable biryani curry he phoned in 15 minutes ago.
Unbeknownst to Charles, however, his loafers were made in a Vietnamese heroin empire disguised as a sweat shop Penny Loafer manufacturer that stashes heroin in the soles of the shoes for distribution. He steps out, gets tripped up on the curb a little bit, a couple staples bust loose from the bottom of his 6-figure kicks and out drops a shit ton of heroin without anyone noticing. Retrieves his curry, returns to the Rolls where his Royal door's opened / closed, off they go. Never missed a beat.
Nom nom nom nom nom nom nom.
I don't know. That doesn't seem likely either. Your guess is as good as mine.
---
---