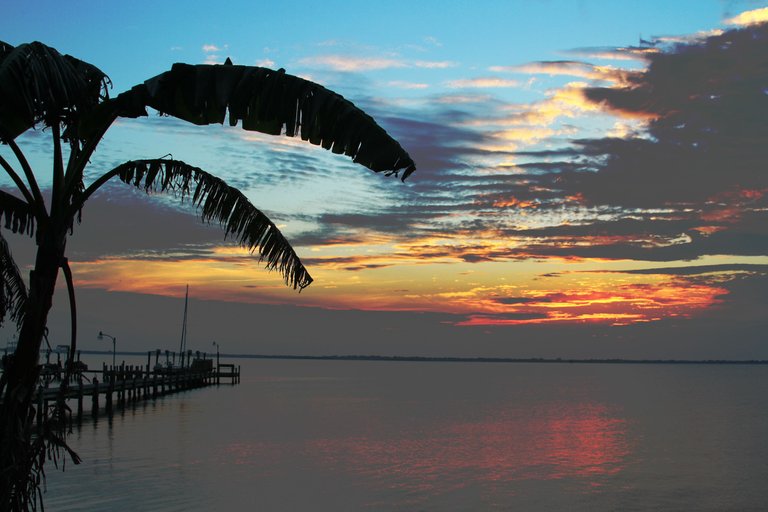 Morning is breaking and I am on my way to the docks. The sunrise marks the beginning of another #MarketFriday. Breathe deeply, for the salt cannot penetrate properly without it. Today is #MarketFriday initiated by @dswigle (Denise, that's me!!) Join me as we share our markets across the globe. I always look forward to seeing what you send me! It is amazing to see the different markets and cultures of our friends here on Hive.
Who wants to go deep sea fishing? Raise your hand! You know we like to have fun on this challege and what better way than to come on home smelling sea worthy? Sit right down and I will get right to my fish story #MarketFriday. I like fishing. I just cannot help it, I was brought up living on the shores of the Atlantic Ocean. All that ocean means boats, waterskiing and seafood for dinner.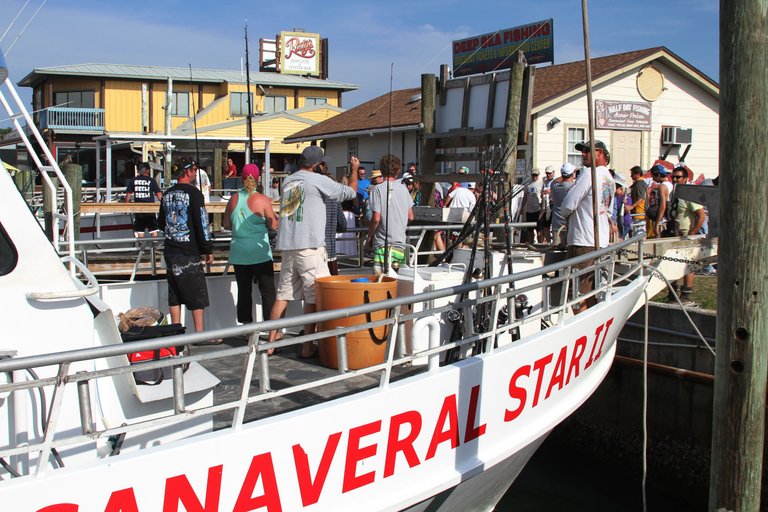 Have you ever been deep sea fishing? Chances are, if you live near the water you have and if you don't live near the water, probably not. It is one of those things that are fun if you and seafood are good buddies and you are a sporty type. I love a friendly competition. I have cousins who have charter fishing boats in Maryland on the Chespeake, but, go out into the Atlantic, but, this was on a quick trip to Florida not that long ago. I gave myself a day of fun and hopped on a boat. It was not that full and the sun was beating joyously down on me shoulders. Don't forget to pay the lady! I had prpaid online, so I was all set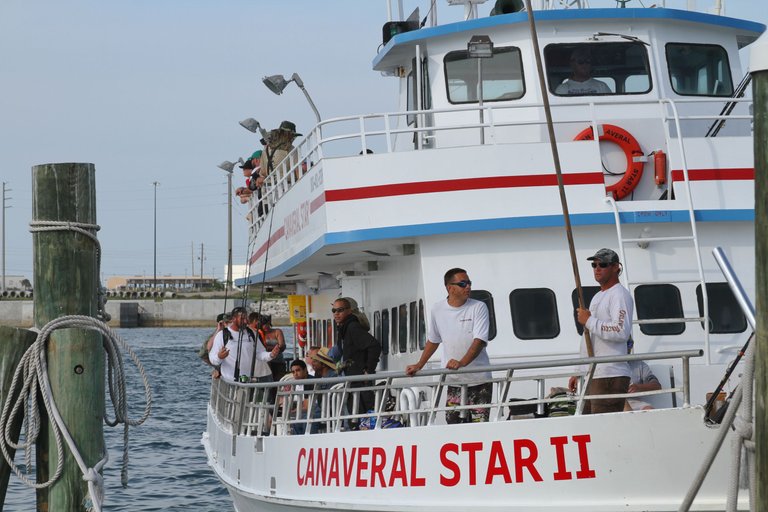 Half day trip was all I needed, just a little bit of time on the water. Half day cost $65.00 and everything is included. Lunch, endless drinks (no alcohol allowed) fishing license, bait and tackle, rod and reel,parking and they also included squid and sardines for bait. I'm ready to go! I got a nice position, a front row stern postition which has an add on price of $10.00 I took it. It was awesome!
It was a pretty nice day, not too choppy and lots of young kids and parents on board. It was a good mix and everyone was congenial to one another, making for a nice trip. I got three nice (smaller) catch and release fish. There was no need to keep them when I was only visiting and was in a hotel. It was very sporting of me, yes? I will make up for it by having seafood tonight for dinner.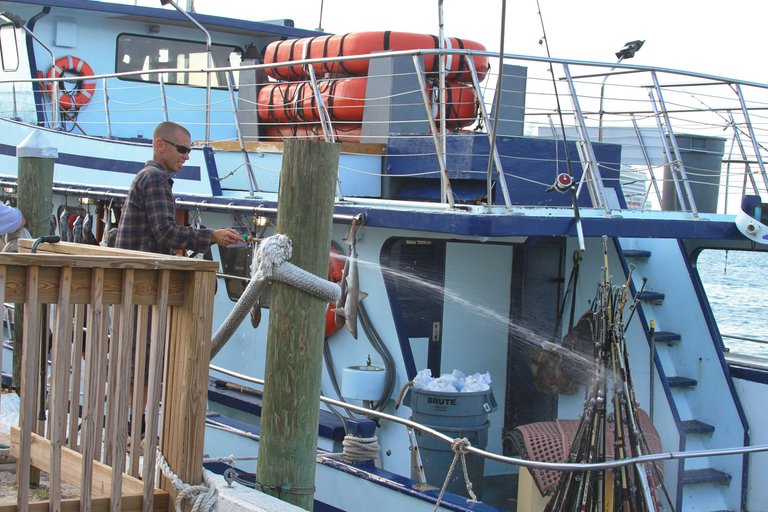 So there was no camera involved on the boat, I was not going to try to fish and take pictures, so you will have to trust me that there was a huge smile on my face the entire time. We all disembarked and the fishing poles were gathered up and hosed down. Everything get salt on it and if there are any metal parts, they rust. Everything right on the ocean has a tendancy to disinigrate. Cars used to be horrendous, even after a year, until they started making them out of plastic, because that makes me feel safer. Right? Houses have to be painted every year. As wonderful as all that salt and sand is, there is a price to pay.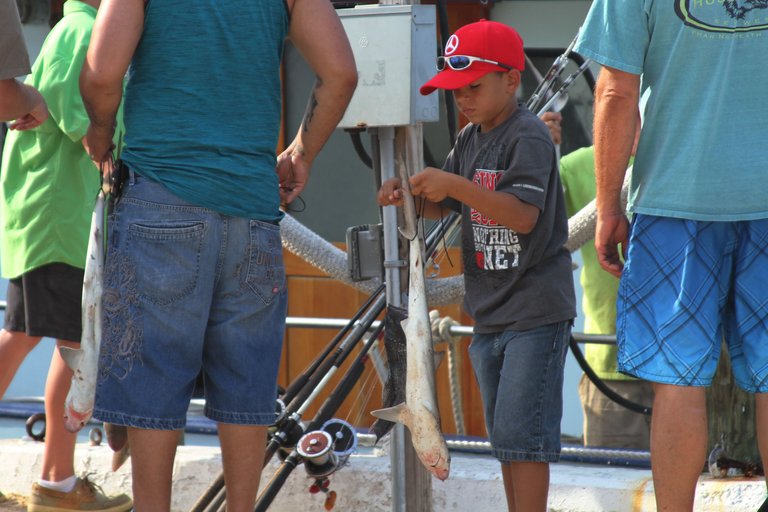 Everyone lines up, sort of, gathers round is more like it... to pick up their fish. The deck hands will gladly gut and scale the fish for you, even taking the head off if you are not inclined to make soup with it. Waste not, want not, you know what they say?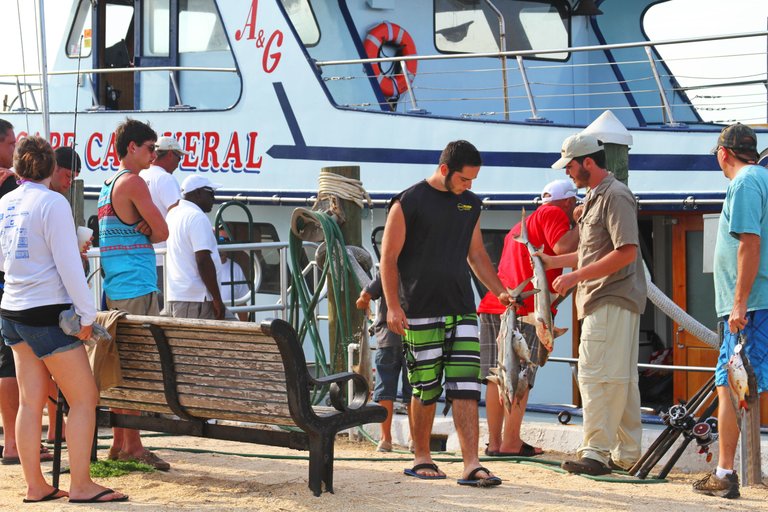 There were little sharks for some, and only this guy in the green and black shorts seemed okay with touching fish. Everyone else tried really hard to not get too close to it. I didn't have touch anything fishy smelling. Except my own hands.

Rules of the Road
Go to the market, or anywhere that you pay money for a service.
Take pictures! Be creative!
Tell us a little bit about the market or the event. What brought you there? What did you buy? How much did it cost?
Post the picture(s) Of course, you should tell a little bit about the ones you post
Use the MarketFriday Community Platform to post #hive-196308 (this is not required, but appreciated)
Drop the link into the MarketFriday comment section so I can find it
Following me and reblogging the post so more see it would be appreciated !! Not a rule, just appreciated, more vision for more views on your posts!
You must put #MarketFriday by @dswigle somewhere on your post. If you don't and someone reads it, there is nothing to tie #MarketFriday to that post.
Please only one post each week. Believe it not, I run out of voting power if you put in many more than that.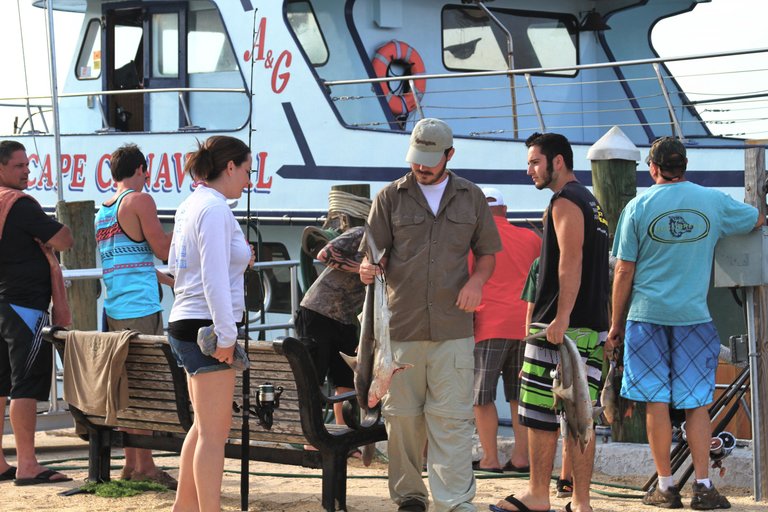 I wish I had gotten a better shot. He was coming to hand off this girls fish to her. Does she look like she wants to carry it to her car? I think not. I think the expressions of the people were funnier and a better time than the fishing and I thoroughly enjoyed that.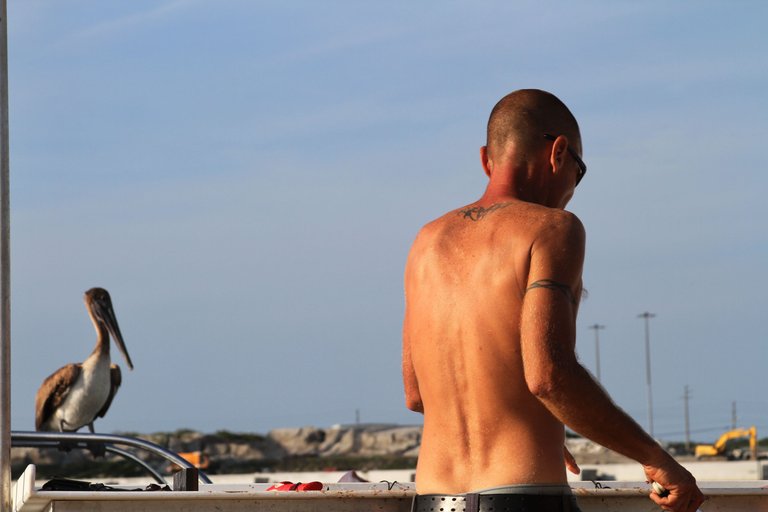 This was another whole set of entertainment. This guys job was to descale, gut and dehead if needed the fish for people. The pelicans knew their job in life. This young one knew it was rough in the water, so he took his position near the guy. The guy rewarded him with some scraps. They are all waiting!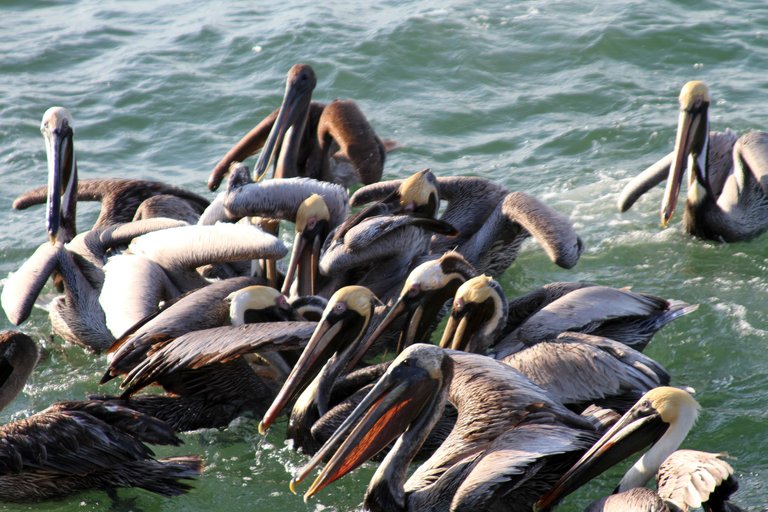 Please leave the link to your post here so it can easily be found by others. It helps you and me to have them in one place. Where else can you take such a quick trip around the globe? Thank you so much for joining us!! ❤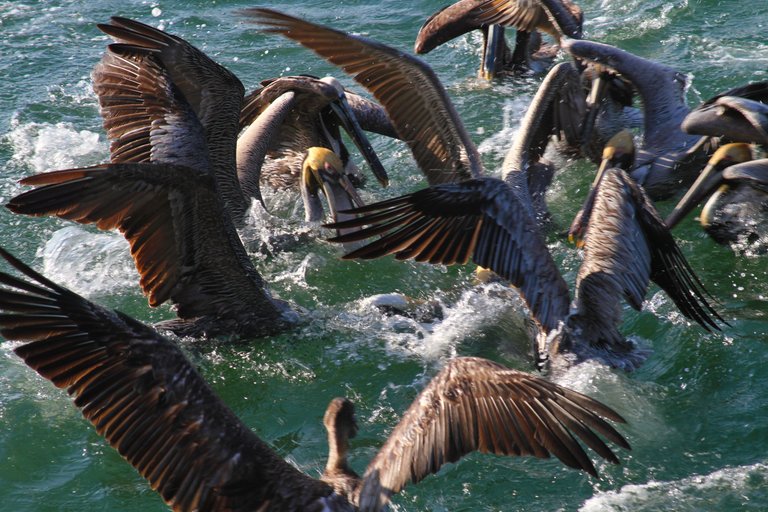 What a rough crowd! He fed the crowd to keep them busy, then he fed the young one. I had them flapping all around me, they have wings of iron. Don't get hit with one of those. You can see below, the young one got his prize. I think they have the coolest looking pouch! It is called the gular pouch. I can see that he has food in it.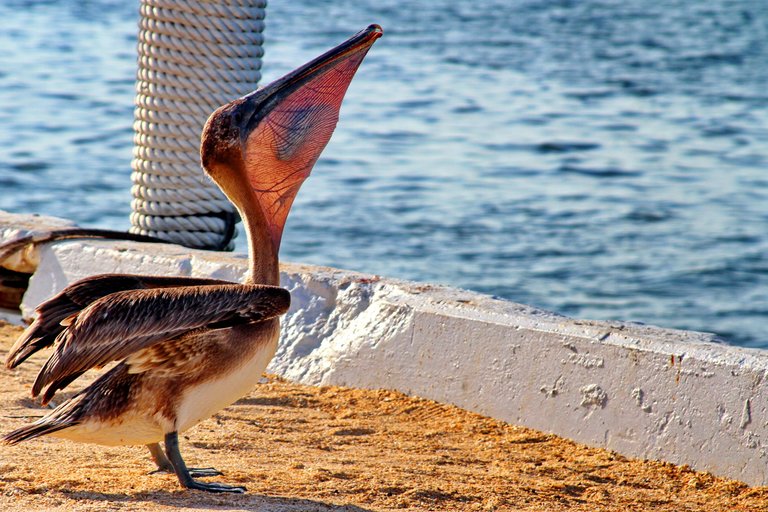 And just like that, this post is done. I hope you had a good time and learned a little something new. As always, I want to thank you for taking the time to visit, and just remember, #MarketFriday loves you! Thank you for supporting the challenge! Have a most fabulous day! Cheers!!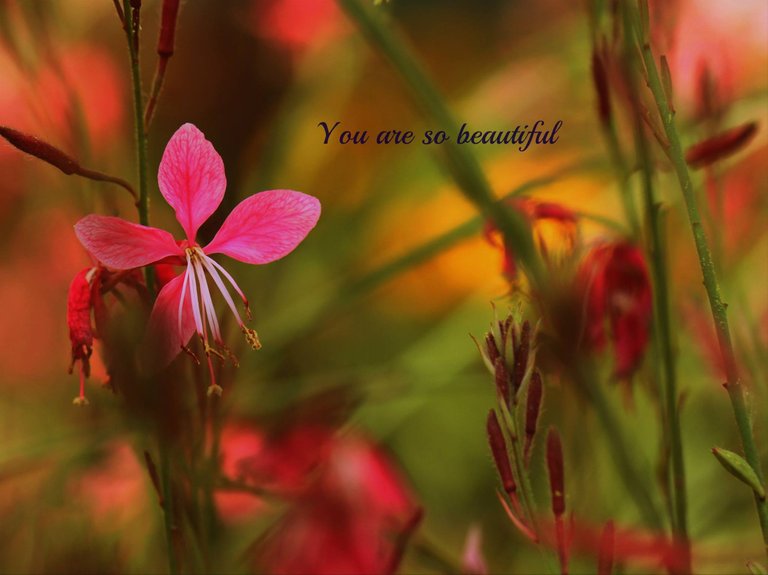 As always, there must be flowers to color my world. #alwaysaflower I want to thank you for joining me on #MarketFriday. I hope you had a good time! It definitely was not a great shot, but, I couldn't believe his mouth got that big! Squint! It might not look so blurry!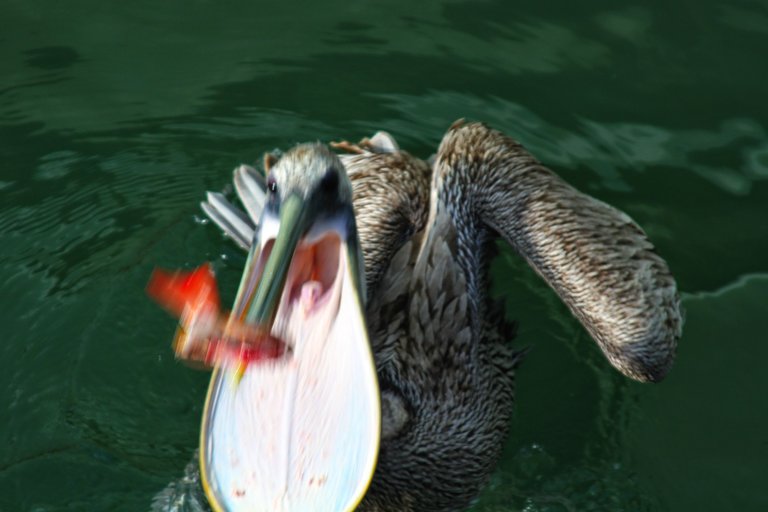 Orlando Princess & Canaveral Star II Deep Sea Fishing, Cape Canaveral, Florida (800) 481-3474 (FISH)
What should I bring on my fishing trip?
Camera, sun block, hat, hand towel, comfortable shoes, cooler (but leave it in your car), cash for tipping the hard working guys/gals on board that work hard for you all day long. You are welcome to bring your own fishing rod; however, you can only fish with 1 at a time. Most people just use the fishing gear we supply. source

---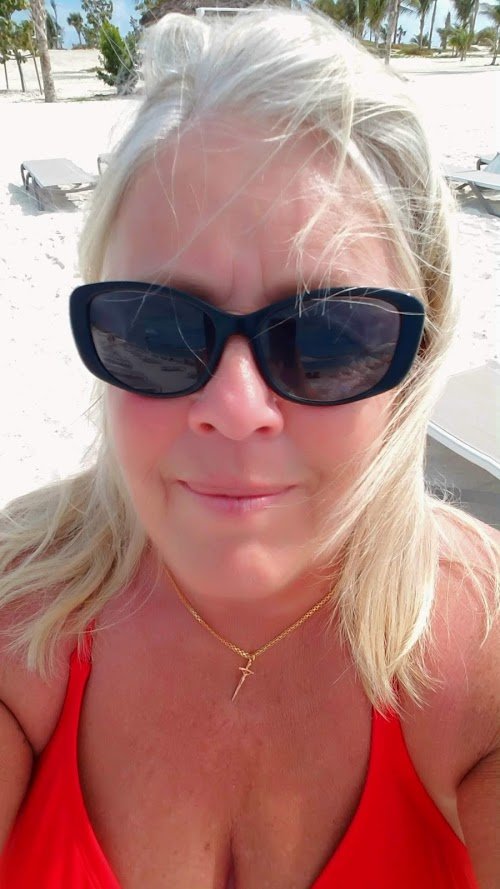 ---
Thank you for visiting my post 💖 Don't ever forget what an amazing world we live in, people. Some days, it is not so easy to see, how truly wonderful it really is. Always remember,kindness counts. Wherever you go, whatever you do.


#TeamUSA is a growing community of quality-content people from the United States or those living here. Check us out on Discord!