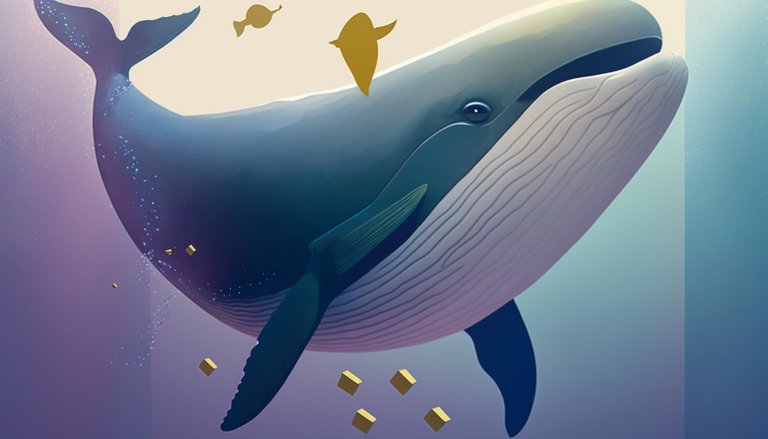 It's funny how life works sometimes, isn't it? HiveBuzz, a project I created to notify others about their achievement on Hive, told me today that I became a whale.

The cover image of this post is Midjourney's variation of the HiveBuzz badge as "a happy whale with blocks and bees"
From an anonymous contributor to this new status, my journey was a long run of commitment, perseverance, and personal growth. I want to share my story with you, not to boast, but as an example of how anyone can achieve great things on Hive with hard work, dedication, and engagement with the community.
I must admit that reaching this level was not an easy task. I hope I can inspire and motivate others who are on a similar journey. I want to show you that it's possible to become a whale on Hive when you are patient and committed.
More than six years ago...
I discovered Steem Hive and immediately fell in love with it. As someone who is passionate about technology, I was drawn to its unique architecture, made up of financial, technical and social components, and its vibrant community.
Since then, I've been actively involved in the ecosystem, developing tools like HiveSQL, HiveBuzz, HiveAuth and many other apps, running a witness node, participating in Hive governance.
One of the most important things I've learned is the importance of having a long-term vision. When I first joined Hive, I didn't have any expectations of becoming a whale or making a lot of money. My primary motivation was to learn, contribute to the community and build something useful.
Pretty soon I realized that it wasn't about cashing out all your rewards and trying to make a quick buck. It's about investing in yourself and in the platform, and being patient.
Unless you're rich like Croesus (which I wasn't) and buy a bunch of HIVE from the market, it can take a long time to become a whale. You need to stay committed. You need to power up regularly and resist the temptation to cash out.
So, my advice to anyone who wants to be successful on Hive is to have that long-term vision. Don't focus on short-term gains or instant gratification. Instead, focus on building and contributing to the community. With patience and persistence, you can achieve your goals.
Community Engagement
One of the most challenging aspects of Hive is engagement. It's not just about creating content and hoping people will notice you and throw upvotes. It's about actively participating in the community, interacting with others, and building relationships.
For me, it was a significant hurdle to overcome. I'm naturally a reserved and discreet person. I often isolate myself to work, a bit like a bear who stays warm in his cave. Putting myself out there was a challenge. But I quickly realized that if I wanted to stand out, I needed to engage with the community.
One of the most effective ways to do it was by attending events like SteemHiveFest. It gave me the opportunity to meet other Hive users, network with like-minded people, and even create real and longstanding friendships. It helped me build relationships with others who have been instrumental in supporting and motivating me along the way.
Another way to engage with the community is by actively participating in governance. As a top witness, I have the privilege of contributing to the direction of Hive and helping to shape its future. This involvement has given me a sense of purpose and has helped me connect with those who share my passion.
Personal Growth
Growing your account isn't just about accumulating tokens or becoming a whale. It's also about personal growth and development. Through my journey on Hive, I've learned many valuable lessons that also helped me grow as a person.
One of the most significant lessons I've learned is the importance of persistence and patience. Being successful on Hive takes time, effort, and dedication. It's not something that happens overnight. I've had to persevere through difficult times and stay committed to my vision, even when progress seemed slow or nonexistent.
Another lesson I've learned is the value of collaboration and teamwork. Hive is a community-driven platform, and it's the collective effort of its members that drives its success. Interestingly, in my professional life, I used to manage teams as a leader. However, on Hive, we are all leaders. The decentralized nature of this platform requires a different mindset and approach to work effectively. It was definitely a learning curve for me, but also a refreshing change. Working in a fully decentralized organization can be disconcerting at times, but it teaches you to be adaptable and resourceful.
I've also learned the importance of stepping out of my comfort zone and taking risks. It was a significant challenge, but it's something that's helped me grow as a person, to expand my horizons and push myself to new heights.
About Jealousy and Envy
One of the biggest challenges on Hive, as on any social platform, is avoiding feelings of jealousy or envy towards others who have achieved success or recognition. It can be easy to fall into the trap of comparing oneself to others and feeling discouraged or resentful when others seem to be doing better.
However, it's important to remember that everyone's journey is unique. Just because someone else gets more attention or success doesn't mean that there is less for you.
Instead of feeling jealous or envious, try to focus on your own achievements and the progress you've made. Celebrate the successes of others, and use them as motivation to continue working towards your own goals. Remember that Hive is a collaborative community, and that we can all benefit from supporting and encouraging one another.
It is on these foundations that I created the HiveBuzz project and that we carried out its mission. Even if we sometimes put people in competition, thanks to the HiveBuzz Ranking for example, we also strive to offer new personal challenges to everyone, to support them and to motivate them for their accomplishments.
My ultimate goal is to instill a positive and supportive community spirit on Hive.
Give and you shall receive
(Luke, 6:38)
This is the motto that guided my behavior as soon as I landed on Hive.
It's been essential to me to give back to the community. I always wanted to support other users and help them achieve their goals. Whether it's by curating content, sponsoring events or promising projects, I try to use my influence to make a positive impact.
By giving back, I think you not only help to strengthen the Hive ecosystem as a whole but also build connections with other users.
At the same time, it's important to avoid falling into the trap of greed. While it can be tempting to focus solely on accumulating more Hive Power and rewards, this mindset can lead to a narrow and ultimately unsatisfying experience.
Instead, I tried my best to act with a spirit of generosity and community-building. By doing so, you may find that you receive more support and recognition in return.
Lessons Learned
If I had to sum up this rather (long) philosophical post and give some advice so that you too can one day become a happy whale, here are some key points:
Patience is key: growing on Hive is a long run and it takes time and effort. It's important to be patient and committed to your vision, even when progress seems slow.
Community engagement is critical: engaging with the community is essential. Comment on other people's posts, participate in governance, attend community events, and contribute to community initiatives whenever possible.
Collaboration is powerful: the collective effort will drive our platform's success, and you own success will be part of the process. Collaborate with others and work together towards a common goal.
Take risks: Stepping out of your comfort zone and taking risks is necessary for personal and professional growth. Embrace new opportunities and challenges, even if they seem daunting at first.
Unless you buy your stakes, your success will depend on your work, but also on the appreciation that others will have of it. Be positive and kind to yourself and others, and above all be grateful.
A last word
Becoming a whale was a long and challenging journey, but it was also a rewarding one. I learned from both successes and failures.
If you're just starting on Hive, or if you're looking for inspiration to help you stay motivated, I hope that my story can serve as an example of what's possible.
I want to express my gratitude to some of the incredible people who have played a vital role in helping me achieve my goals. Without their support and encouragement, on many occasions, I could have let myself be caught up in discouragement.
I am grateful to @gtg, @blocktrades, @acidyo, @roelandp, @someguy123, @lukestokes, @traciyork, @victoriabsb, @crimsonclad, @theycallmedan, @zirochka, @detlev, @lizanomadsoul, @louis88, @raphaelle, @techybear, @captaink, @anyx and many others who have been there at various step of the way. Perhaps without even knowing it, you have been, if not a source of inspiration, at the very least a useful help and I am grateful to you.
PS: I would like to stress that the above list is by no means exhaustive. There are countless other individuals who have also supported and encouraged me and I am deeply grateful to each and every one of them. I hope that my mention of a few specific names only does not offend or exclude anyone.
May Hive continue to grow and welcome more whales into its ranks. Best of success to all those who strive towards this goal!
---
Check out my apps and services