I believe there is a lot of value in learning from others; Observing their actions and behaviour, success and failures, contemplating and evaluating the information and concepts and possibly applying the lessons to one's own life.
Taking experiences others have had can help prepare us for our own future, help us grow or develop and to mitigate or avoid possible risks.
Positive influences can provide great value and momentum in life and negative influences can be great lessons also. Just my opinion.
---
Welcome to Friday and another weekend of the #weekend-engagement topic...This week the topic focuses on your influencers - The people who have influenced you in life.
---
weekend-engagement topic week 34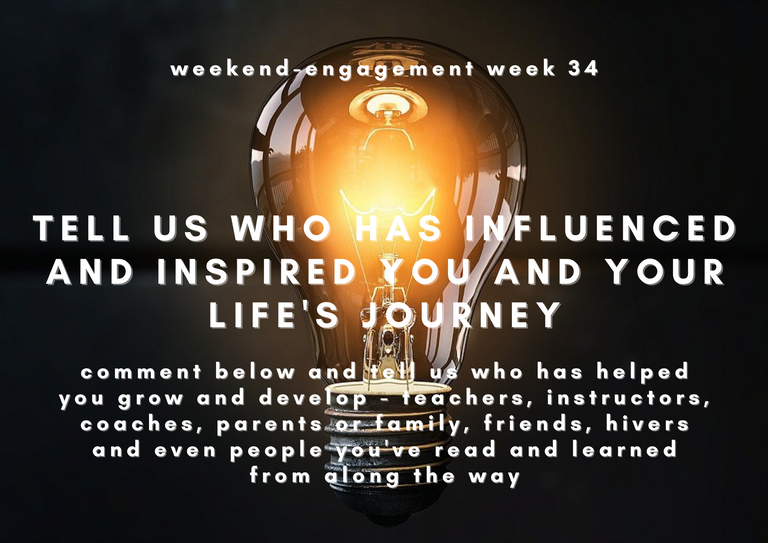 All you have to do is comment below and tell us about who has been an influence in your life, explain how they have done so and why you have chosen them in particular. Select one or tell us about several, it's your choice.
It could be a parent or family member, teacher, lecturer, sporting coach, instructor, a notable person whose books you've read, drill sergeant, employer, counsellor, a philosopher, yogi, spiritual leader or representative and could even be another hiver! Just comment below and tell us about them, what they did and why you chose them.
Drop your comment below for the chance to win hive!
As always I'll be giving away some hive, direct to the wallets of a few who engage with the topic below, and you'll have until late Sunday night your time to get your comment below.
The weekend-engagement topic is about engagement
This concept is designed to give people a friendly and non-confrontational place to comment and engage with other people with the hope you'll form new relationships, or deepen existing ones. This is why you need to comment below and stay around to interact with the others.
Don't drop links to external posts here, this is not the place for that, however if you want to do a post about your influencers as well as commenting below feel free to use the #weekend-engagement tag as your first tag and place it in THE WEEKEND community so I don't miss it.
And just on the topic of influence...Thank you to @dandays for the inspiration for this weeks topic; Bro, your influence has influenced me to do a post about influencers who have influenced others. 🙂
---
I'm going to leave you with a nice quote from polymath and Nobel Peace Prize winner (1952), Albert Schweitzer. I think this quote goes nicely with this weeks influencer topic:
"Example is not the main thing in influencing others. It is the only thing."
Albert Schweitzer
Actually, I can't just leave it at one quote...So here's another piece of Schweitzer gold for you to carry forward into the weekend.
"Sometimes our light goes out but is blown into flame by another human being. Each of us owes deepest thanks to those who have rekindled this light."
Albert Schweitzer
---
I hope y'all will get involved this week and if you're not keen maybe you could support those who do engage with some commenting and comment-voting or by spreading the news about the #weekend-engagement topic as someone you know may be interested in getting involved.
Be humble and kind folks, and have a great weekend. 🙂
---
Design and create your ideal life, don't live it by default - Tomorrow isn't promised.
Be well
Discord: galenkp#9209