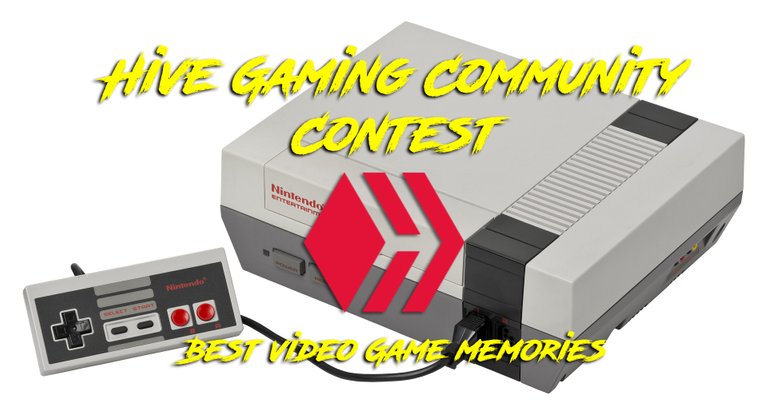 source
Best Video Game Memories



Hello fellow gamers! It is contest time! Growing up, video games were a huge part of my life and a huge part of my social life. I am sure that you feel the same.
I have a ton of awesome memories with video games, from playing GoldenEye on the Nintendo 64 with 4 of my friends all on the same TV, to playing World of Warcraft with people from all over the world. So since we all are big into playing video games, I decided to put this contest together to get some more engagement within the Hive Gaming Community.
As you can guess, the theme for this contest is "BEST VIDEO GAME MEMORIES." This can be anything from getting a new console and playing some games that you have been super excited for, best memories with your gaming buddies, or anything in between. The key to this contest is going to be to make your entry stand out from others. This can be achieved by putting some time and effort into the post and to give it some personality.
RULES



Every good contest has rules that need to be followed and this is no exception. One of the main reasons for this contest is to create engagement within the gaming community, so engagement will be a BIG part of this contest to make your entry valid. So make sure that you FOLLOW ALL THE RULES.
Create a post with the title: "Hive Gaming Community - Best Video Game Memories"
Create your post in the Hive Gaming Community.
Use the tags #hivegc and #gamingmemories.
Comment on this post with a link to your entry.
You must comment on at least 2 other contest entries, so you will need to return to this post to see the other entries, or check the #gamingmemories tag for the other entries.
Rule #5 is going to be the important one. Engagement is the key to a successful community. So we want to try and encourage proper engagement within the gaming community. Comments such as "Great post" or "I like your post" will not count towards fulfilling the requirement. Take some time and write a meaningful comment about the post you read. Who knows, you might make a friend or two while participating.
Prizes



Now for the part everyone is waiting for. There will be a prize pool of 50 Hive that will be split between the 5 top posts. We will also be curating the entries of the contest and more votes will go to the top entries. More prizes may be added later and the prize pool may be adjusted.
The contest will run for 7 days and winners will be chosen after this post pays out. So be sure to get your entry and comments in prior to this post paying out.
BE SURE TO FOLLOW ALL RULES TO BE ELIGIBLE!
We can't wait to see what awesome gaming memories that you all have to share. Thank you for a part of Hive and the gaming community here. Be sure to join the Hive Gaming Community Discord and follow the @hivegc account for more contests and to see the amazing gaming content that is being put out here on the blockchain.