Welcome to #MarketFriday by @dswigle!! If you remember last week, I was on another house-hunting trip and I took all of you with me. You know how I love to do that, wherever I go, whatever I do. You are all such good sports too. Tell the truth! You love it when we go off script and do something different, don't you? We went househunting! Are you ready to hear how it went? Have you got your vote locked in on how it went?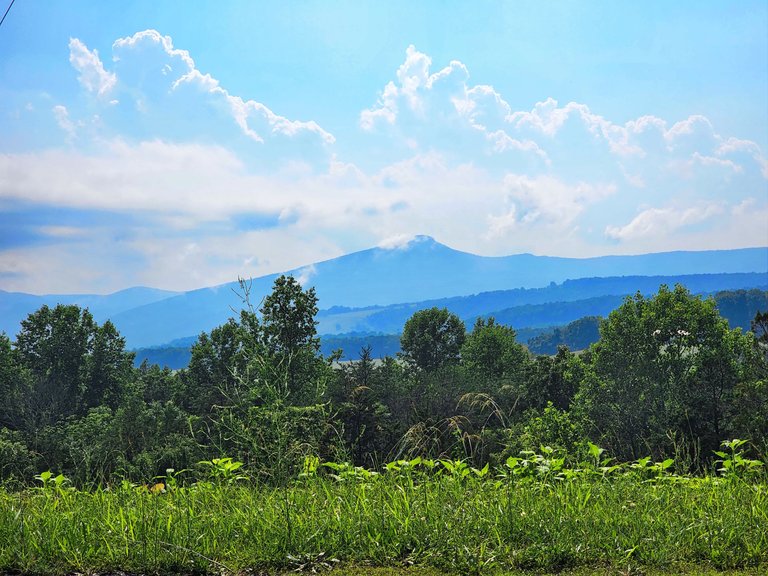 You remember the view? One of, anyway. It has spectacular views, and a long, long driveway. I won't post it again. If you missed it, you can see it here! There were 4-5 bedrooms and many rooms for multi-use, office, library and things like that. It had an elevator. It has everything. It even had secret doors. Truly. It had it all. It was more than I dreamed was possible within a certain budget. It had land to put in a garden and a barn to put the horses. Fields for them to graze that had been specially seeded for that. Forest to wander. Privacy. Did it have it all? I think so. Did I get the bid?
Today is #MarketFriday initiated by @dswigle (Denise, that's me!!) Join me as we share our markets across the globe. I always look forward to seeing what you send me! It is amazing to see the different markets and cultures of our friends here on Hive.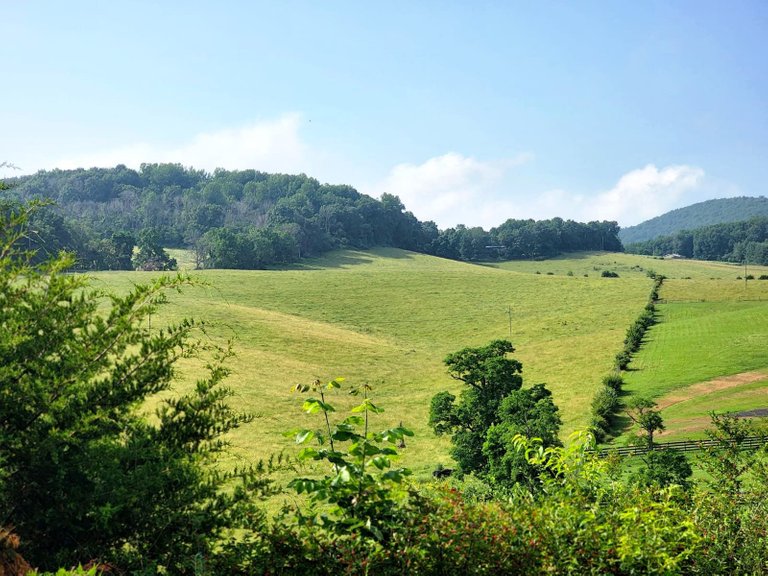 Did I say it had great forests? It did. Flowers and fauna and fungus! I don't have any fungus where I live now, so that excited me more than a little. Do you have fungus where you live?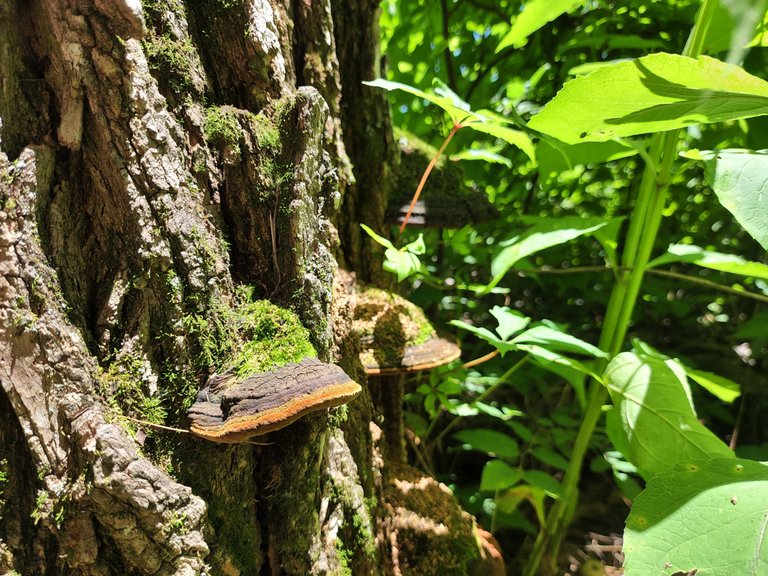 I went back to the house four times over the last week, weighing the pros and cons of the house. I know, it's perfect, but, what you don't know is that it is in a very small town. I never heard of it and I needed a GPS to get there. I have been living right outside of Washington, DC for a little bit and I am used to walking to get what I need, or taking a quick trip on a bike or car. Whichever meets my needs that day. Being out there is wonderful, but, it could hinder my existence. Okay, I am really exaggerating. It might take some getting used to. Want to see that road again?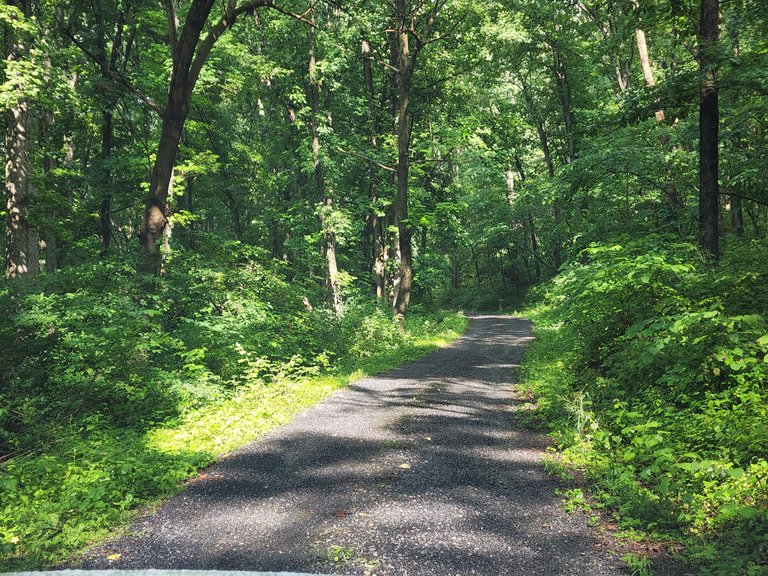 Speaking of the road, I brought someone with me to check out getting the road repaired. Expensive! Doable, but, definitely something that I pushed over onto the con side. I was fair. I showed you the part that needs some repair/redoing. I finally measured it out. It is only one-half mile, but, that is a lot of feet to repair.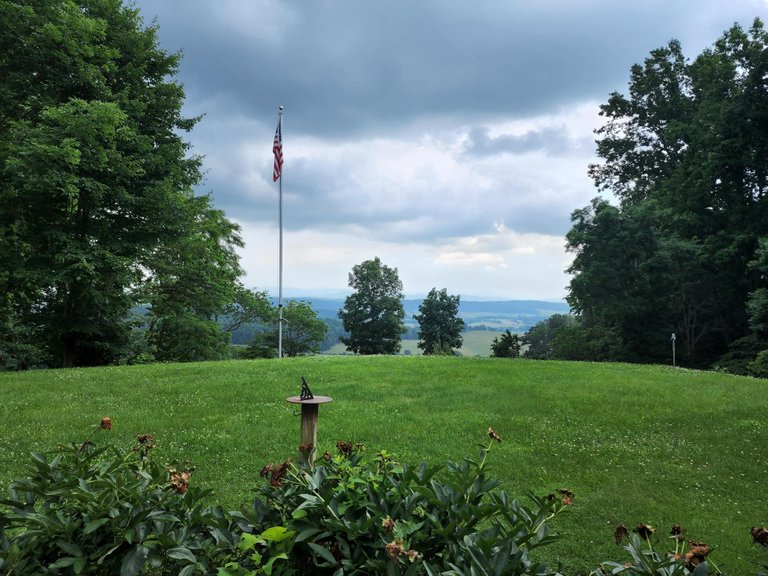 It has a tall flagpole, so I could show off my American-ness to all... Perhaps when we do something good again. We are in a bit of a slump right now. Not to say that I am not proud to be American, but just right now is a bit challenging. But, we can be all that once again.
The house has some foundational cracking. It was deemed not structural by an engineer friend, but, that was just a cursory look. An inspection was needed. The floors were wood in the entire house, but (Forgive me for saying this) I am wondering why they put a different floor in each room? Individually, they were gorgeous. Altogether, a nightmare. Cost to redo all floors? Over $50,000! Yikes! All the appliances needed to be replaced/updated. The roof was going to need to be replaced soon. The inside need to be painted. The outside need to be painted.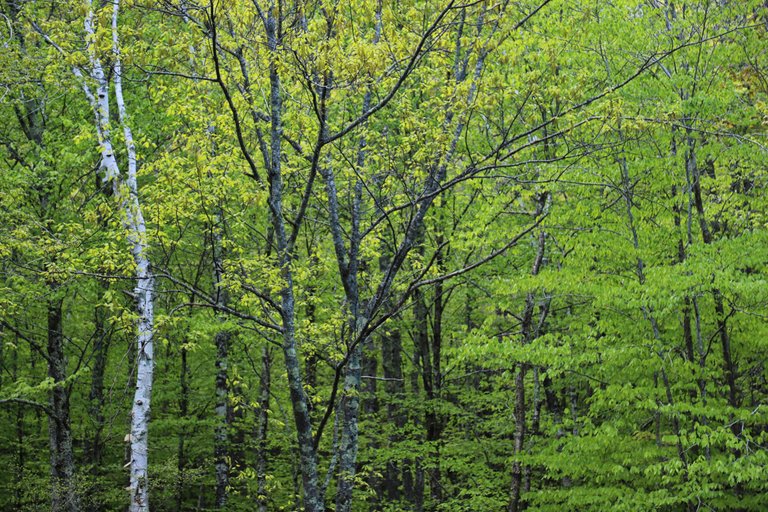 Forest to be hiked. So many bonuses to the package, but here is the story. I put my bid in. On Tuesday, the day of the decision, they called and told me that the extra land that I wanted (the offered up extra land) was not going to be accepted because they wanted to add it to another piece of land to make it more sellable. Without that land, it defeated the purpose of my wanting it. That is a story for a different post. The inspection I wanted to have done made my bid less desirable as they wanted to get it sold so the heirs could receive their inheritance. I don't buy major pieces of real estate without an inspection. This was a hard no. Nothing else mattered. If there was structural damage, foundation damage, basically anything wrong with the house, I was out of luck. I was already thinking that the basic needs were too far and a real hospital was not close enough for me. While I don't have any medical issues, anyone can pop up with one.
I will say that I will not fight for a piece of real estate. If the universe doesn't give it freely, it wasn't meant to be. I swear by that. I was feeling a little unsure with a few little things that were popping up, but, if I have to fight really hard for it, you can be sure I may get stuck in some way. I thought it spoke to me, but I guess it wasn't me those words were for. Sometimes, you can be mistaken. :) While I am a little sad that it didn't work out the way I wanted, I am happy that there are plenty of opportunities in the market right now. If I wait a few more months, it will be even better.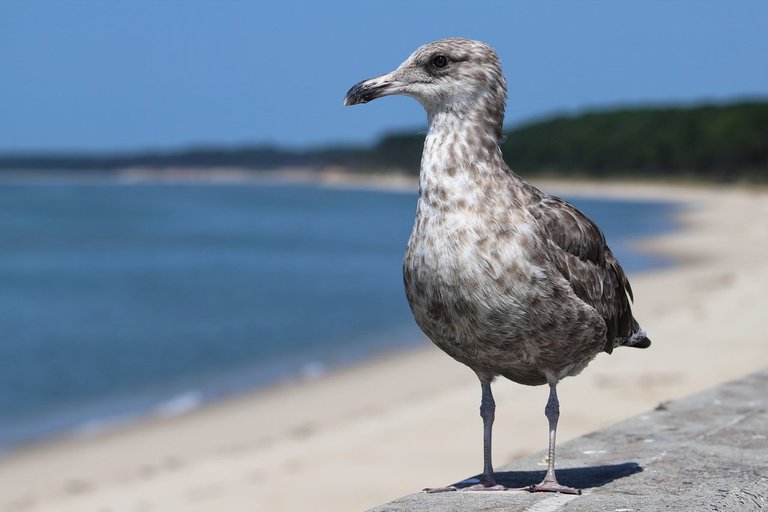 Besides, I might miss the beach. What do you think? Would you have forgone an inspection? Or would you have trusted your gut? Do you think I did the right thing? The other 3 people that were beak to beak with my bid also dropped out, leaving a weaker bid to stand. I don't think they accepted the lower bid, so the house will probably be back on the market. (unless they take the lower bid, which I am pretty sure they won't) I guess I could take it, but I feel like that ship has sailed.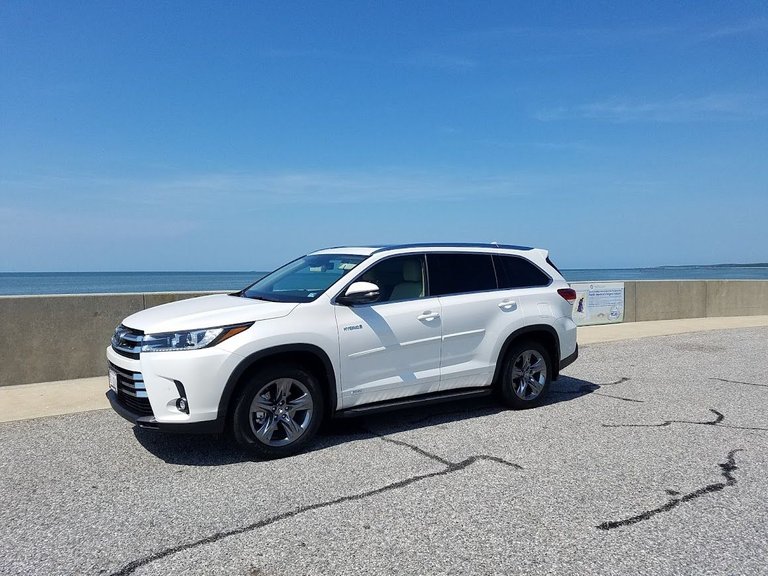 So, I will just enjoy the beach a little bit today as I head out to the Shore House for a little unwinding. I hear that grass has been growing out there and there are crabs just waiting for me to throw a trap in the water. A few crabs, some wine, and perhaps some fish. That's what I am talking about.
Please leave the link to your post here so it can easily be found by others. It helps you and me to have them in one place. Where else can you take such a quick trip around the globe? Thank you so much for joining us!! ❤

And just like that, this post is done. I hope you had a good time and learned a little something new. As always, I want to thank you for taking the time to visit, and just remember, #MarketFriday loves you! Thank you for supporting the challenge! Have a most fabulous day! Cheers!!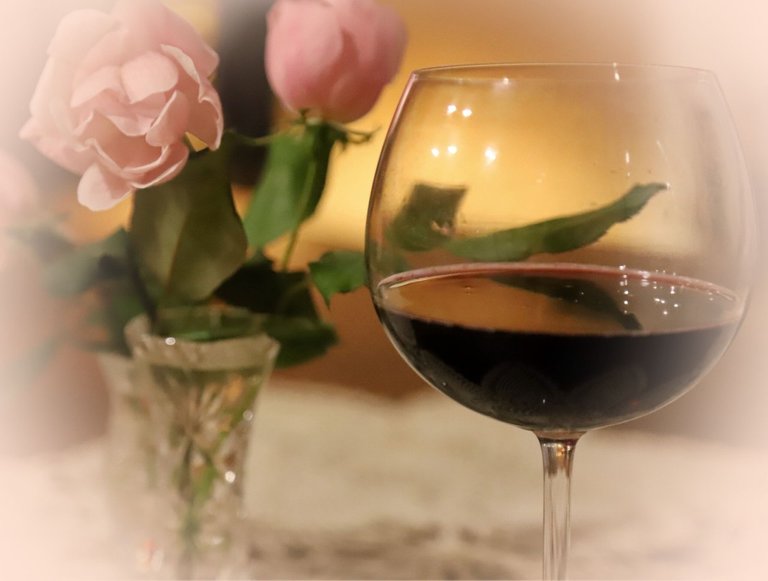 As always, there must be flowers to color my world. #alwaysaflower. A little wine, a pretty flower, and the peace of the night. I cannot think of a better way to spend it - at the moment. I hope you are having a great day too!
Next week: If I came to visit you in your town, where would you take me? Would I take a walk in the town and learn about a new culture? Would we cook something to eat that I would never have at my home? Would you show off your architecture? What would we do? I have two days!

---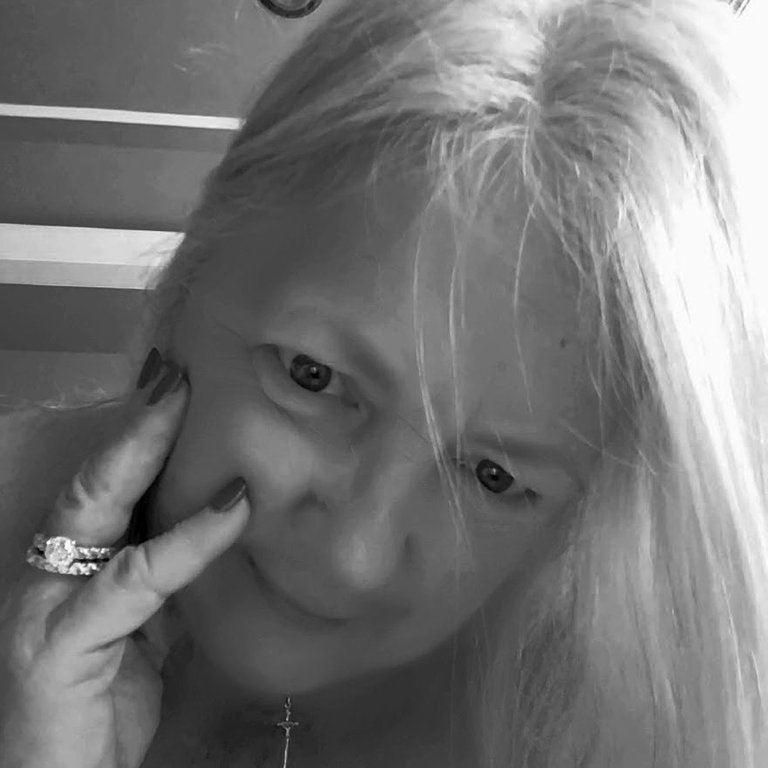 ---
Fridays are all about the #MarketFriday Challenge! Looking to take part in it? Here is how:
Rules of the Road to Join #MarketFriday!
Go to the market, or anywhere that you pay money for a service.
Take pictures! Be creative!
Tell us a little bit about the market or the event. Is it in your town? Far away? What brought you there? What did you buy? How much did it cost? Was it expensive? Did it go up or down? I need more than just pictures of the market.
Post the pictures. Of course, you should tell a little bit about the ones you post, it is too difficult to guess on some
Use the MarketFriday Community Platform to post (#hive-196308) This is not required but appreciated.
PLEASE Drop the link into the MarketFriday comment section so I can find it!!
Following me and reblogging the post would be appreciated, but not a rule, more vision for more views on the #MarketFriday posts!
You must put #MarketFriday by @dswigle somewhere on your post.
As always, please remember! #MarketFriday loves you!

#TeamUSA is a growing community of quality-content people from the United States or those living here. Check us out on Discord!